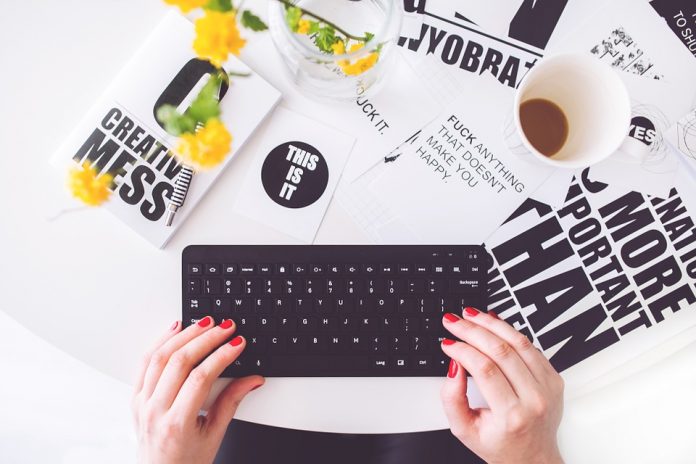 Many people think that the time of blog commenting is long gone, but they could not be more mistaken. Blog commenting is one of the best ways to bring more traffic to your website and acquire more quality backlinks as well.
Moreover, it can help you become better known in your niche and build relationships with other blog owners. For people who are starting out in the blogging world, blog commenting can bring more attention to their blogs.
It is important to keep in mind that you have to find the right blogs to comment on, preferably those that cover the same topics as yours and target the similar audience.
Do not post irrelevant comments, always read the entire post and comment something that follows logically from what you have read.
Some additional factors that you should consider: popularity of the blog (you should check the age of the blog, the quality of blog posts, average comments on the blog entries, the blog's update frequency),  domain authority and page authority (they measure the popularity and quality of a blog). Many people do not comment on blogs that have less than 30 domain authority, and Alexa rank is very important and people generally do not like to comment on the blogs whose Alexa rank is more than 40,000.
Now that we have covered all the important things that you should know before commenting on blog posts, let's discuss how to find websites for blog commenting and we will also present you with useful tools that can help you in this process.
Advanced Google Operators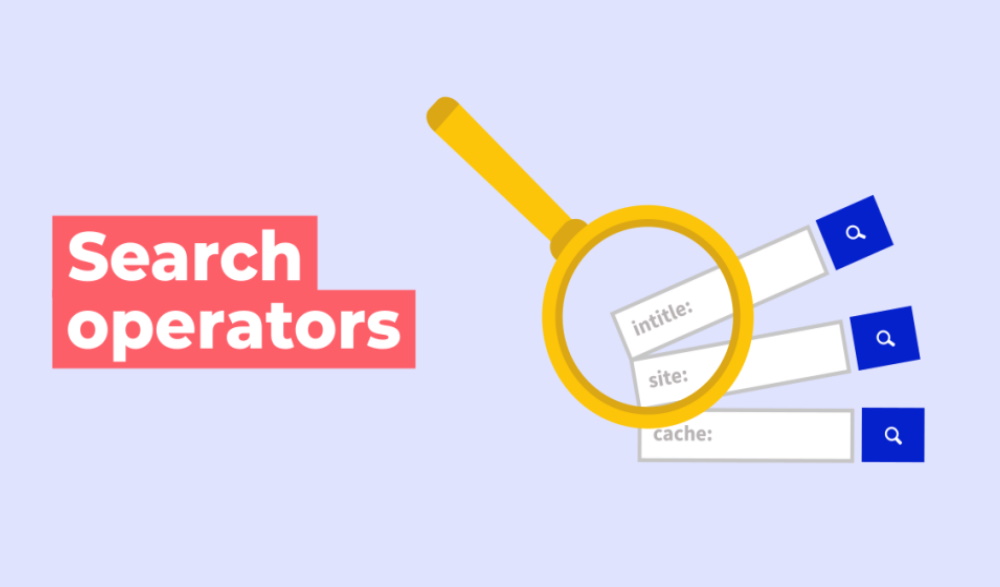 How to use search operators
This is maybe the easiest option. All you need to do is type in some of these options depending on your needs:
"Add new comment" + "your keyword here"
"Leave a comment" + "your keyword here"
"Leave a reply" + "your keyword here"
"Post a comment" + "your keyword here"
If you want to search Quora related posts, then you type in "Post a comment" + "quora". It is also possible to filter your results by using "Search tools". There, you can choose posts from Any time, Past hour, Past 24 hours, Past week, Past month or Past year.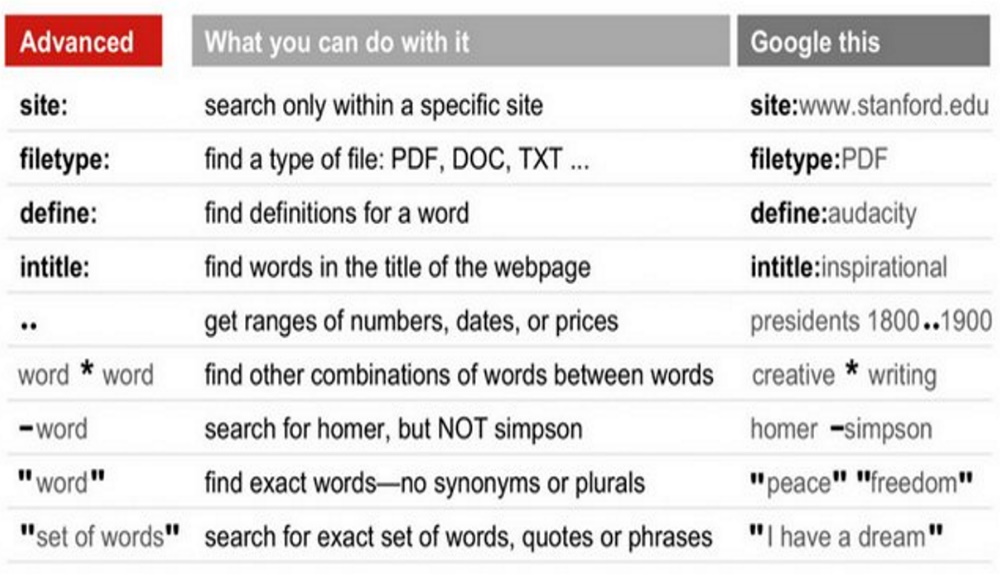 Instead of using Google, it is also possible to use MozBar. It is a free tool and it works similarly to Google search. MozBar gives you instant metrics while viewing any page or SERP. You can also download the premium version too for more advanced options.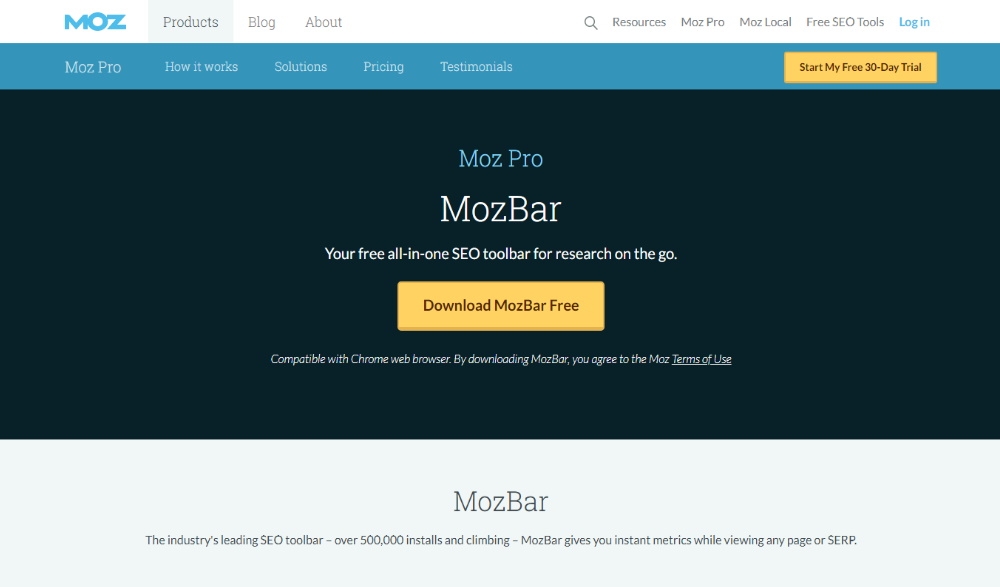 ScrapeBox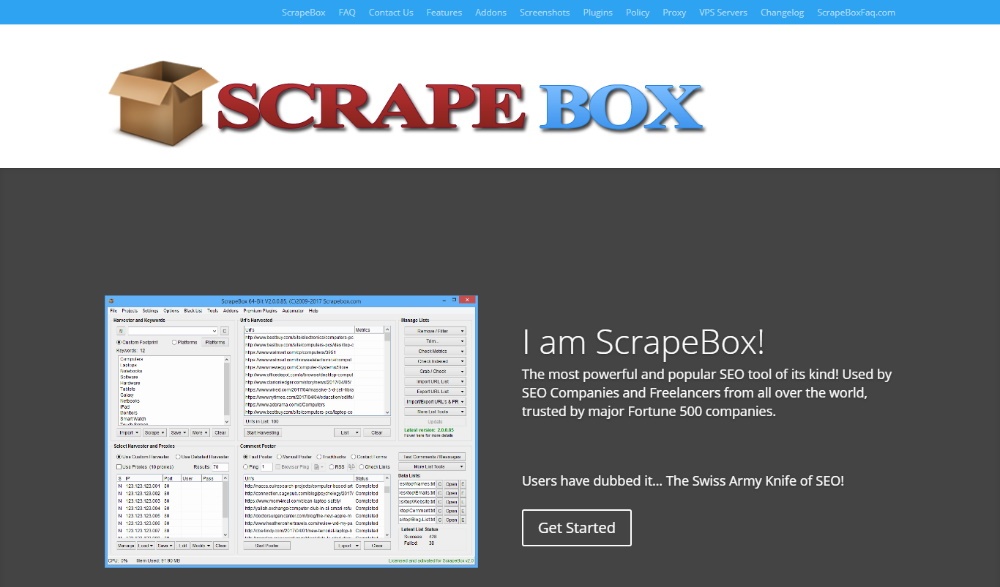 ScrapeBox is a tool that can be used to find relevant blogs to comment on, connect with other people in your niche, promote your website's content, and build links to your website. It was infamous for its use of black-hat strategies, but it can actually be used in white-hat purposes as well.
How to use ScrapeBox
You will first need to download ScrapeBox. It is a one-time purchase, rather than a monthly or a yearly subscription. When you do that, you can begin with the first step, and that is entering a Footprint in order to find pages that allow commenting. It is simply a string of text that ScrapeBox will search the web for, and then collect a list of pages with the given footprint on them. Next, you enter in your Target Keywords to find relevant websites related to your niche. Then click on 'Start Harvesting'. When you get your results, you can sort them by Page Rank. You can further remove those web pages that have lots of external links (any link that points to another website), but this step is optional.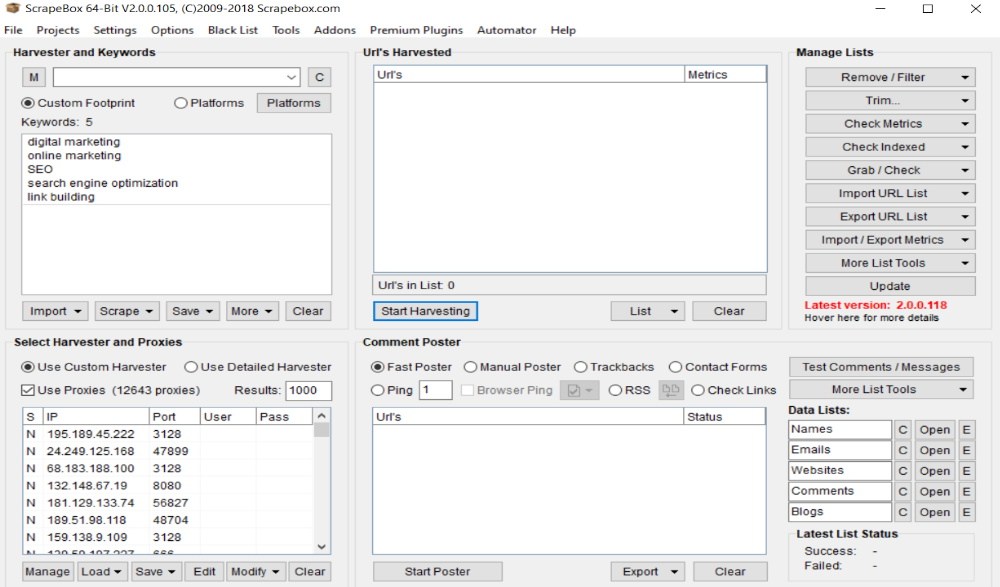 That is pretty much all. Save your list and go manually through each website and see where you can leave your comment on.
DropMyLink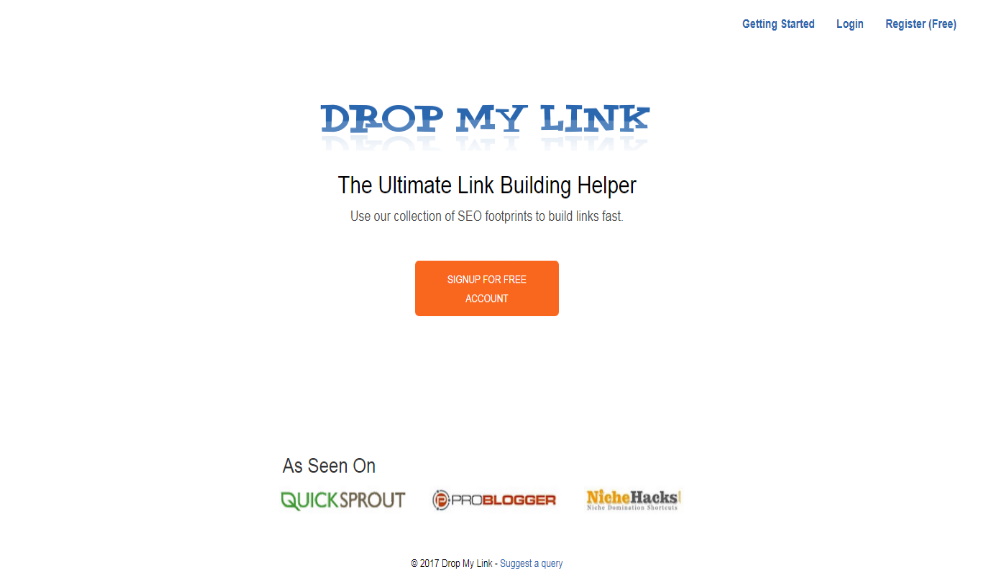 DropMyLink is the ultimate link building helper that allows you to build links faster. With it, you can easily find the right blog to comment on.
How to use DropMyLink
All you need to do is type in your Keyword and select the blog type that you want to search (be it .edu Blogs, .gov Blogs, Do Follow Comment Blogs, KeywordLuv Blogs and so on). DropMyLink works like Google as it brings the best results needed for you to enjoy your DropMyLink experience.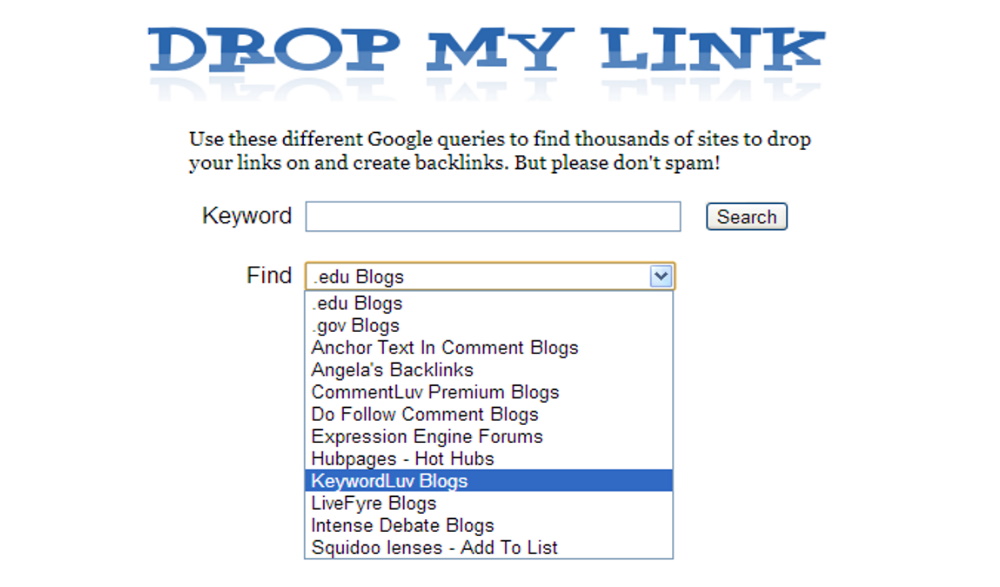 If you want to be using DropMyLink, you will need to Sign up for a Free Account.
G-Lock Blog Finder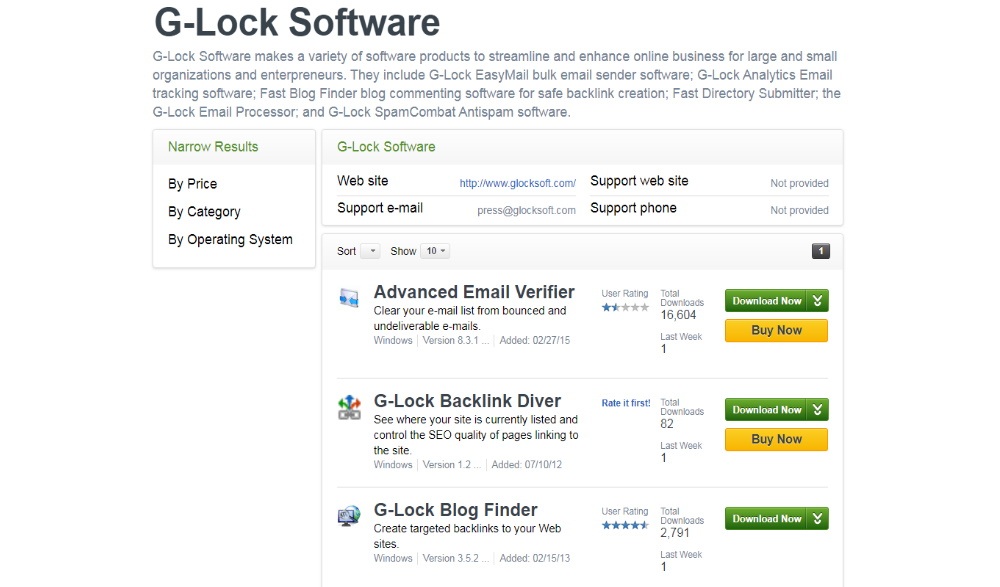 Fast Blog Finder lets you to quickly find the blogs you want in any niche, which can help you leave comments and build backlinks.
Once you begin using G-Lock Blog Finder, you will get high ranking websites linking back to your website quicker and easier than ever before without spending money on advertising and promotion.
This software is free, 100% spam-free, and search engine friendly. It does not make automated comments on blogs, which is a huge plus.
How to use G-Lock
First, you need to type in the keywords or a keyword phrase and click "Start". When the search is complete, click on an URL. The page opens directly in G-Lock Blog Finder. You can read the post, write your comment and submit it directly from the program, which saves you a lot of time.
However, there are other things that you can do with this software:
You can limit the program to the top 10, 20 or 50 results from the search engine to get the most relevant blogs for your keywords
You can determine the blog type, whether it is Do Follow, No Follow of mixed. G-Lock Blog Finder determines Do Follow blogs with 99% accuracy.
Check blogs for approved comments
Skip duplicate posts between search queries
Skip posts that require you to login or register
Load your own lists of blogs
Use custom footprints for search
Submit the pages with your comments to social media sites to get even more traffic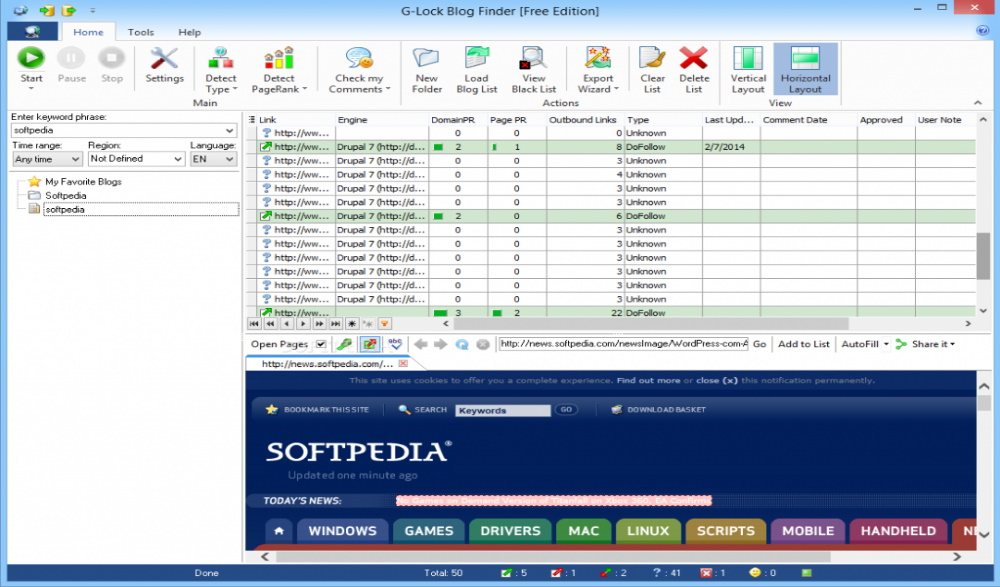 If you want to check how it works click here.
DoFollow Search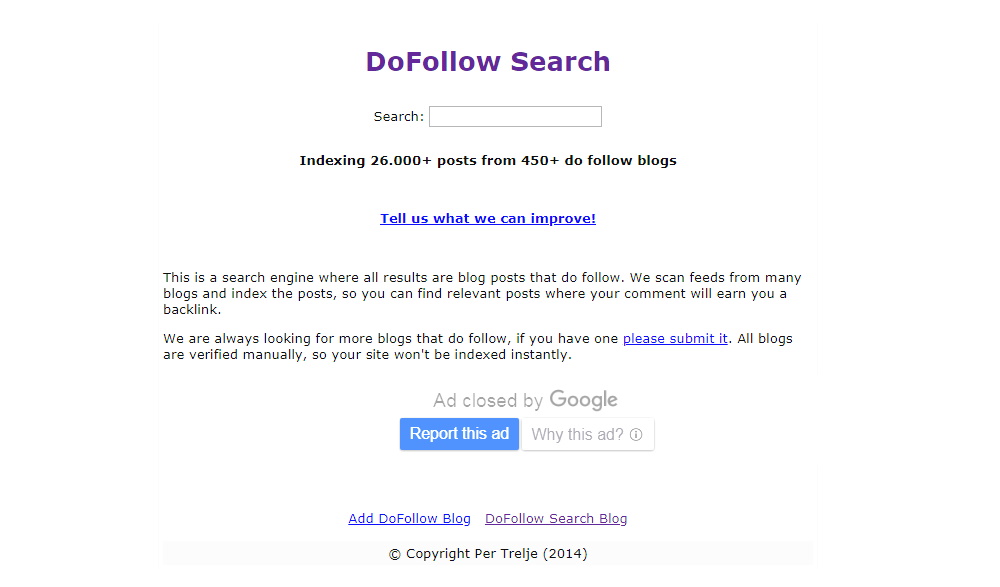 DoFollow Search is a simple search engine where you can find blog posts that allow Do Follow links. By using this search engine, you will be able to find relevant blogs that will gain you quality backlinks.
You can even submit a blog that allows Do Follow links because they are constantly searching for them. All blogs are verified manually, which means that your website will not be indexed instantly.
You can check out DoFollow Search here.
Blog Submission Websites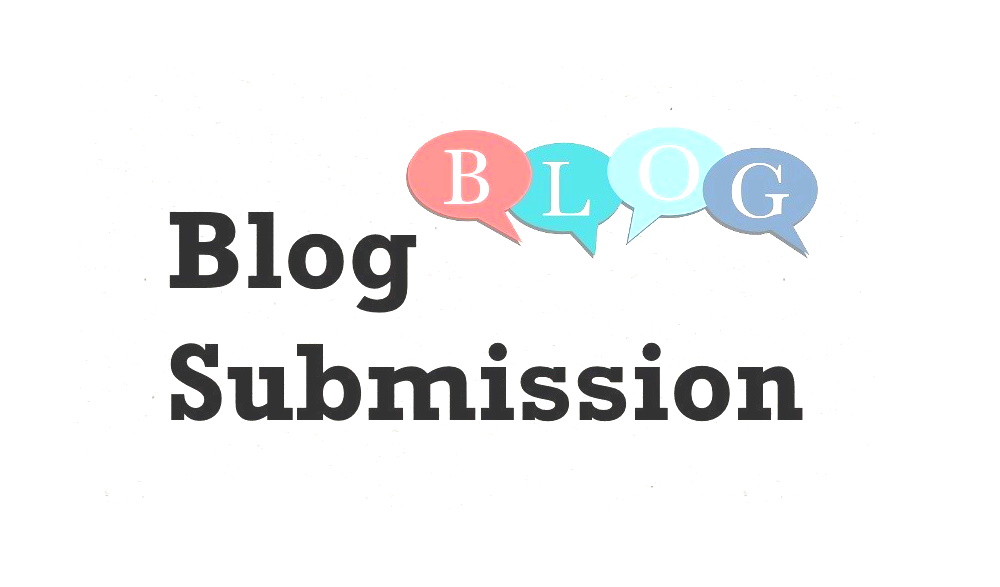 We will now discuss something other than tools that allow you to find niche-related blogs to comment on. More specifically, we will now focus on blog submission websites which contain tons of manually verified blogs that are categorized based on topics. Blog submission websites represent one of the best places to find high-quality relevant niche blogs.
In other words, they allow you to gain backlinks once your weblog gets approved by the team. After that, you can search for any relevant blog for commenting or collaborating with.
The most well-known blog submission websites are:
Whichever way you choose to find relevant blogs to comment on, bear in mind that you are not doing it merely for popularity. Therefore, makes sure to invest your time to find quality over quantity.
All of the tools mentioned in our article are for designed for people who want to be in control of their own business. However, if you want your comments to be written by a professional, we have an article written on the 10 Best Blog Commenting Services. Feel free to check it out here.