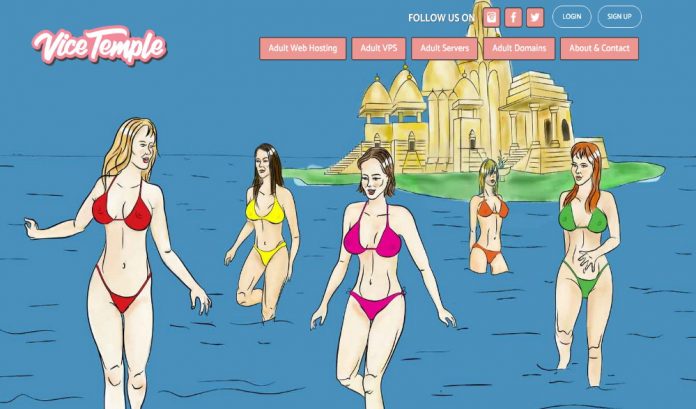 The adult industry has become one of the fastest-growing industries. Webcam businesses, porn sites, sex toy shops, escort agencies — each part of the industry is booming. Porn sites lead the way, as estimates show that around $3,075.64 is spent on porn online every second.
Starting an online business in such a hectic and growing climate is no easy feat. Since most well-known hosts don't allow porn to be hosted on their servers, you will need a special kind of host that will place no restrictions on your content. These adult web hosts should also give you more privacy, speed, bandwidth, storage, as well as better hardware than ordinary hosts. Additionally, they need to offer all of this and more at an affordable price.
Although the requirements for adult web hosts are greater than those for ordinary ones, it is not hard to find a good and reliable provider. Read our Vicetemple review and find out why it is the best adult web host in the business.
Which Services Does Vicetemple Provide?
The main services you can find at Vicetemple are adult web hosting, adult VPS, adult servers, domain services, and clone scripts. Read on to find out more about each of them.
Web Hosting Services
Firstly, Vicetemple allows all adult content on their servers. Of course, what you post has to be within legal bounds, but as long as it is, they are quite liberal and happy to accept anything you create or promote.
Secondly, they encourage free sharing of all their content, which means they basically ignore all copyright claims. They can do this because they are an offshore host, which means they have to abide by less strict privacy and copyright laws. Thus, you will never have copyright issues if you choose them as your adult hosting provider.
Finally, Vicetemple offers complete security both for you and for your site's visitors. Aside from that, it is designed to handle unlimited traffic, give you guaranteed uptime, regular server monitoring, and all usage statistics.
One general downside is that Vicetemple offers you no free trial options. So if you want to try it out, you will have to register and pay. Luckily, they have a 45-day refund policy in store, in case any of their clients are unhappy with the services.
Now that you know all the general info, it is time to dive into the three types of hosting that Vicetemple offers you.
Adult Web Hosting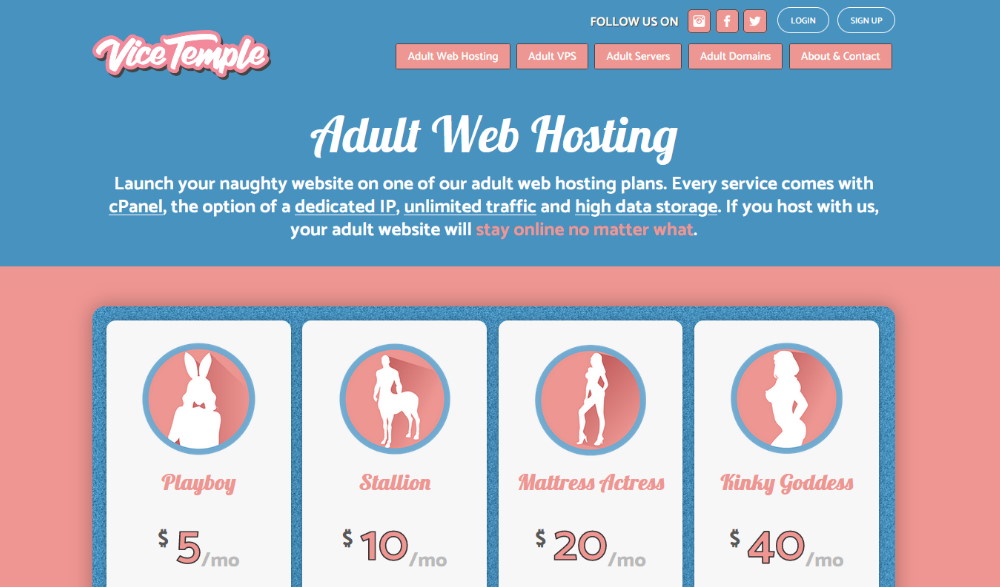 Vicetemple offers a wide variety of web hosting servers. If you are just starting out, one of their adult web hosting plans will be a good choice for you. Their starting plan, priced at $5 a month, offers you unlimited data, 10 subdomains, and 15 GB of storage space. The highest priced plan costs $40 a month, and it promises unlimited data, 180 GB of storage, unlimited number of subdomains, as well as unlimited addon domains.
The specs might not seem like anything to write home about, but they're enough to avoid slow performance and the inability to handle high traffic in the beginning. They are perfect for new users who are still figuring things out and want a good but affordable option.
If we compare Vicetemple's pricing with that of rival hosts such as AbeloHost or M3Server, we can see that Vicetemple is the least pricey option.
AbeloHost's starting plan costs €5.99 a month, while their highest priced one costs around $35. However, this option offers way less in terms of storage space, speed, and the number of domains than the slightly more expensive Vicetemple plan. That makes Vicetemple a better choice. The same goes for M3Server, which only offers you one adult web hosting option, priced $20 a month.
As soon as your website starts gaining traffic, you can upgrade to a better performing server, called a VPS.
Adult VPS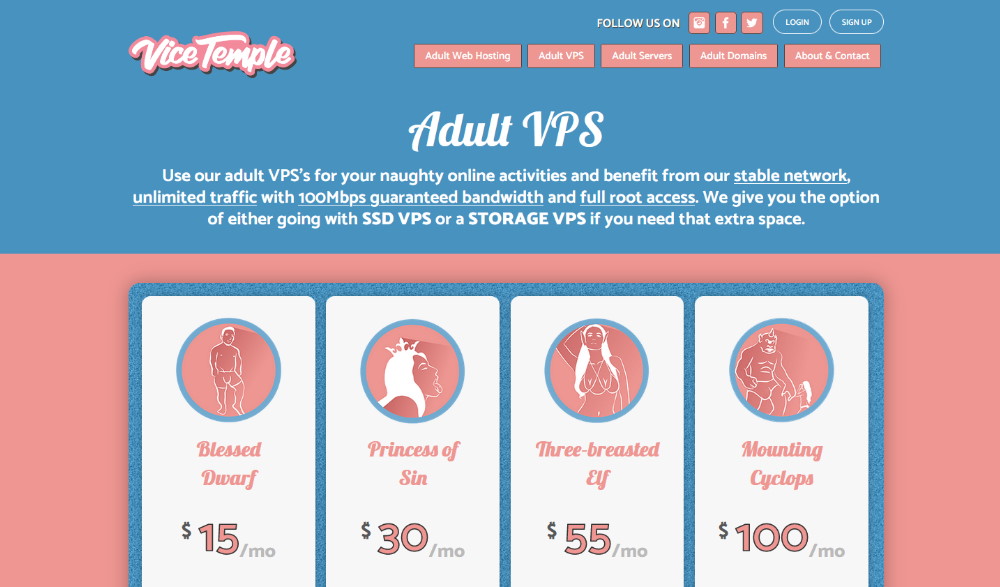 Seen as the next natural step from Adult Web Hosting, Adult VPS offers each user a portion of the host's hardware. Put simply, you get your own private little server. VPS hosting is an upgrade from Adult Web Hosting in every aspect. You will get better performance, reliability, and security.
However, you will also have to pay more. The price range is rather varied though, so you will surely find something that fits your budget. The cheapest option is just $15 a month, while the most expensive one is $745.
If you plan to launch an adult tube site and stream videos, VPS hosting is the way to go. The performance quality will be much greater, and you'll be able to provide all your visitors with a high-quality experience.
However, VPS hosting is still not the best possible option you could get, and the answer to the question why is simple. With VPS, you don't have full control over the server. If that's what you want, you ought to get an adult server.
Adult Servers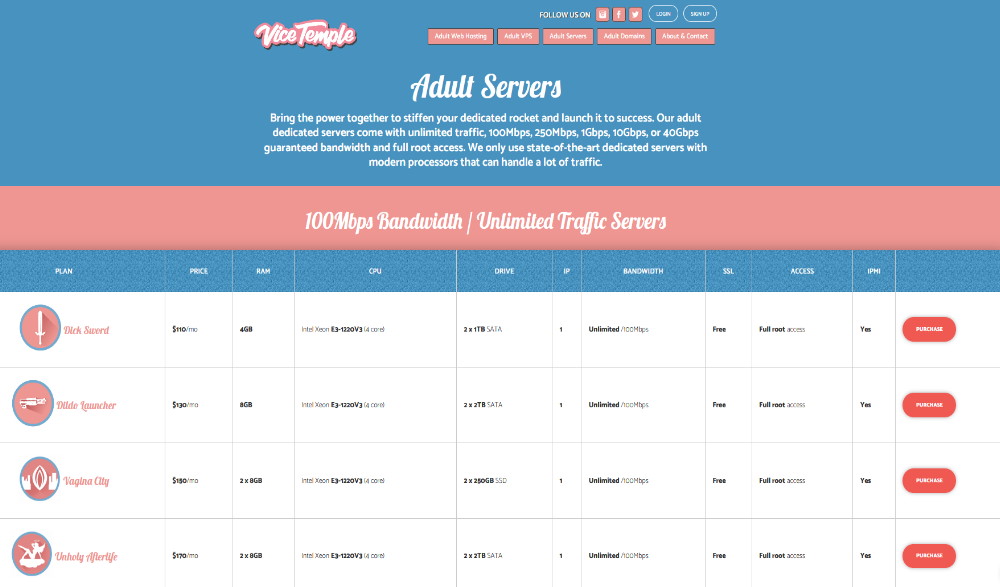 Adult servers are the last and highest step on Vicetemple's web hosting ladder. They are the best security-wise, as you will be at no risk of receiving any viruses from other users, which will keep you and all your visitors completely safe.
If you have high website traffic and require great speed, bandwidth, and storage space, this type of server is the way to go. The prices range between $110 and $520 a month.
Adult Domain Services
To start and run a successful website, you need a good and memorable domain. That is especially true for an adult website, as an original domain can get you noticed in a sea of other .com websites floating around.
Vicetemple offers you a wide variety of extensions that allow you to pick any domain you want. The prices are incredibly varied, so you can get an extension for anything between $29 and $299 per month.
If you feel like your domain name is already catchy or dirty enough, you can always opt for a regular extension. At Vicetemple, it is always up to you.
Clone Scripts
As mentioned above, Vicetemple offers great features for those who already have a website. However, they also have useful tools for completely new users. These tools are templates you can use to create your website from scratch if you are not as tech or graphic design-savvy. The templates are either clone scripts of popular porn sites or WordPress themes and they allow you to replicate a site's layout and the way it functions.
The following sections of our Vicetemple review will cover all the clone scripts you have at your disposal at Vicetemple.
Pornhub Clone Script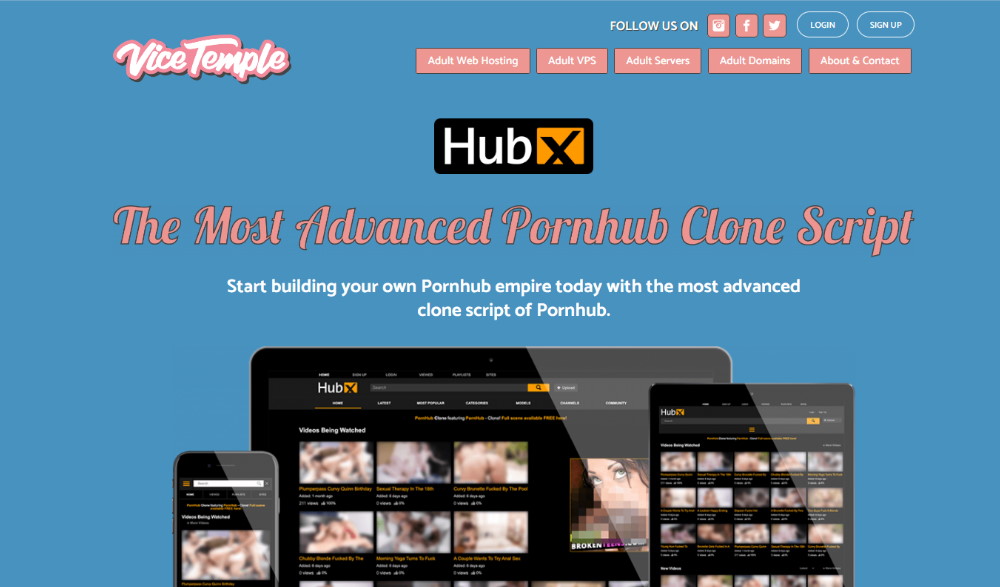 This clone script mimics Pornhub's format and functionality perfectly. It allows you to import videos from all leading websites and categorize them the way Pornhub does. The clone is optimized for heavy load and you can choose the video format you like best. It costs $79 each month.
Xvideos Clone Script
Vicetemple's Xvideos script allows you to create a community identical to the one on this popular website. You can embed or upload videos from any website online and organize them according to categories or actors.
This clone is a multi-server system and is fully optimized for search engines, which means your content will have high visibility in searches. As with all their scripts, the monthly price is $79.
Redtube Clone Script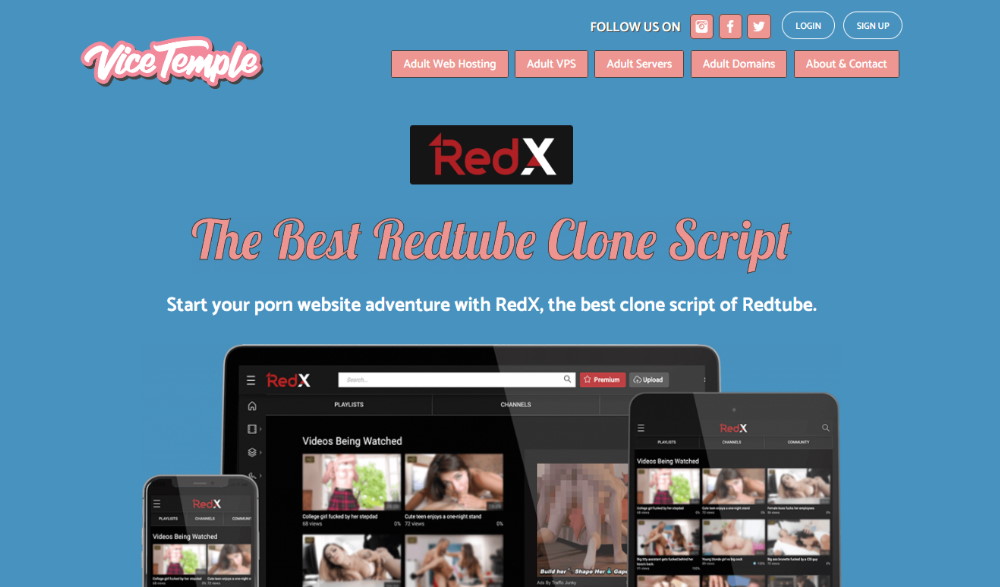 RedX is the best Redtube clone script available online. It allows you to replicate Redtube's user-friendly layout that lets users upload their own videos and form a community.
You can offer your visitors advanced video snippets, varied payment and subscription options, and the best security. The pricing is the same as for the first two clone scripts.
Xhamster Clone Script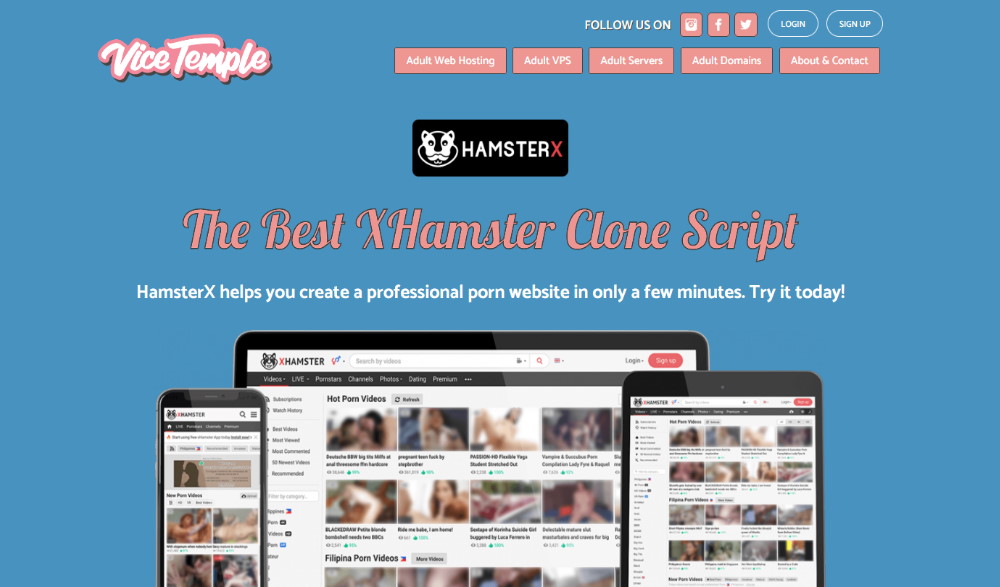 This clone helps you create a fully optimized website similar to Xhamster. The script supports a variety of languages, allowing you to expand your service worldwide. It is based on an open-source platform, which allows you to customize the website exactly the way you want to. For just $79 a month, you'll be able to offer highly responsive and high-quality content just like Xhamster.
WordPress Themes
Vicetemple has also recently released two adult WordPress themes in the form of PornX and ModelX. While PornX is targeted towards porn tube sites, similar to the clone scripts, ModelX represents the first WordPress theme specifically designed for adult content creators, OnlyFans models and porn stars.
A Step-By-Step Guide to Using Vicetemple
Although it might seem too complex, picking a plan and accessing your very own website is actually quite easy. This part of our Vicetemple review that follows will explain how.
Firstly, open Vicetemple and click on the Adult Web Hosting option. A new page will load, offering you different plans. Choose the one that fits your needs and budget best.
Next, it is time to pick your domain name. You can come up with a new one, choose an existing option, or transfer the one you already have.
Go over your plan, and if you are satisfied with it, proceed to Checkout. There, fill out all the necessary info.
Once you are done, you will get access to your control panel. The Cpanel allows you to access all Vicetemple services, as well as your own website.
Install the content modification system you like best, and then create an ID password that will help you access your website. And just like that, you've created/registered your website!
More On Security and Support
We will conclude our Vicetemple review by diving a bit deeper into the security and support they offer.
Security
Vicetemple takes your security seriously. You can rest assured that no team member will access any of your data without permission. Anything you upload will remain strictly private.
They also take all the necessary steps to protect both your data and your visitors. Backups are regular, so you never have to worry about losing any data if a server fails. These backups are also automatic, so you don't have to spend your time worrying about them or doing them manually.
Support
If you ever need assistance or have any questions, Vicetemple gives you the option to contact their superb support team. They will answer any questions you may have, clear up any confusion, and help you get started in the adult business.
They are available 24/7 and you can contact them via email, live chat, or a ticket. All of these options are available on your Cpanel. However, you cannot contact them via phone call.
Wrapping Up Our Vicetemple Review
As you have read, Vicetemple is one of the best options when it comes to choosing the best hosting provider in the adult industry. The advantages are numerous: cheap pricing, great security, regular backups, unlimited traffic, varied selection of domain extensions, and an excellent support system.
There are, as we mentioned, some cons as well. They offer you no free trial, so you will have to pay for their services to see whether they work for you. However, if they don't, you can always get your money back within 45 days. Another con is that you cannot contact their customer support via a call, which would sometimes work much better than emailing them. However, there is still a live chat option if you need a bit of quick help.
All in all, we think the pros outweigh the cons by a long shot. Vicetemple indeed is the best option you can make in the adult hosting business. It is a must-try for anyone looking to try their luck in the adult industry. If you are one of those people, we encourage you to give it a shot, and we hope our Vicetemple review helps you get started.