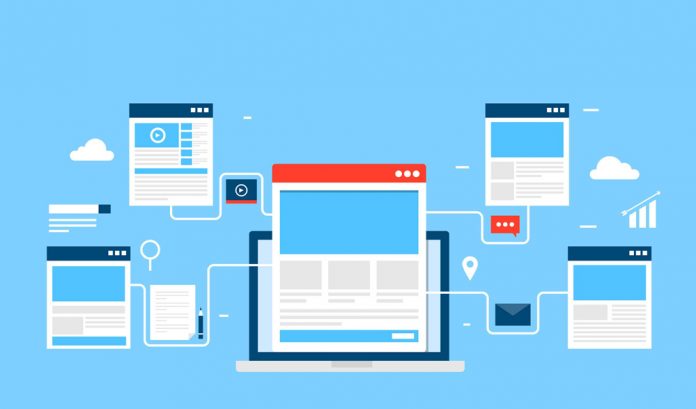 Quality is key to any website and so are quality backlinks. But let us first explain what backlinks are in general.
Backlinks are created when one website links to another. They are especially valuable for SEO because they indirectly tell Google that one website has confidence in another. These backlinks can be built by using two strategies: black-hat link building and white-hat link building.
The black-hat link building strategy is implemented in order to acquire the maximum number of links with minimal effort. In this case, black-hat companies often create countless low-quality websites that they use to spam links to the target website. This improves the ranking of the target website in the search engine results.
However, this practice violates Google's Terms of Service. That's why Google intervened and created its Penguin algorithm that is designed to detect the spammy links and eradicate this sort of abuse.
In short, black-hat link building will never end well for you, even though you may temporarily experience increased traffic and revenue. In the long run, it's simply not worth the trouble.
Nevertheless, you can – and should – implement white-hat link building. This strategy requires more time and patience, but it eventually brings significant results. Simply put, white-hat link building represents the process in which you strive to produce niche-relevant links to your website and boost your online reputation.
As mentioned earlier, this method might be slower and pricier, but it's safer and it is the only link building strategy that we will ever recommend.
Types of good backlinks
Natural editorial links – These links were created naturally, in other words, they link back to you because your website has high-quality content.
Manual outreach link building – If you want to get these links, you will have to ask for them. You can contact your friends, relatives, colleagues, partners or anyone that you know and owns a website or a blog. To make this strategy effective, you will need great content, and contact the relevant people (those that work within your niche).
Press releases and guest posts – These can be a great way to acquire backlinks. Just pick the websites that you like and promote the same content as yours, come up with original content, and there is a great chance they will publish your article on their website and give you a backlink.
YouTube and Video Sites – YouTube allows you to create a profile where you can include your link, and you can also place them in the description box down below your videos.
Directories – Sites like Yelp and Yellow Pages allow you to create a business profile that will include a URL to your website or blog.
Social Media profiles – Everything that has been mentioned for YouTube and Directories applies to Social Media profiles as well.
How experts view backlink types
SEO specialists usually divide backlinks into 3 categories:
Tier 1 Backlinks – The best backlinks that you can generate for your website – these include editorial backlinks, relationship-based backlinks, guest blogging, and niche directories.
Tier 2 Backlinks – You should try to avoid these backlinks since they do not add a lot of value to your rankings – these links include guest posting at scale, header, footer and sidebar links.
Tier 3 Backlinks – You have to avoid these backlinks at any cost because they will eventually get you penalized – these include paid links, comment spam, general directories, and backlinks from irrelevant websites.
Our focus for today are Affordable Link Building Services. Not only are they affordable, but they also offer quality backlinks for your website or blog. Without further ado, let us get straight to the list.
FATJOE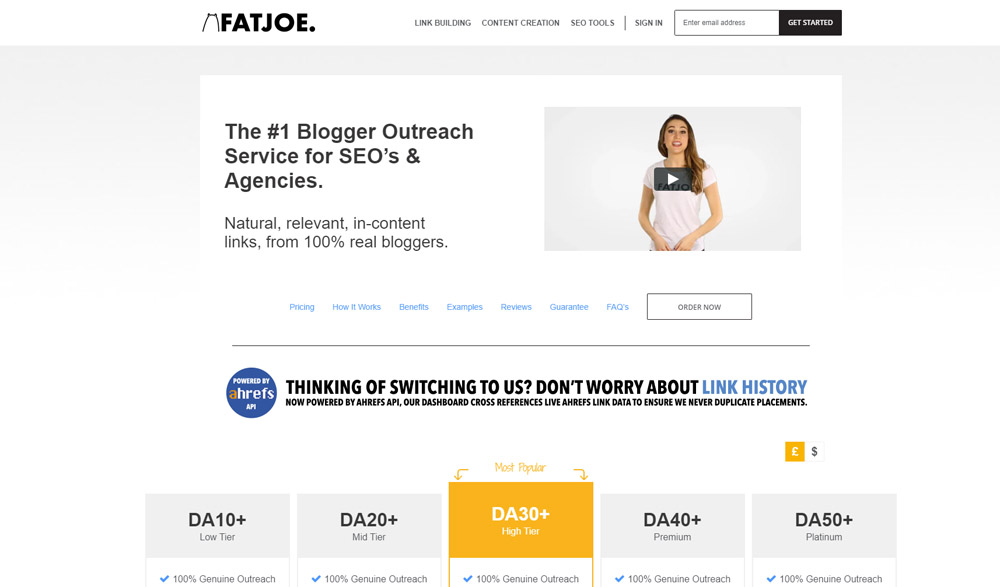 FATJOE was founded in 2012 and they have become one of the fastest growing outsourced link building and content marketing agencies. More than 1,000 agencies all around the world trust FATJOE as they secure 5,000 link placements every month. And they claim that they are 100% white label.
When they receive your order, they will look to find new placement opportunities for your website. Their copywriting team will even write a high-quality post that will suit both your website and the website that will publish the post. The most interesting part is that you will be able to view live progress from your dashboard.
Types of link building: blogger outreach, in-content links
Pricing
There are 4 packages:
Low Tier (DA 10+) from £35 per placement ($44)
Mid Tier (DA 20+) from £50 per placement ($63)
High Tier (DA30+) from £70 per placement ($90)
Premium (DA40+) from £180 per placement ($230)
If you would like to see what each package includes click here.
Red Canoe Media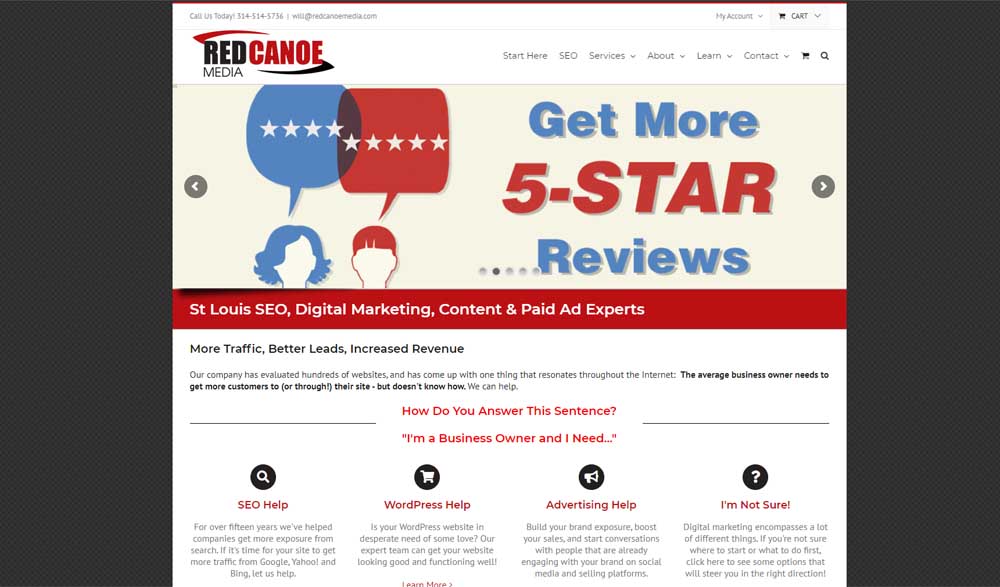 Red Canoe Media also recognizes the importance of backlinks. They say that building inbound links is a great way to start when your budget is limited, but if you have money, they advise you to invest in a complete SEO campaign.
Type of link building: not specified
Pricing
There are two options that you can choose:
Link Building Basic – $450 a month
$200 setup fee
Weekly link building
You will receive a Google sheet with information on new links and accounts
2. Link Building Advanced – $650 a month
$200 setup fee
Keyword research
Weekly link building
You will receive a Google sheet with information on new links and accounts
You will also receive weekly reports on links that were acquired or lost
And lastly, you will get a monthly keyword ranking report
RobinGupta.com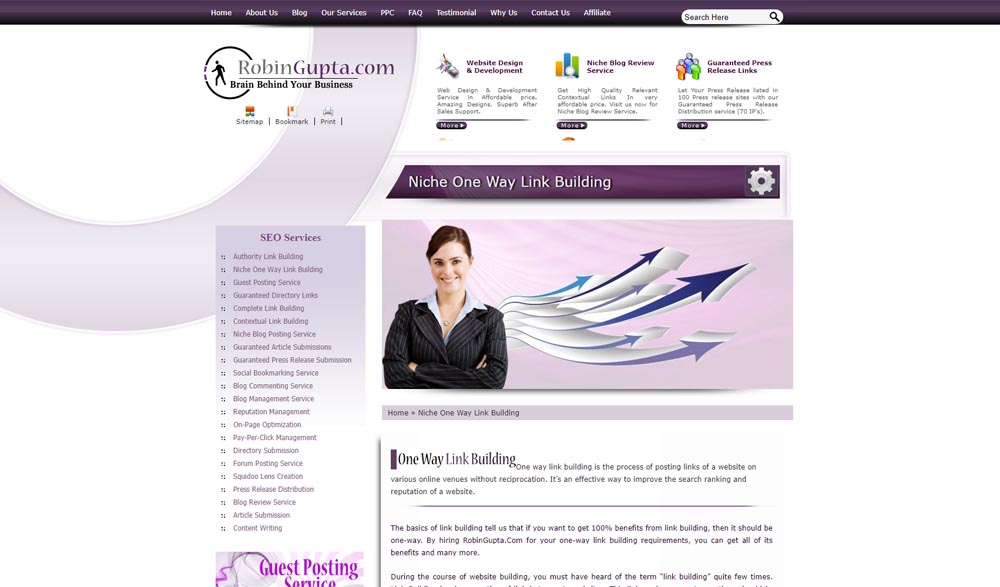 RobinGupta.com offers something different, and that is one way link building. One way link building is the process of posting links on various sites or blogs without reciprocation. If you hire them to build your links, your ranking will rise in search engines, you will boost your traffic and promote your brand better.
Type of link building: one way link building
Pricing
RobinGupta.com offers 9 different options:
10 One Way Links for $110
20 One Way Links for $220
30 One Way Links for $300
50 One Way Links for $500
75 One Way Links for $750
100 One Way Links for $1000
150 One Way Links for $1450
200 One Way Links for $1900
300 One Way Links for $2800
In order to see what each option includes, click here.

Muffin Marketing
Muffin Marketing offers affordable link building services to business owners and marketing agencies looking to outsource. They can help you rank ahead of your competition without wasting time.
They built all of their links from scratch. They do not own a private blogging network, and do not build relationships with bloggers. They want to get to know your business and your niche in order to reach out to real websites where they can request a guest post placement. After that, they will write high-quality content and include a backlink.
You will be able to see what has been done in a detailed report that they will send you.
Type of link building: guest blogging
Pricing
Muffin Marketing offers 4 different link building packages:
Beginner – £120 a month ($152) for 2 in-blog links
Intermediate – £280 a month ($356) for 5 in-blog links
Advanced – £550 a month ($700) for 10 in-blog links
Professional – £999 a month ($1145) for 20 in-blog links
These packages only differ in the number of in-blog links you will get, everything else is the same. Each package includes 500+ words in blog posts, genuine outreach. They will only post on real websites, links will be indexed and Do Follow and websites will be relevant to your niche.
If you own a small business, they also offer packages for small business, which you can find here.
In case you're considering their standard packages and want to know more about them, click here.

IS Global Web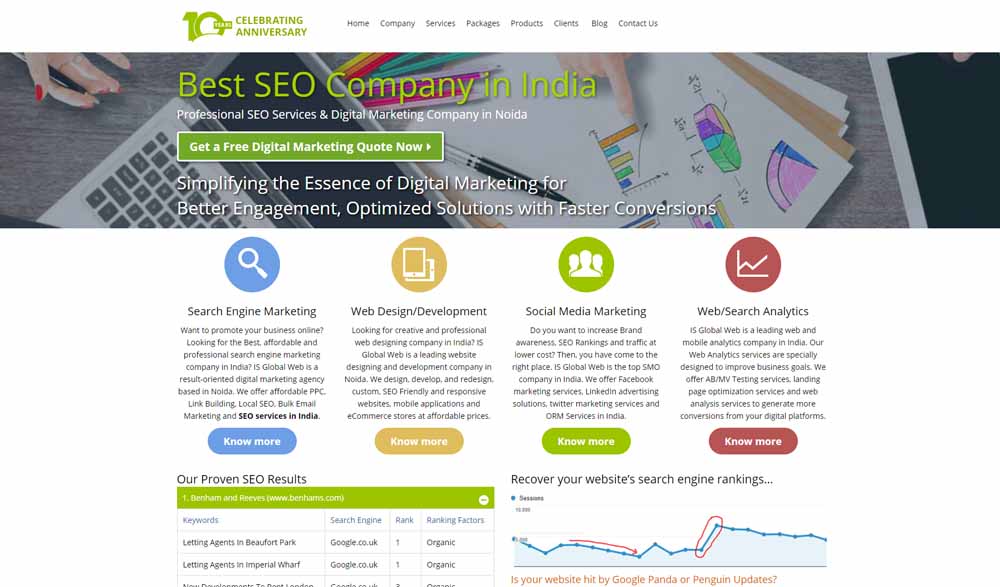 IS Global Web is the best SEO company in India. They offer high-quality professional link building services, which will help your website receive more traffic.
Types of link building: guest blogging, manual & contextual link building, .edu & .gov links, profile creation with Do Follow links, web 2.0 links, business listing and citation, Q&A and forum links.
Pricing
They offer 4 link building packages that are designed for both smaller and larger companies.
Starter – $149
Economy – $299
Deluxe – $599
Premium – $999
If you would like to see what each package includes, click here.

JDM Web Technologies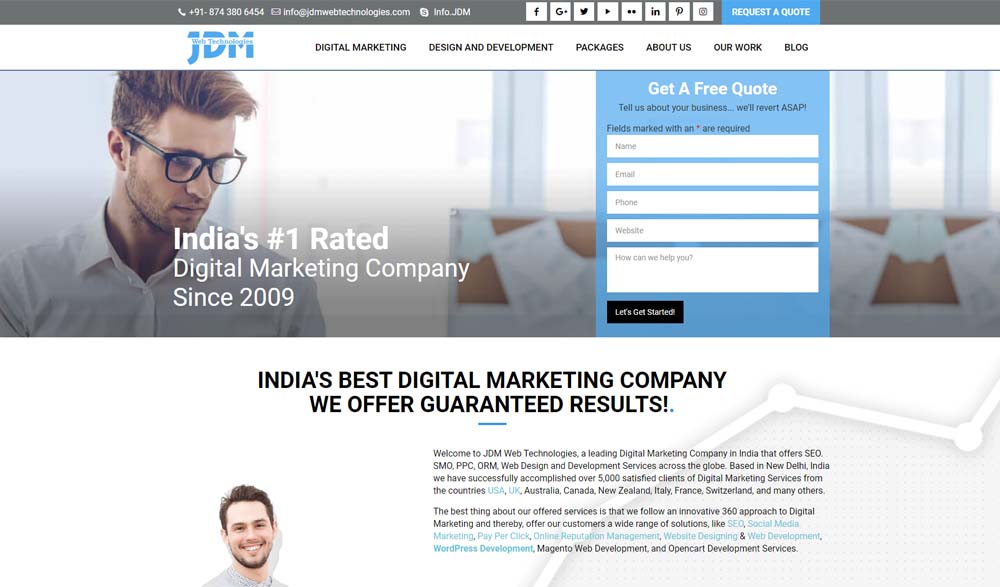 JDM Web Technologies is based in India and they guarantee to increase your website ranking with affordable editorial link building packages. At JDM Web Technologies, you get the best results with minimal input and investment.
Type of link building: 'natural' editorial links
Pricing
Their pricing packages are available in all kinds of price ranges. From small and medium businesses to large organizations, everyone can benefit from their services.
They offer four packages:
STARTUP – $250 per month for 55 links in total
SILVER – $475 per month for 75 links in total
GOLD – $700 per month for 155 links in total
PLATINUM – $925 per month for 55 links in total
These are great deals in our opinion, but if you want to go over the pricing tables more thoroughly, click here.

Diesel Marketer
Diesel Marketer offers a variety of options when it comes to link building. However, the only affordable link building service that they offer is the outreach guest post service. Let us explain what this service includes.
Diesel Outreach Guest Post Service
The company will provide you with high quality links on genuine websites with lots of traffic and large audiences. They will also write an original article about your business and publish it on some of the most popular websites in the world. This will improve your search engine rankings and generate more traffic to your website.
Pricing
Three packages are available:
Outreach Bronze – $197 a month
Outreach Silver –  $397 a month
Outreach Gold – $697 a month
You can read more about their packages here.
TheHoth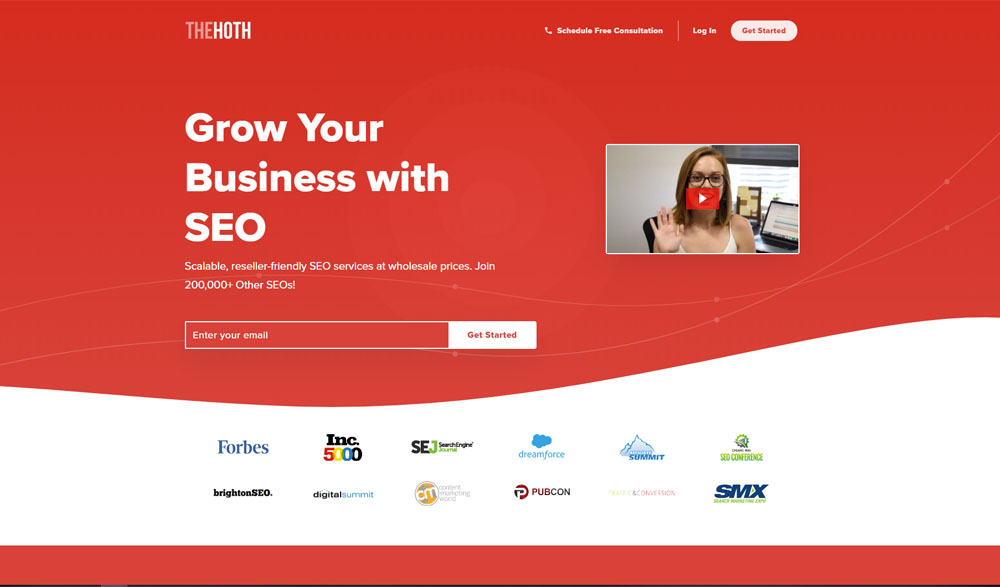 TheHoth offers various link building services, but most of them are expensive. Since we are talking about affordable link building services, we singled out one package that seemed like the best bet.
That is HOTHGP or HOTH Guest Post. It is the easiest way to get high-quality, natural, white-hat in-content links to your site, which can help you boost your traffic.
They will do manual outreach to quality websites, ask for a guest post, write a unique article with your links and publish it on websites with high domain authority. It should be mentioned that these backlinks are enterprise-level links that most people cannot get on their own.
You just need to give them your URL and anchor text and they will do everything else.
Types of link building: guest posting, in-content links
Pricing
Four different pricing packages are at your disposal:
DA 10+ for $100 if you want 1 pack
DA 20+ for $150 if you want 1 pack
DA 30+ for $200 if you want 1 pack
DA 40+ for $400 if you want 1 pack
5-Pack and 10-Pack packages are also available. To read more about what each package includes, click here.

CrockService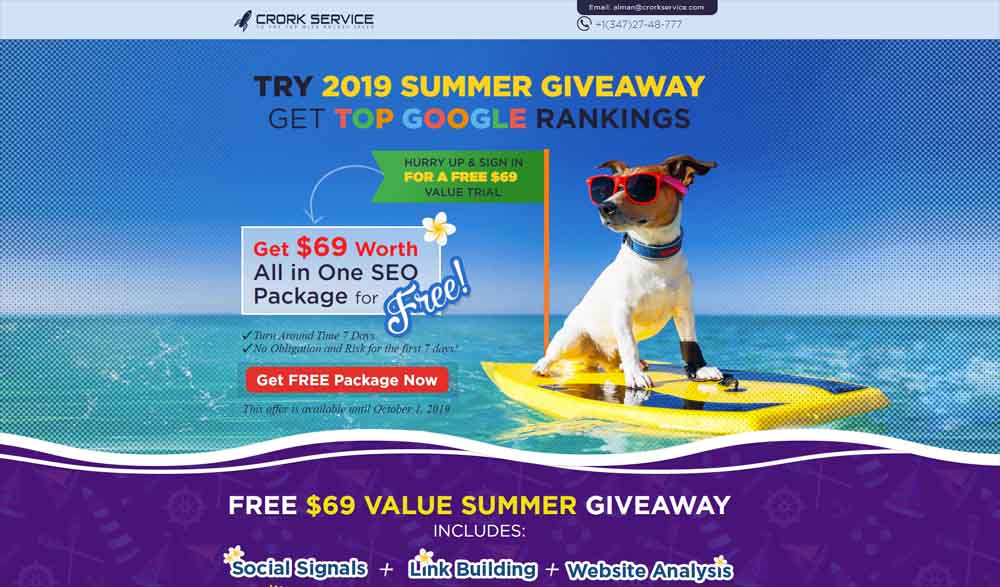 CrockService has a new offer, which represents a safe way to get high DA and TF backlinks to your website. That offer is called Life Time Blog Posts. In other words, they will submit articles in general niche-related blogs.
Type of link building: blog posting
Pricing:
10 Blog Posts, DA 20, TF 15-20 for $39
10 Blog Posts, DA 25-40, TF 15-30 for $45
25 Blog Posts, DA 20, TF 15-20 for $79
25 Blog Posts, DA 25-40, TF 15-30 for $99
50 Blog Posts, DA 20, TF 15-20 for $149
50 Blog Posts, DA 25-40, TF 15-30 for $169
SEOEaze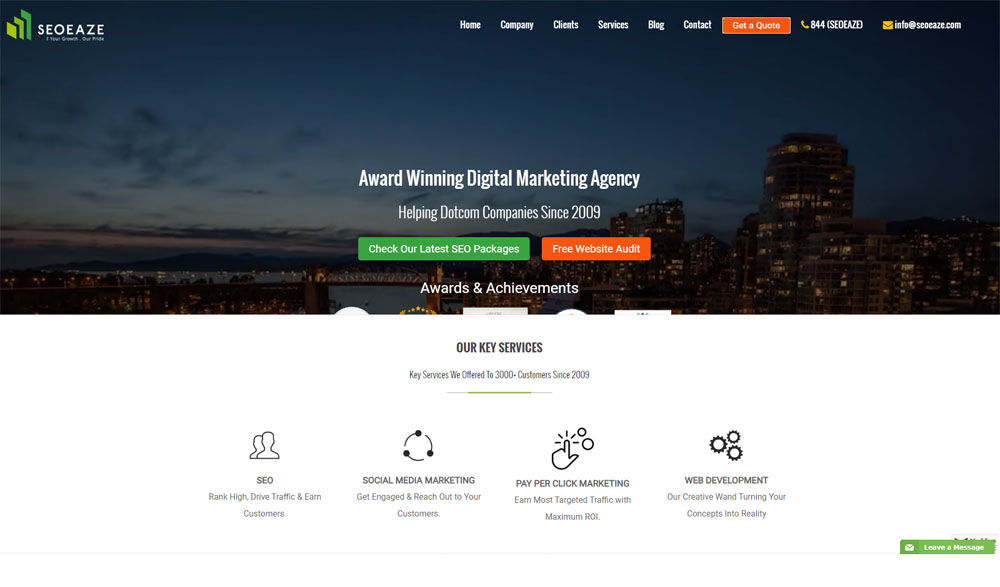 SEOEaze is an award-winning digital marketing agency established in 2009. They actually offer several link building services, so we will briefly explain each of them.
Link Wheel
Link Wheel gets its name because it basically creates various blogs or mini websites and links them in a circular pattern. This structure can include as many blogs or sites as you want. The website content is crucial here.
SEOEaze will make sure that the microsites or blogs are only created on high PR or DA sites.
Pricing
There are 5 plans available:
Bronze – $99
Silver – $139
Gold – $179
Platinum – $249
Diamond – $322,15
If you want to read about these plans in more detail, click here.
Press Release distribution
This service can bring you more brand awareness, improved online presence, and much more. Your site can enjoy increased visibility and enhanced exposure while the backlinks from quality sites increase your site's ranking in search engines.
Pricing
There are 5 plans:
Bronze – $49
Silver – $89
Gold – $149
Platinum – $249
Diamond – $329
If you want to know more about these plans, click here.
Forum link building
Forums can bring you theme-based links and attract the right traffic for your website. SEOEaze experts will publish relevant threads and topics on related forums with high-quality links in the post signatures. Links from such forums can add great value to your website.
Forum posting is done by publishing links on the popular forums and their posts. A lot of forums allow you to include links in your posts or your signature.
Pricing
There are 5 plans available for this service:
Bronze – $35
Silver – $59
Gold – $99
Platinum – $139
Diamond – $199
You can read more about each plan here.
Article Marketing
Article submission has become a very popular way to promote websites. This type of link building includes writing and publishing well-written articles in established directories. Their experts will do extensive research on your niche and write a relevant article that will be beneficial and informative for the readers.
Pricing
They offer 5 plans:
Bronze – $29
Silver – $79
Gold – $119
Platinum – $199
Diamond – $224,1
You can find out more about each plan here.
Search Engine Submission
Search Engine Submission lets you link highly ranked directories or websites to your own site in order to gain more popularity and relevance. This is a technique that submits and lists your site in various search engines such as Google, Bing, Yahoo,..
Pricing
There are 3 plans:
Silver – $19
Gold – $39
Diamond – $69
More about these plans can be found here.
Complete Link Building
Every link they place through the Complete Link Building service is done in a professional and strategic way that allows referral traffic to flow to your business.
If you opt for this service, SEOEaze will do the following:
Create a two-tier approach that helps to index links faster and better
Use tried and tested link building strategies that will keep you away from Google penalties
Research your site and niche, as well as your competitors and target keywords
Pricing
There are 5 plans on offer:
Bronze – $199
Silver – $299
Gold – $494,1
Platinum – $749
Diamond – $999
If you would like to see more information about these plans, click here.
Industry based links – niche blogging
SEOEaze also does guest posting and blog posting in your related niche/industry, which is a great way to acquire positive backlinks and enjoy high search engine rankings and better traffic.
Pricing
This services comes in 5 different plans:
Bronze – $149
Silver – $279
Gold – $399
Platinum – $494,1
Diamond – $764,15
You can read more about the plans here.
This concludes our list of the most affordable link building services. If you would like to get your links built by a professional, do not hesitate. Contact a professional SEO company and invest some money in a quality link building service.