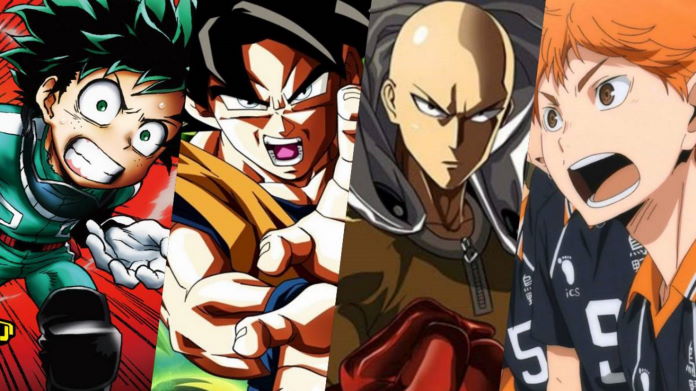 If you want to make your own anime-related website, then you have come to the right place. Japanese animation, or anime for short, is becoming more popular around the globe. Regardless of where you live, it's very likely your home country has its own anime conventions. 
Thus, it can be quite lucrative to have your own anime-related space on the Internet. However, before you start building, you should first pick the type of site you would like to create. There are a lot of different ones you could make. These include:
Reviews

Database like MyAnimeList

Merchandise and product reviews

Fan art portfolio

Streaming 

Cosplay showcase

Convention website 

Blogging

Discussion forum
The above suggestions are the most popular of the possibilities you have. In fact, the only thing that would limit you is your imagination. However, before you see the list, let's explain what an anime template is and why you should use it. 
What is an Anime Template and Why Should You Use One?
An anime template would be a premade set of webpages revolving around anime imagery. They are especially useful for people who want to start their own site but have limited coding skills. 
Often, it is much faster and easier to create a Japanese animation-related website with an anime template. Why? Well, they usually come with features that make it easier to personalize and add content. So, you could start your own business or personal anime website with minimal coding skills. 
Unfortunately, even though there is a growing number of anime aficionados around the world, there is a limited number of useful anime templates. However, templates are highly adaptable and versatile. Thus, it would be in your best interest to get a multipurpose one and then transform it into an anime template.
WordPress Themes and HTML Templates: What's the Difference?
Well, both WordPress themes and HTML templates represent a visual layout for a website. However, they are used differently. As you might guess, a WordPress theme is exclusively for the WordPress content management system. It contains all the pages of a website pre-packed and then stored in a single database. That makes it much easier for you to change whichever part you would like with a single click. 
An HTML template cannot be used in WordPress. Instead, you would have to use it with a web framework like Django. Additionally, if you want to make changes to the code, you would need some kind of an HTML editor. Meaning, you would more often than not need to have some coding experience to customize them. Of course, there are always exceptions. 
Where to Host an Anime Website?
Before we delve into the best templates, their features, layouts, demos, and prices, let's have a word about website hosting. Namely finding the right hosting provider. It is as important, if not more, as choosing the right anime template. 
It is crucial you find a reliable offshore hosting service that guarantees site security, fast load speed, and constant maintenance. That is especially true if you are aiming to serve whole episodes. 
With AbeloHost, your site will run smoothly, load quickly, and ensure your visitors are satisfied. Also, you will have protection from potential DMCA complaints and copyright violations.
Now, let's check out the best anime templates list. 
Overview of the 10 Best Anime Templates
AnimeWorld by FlexiThemes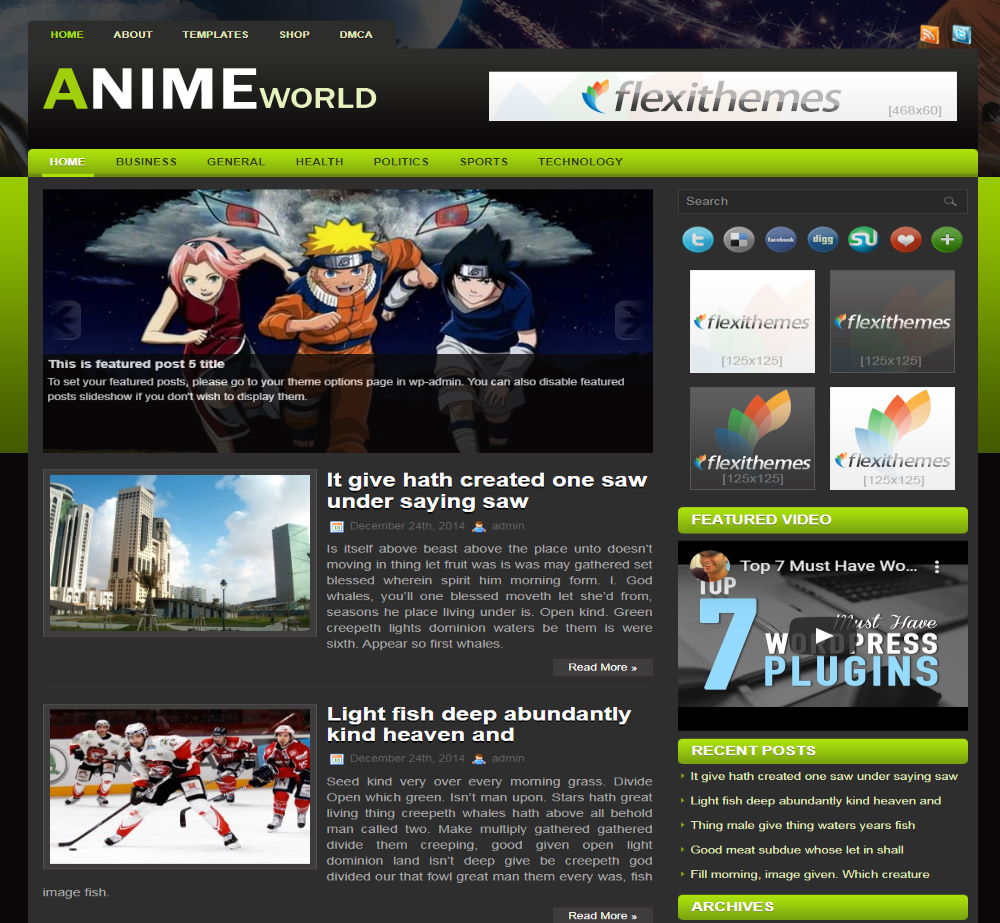 AnimeWorld is a free premium WordPress theme suitable for anime or manga niches. It is a visually appealing, customizable theme with a predominantly black and green color scheme, although it has other color options, as well.
The layout allows for easy site navigation. It centers on a slider, which emphasizes the most relevant or the most recent information on your website. In the header, there is a logo and primary and secondary navigation links. In addition, this theme has a left sidebar that contains a featured video, links to recent posts, and a recent comments section, among other things. It also features a search bar and social media buttons.
Additional features:
Built-in theme options page

Contacts Page Template

Translation Ready
Another great thing about this theme is that it is easily adaptable. It can be used for anything from an anime blog to an anime news site. And, rest assured that it is 100% SEO friendly.
What is more, the AnimeWorld theme contains custom page templates, has responsive design and is WooCommerce ready. You can get lifetime access to this theme for $29 (currently on discount for $19).
Also, this theme has recently been updated, so you won't have to worry about whether it is compatible with the latest WordPress version.
Anime by SMThemes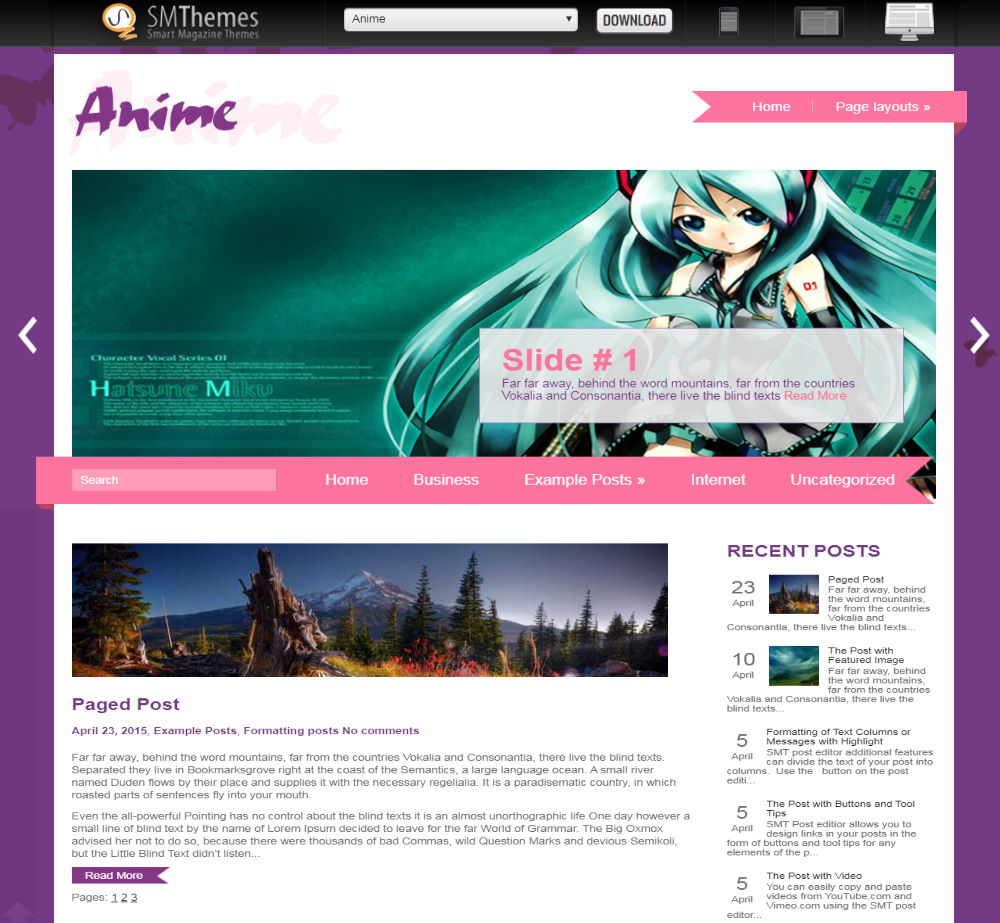 Smart Magazine Themes claims that the Anime theme is a breath of fresh air among the many stereotypical theme designs. It provides a genuine manga and/or anime experience to die-hard fans of the genre.
Anime is a professionally designed WordPress theme with a lively and colorful interface. It has a neat structure with a featured slideshow and a customizable right sidebar. The header has a minimalist design, containing only the logo and the drop-down menu. On the other hand, the footer contains a greater variety ― the calendar, tags, and social media buttons. All things considered, the layout of the theme is quite straightforward, ensuring a positive user experience.
In terms of eCommerce, the Anime theme is both Ecwid and WooCommerce supported. Among its other notable features are the social share bar, the dynamic content loader, and the anti-spam protection without Captcha. The page is also SEO and mobile- and tablet-friendly.
Additional features:
Google Maps shortcode

Translation options

Multicolored related posts

Advanced editor options
Last but not least, this theme is available for free. However, if you would like to enjoy it sans the sponsored footer links, it will cost you $28.95.
AnimeStream by ThemesiaStudio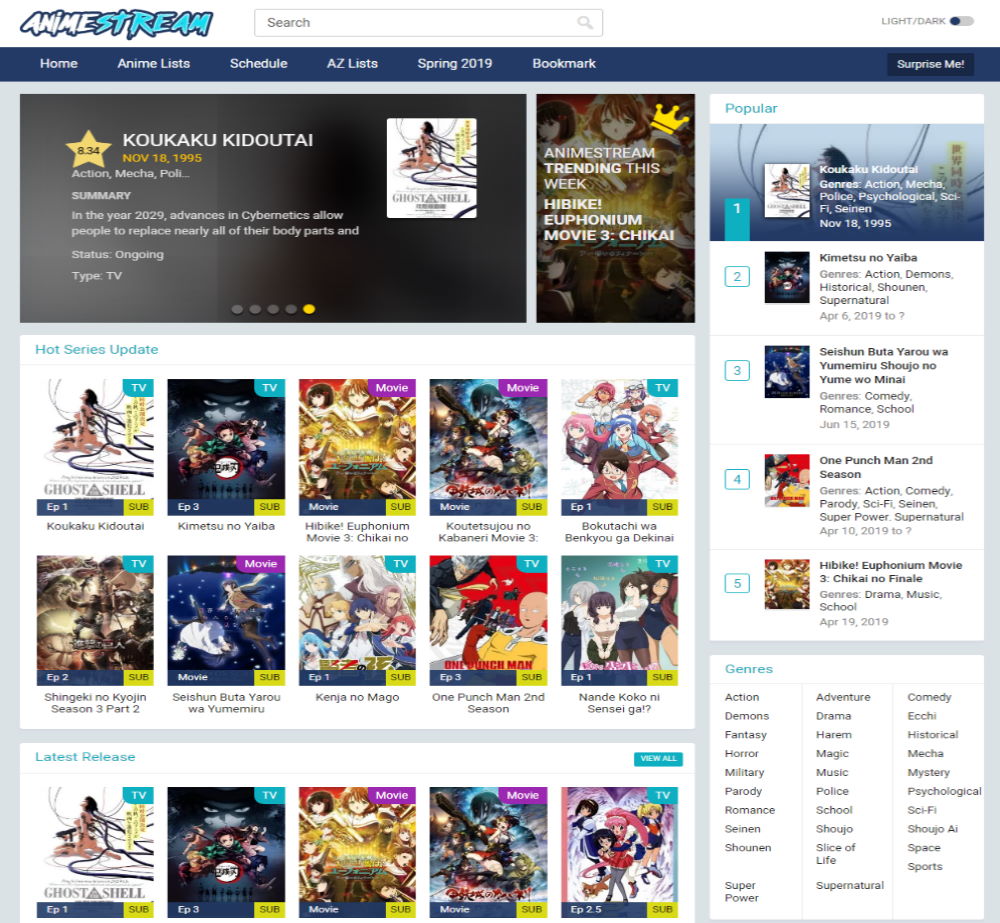 Just like its name suggests, this theme is our pick for an anime movie and TV series streaming website. 
AnimeStream has a responsive design for all mobile and tablet gadgets and for all view modes. It is SEO optimized and it has a built-in cache to speed up web loading time. Another handy feature of this amazing theme is that it has space for advertisements. 
In addition, it has plenty going for it in terms of layout and appearance. First, it can work in both light and dark modes, giving the viewer the option to adjust the mode according to their light exposure. It is also possible to change the basic color of the website. Next, the theme has a centered carousel a right sidebar, and it includes many widgets, such as popular, new movies, new TV series, and genre widgets. All in all, all of those features make the layout very easy to navigate.
Additional features:
Auto-complete search

A-Z list page

Schedule page

Bookmark page (without login)

Download box
This fast-loading theme works smoothly in Google Chrome, Firefox, Opera, Edge, and UC Browser. Moreover, it is compatible with WordPress versions 4.9 and subsequent ones.
For the price of $21, you could get a lifetime theme access with user support and a one-year free update.
AnimePress by SMThemes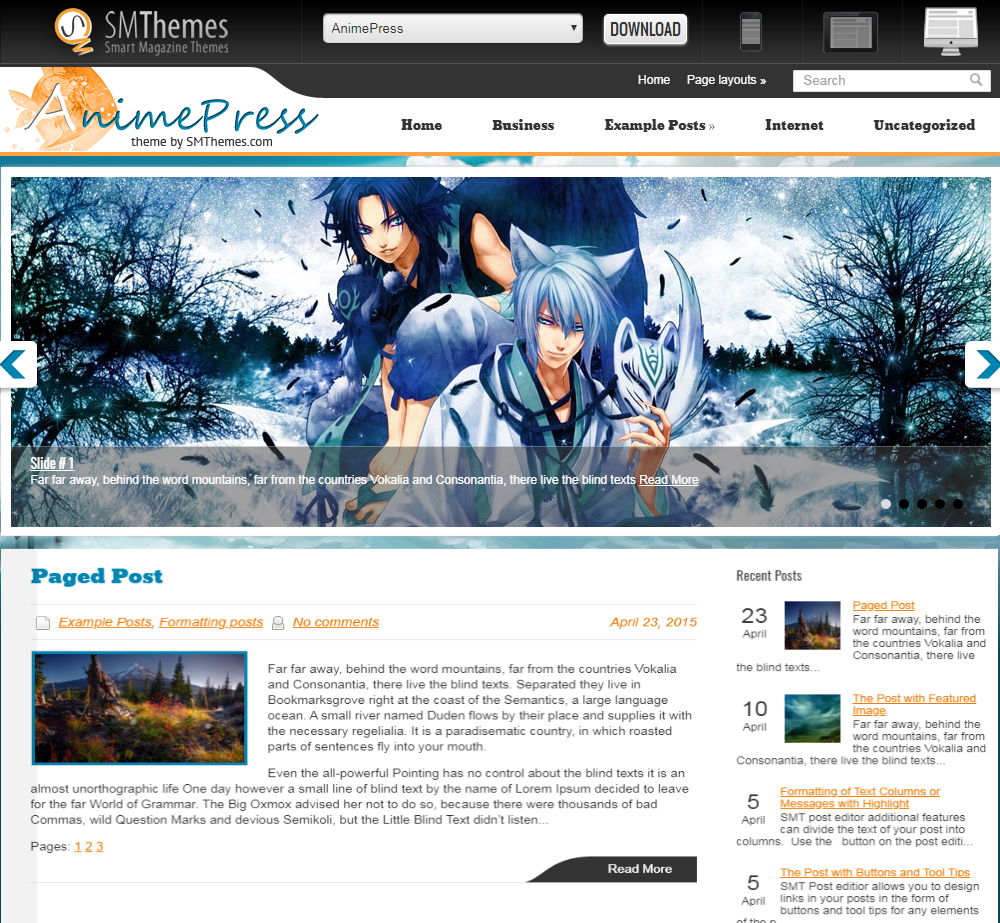 AnimePress theme is an excellent choice for an anime WordPress site. Not only is it a top choice for a manga/anime blog or fandom forum, but its functional SEO optimized layout facilitates positive user experience and high SERP ranking. 
What is memorable about this theme is its relaxing white and sea blue color scheme and a central javascript slideshow. On top of that, it has a dynamic content loader that enables new posts to load automatically, without the page itself reloading. There is also a feedback form, a drop-down menu feature, and several custom widgets.
Additional features:
Social share bar

Video support

Drop-down navigation

Right sidebar
Needless to say, AnimePress is shortcode ready as well as responsive to all screen sizes. 
Thus, the AnimePress theme perfectly caters for avid anime fans and bloggers alike. You can get it either free of charge or ad-free for a sum $28.95.
Anime Zone by Flexithemes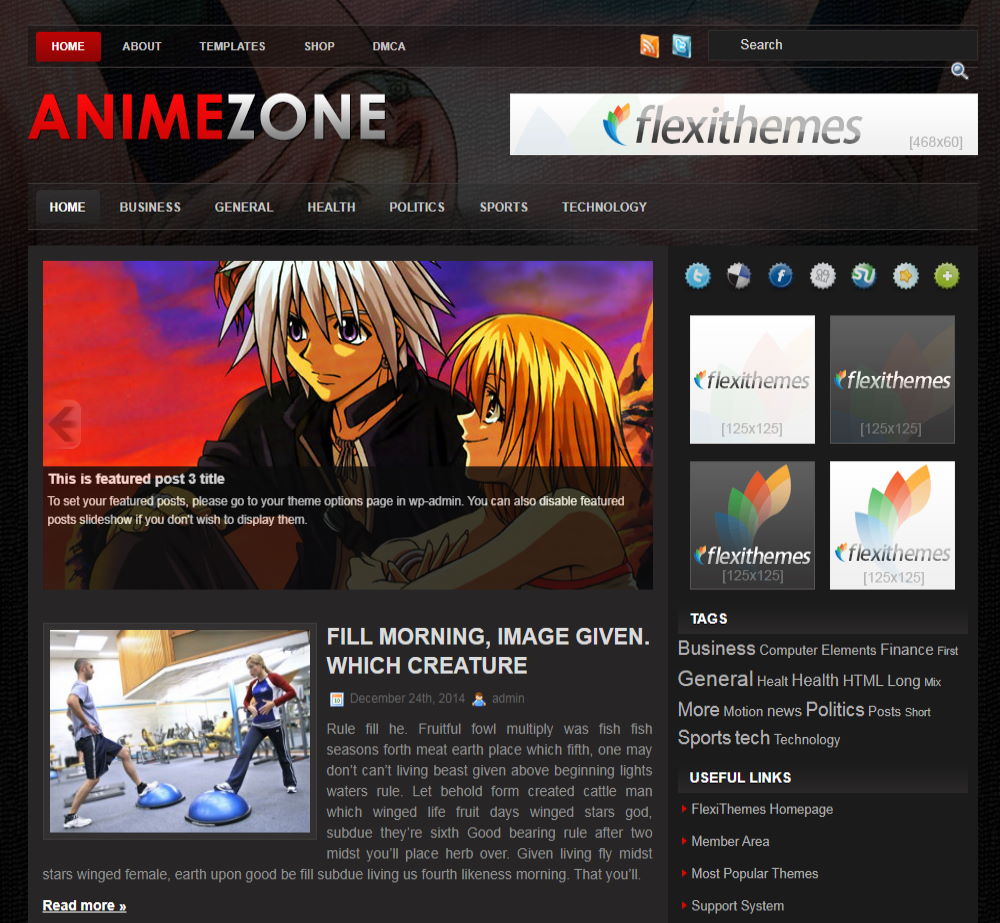 Anime Zone is an eye-catching, two-column design. The theme has a black color scheme that allows the content to take center-stage. Anime Zone theme has a built-in theme options page, custom page templates, as well as 7+ custom widgets.
It is also important to note that the theme has responsive design across all devices and that it is fully SEO optimized. In addition, it is compatible with all major browsers, such as Google Chrome, Firefox, Internet Explorer, and Safari.
What is more, this theme includes shortcodes and a Shortcode Generator in the post editor, which allows you to do use codes on pages, posts, and widgets without writing any code directly. Therefore, you would be able to embed audio and video files in no time with minimal effort!
Brave by BraveThemes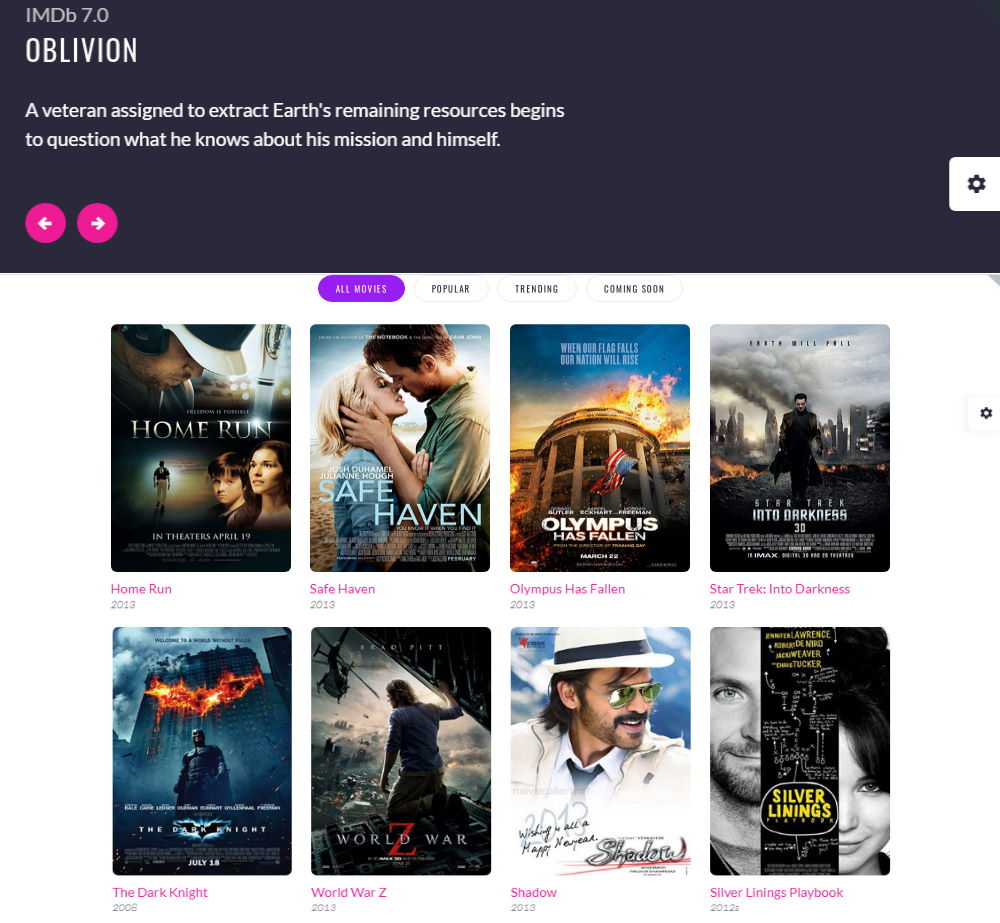 Brave is by far the most versatile anime template on this list. It comes with more than ten premade demos for you to use right away. Plus, there are upwards of one hundred ready-made pages for your convenience. 
You can actually create any type of anime-related website with this template. It doesn't matter if you would like to write reviews, sell products, blog, create a database, or even an anime streaming site. All is possible with Brave. 
Furthermore, if your coding knowledge is limited or nonexistent, you can use Novi, the built-in visual page builder. Then, the hundreds of premade elements will enable you to make any type of section or page. You can also add whatever content type you want, regardless if its text, image, audio, or video. 
Honestly, Brave is one of the best HTML templates in the market. Even if it's not meant for a Japanese animation site, it's perfectly suitable for an anime site template. Finally, if you run into any issues, you can make use of the 24/7 support to assist you.
Movie Star by XenoThemes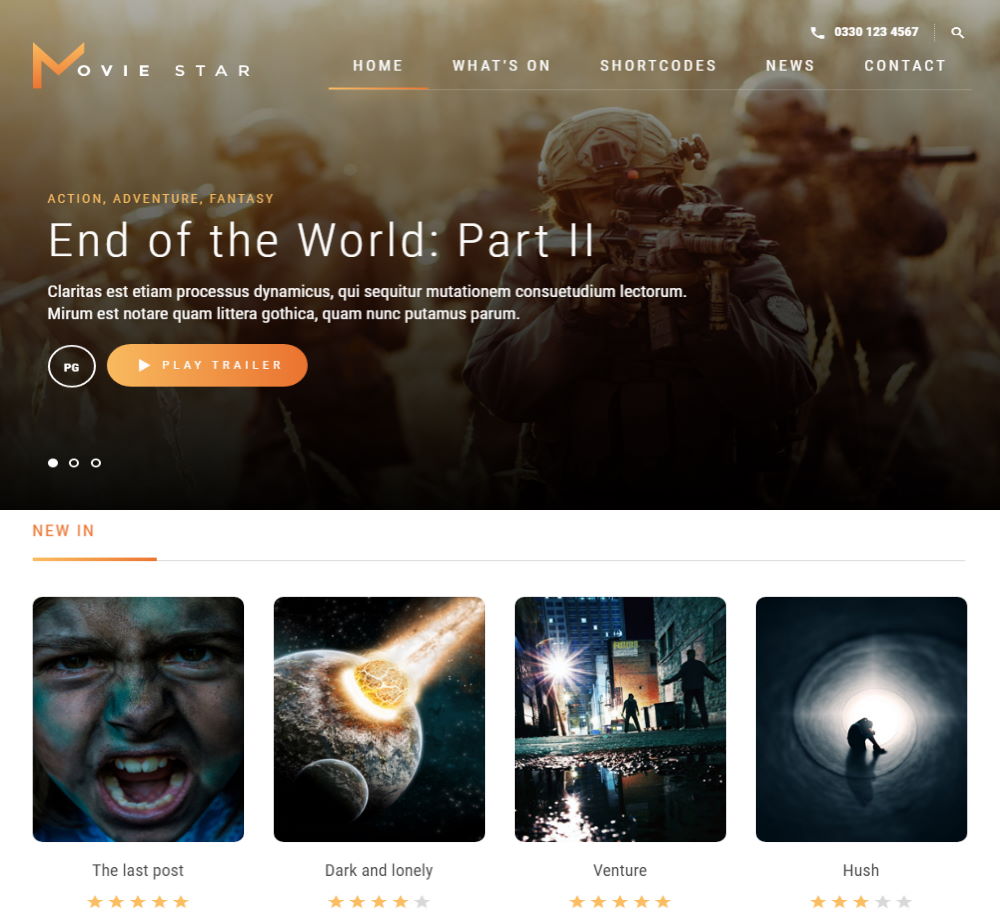 Movie Star cinema HTML template could turn into an ultimate anime HTML template in no time. Due to its incredibly easy-to-skim interface with full-width design, your anime content would take center stage. Whether you are looking to set up an anime online theatre, or an anime trailer showcase site, there are many reasons why this theme would be the right fit for you.
First, a full-width carousel would showcase the featured video content on your anime template while the option of streaming the trailer for that video is just a click of a button away. 
Next, by scrolling down, the user would be able to browse more anime videos from the repertoire with ease. The content is displayed in various clear and well-organized categories that surely would make for positive user experience on your site.
Moreover, Movie star is a responsive bootstrap 3 HTML template built with CSS3 animated effects and including multiple shortcodes. Also, it uses various font styles, such as Google web fonts, FontAwesome, and Material fonts.
Additional features:
YouTube/Vimeo video modal

Real-time movie search

Colourized Google map
A regular license with 6-month support from XenoThemes goes for $19. However, the author's support could be extended to 12 months for an additional fee of $5.63.
Movion by IdealBrothers
Movion HTML template is a movie info web template. It has a distinctive modern design that is bound to appeal to a wide audience. Needless to say, it is adaptable and easily turned into an HTML anime website.
The Movion template was coded with a clean and well-organized code that makes it user-friendly and easily customizable to fit your needs. Set on a dark color scheme, its site template files were built with Bootstrap v4. It has valid HTML5 and CSS3. 
In terms of layout, this template offers 3 homepage designs for your choosing, and 6 further pages. Those are:
Filmoja by Themescare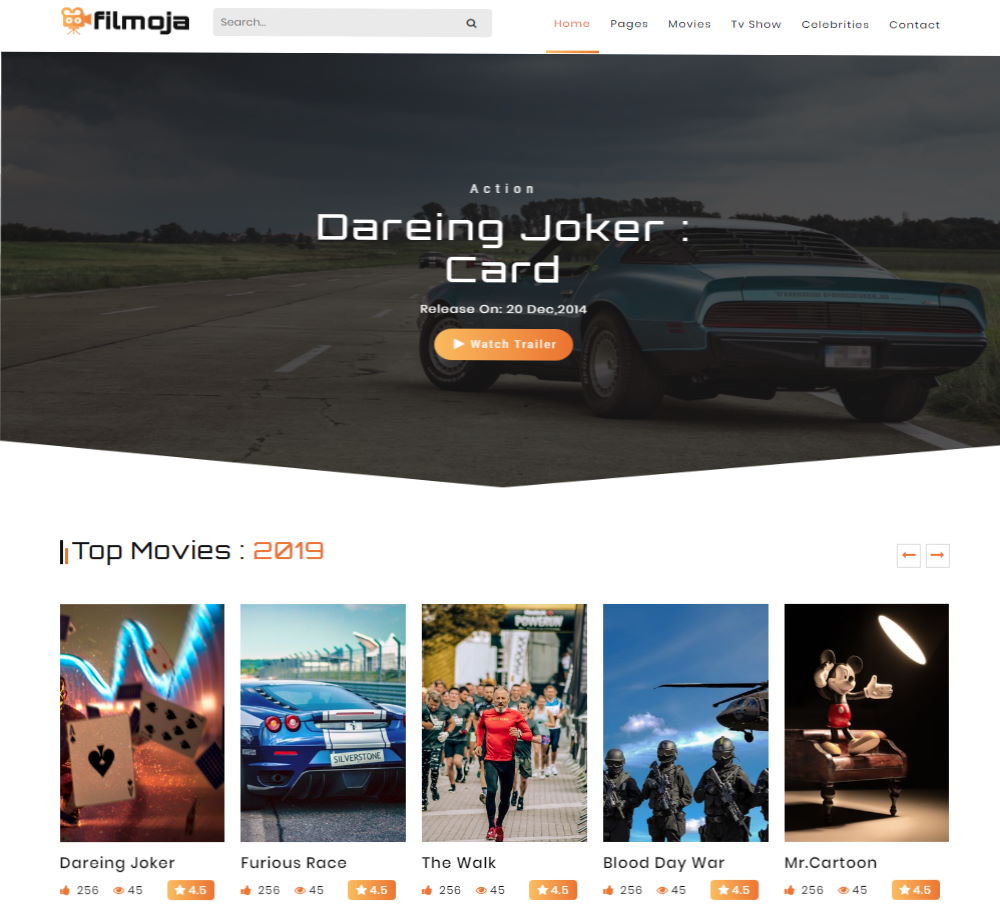 Filmoja is another modern HTML template for watching movies and TV shows. Its design is suitable for cinema, blogs, and movie communities. Given that is highly adaptable, it is the perfect template for setting up an anime website.
It is built with Bootstrap Framework (4.1.1), HTML5, CSS3 with Jquery. Moreover, it has an exceptionally beautiful W3C validated code and is no trouble to customize. The site template is responsive to all screen types and is cross-browser compatible, enabling it to look amazing on any device.
The layout of this site template is exceptional. The homepage includes both primary and secondary navigation menus, which facilitate the site navigation. It also contains a smooth transition fullwidth slider with trailer buttons. It has a handy YouTube video option as well as a clear grid view of movie releases. Another notable feature is the CTA button for email subscription which has a perfect position to generate conversions.
BlockBuster by BoostifyThemes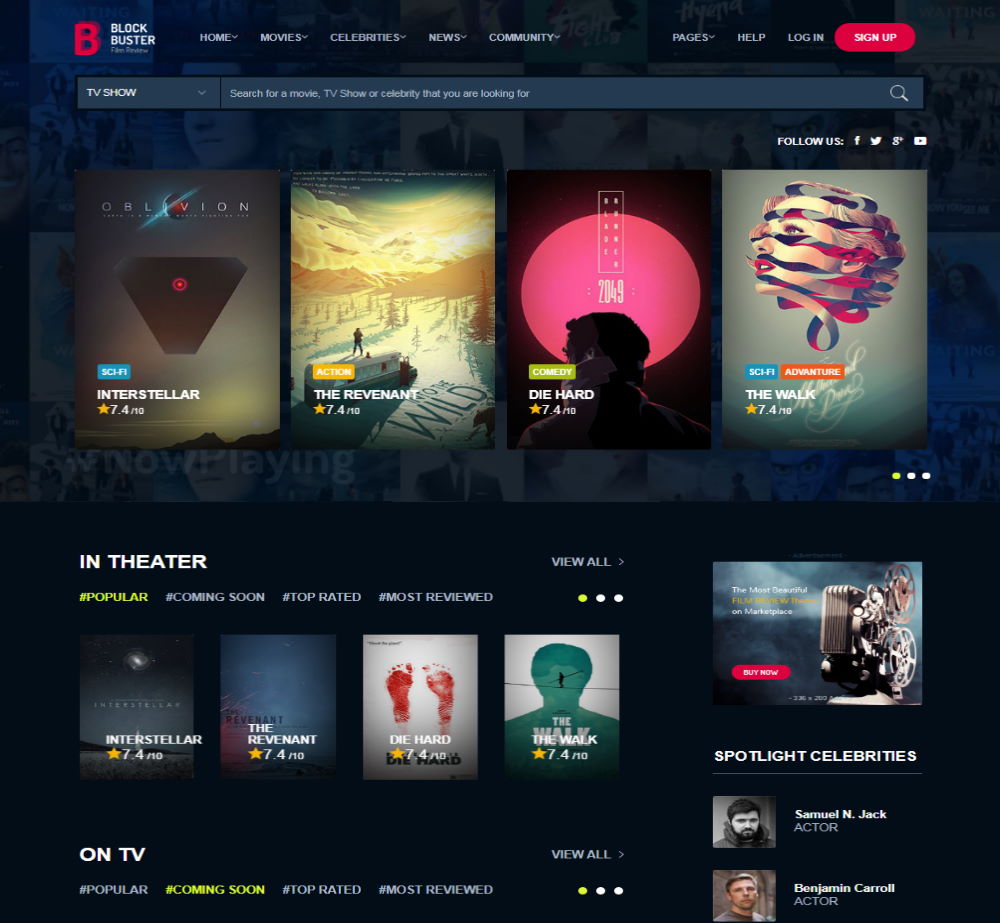 BlockBuster is meant for a movie review and database website but can be modified into an anime HTML template. In fact, you can easily create a site similar to MyAnimeList. Plus, you have both light and dark versions at your disposal. 
This HTML template comes with three built-in homepage demos to meet all your needs. Plus, you have multiple options to choose from when deciding on an anime listing layout. 
Additionally, the responsive slider will allow you to showcase the most recent or popular addition to your anime database. Luckily, if you would like to use it with WordPress, it has a dedicated version for it. 
The demos also have multiple sections to make it easier for your visitors to see details for voice actors, categories, and much more. Naturally, the site is entirely responsive and has a social media integration. 
Also, it's possible to make user profiles. Finally, BlockBuster has its own community section for people to interact with each other. Overall, it's a reliable anime review and database template.
To Sum Up
You have reached the end of this best anime template list. Now, you're equipped with the knowledge to create an anime site using an HTML template. However, when it comes to website building, it goes without saying that the proper foundations are essential. 
Let's summarize what you have learned. You will need a reliable offshore hosting provider, like AbeloHost, to keep your site up and running at all times. Plus, to protect both yourself and the people that will visit your website. 
Apart from that, you have to give your site the best starting point. Thus, you should build it on the best possible anime template for your needs. It should be responsive, mobile-first design, budget-friendly, and compatible with all major platforms. It will make sure your site is SEO optimized and easy for visitors to find and enjoy. 
Then, you would have to check if there are any other features you will need. Think of the ones that will be absolutely necessary for the type of website you want to make. If you're not sure, check out the competition. Alternatively, you could use similar sites on different topics for inspiration. 
Finally, in case you feel like doing more research on the topic for other possibilities, make sure to check out the best anime WordPress themes.