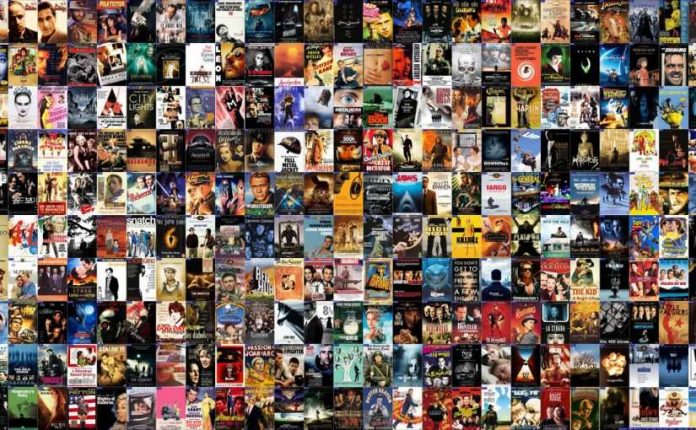 If you are looking for a lucrative business opportunity with a small start-up cost, consider launching a movie website. Online streaming is becoming increasingly popular and people are always looking for a new reliable service. Most importantly, you can make a lot of money from placing ads on your movie website.
Worried about the legal implications or the technical side of developing a movie website? You don't need to be! There are easy solutions to all of these problems.
Choose the Right Type of Host
Movies are copyrighted content and the licenses for their legal distribution are expensive. Even so, you can run a movie website successfully if you get offshore hosting. Companies like Netherlands-based AbeloHost will accept your streaming website and keep it up.
Moreover, their plans provide ample storage and high bandwidth to ensure the smooth operation of your movie website. We recommend starting with one of their VPS plans and upgrading to something more powerful once your business takes off.
Choose the Best Platform
Even if you lack any technical knowledge, you can still build a reputable website thanks to the many movie templates available. These are readymade themes that you just need to install on your website, instantly transforming it into a viable movie portal. There are quite a few different types that you can use.
WordPress
First, there's WordPress, the famous blogging platform. You can install the content management system (CMS) developed by WordPress on your empty site and it will allow you to easily interact with it, no coding necessary. After that it's easy to add a WordPress movie theme which would transform the appearance of your website instantly.
PHP
It is also possible to build your movie website using PHP scripts. Similar to WordPress, installing a PHP movie script to your website will give it a functional design and provide you with a CMS to manage your website. Again, you buy the code already complete, so you don't need to do any programming yourself.
HTML
There are many HTML5 movie themes out there. You can download these templates, edit them to your liking and then simply upload them to your website. In theory this method is simpler than the other two, but it does require you to work directly with the HTML code.
Other CMS
WordPress and PHP scripts generally hold a bigger share of the ready-made template market, but there are other CMS solutions out there. To give you more alternatives to choose from, this list includes several additional suggestions from Joomla and Drupal.
To simplify your search for a proper movie template, we have already assembled a list of the best-looking movie templates out there. This collection includes everything: WordPress templates, PHP movie scripts, HTML themes, and some Joomla and Drupal suggestions to complete the mix.
PHP Movie Scripts
PHP Watch Movies Script by Crivion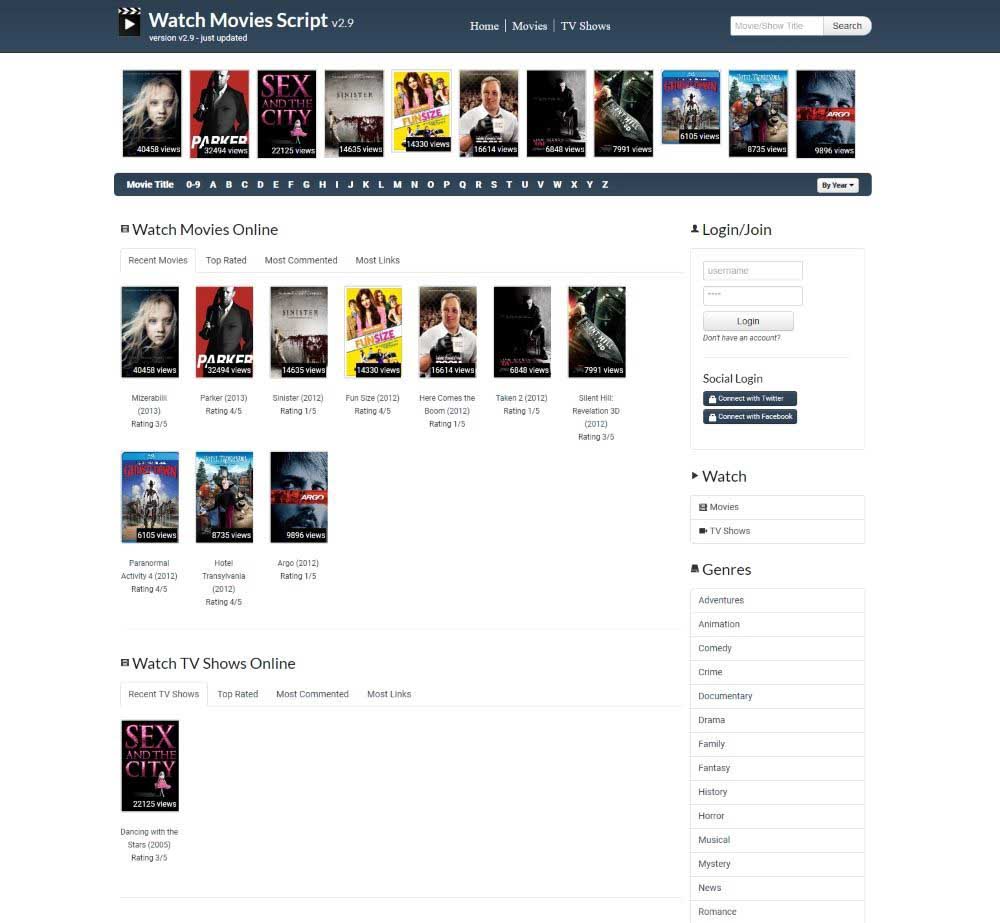 This popular PHP movie script supports both external and embedded videos. The code is clean, easy to work with, and SEO-friendly. The script also has its own membership plugin, paired with the AJAX rating system.
MovieStore by Vebto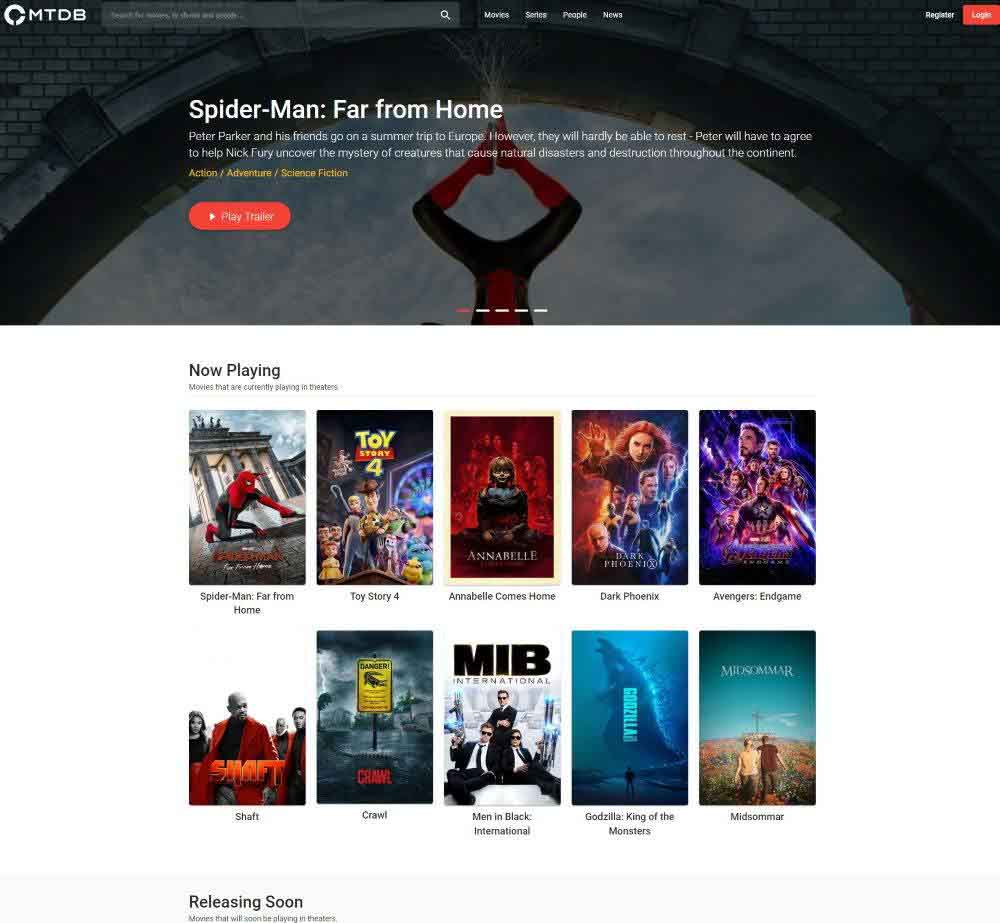 MovieStore brings you a 100% responsive design that is already optimized for SEO. The script conveniently has its own built-in functionality for movie reviews and ratings. It includes many nifty advertisement settings and is compatible with Amazon and iTunes affiliate programs.
OVOO by Spagreen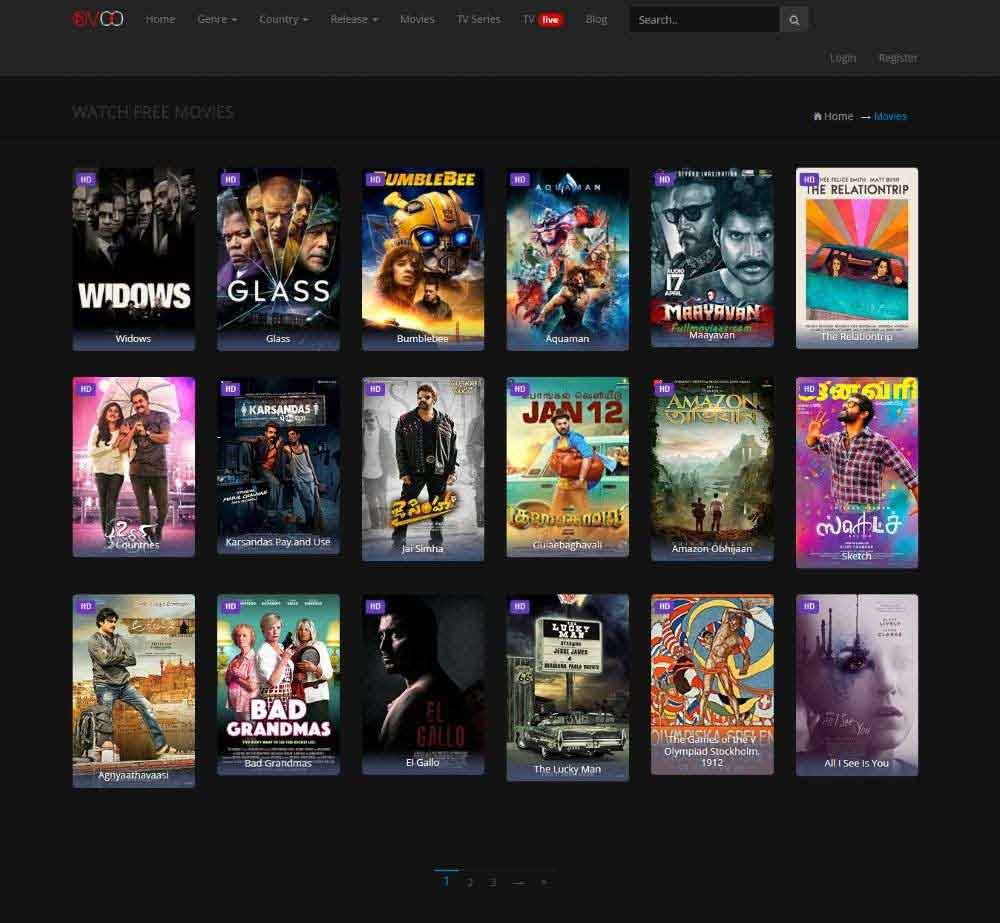 OVOO is a powerful script that comes equipped with everything you need for your movie website. It has a user-friendly CMS, a built-in membership plugin, and a retina-ready video player. Moreover, you can take advantage of numerous customization options for a unique look for your site.
Media Pro by Vebto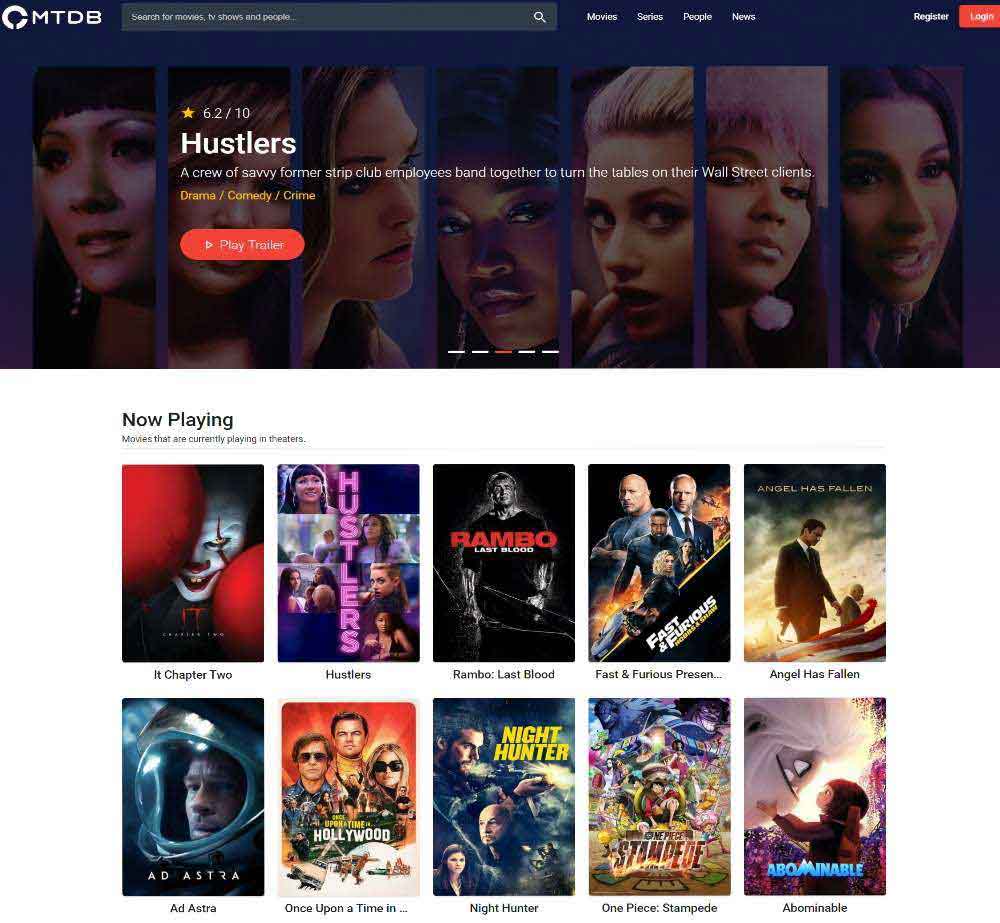 This script boasts a highly functional CMS that is both pleasing to the eye and super effective. You can use it to explore the vast customization options offered by the script and come up with a unique site. Media Pro is appropriate for both streaming and download type of movie websites.
VideoPlay by CoffeeTheme
VideoPlay is a PHP script specifically designed for subscription-based entertainment websites. The CMS is super easy to work with and allows you to customize virtually everything on your website. The script also comes with a built-in payment system and is compatible with Stripe, which would make monetization quick and easy.
CinemaRex by AN-KI
CinemaRex is a 100% responsive script optimized for both desktop and mobile devices, with cross-browser compatibility. The video player is powerful and can deal with all kinds of content, including live streams and encrypted videos. The script is based on Laravel and has integrated AWS support.
Scriptburn WordPress Movie plugin by Scriptburn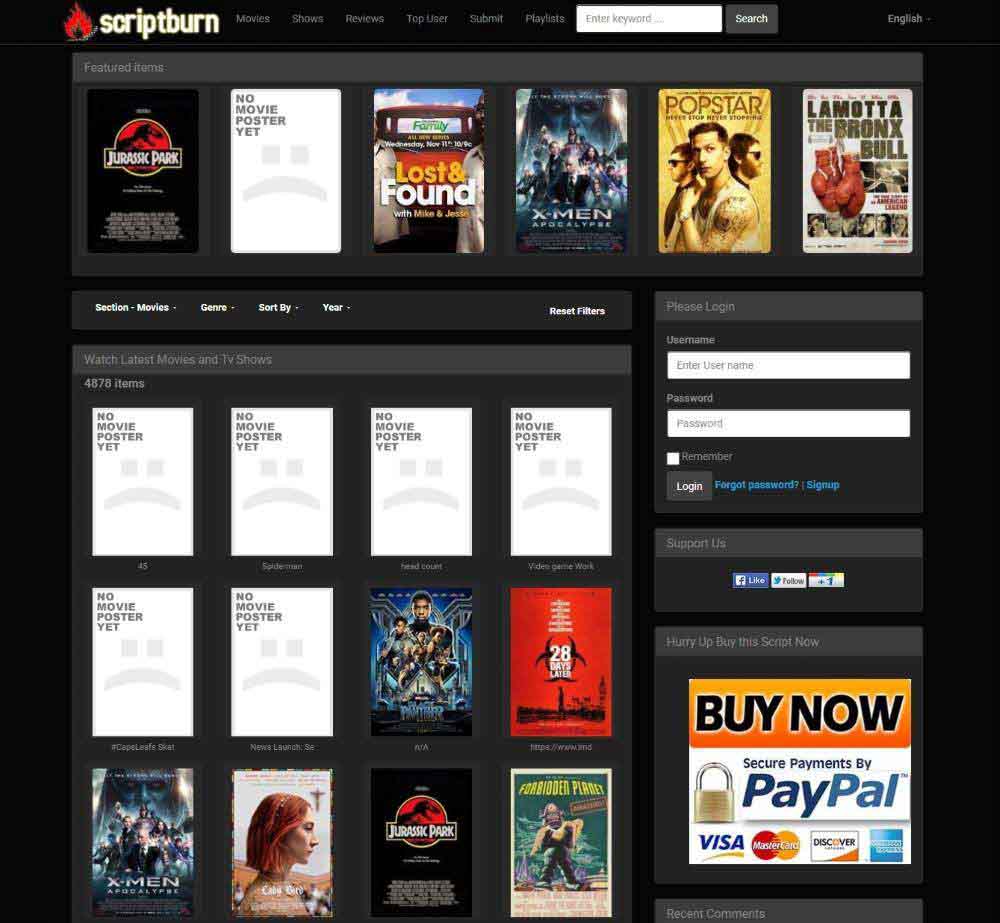 Scriptburn is a simple, straightforward PHP script you can use to add movies, TV series, and other video content to your website. It is especially appropriate for a movie database (like IMDB, for example), since it's able to import complete movie details from just one URL entry.
Open Source Video Streaming Script by PHP Scripts Mall
This 100% responsive PHP script is perfect for those of you looking to completely replicate Netflix's elegant design. It is made specifically for subscription-based streaming websites and already includes a plugin to manage memberships and payments.
Streamview by StreamHash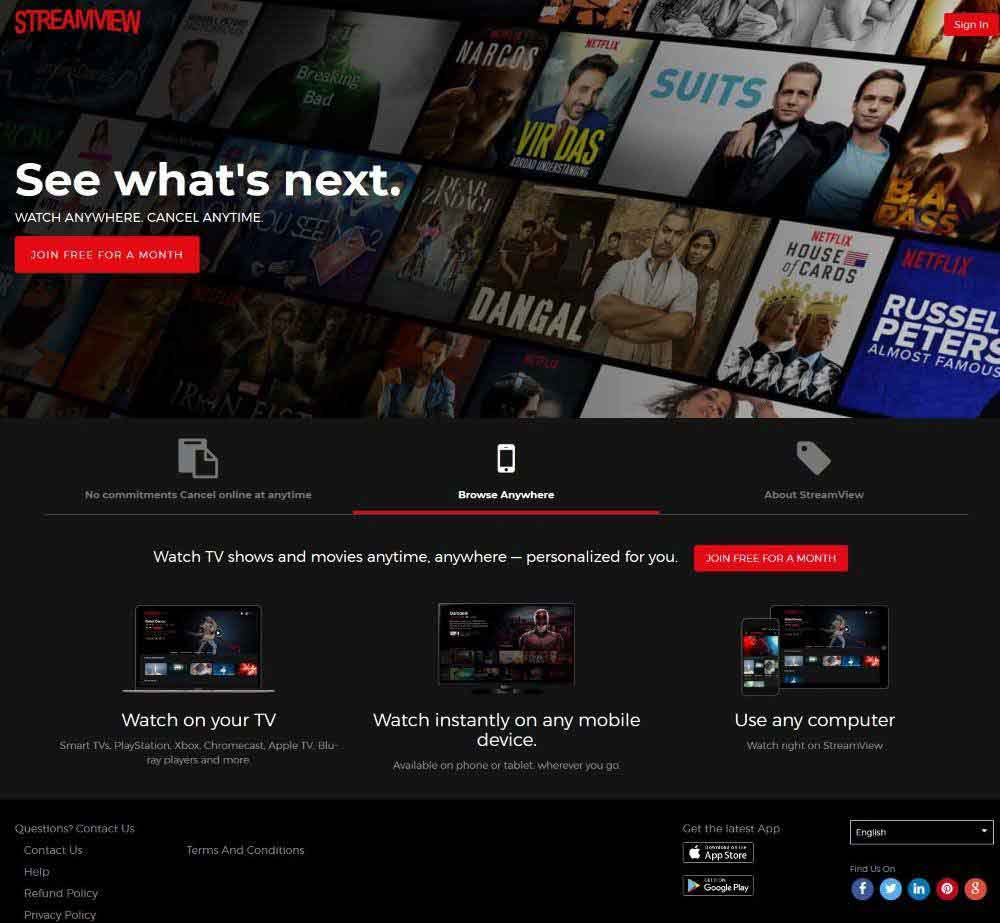 Streamhash is a very powerful PHP script that will grant you a ton of advanced customization options, in addition to following the slick layout of Netflix closely. Your website will be fully responsive, search engine optimized, and compatible with most browsers out there. The script also contains built-in monetization tools to take your business to the next level.
vTube v2 by Ecodevs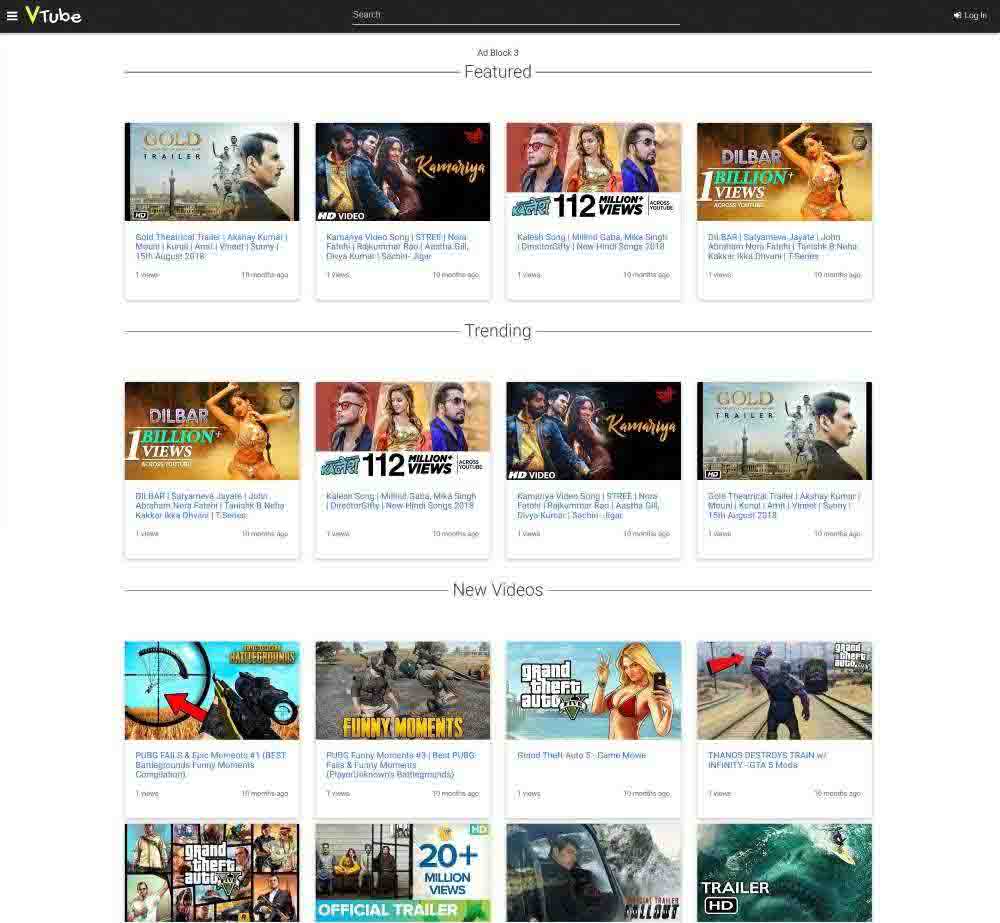 VTube is a great solution if you're looking to create a streaming website that allows visitors to contribute to the site catalog. This script will enable people to upload or share video content on your site, which you can manage from the admin panel. The design is optimized for both desktop and mobile devices and comes with several different demos you can choose from.
Avidi Media v3 by AvidiMedia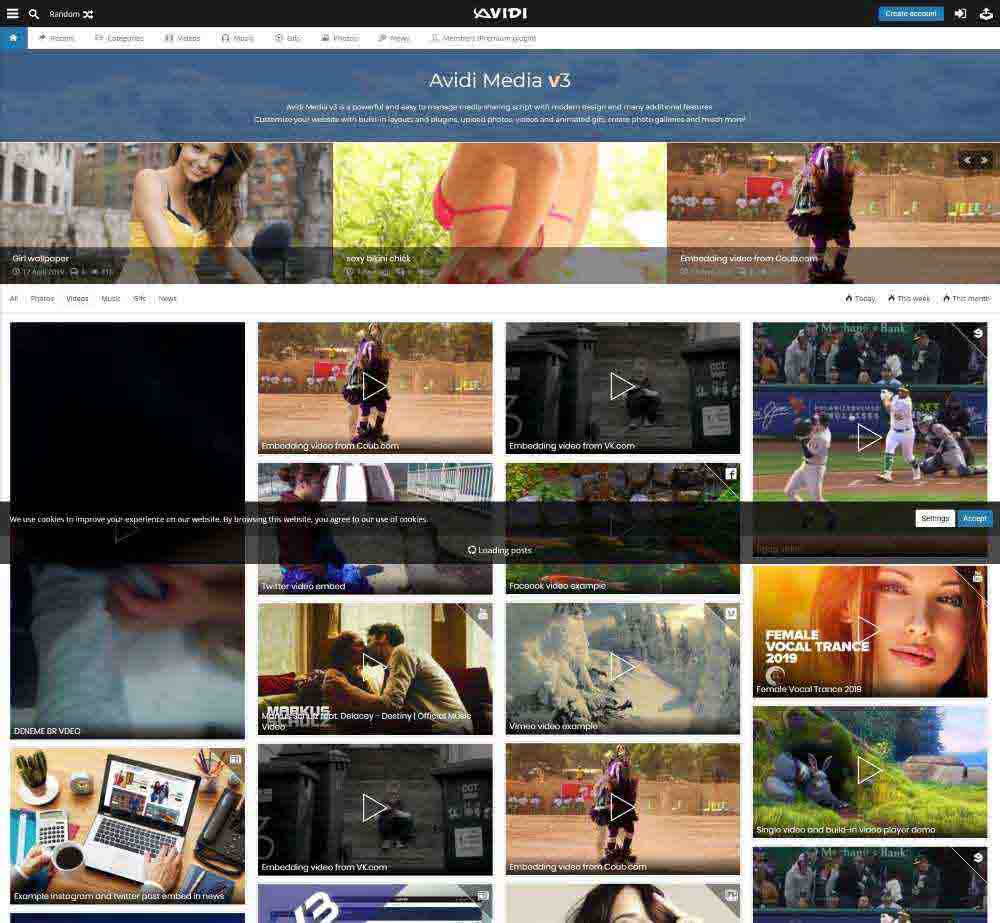 Avidi Media is a PHP script that brings you a modern design packed with customization options to tweak it to your liking. The resulting website will support all types of videos – imported, embedded, and self-hosted. The code is SEO-ready, optimized for all operating systems, and looks great on all devices.
MTDB by Webto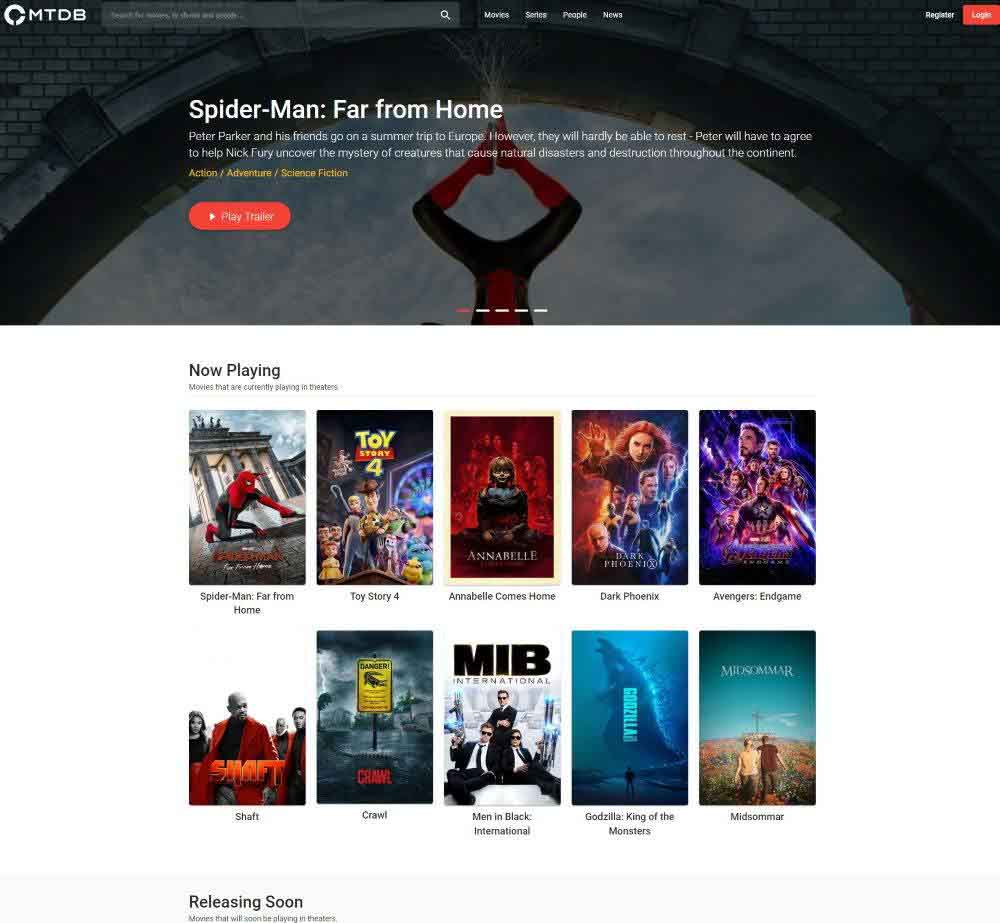 This script is ideally suited for making a movie database type of website (think IMDB). It is 100% responsive, cross-browser compatible, and SEO-ready. The CMS is easy to manage and will give you lots of customization options to transform your movie website into a unique product.
PlayTube by DoughouzForest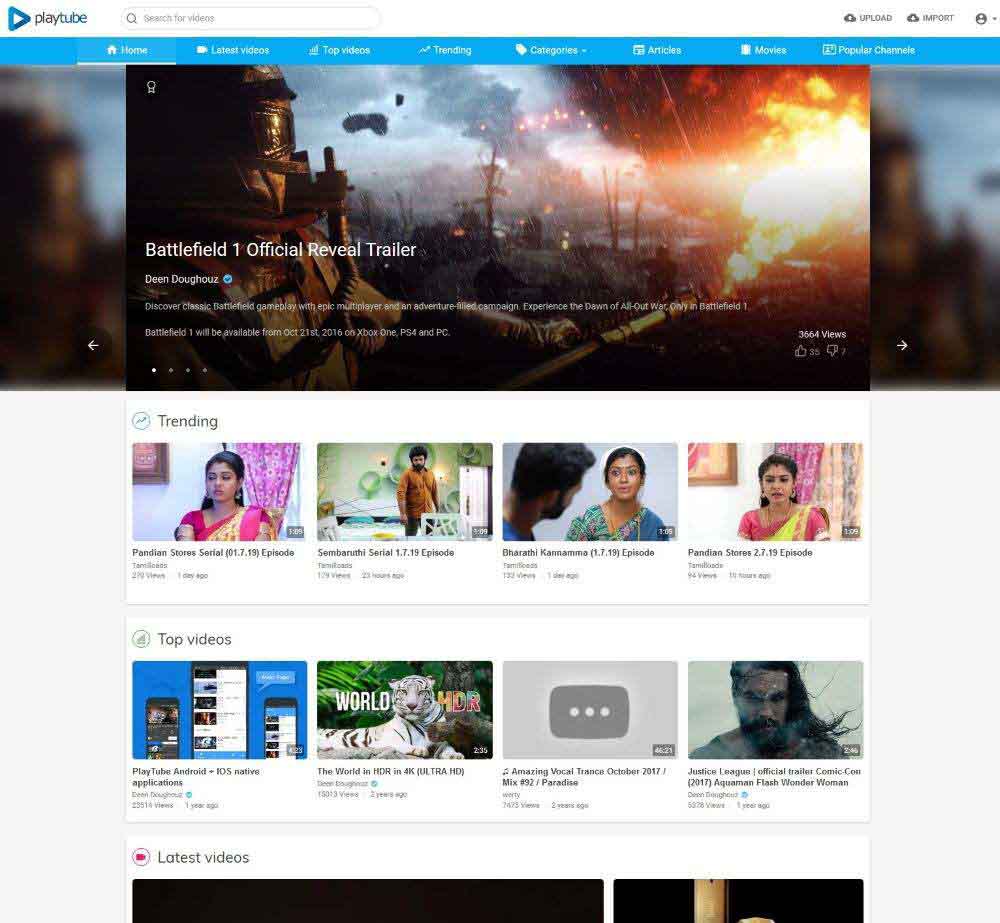 PlayTube is a highly functional PHP script for a video sharing community. It will allow you to upload videos from YouTube, Vimeo, and DailyMotion, or even from your own device quickly and easily. It also contains all necessary social functions, such as channel subscriptions, liking, and commenting. The code is 100% responsive and SEO friendly.
WordPress Movie Themes
DooPlay by DownloadFree Themes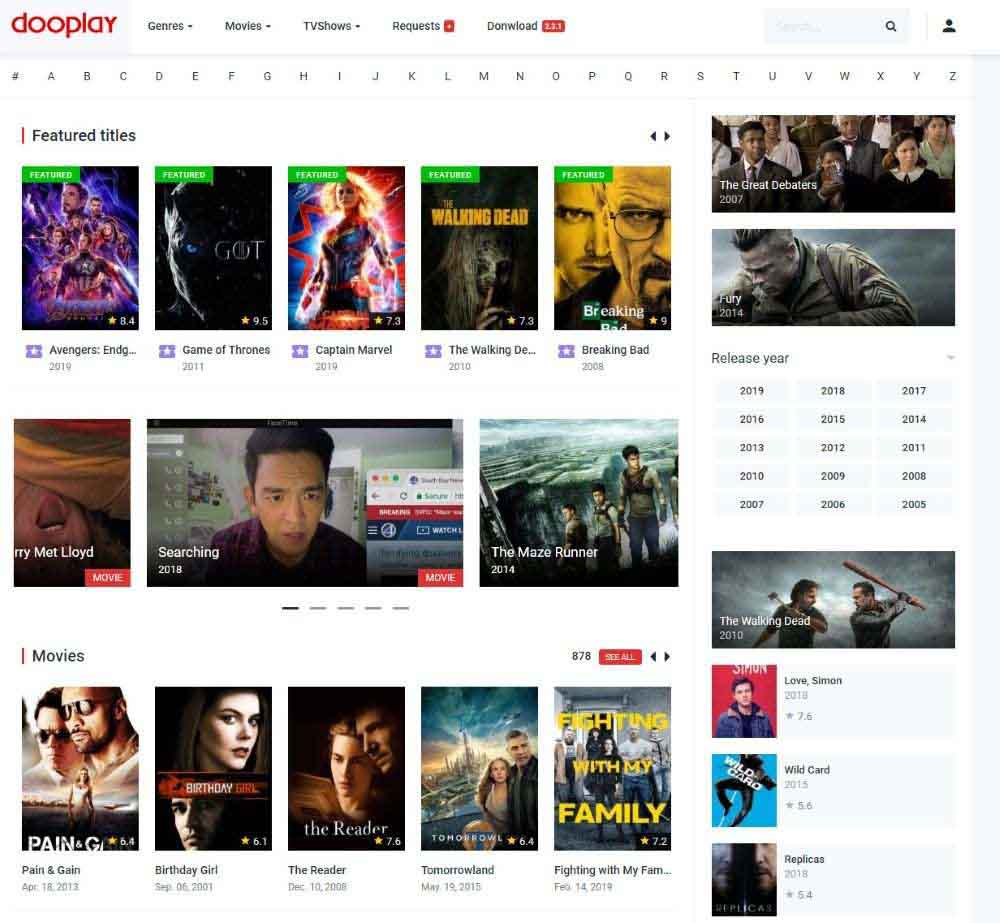 This is a 100% responsive WordPress movie streaming theme which would look great on any device. It will enable you to build a great movie website and thanks to the Dbmovies plugin, you can easily import movies and TV shows.
Streamium by WPNuls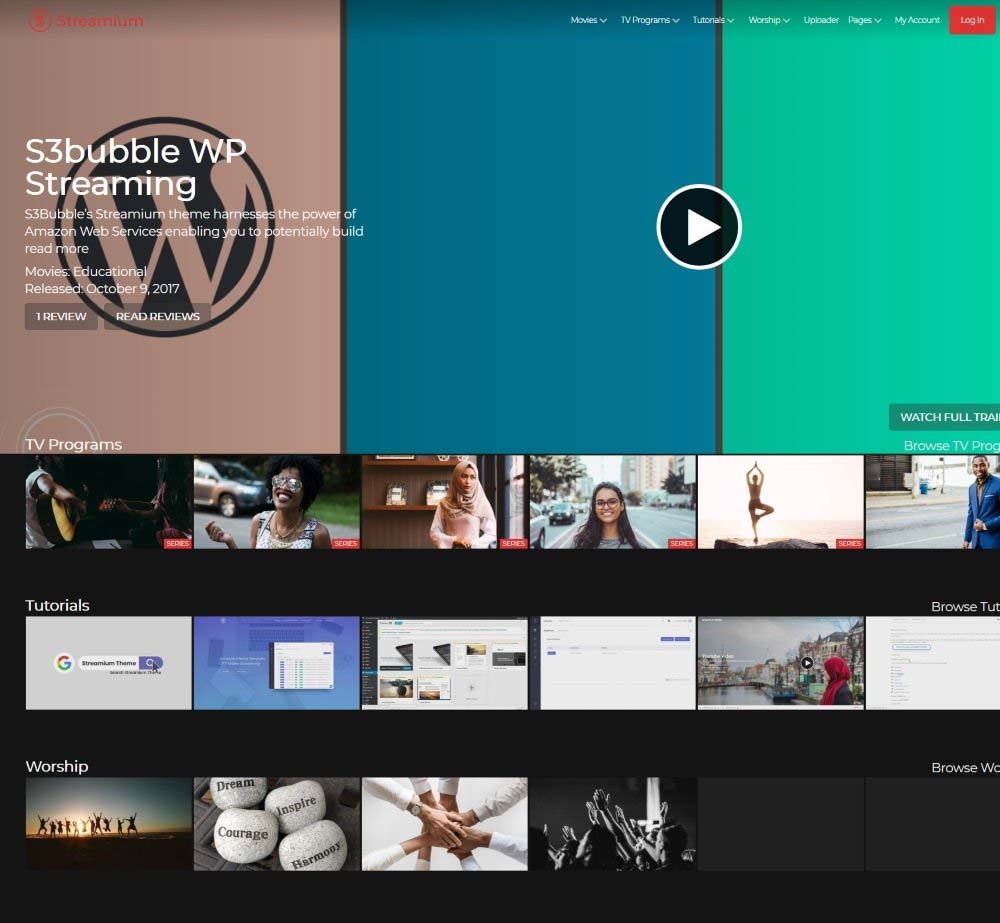 Streamium is as close as it gets when it comes to Netflix clones for WordPress. The theme features the slick design of the popular platform, along with Amazon Web Services support. The design is fully responsive and looks great on both desktop and mobile devices.
Vlogger by WordPressThemes2go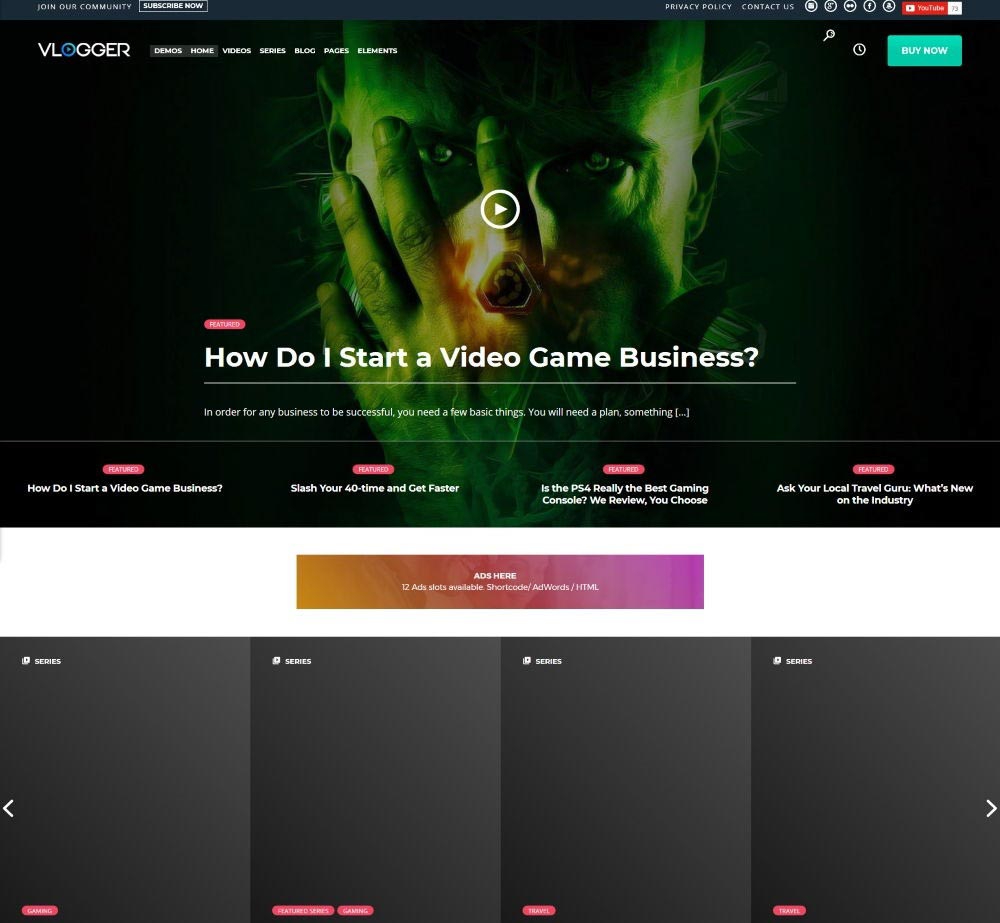 Vlogger is a WordPress theme with a refreshingly modern design. The slick menus and subtle effects will make for a great-looking streaming website. Moreover, the theme includes the Visual Composer plugin to further simplify the customization of your website.
Slimvideo by Upcode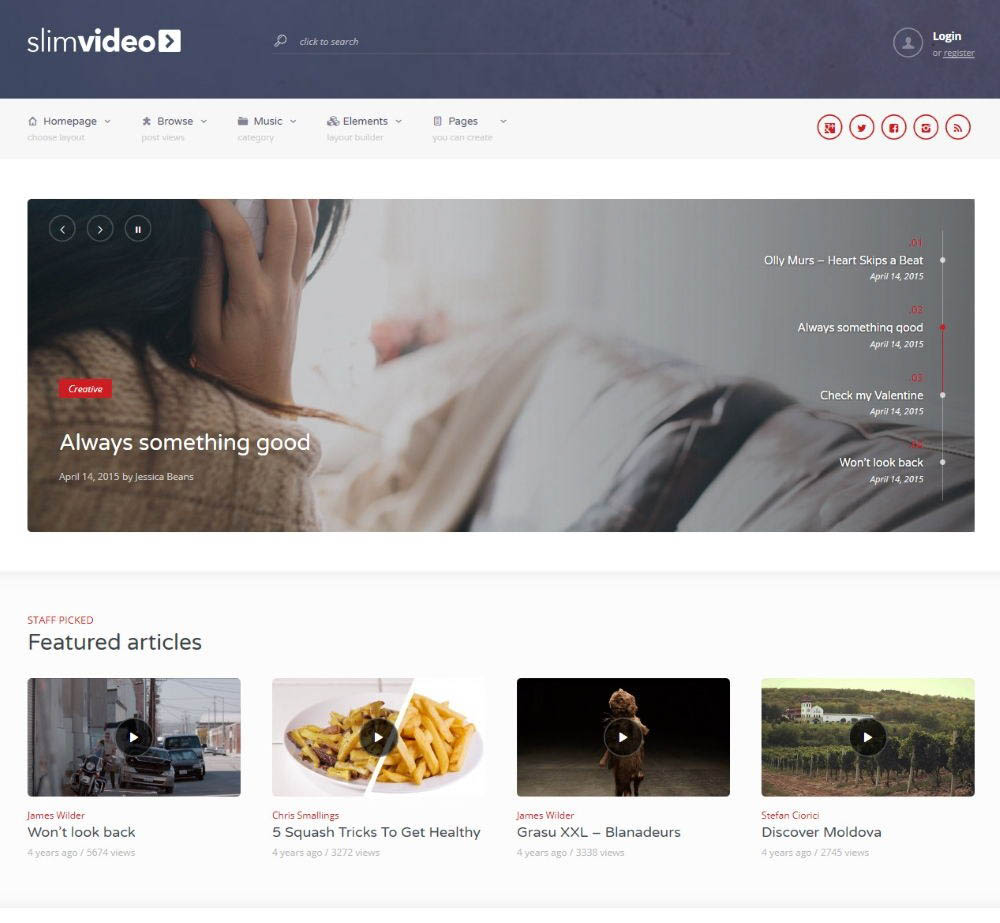 Built on Bootstrap, this highly efficient WordPress theme is fully customizable and offers infinite possibilities for tweaking the layout and color scheme of your website. The admin panel is simple to navigate and includes a drag-and-drop page builder for an even easier website building process.
Videohost by HappyThemes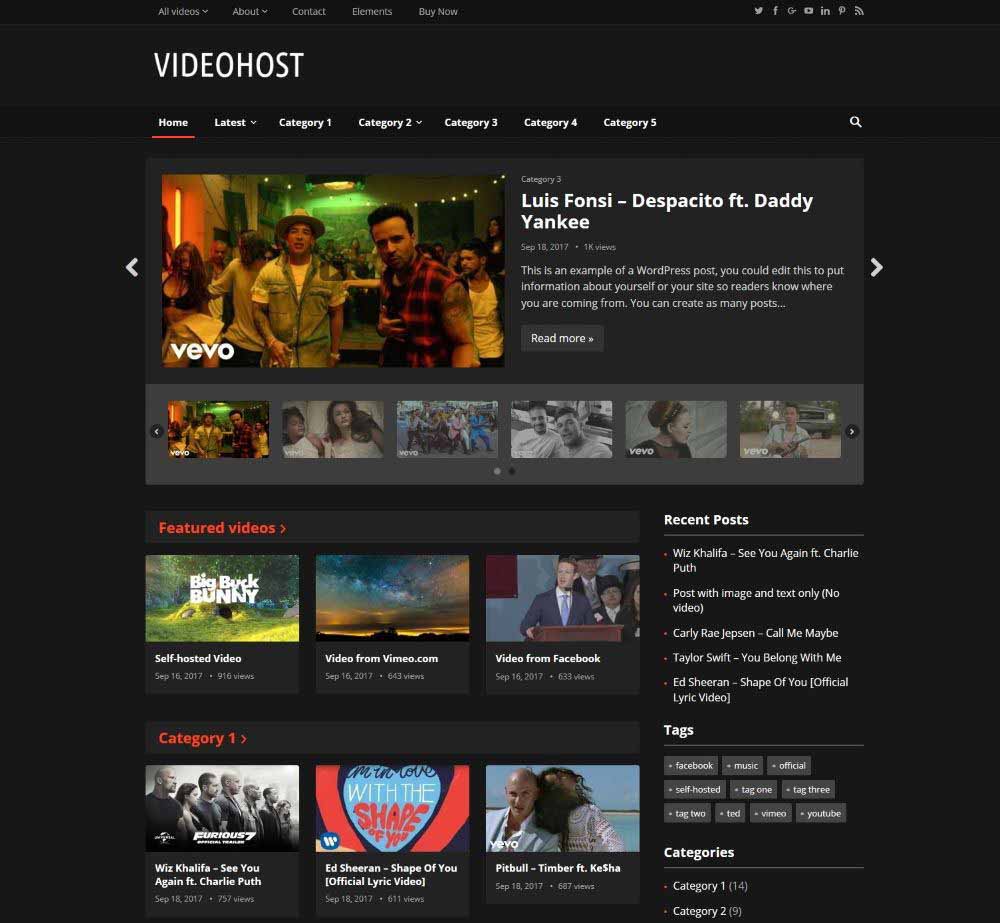 This free WordPress theme was created specifically for video websites. It has user-friendly functionalities that enable you to integrate content from YouTube, Vimeo, Facebook, as well as self-hosted videos.
Viem by DawnThemes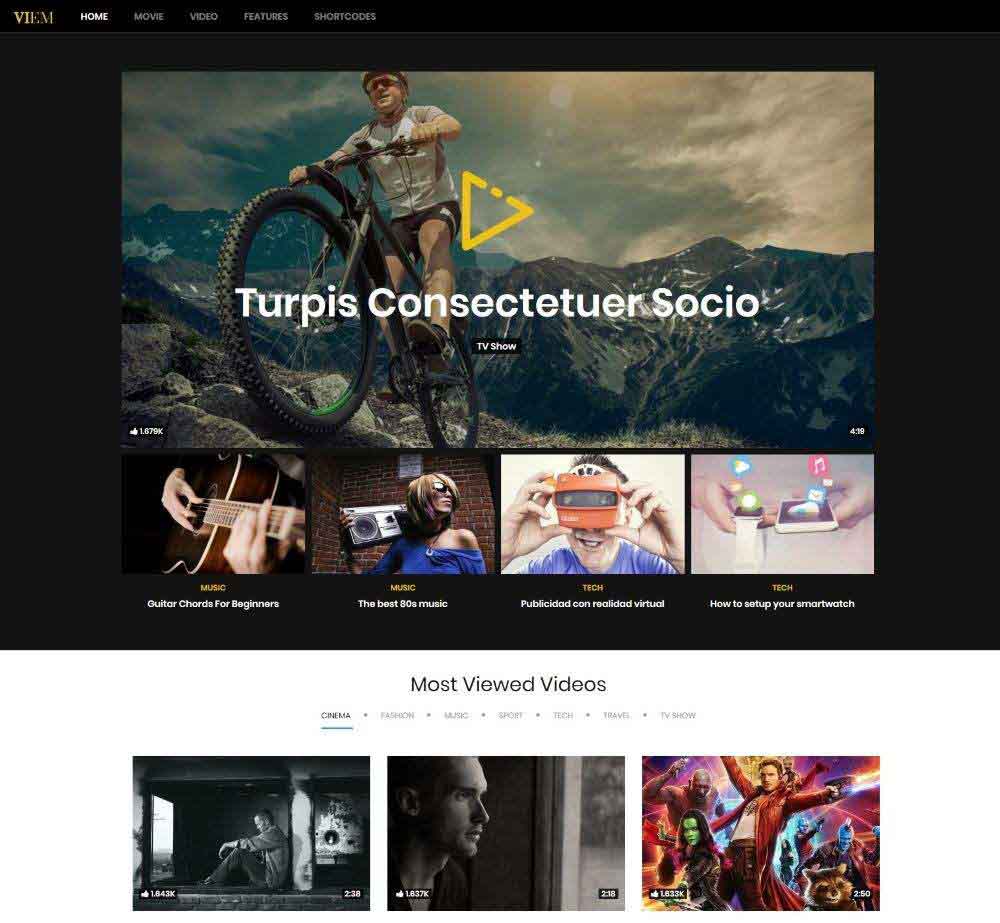 This free WordPress video theme brings you a fully responsive design, optimized for all devices and browsers. The theme includes the Elite Video Participant plugin to further help you manage your video content. This all results in a highly customizable, easy to navigate video website.
Betube by JoinWebs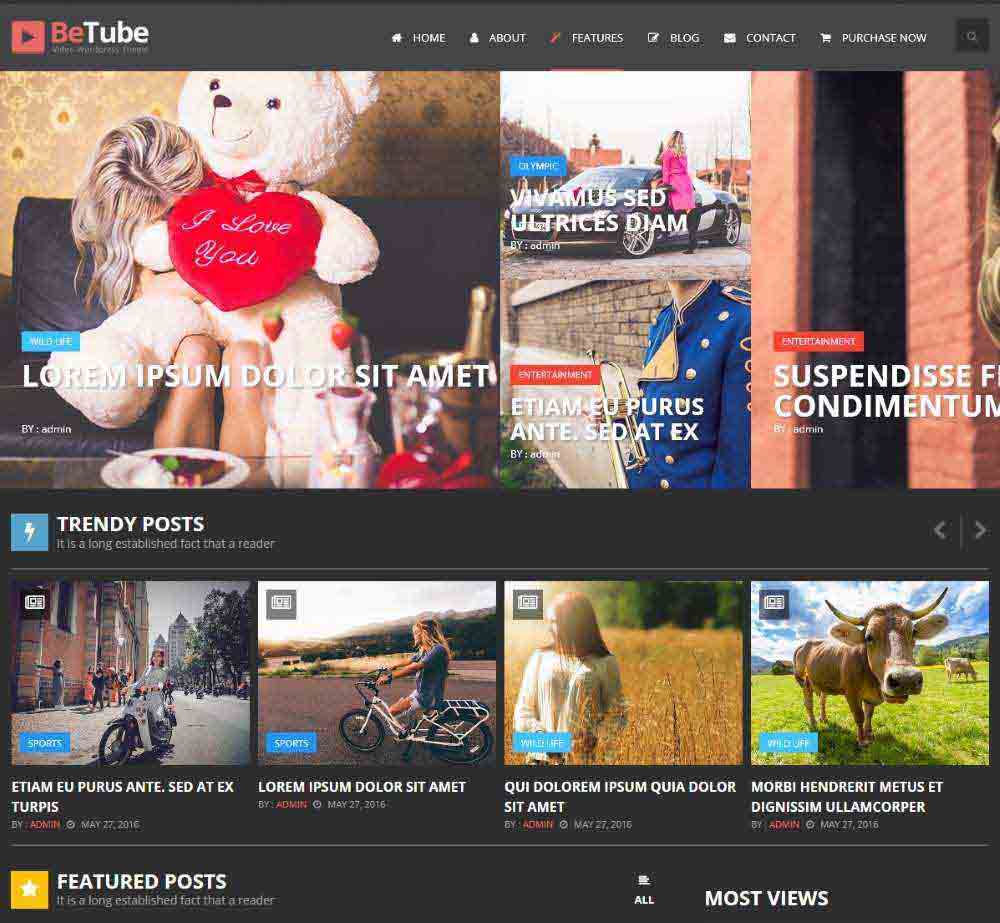 This WordPress theme offers an elegant design perfect for any streaming website. The theme is optimized for mobile and desktop operating systems. Its plugins will enable you to easily embed videos from YouTube, Vimeo, and Dailymotion, but you can also integrate self-hosted content. The theme includes FV Flowplayer.
DesSign by Dessign Themes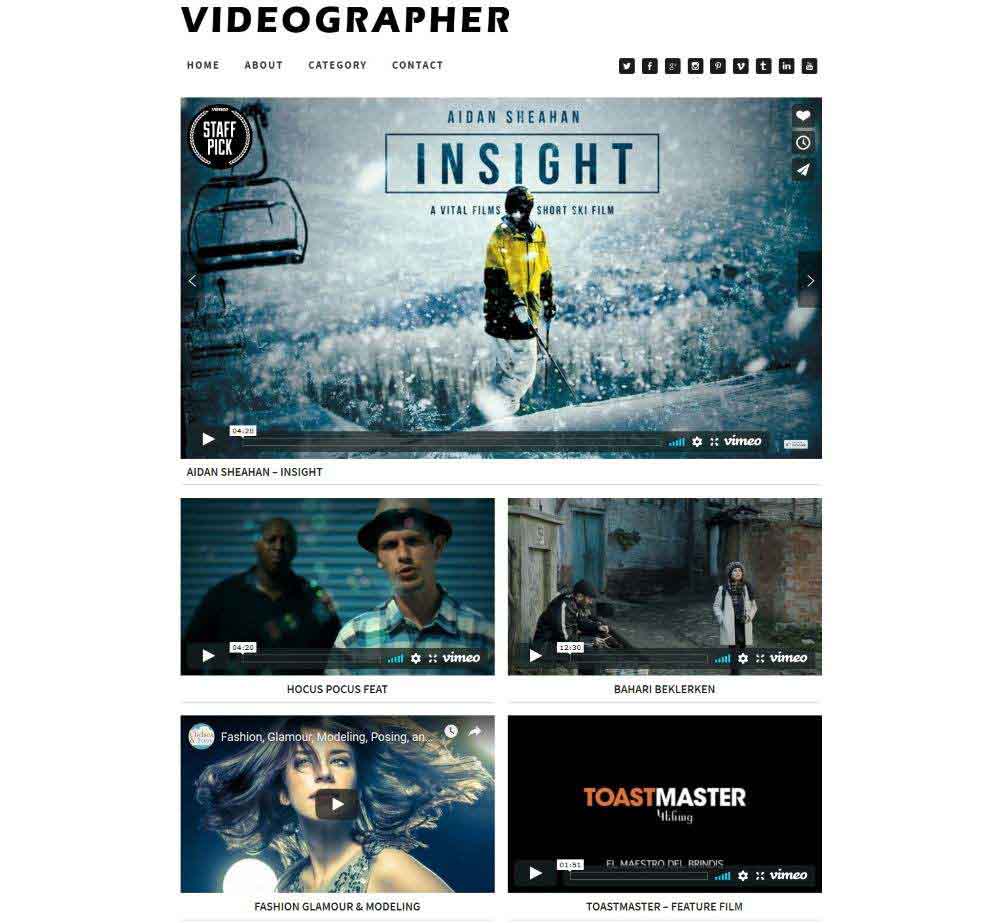 DesSing is a free WordPress template with a slick, simple design perfect for sharing your video content with the world. Embedding videos from YouTube, Vimeo, and more is made easy by the user-friendly CMS. The theme is also fully responsive and SEO ready.
Vlog by Meks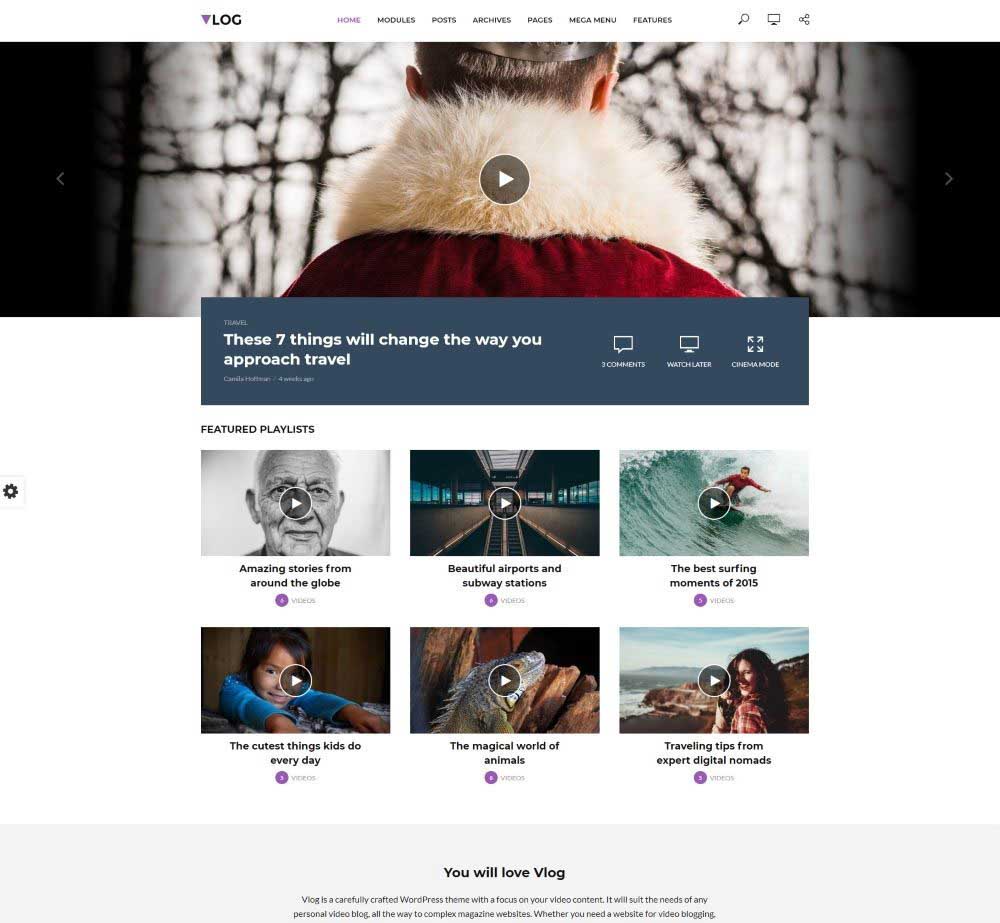 Vlog offers a modern, minimalist design that is fully optimized for mobile and desktop devices running all browsers. The layout is simplified to put a focus on your video content alone, and video imports are easy thanks to the CMS. You can even create playlists of your content, which would be very convenient for site visitors.
Snaptube by Cohhe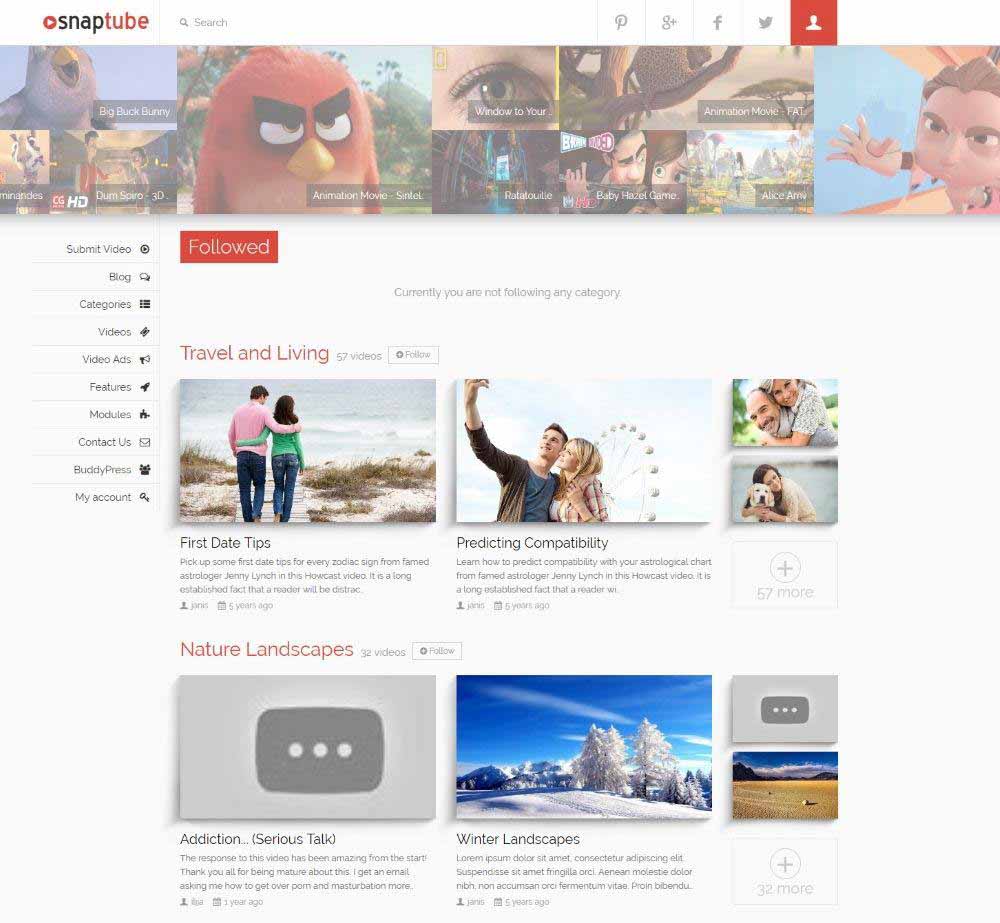 SnapTube is a great WordPress theme for a movie or video portal. The theme's plugins allow you to either embed videos from YouTube, Vimeo, etc., or add your own self-hosted content. The fully responsive design comes with a ton of customization options and useful widgets you can choose to add, plus a modular page builder that's very user-friendly.
Focus by SiteOrigin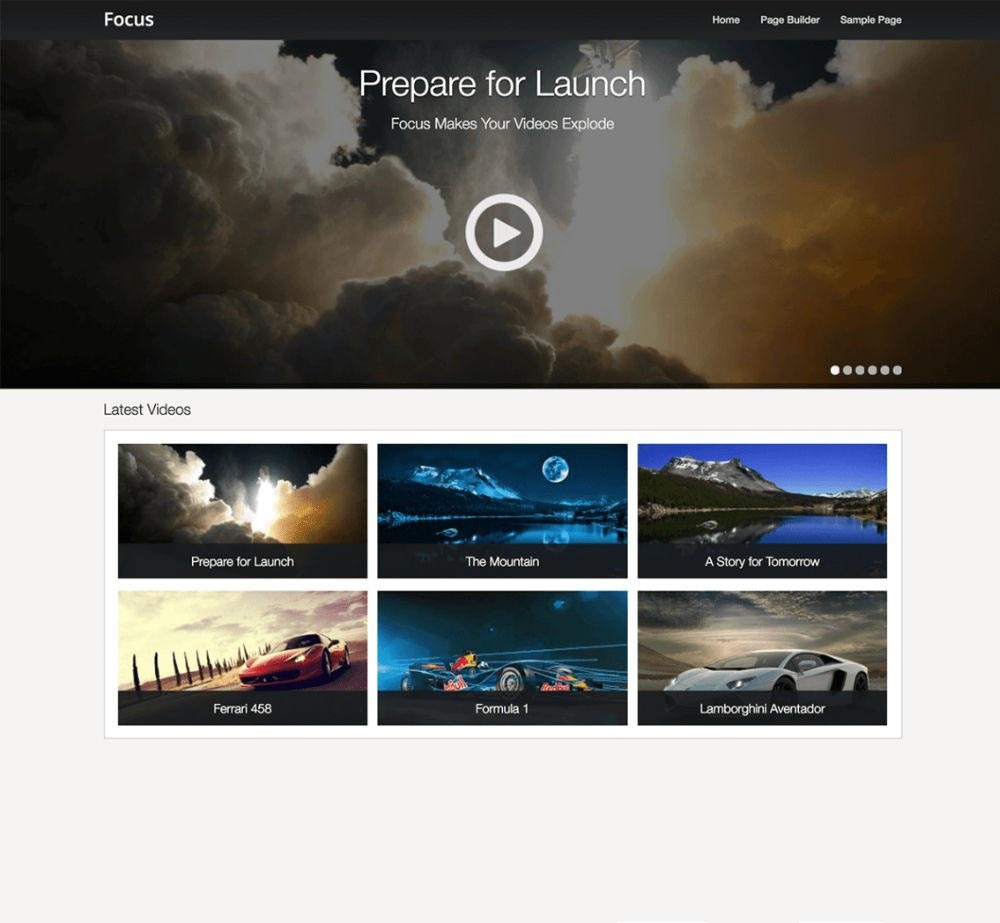 Focus is a free WordPress theme ideally suited for a video or movie website. It has an easy embed function to add videos from other websites provided by the oEmbed plugin. There is also a built-in MP4 player which can display self-hosted videos. Add to this a prominent video slider and you've got yourself a winner.
HTML Movie Templates
Moviepoint by Pixelthemez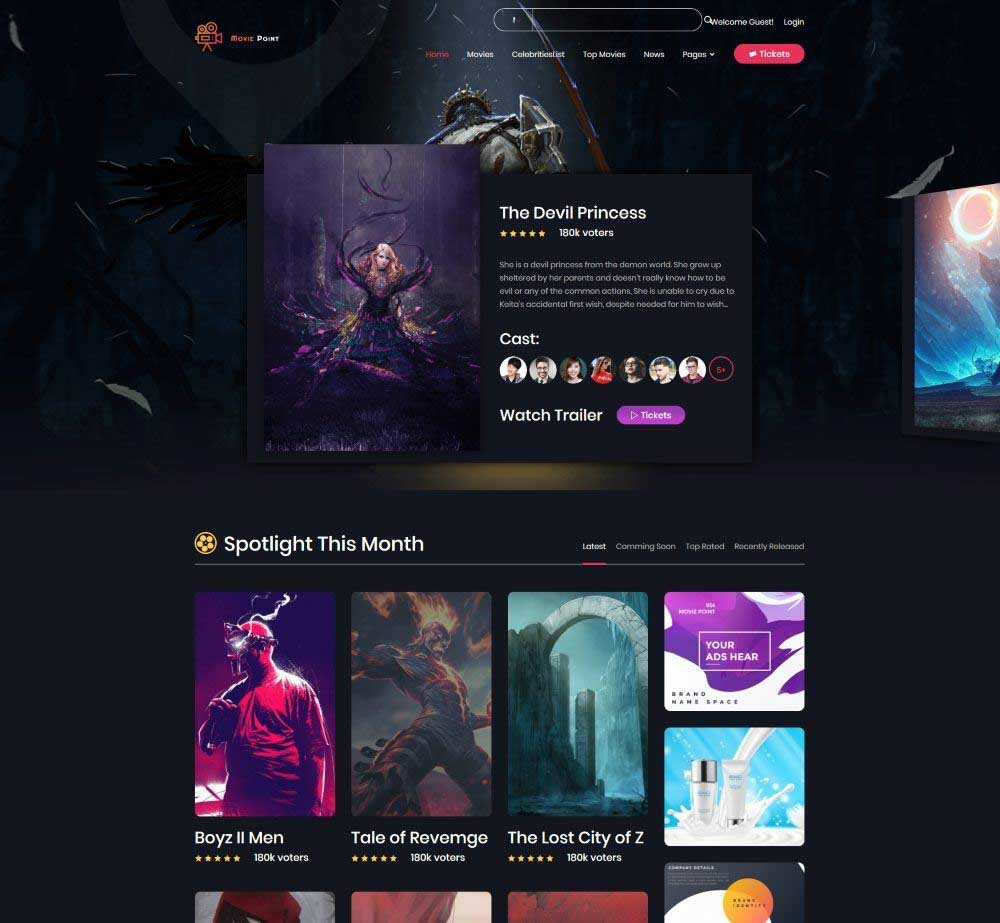 This template was developed using Bootstrap 4. The code is clean and easy to read, so customization is quite easy. The theme is responsive and it's compatible with all browsers. It also includes the following plugins: jQuery, Masonary, and SlickNav.
Movie Me by Wwwebinvader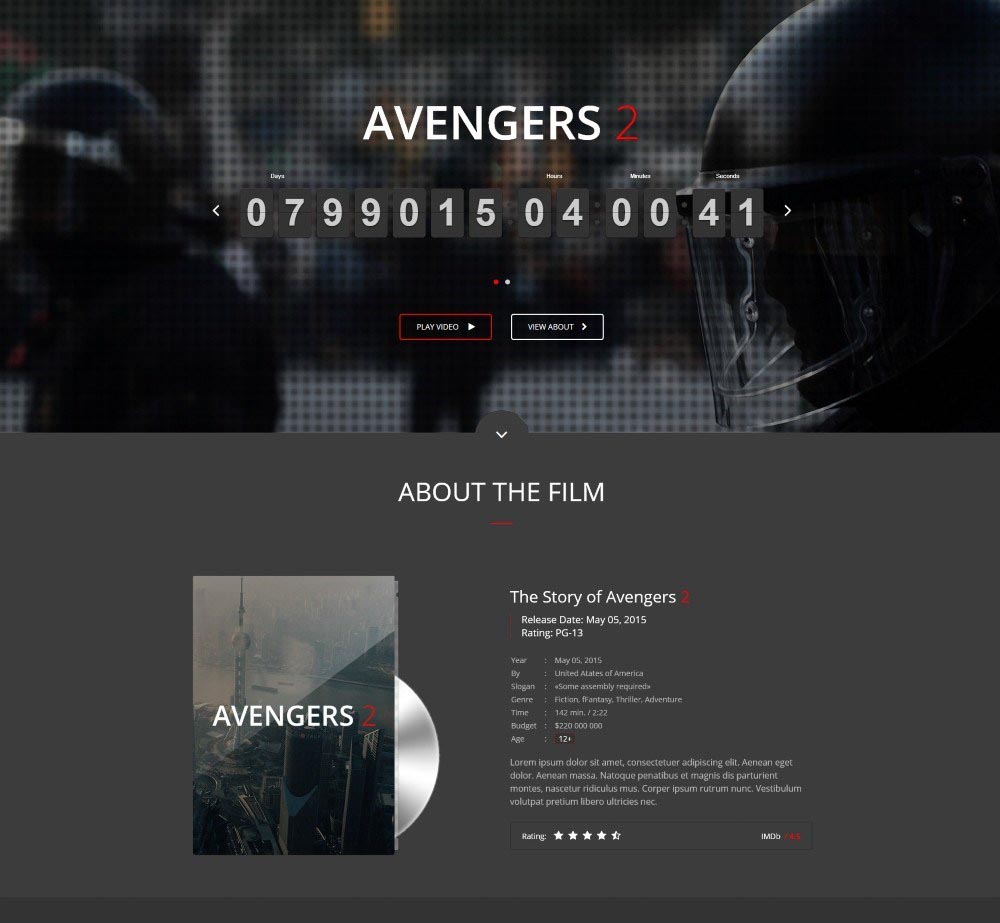 Movie Me is an HTML movie script that will give your website an elegant, modern look. It is compatible with versions of Bootstrap 3 or higher, as well as all browsers and operating systems. The design is fully responsive and easy to customize.
BlockBuster by BoostifyThemes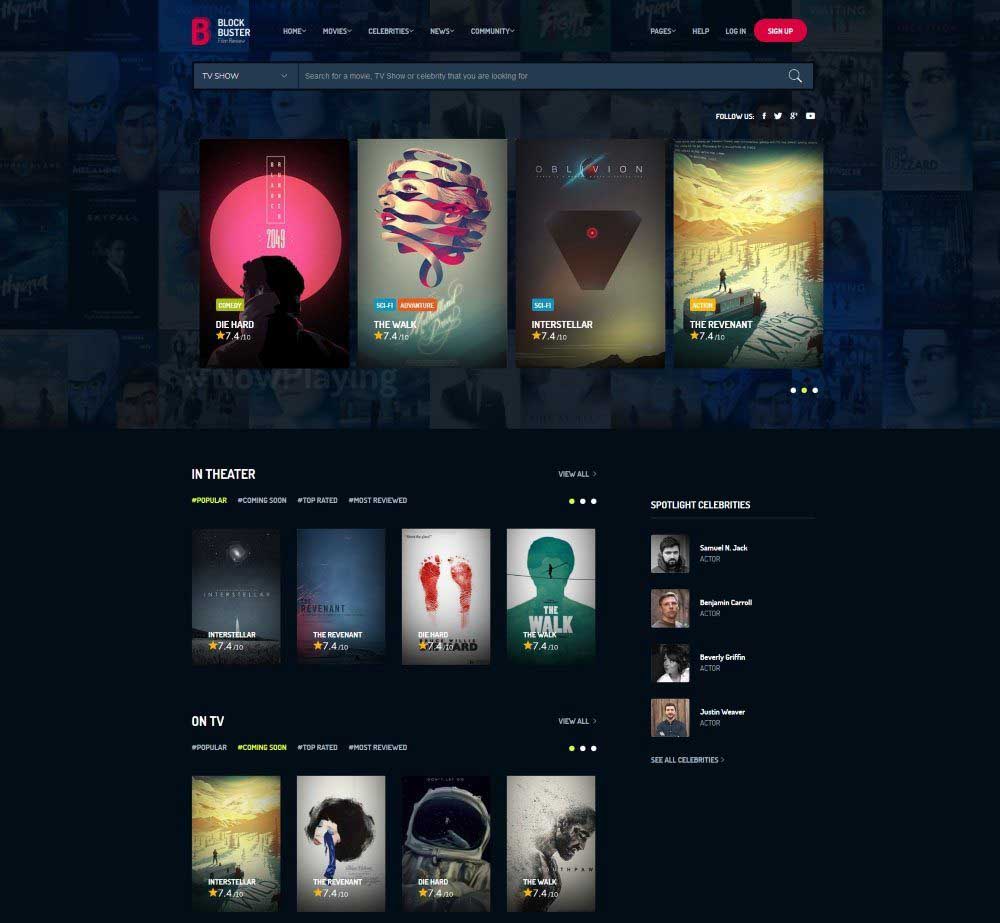 This movie theme is built using HTML5 and CSS3, bringing you a slick and dynamic design. BlockBuster is fully responsive, optimized for all operating systems and browsers. The code has all necessary documentation and is customizable.
SKRN by ProgressionStudios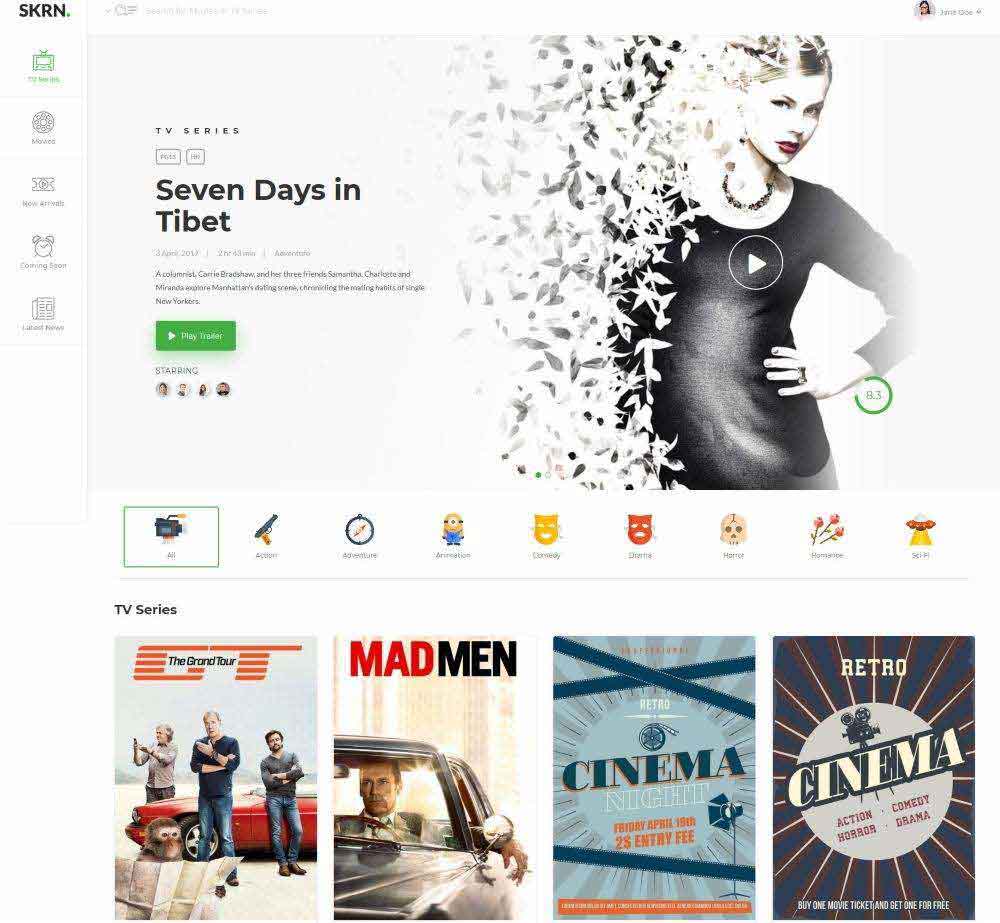 SKRN brings you a modern-looking, fully responsive, retina-ready design. This movie theme is compatible with Bootstrap 4 or higher. It includes a video player which can play videos imported from YouTube and Vimeo, as well as self-hosted content.
Video Post by Nile-Theme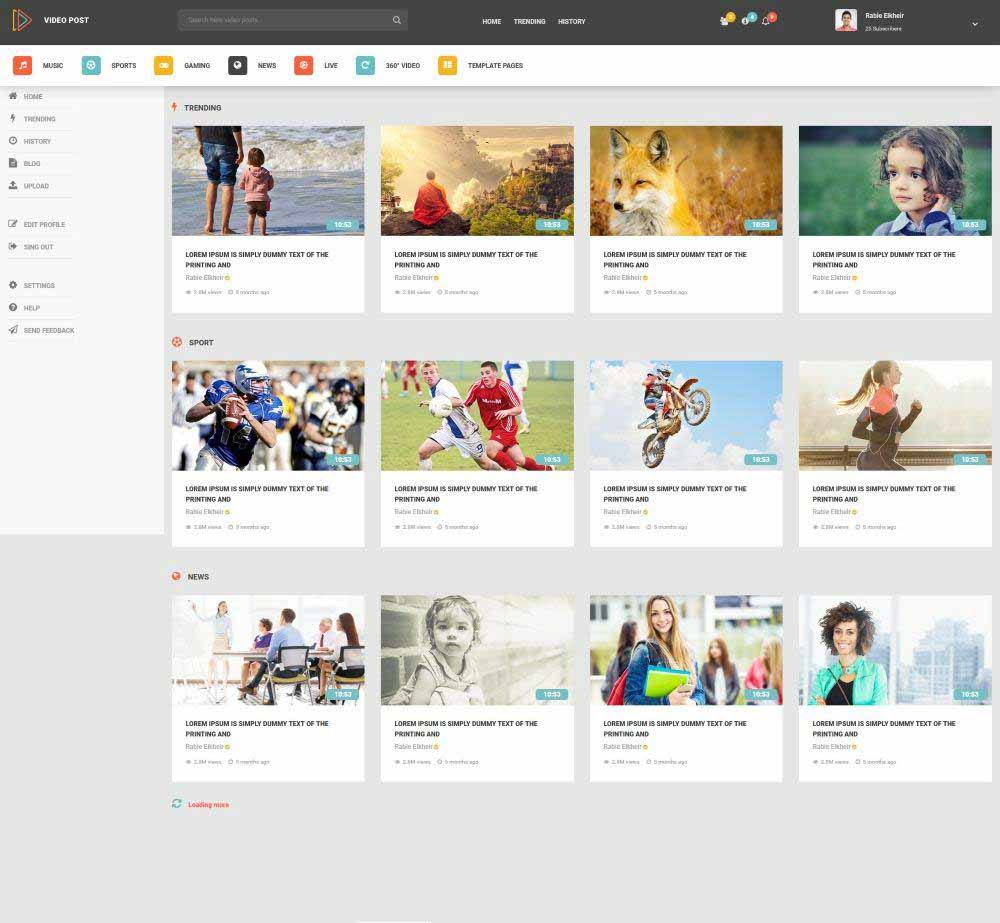 Video Post is a fully-functional HTML movie theme built on Bootstrap 3. The template is responsive and optimized for both desktop and mobile devices. It features a modern design that is also retina-ready. The code is easily customizable and has many options you can choose from.
Movify by Gnodesign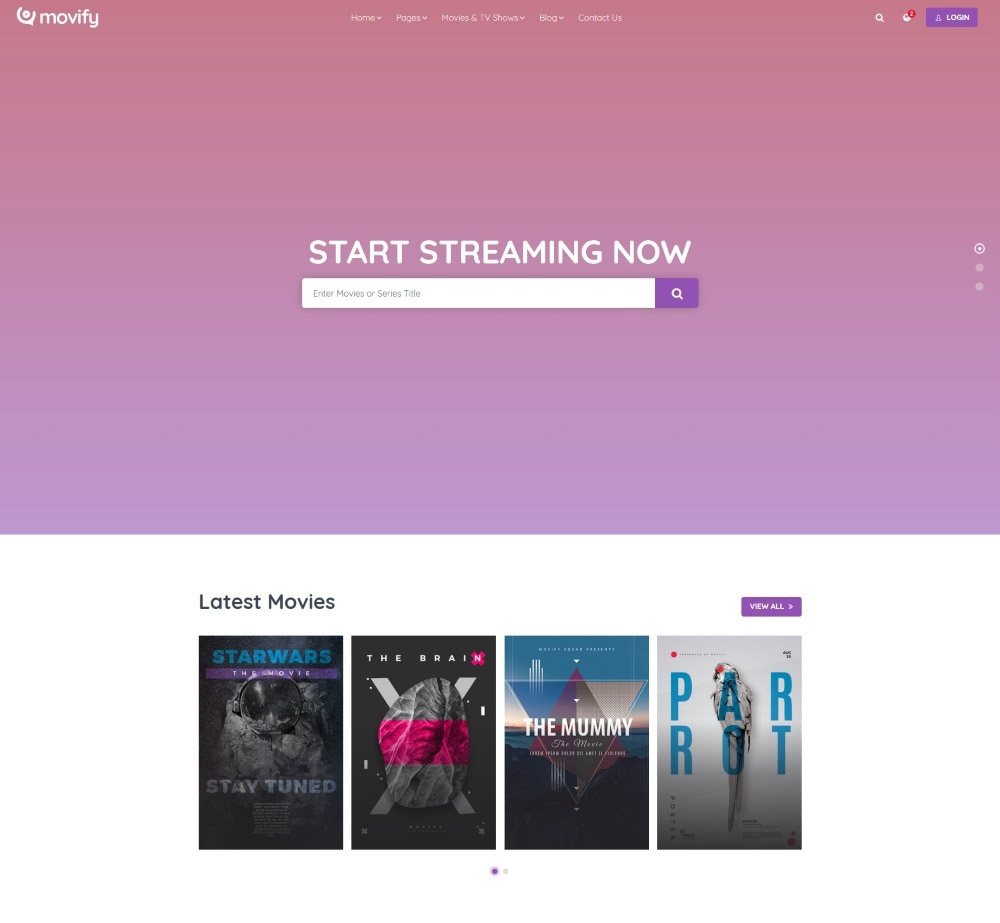 Movify will add a slick, modern layout to your movie website. This HTML theme is built on the Bootstrap 4 network and includes Slider Revolution, one of the most popular jQuery sliders out there. The theme is fully responsive and will look fantastic on all devices.
Movie Star by XenoThemes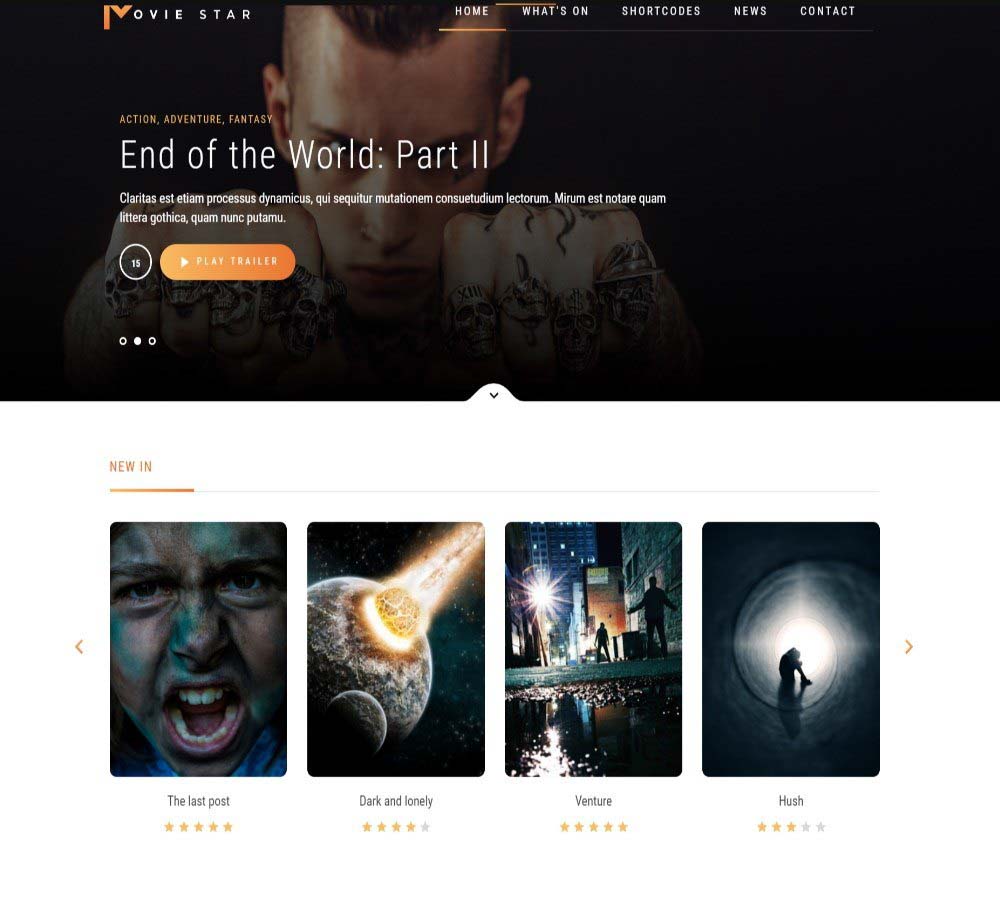 Movie Star offers a dynamic, modern layout that will suit your movie website perfectly. The theme was developed using Bootstrap 3 and is fully responsive, optimized for all devices and browsers. It also features subtle CSS3 animation effects to take your design to the next level.
BigShow by CodePassenger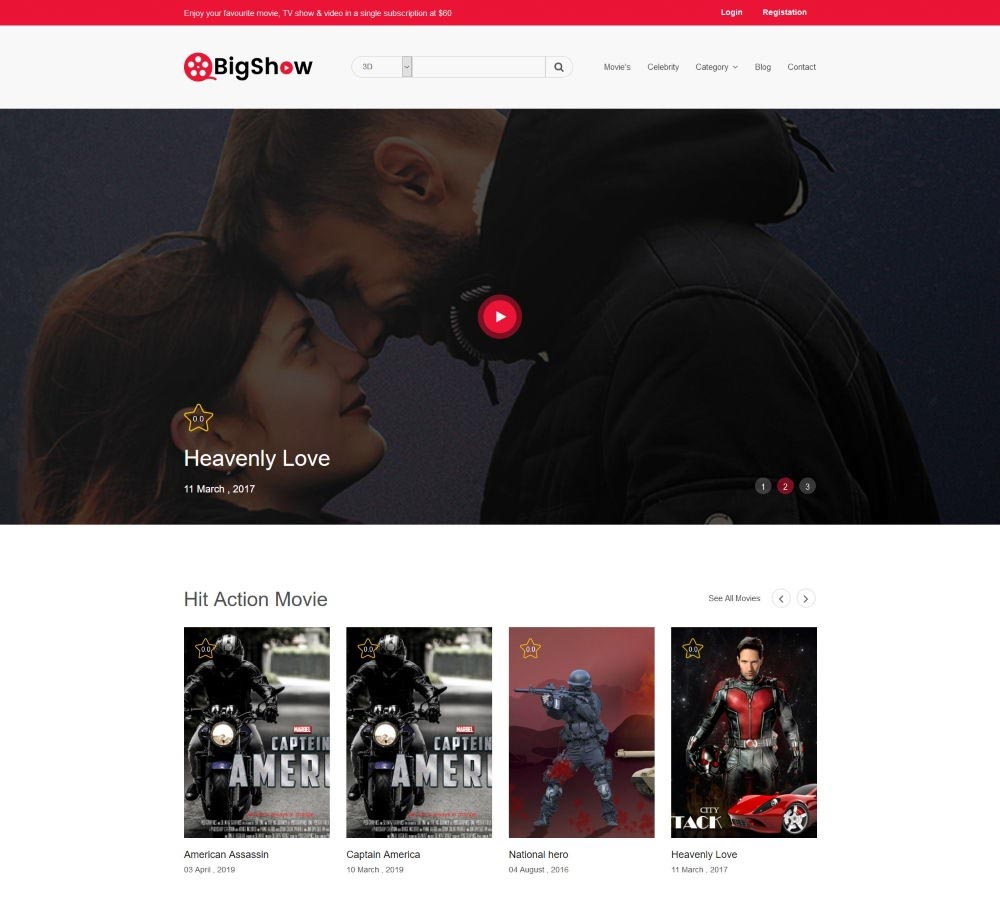 BigShow is a multipurpose movie-themed template that brings a modern, 100% responsive design. It is compatible with Bootstrap versions 3 or higher, and has been tested on all major browsers. The template was built using HTML 5, CSS3, and SASS, and provides easy customization options.
FlixGo by DmitryVolkov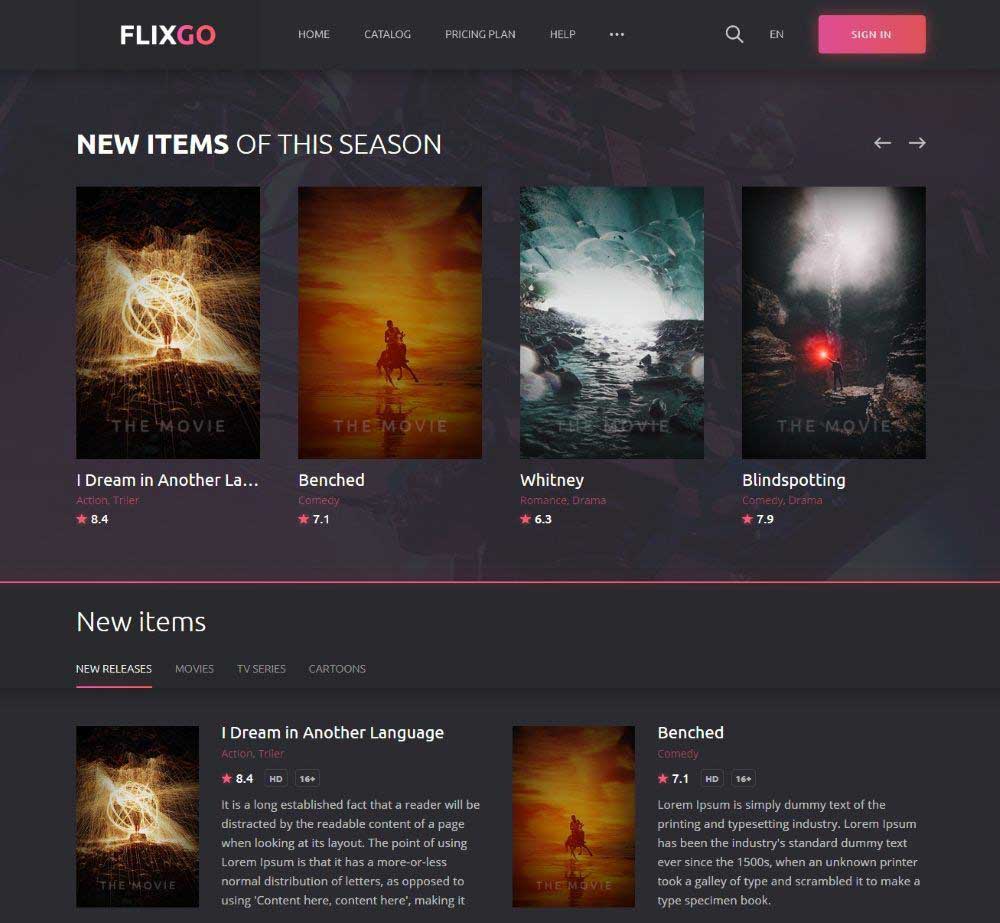 FlixGo is a responsive HTML movie theme with a clean code that is easy to read and tweak. It contains several versions of page layouts you can choose from and has a built-in video player. The theme is compatible with Bootstrap 4 or higher, as well as all major browsers.
Movie Star by Themepul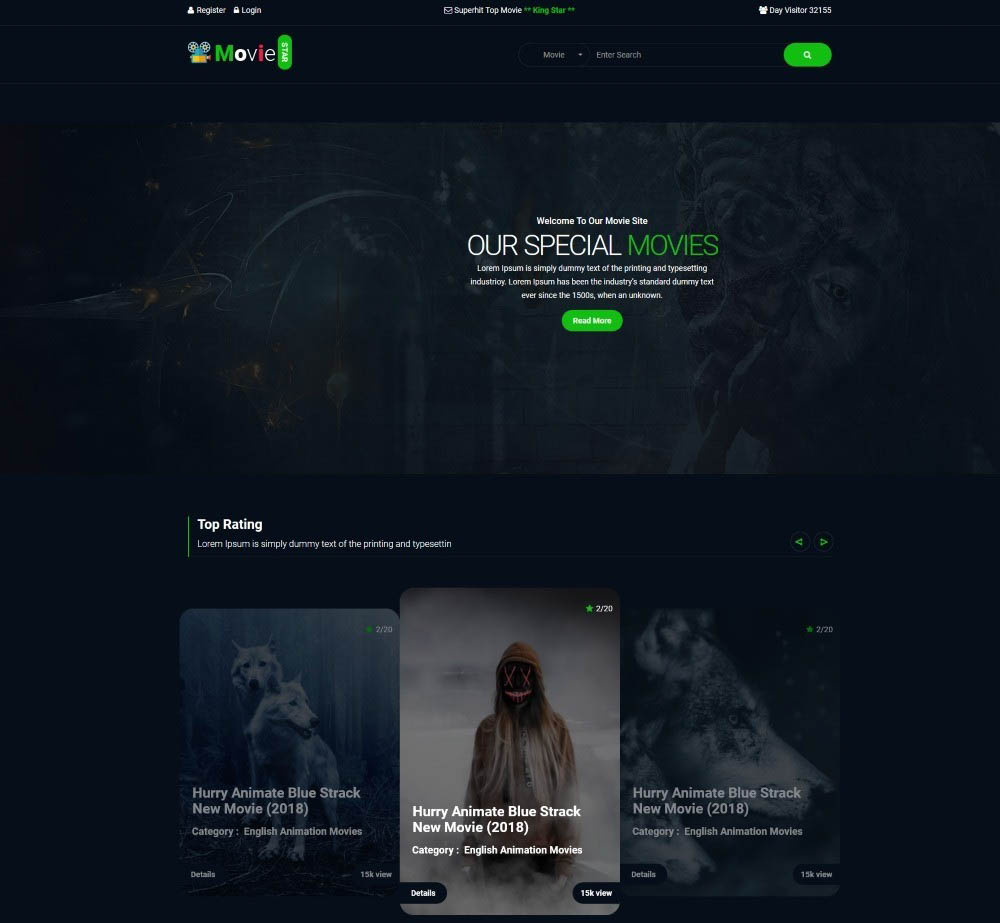 Movie Star features a 100% responsive design optimized for all devices and OSs. Built on Bootstrap 3, HTML5, and CSS3, this theme offers a modern-looking design and several different layouts. It is easily customizable and comes with lifetime updates and technical support.
Zmovo by Themepul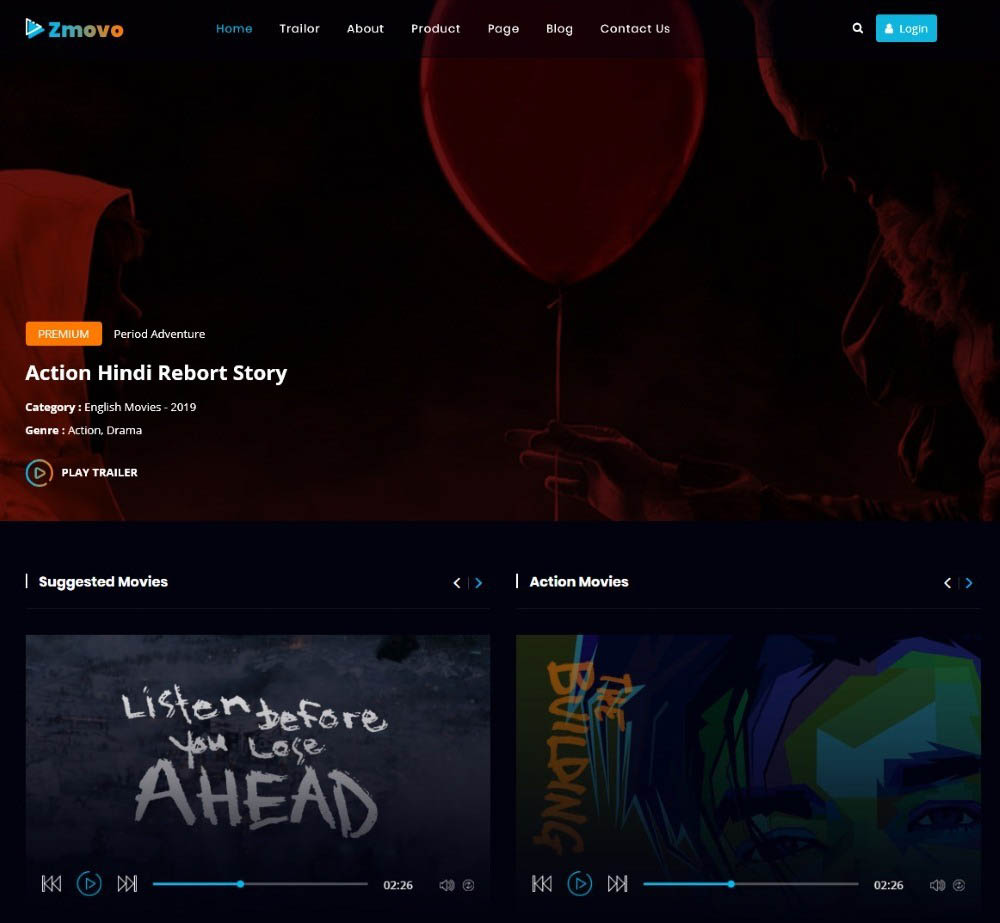 Zmovo is a movie HTML theme built on Bootstrap 4, also using HTML5 and CSS3 for a dynamic, modern look. The theme is customizable, 100% responsive, and SEO-friendly. The purchase also includes free lifetime updates and technical support from the creators.
Movie Pro by Webstrot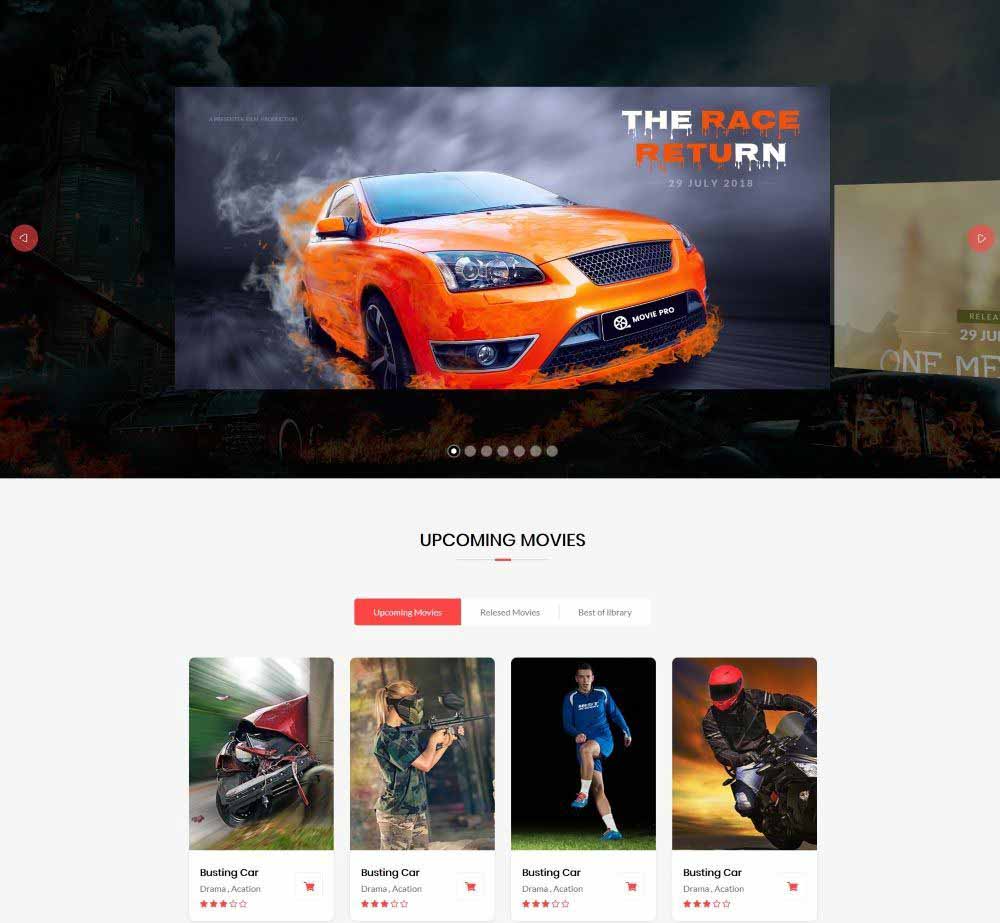 Movie Pro comes with 18+ HTML5 pages, multiple layouts, and a ton of useful customization functions. In addition, the theme includes Slider Revolution and other plugins that will come in handy for a movie-themed website. It is compatible with all major browsers and operating systems on both desktop and mobile devices.
I-finger by Johanspond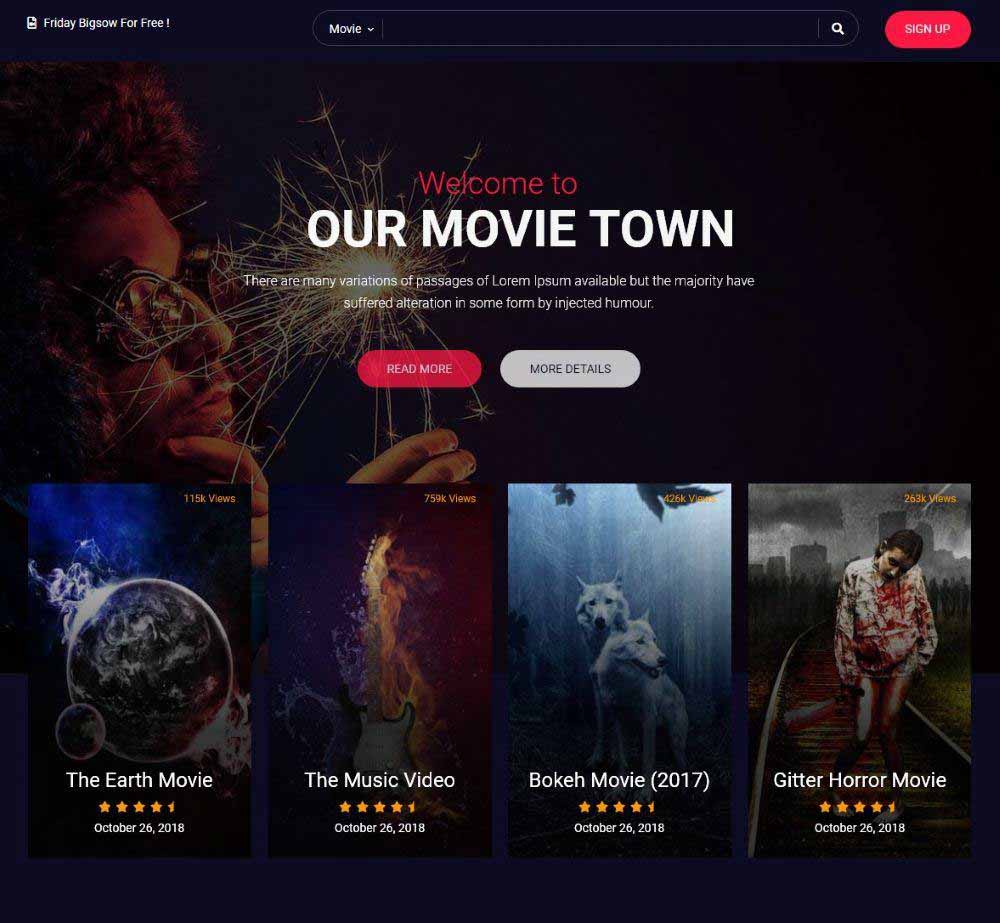 I-finger is a powerful HTML theme built on Bootstrap 4 which features tens of different demos and layouts. For a movie website you can use the Film Town page, for example, though you can also customize any of the other layouts to your liking. All of the designs are retina ready and 100% responsive.
MOOV by Zemez

This multipage HTML movie theme includes several layout and gallery types you can choose from to display movies. It's SEO-friendly and fully responsive. The simplistic design of the theme is complemented by subtle CSS3 effects for a fluid look.
Other Movie CMS
JA Moviemax by Joomlart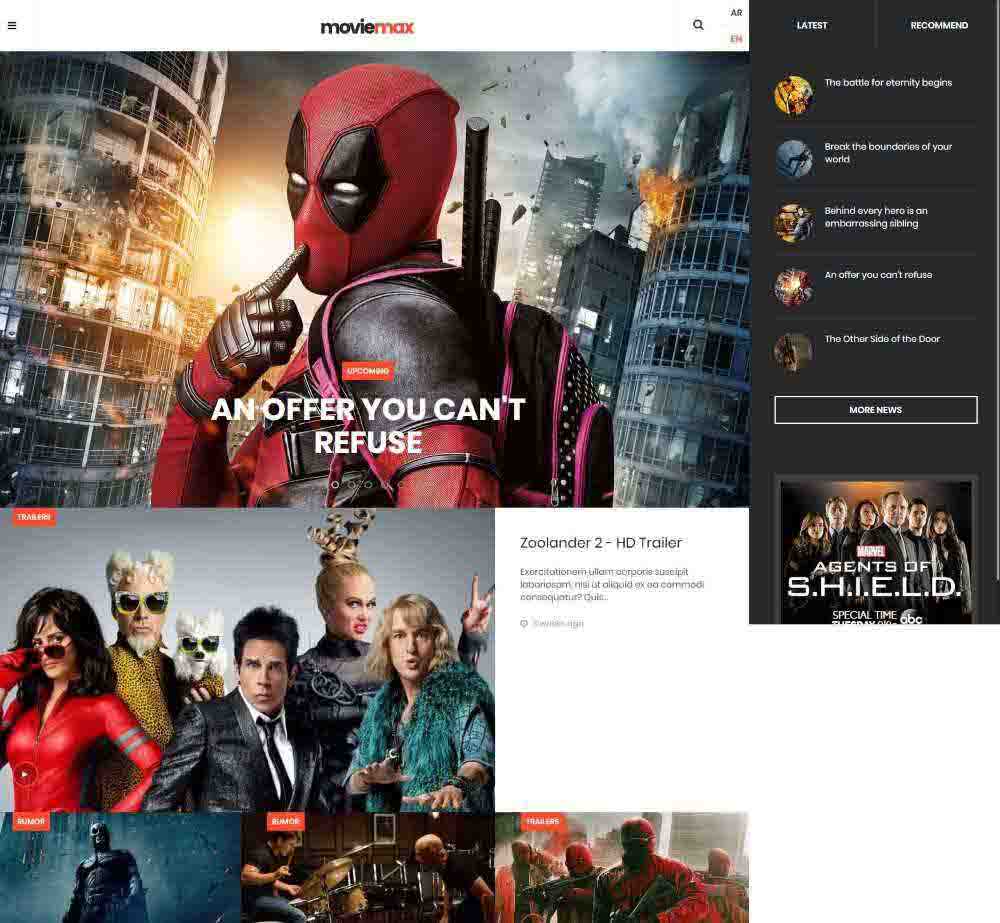 This Joomla 3 template is 100% responsive and compatible with all browsers. It features a video gallery, as well as dedicated lists and news sections. The template is very powerful, built on Bootstrap 3, LESS, and Font awesome 4.
JSN Moviebox by JoomlaShine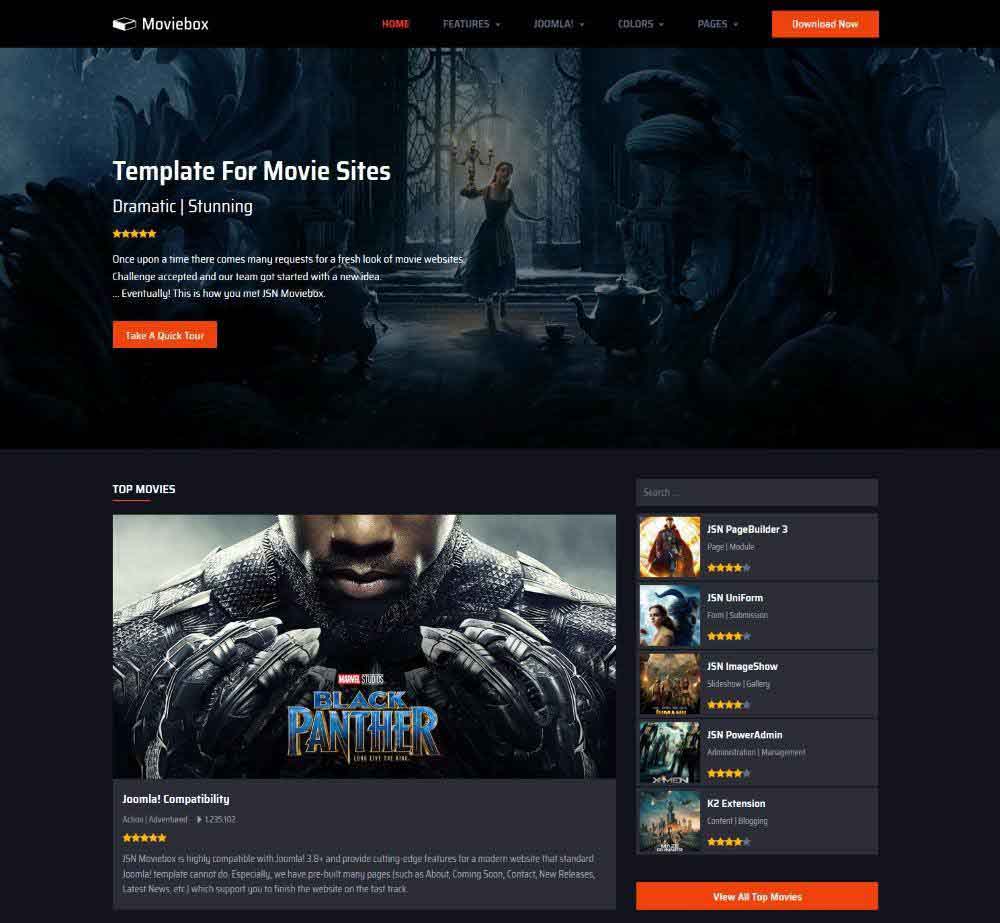 JSN Moviebox is a modern, dynamic template for a movie-themed website. It features JSN PageBuilder 3, UniForm, ImageShow, and K2, plus sample texts to guide you through the customization process. The theme is optimized for both desktop and mobile devices.
Moview by JoomShaper
Moview sports a modern design that highlights your video content on the homepage with a beautiful gallery. The template is built on Helix3 and includes the SP Page Builder extension with more than 40 addons to help you build a website to your liking. Adding videos to your site is made super simple – you just need the link. The template is RTL ready and fully responsive.
Buster by Youjoomla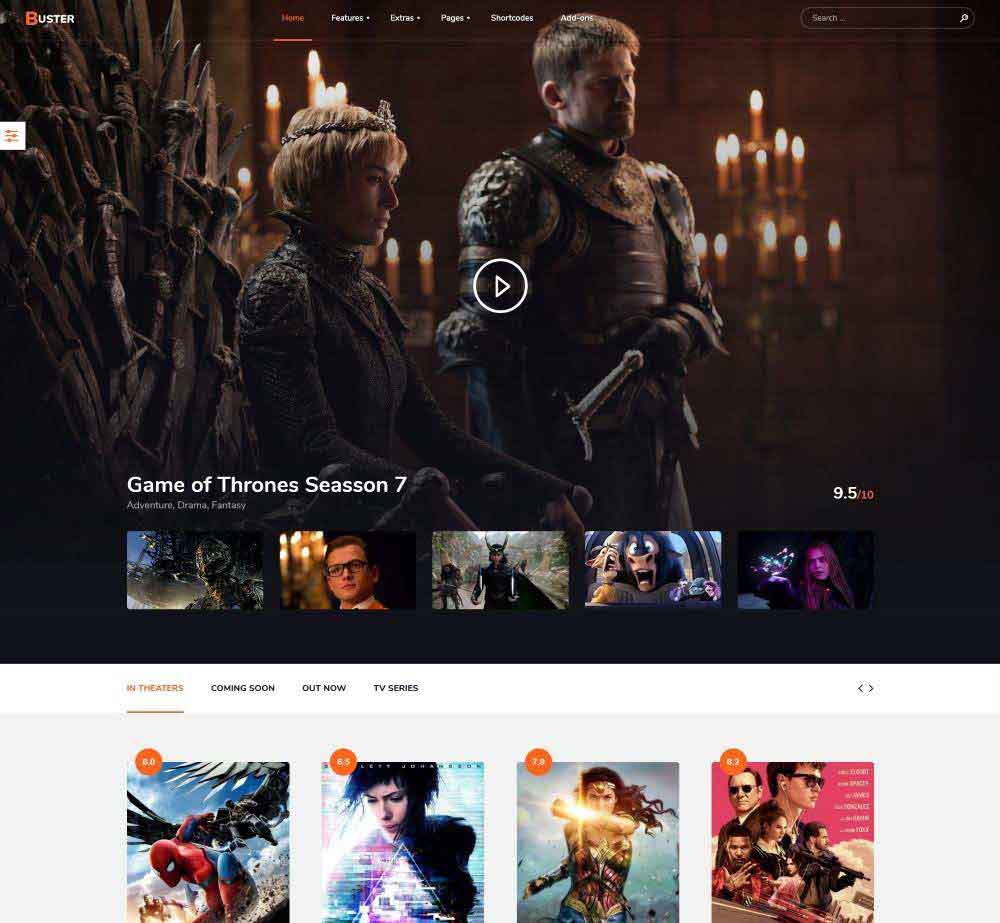 Buster is a modern-looking template with an intuitive design and 4 different demos to choose from. You can also customize your design further, thanks to unlimited color options, 9 module styles, and more. The template includes YJ Module Engine, YJ Media Slider, and K2.
Play by Youjoomla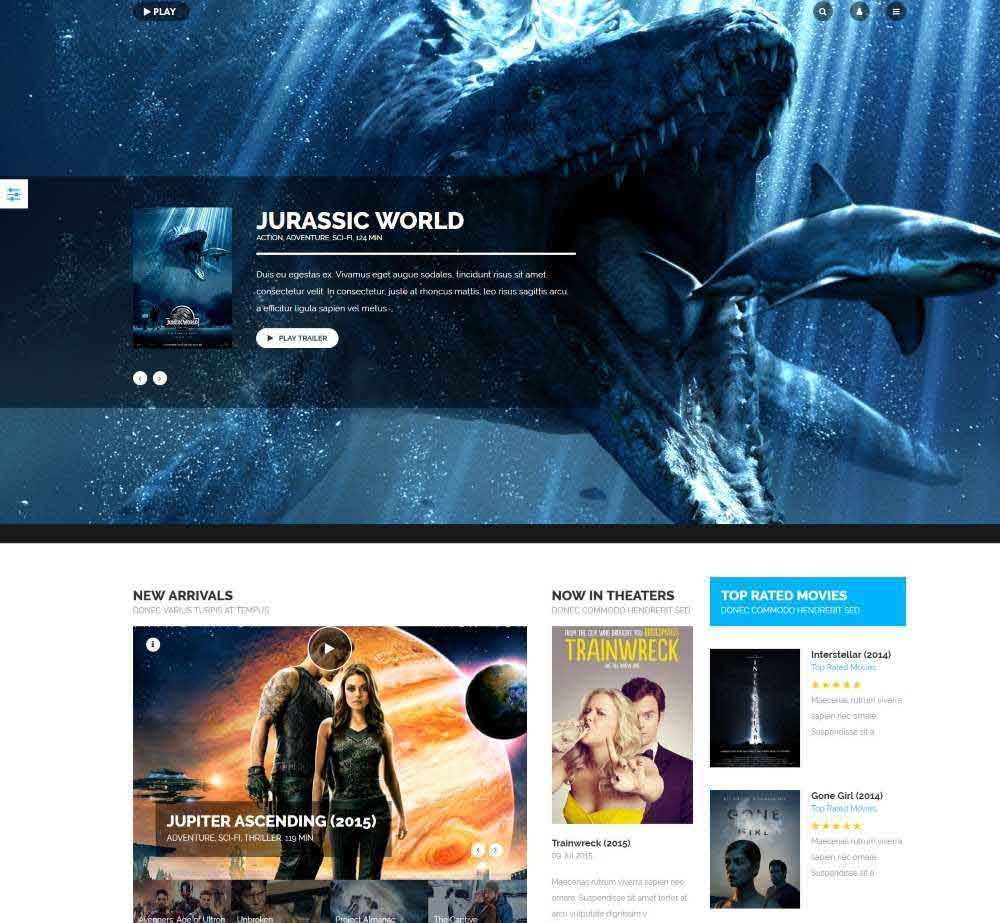 This elegant Joomla template features gorgeous full-page sliders and an eye-catching modular structure. It is built on the YGSJ Framework and is compatible with J2.5 and J3. It comes with four different color themes, 10 module types, and lots of useful extensions for a fun site-building experience – YJ Media Slider, YJ Pop Login, YJ Module Engine, YouYork Module Slider, and more.
Moviedom by Youjoomla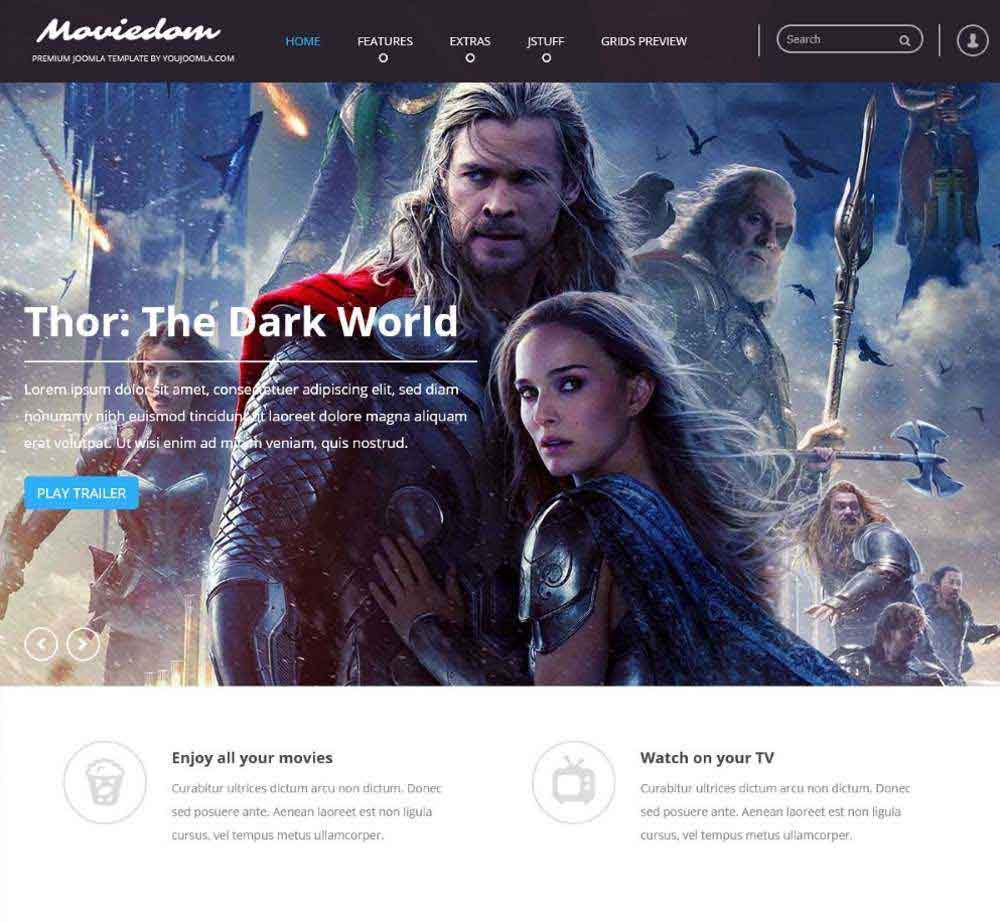 Moviedom is a stunning Joomla template which includes four different demos, each fully customizable through the user-friendly CMS. The template is also packed with extensions to help you curate your content, such as K2, YJ Module Engine, YouYork Module Slider, and YJ Media Slider, to name a few. The theme is 100% responsive and cross-browser compatible.
SJ Asolar by SmartAddons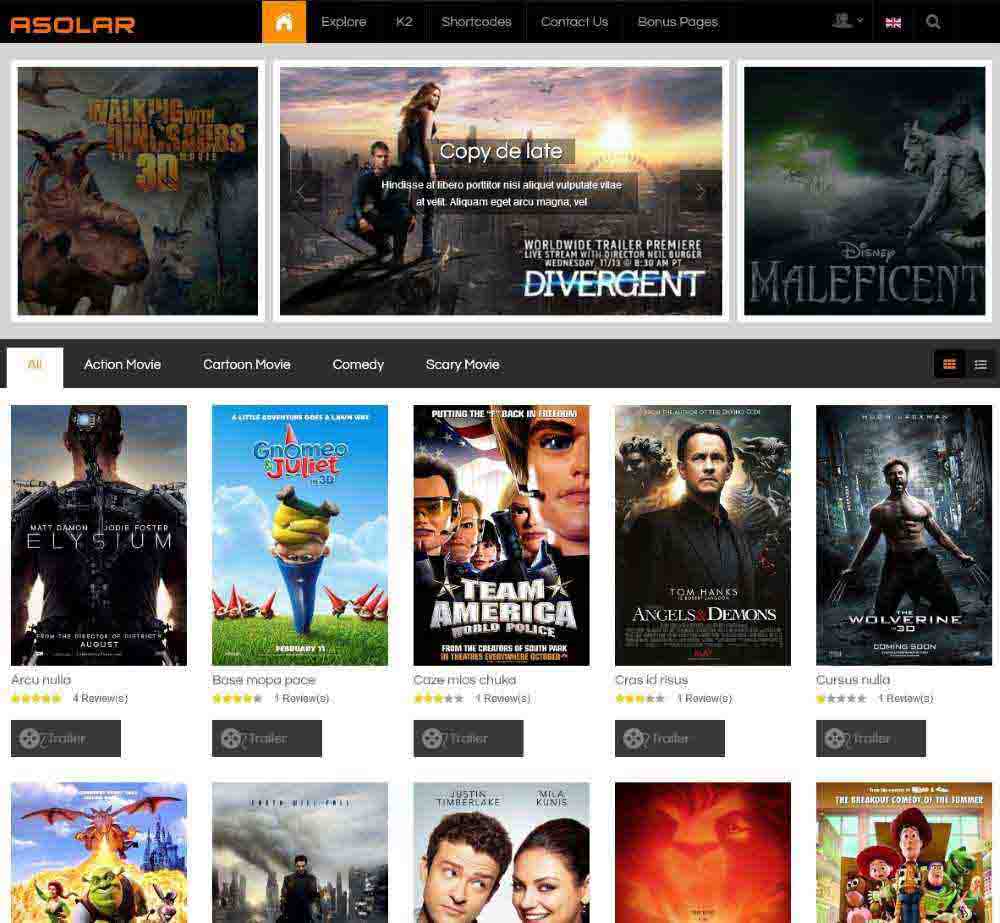 Asolar is among the most popular Joomla movie templates. You can clearly see why – its design is simple and efficient, with good-looking fonts and easy navigation, and this is valid for both layouts you can choose from and customize further. Asolar is built on Joomla 3 and includes the SJ K3 Carousel and the SJ Media Counter extensions, among others. The design is fully responsive and translation-ready.
Movies Online by Zemez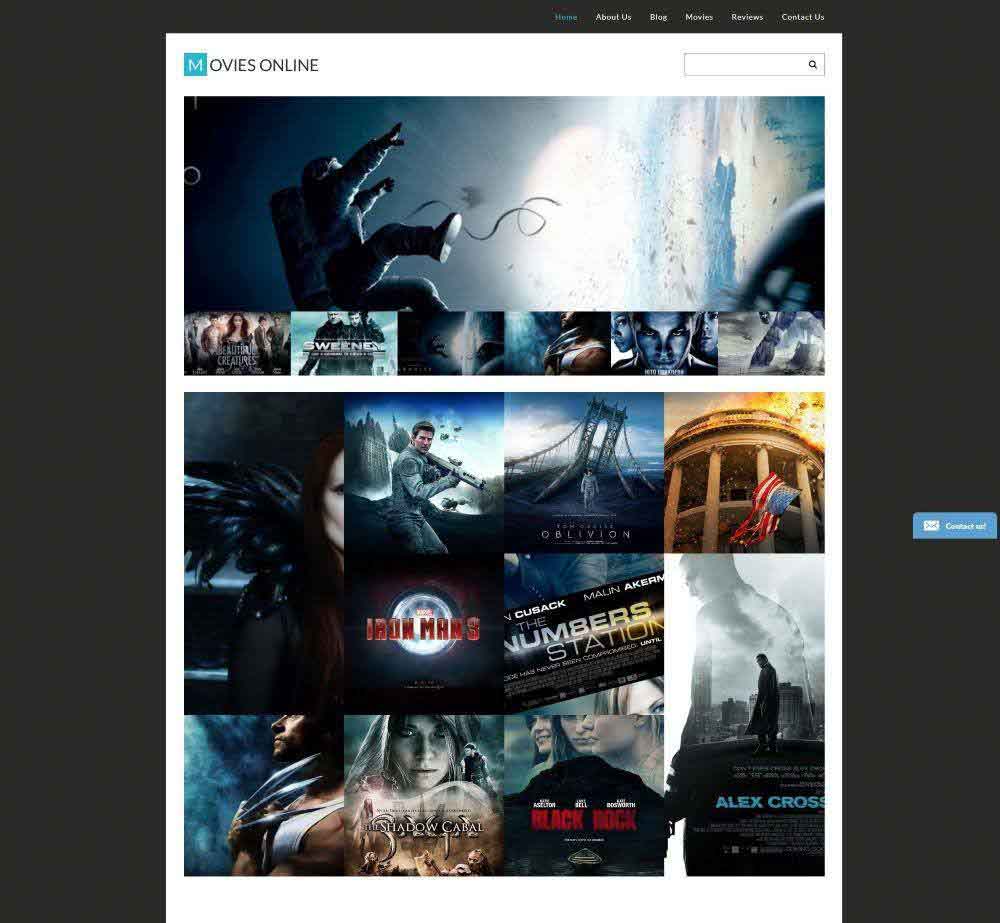 Movies Online is a 100% responsive Joomla movie template that will look great on any device. It brings you a user-friendly CMS you can use to quickly change the color scheme of your website and easily build new pages. The template also features a beautiful slider and a big gallery to showcase your movie catalog.
BT Movies by BowThemes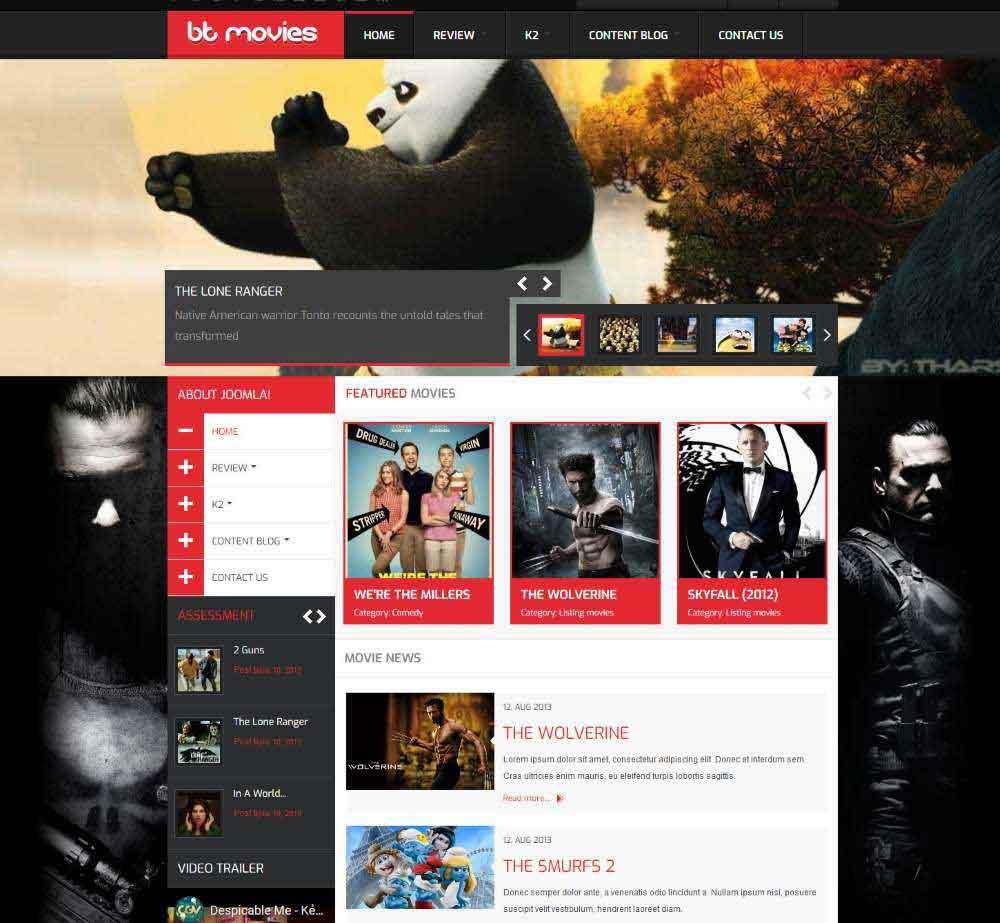 BT Movies is an easy-to-navigate movie template compatible with Joomla 2.5 and 3.0. The layout features a prominent slideshow, a gallery, and social functions, all in a responsive, SEO ready theme. The template is built on T3, Bootstrap 2, and MooTools 1.2 and supports K2. It comes in three color options and is cross-browser compatible.
Internet Movie Database Drupal Template by WT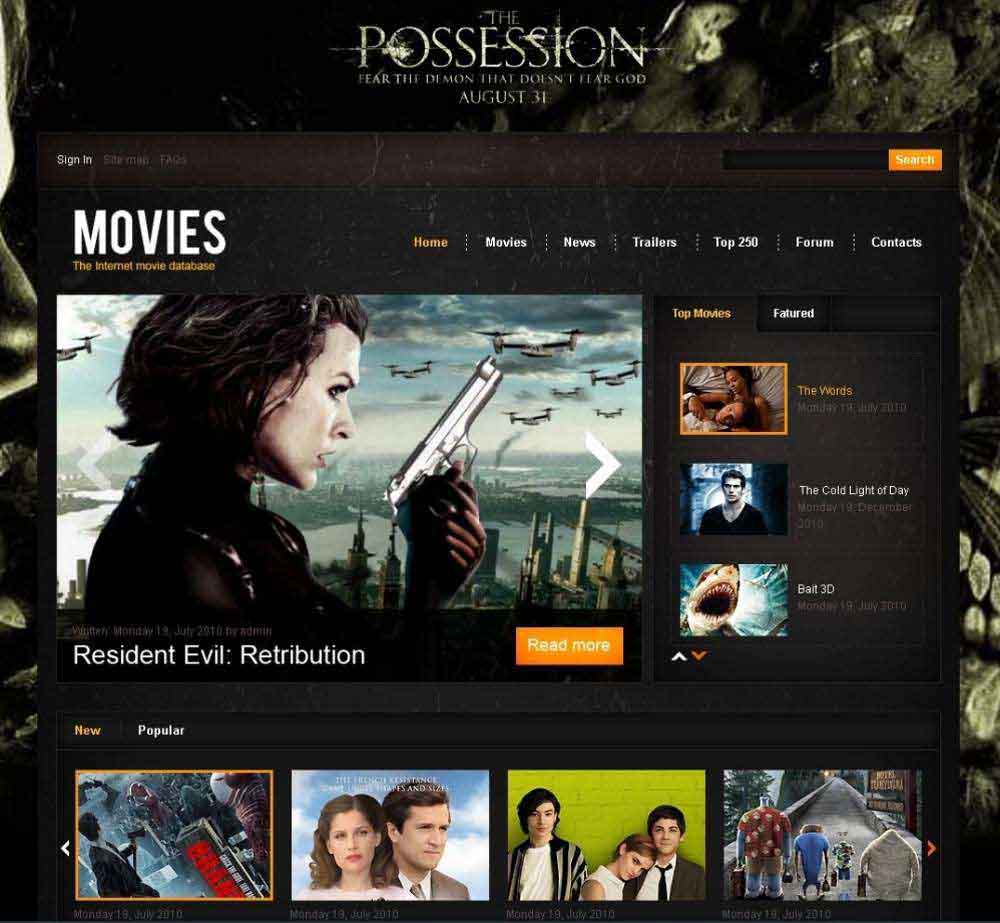 This Drupal theme is interesting in that it specializes in the horror and thriller genres. It does contain some customization options but for the most part the colors available are dark and the special fonts used make it ideal for a movie portal that caters to horror movie lovers. It's compatible with Drupal 7.