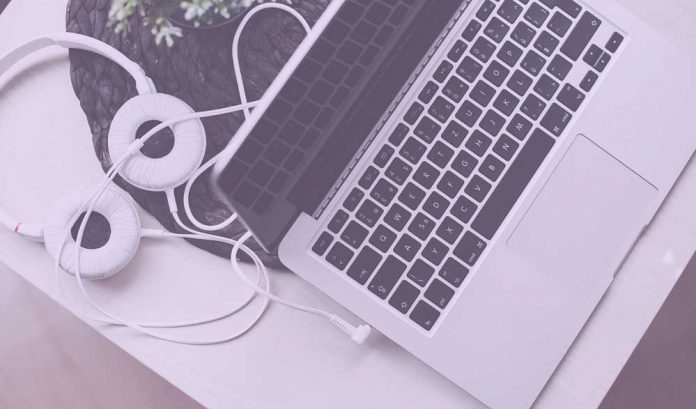 Do you ever sit and marvel at the success of streaming services such as Spotify and SoundCloud? Considering how much time people spend on their computers and phones, it's no wonder that streaming is so successful. It's convenient, it gives users control over what they listen to, and for the most part, it's free. And the companies that provide streaming services – they're reaping huge profits constantly. 
But you don't have to just watch from the sidelines. You can own a music or radio streaming service just like Spotify, and earn profits from it too. Contrary to what you might think, this is surprisingly easy to do.
Find Music-Friendly Hosting
Music is copyrighted content. If you want to distribute it legally, you'd need to pay for a license from each artist, record label, and so on. Unfortunately, that's a lot of money for someone who's just starting out. But there are alternatives!
Regular vs. Offshore Hosting
If you don't want to pay for a license, you have to find a hosting company that will protect you against DMCA takedowns. You'd also need a lot of storage for your music and fast bandwidth. Between regular and offshore hosting, we recommend the latter, and here's why:


Regular Hosting
❓ Limits on bandwidth and storage vary
❌ You'd need to buy licenses for legal music distribution
✅ Website will be running securely
Offshore Hosting
✅ Generous storage and bandwidth
✅ No music license required
✅ Reliable technical support
✅ Website will be running securely


Overall, offshore hosting is the better choice in terms of what you're paying for. Plus, it saves you a ton of money on licenses and shields you from possible DMCA takedowns.
To get started, we recommend going with an offshore VPS. AbeloHost has some great options you can choose from based on your needs and budget.
Using Premade Music Streaming Scripts and Templates
Making the actual music streaming website is quick and simple, even if you're not a developer. For a small cost, you can buy themes developed for PHP, HTML, WordPress, and so on. These designs include everything you need to launch your music streaming website.
Our Picks: 25 M

usic Themes

for All Platforms
We've already scoured the web for the best solutions out there. You can take your pick from our list of the best music streaming scripts and templates for 2022 below. For your convenience, the entries are categorized according to the platform they run on.
Note: We focused on themes intended for music streaming in the style of Spotify, SoundCloud, etc. If you want to stream music videos, we recommend checking out our list with video scripts and templates.
PHP Scripts
BeMusic by Vebto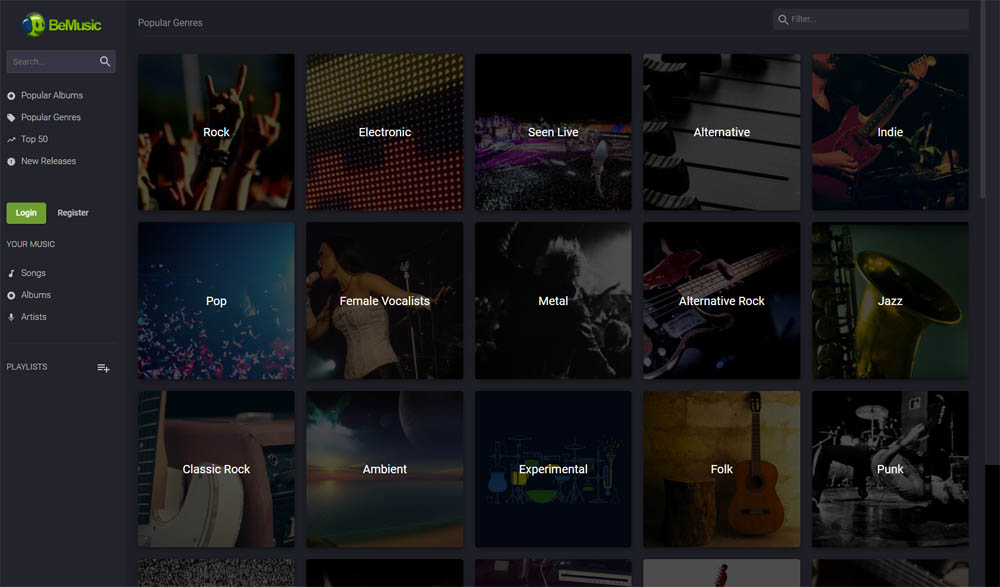 BeMusic brings you a functional design with slick flat colors and sans-serif fonts and a vibe that is very similar to Spotify. The homepage is dedicated to a Popular Genres gallery, while the discrete sidebar offers more advanced search functions. The overall impression is of a simple, yet elegant and convenient music streaming website. 
Fully automated
Users can create libraries and playlists
Built-in music player with shuffle and repeat functions
Customizable
100% responsive
Music Cloud Community by CodeCanyon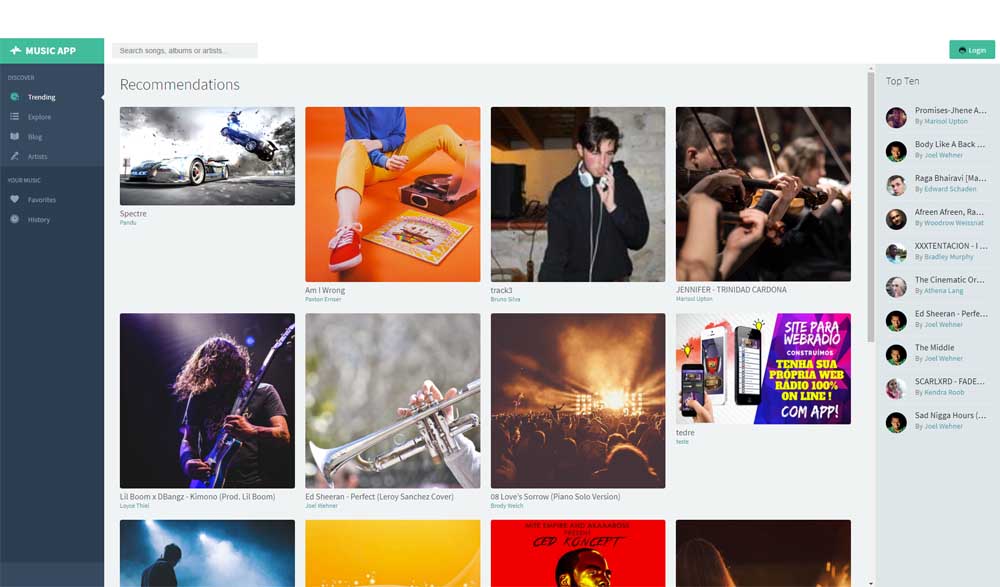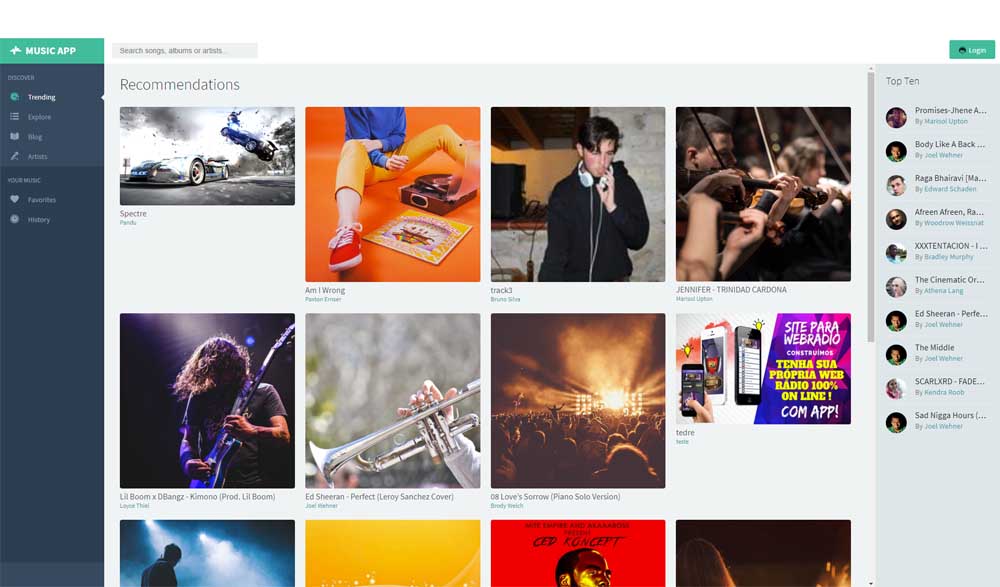 Music App will appeal to you with its clean, flat design. The homepage is dedicated to music galleries with recommendations and recent uploads, while the unassuming sidebar contains all necessary functions. There is a nice hover effect when browsing music albums, which contributes to the overall modern look of the script.
PHP CMS
Built with Angular and SPA
Users can create playlists and follow others
Responsive
Customizable
Soundkit by CodeCanyon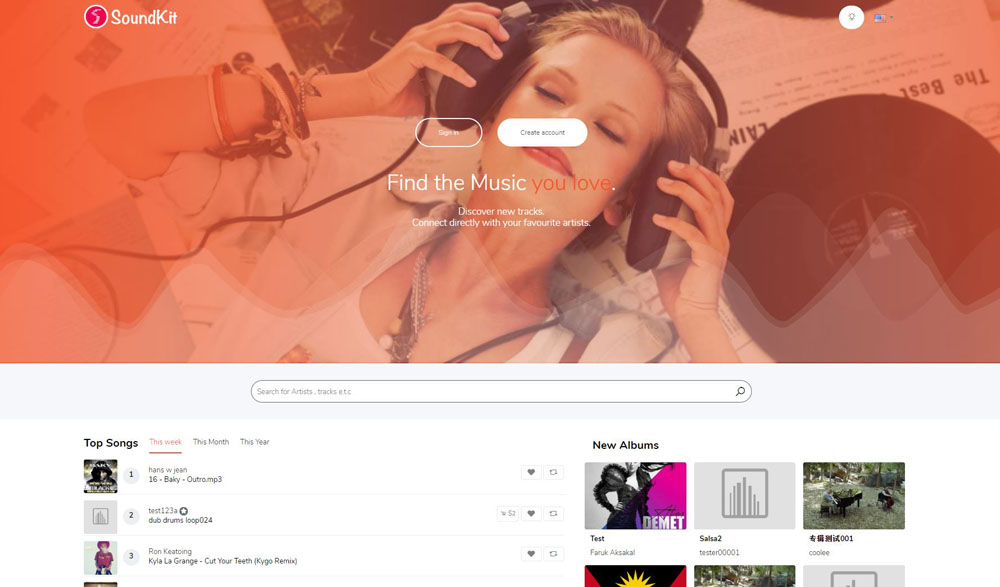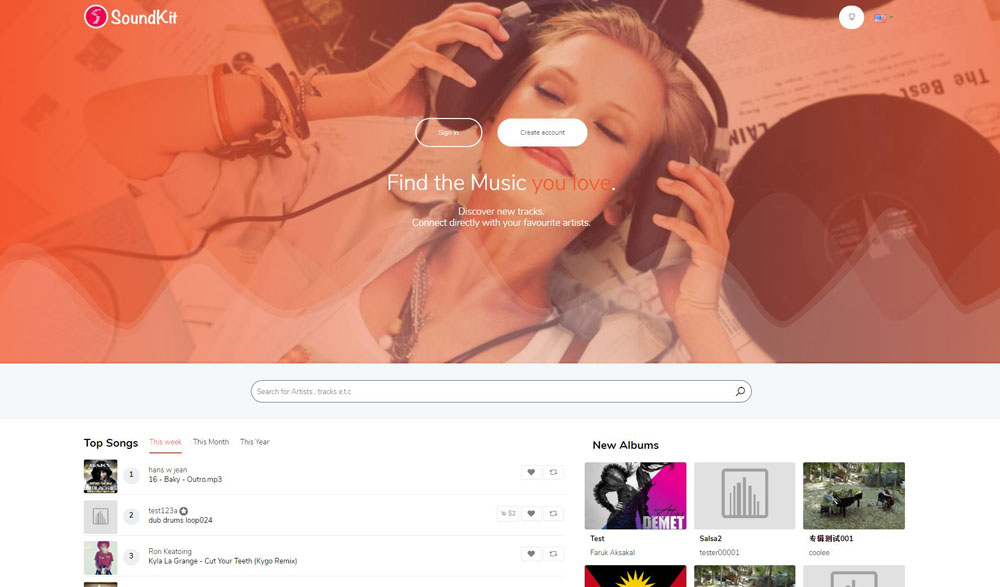 Soundkit impresses with a slick, modern design that closely resembles SoundCloud. The full-width background and light fonts look beautiful and perfectly match the borderless playlist and album galleries.  
Continuous playback
Cross-browser compatible music player
Lots of customization options
Keyboard shortcuts
Easy music upload
Premium & pro membership plans
Video & store integration
Translation ready
Reliable support
Timely updates
Soundify by NCypted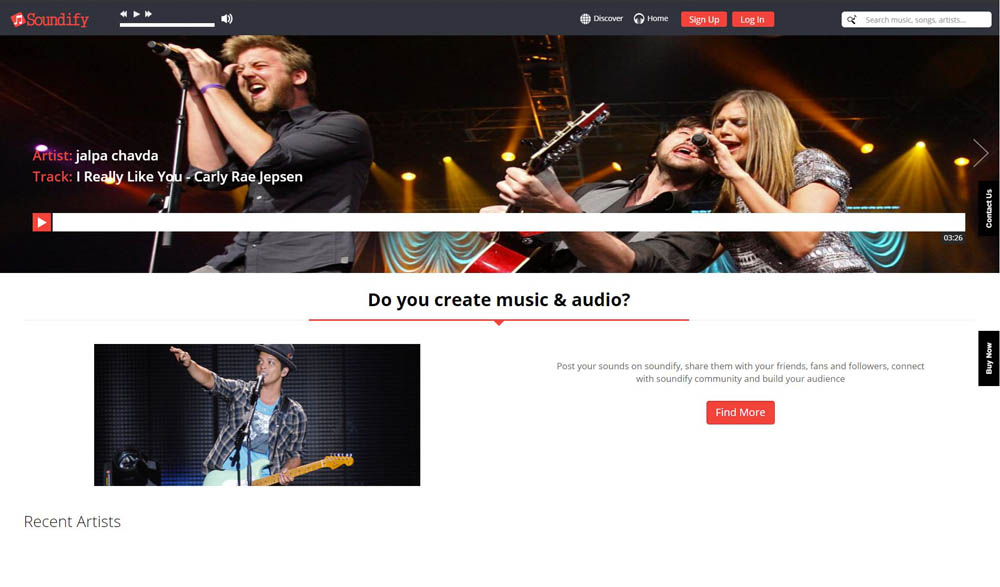 Soundify displays the main player on a full-width background, as well as a secondary, smaller one tucked in the header. This ensures you remain in control over what you listen to even as you browse other pages on the website. The design also features ample open space which adds breathing room to the overall modern look. The script is available in two versions. 
Professional edition
Cost: $649
Cross-browser compatible
Runs on PHP 5.6 or 7
Includes WYSIWYG editor
Enterprise edition
Cost: $949
Everything the Professional edition includes
Social media signup/login
Supports music downloads
Supports CSV exports
Monetization included
phpSound by Codefir
If you love minimalist designs, phpSound will win you over. The script is vaguely reminiscent of SoundCloud. It relies on a simple gallery and search, with a full-length player glued to the bottom of the page. This gives the design a fresh, relaxing vibe.
PHP CMS
Includes audio player
Social functions & following friends
Users can create playlists
Paypal integration
AWS S3 supported
Paid subscription functionality included
Responsive
Cross-browser compatible
Inout Music by InoutScripts
Inout Music brings you an eye-catching full-width slider and a modern, borderless album gallery. The bold fonts work perfectly with the default color scheme, contributing to a polished, elegant design.The two editions of the script carry different functionalities.
Standard edition
Audio + video playback
Paypal integration
Detailed statistics
Customizable via PHP MVC
Ultimate edition
Everything included in the standard edition
Built-in uninterrupted player
Responsive
AJAX
SEO ready
Downloads
Streamtunes by StreamHash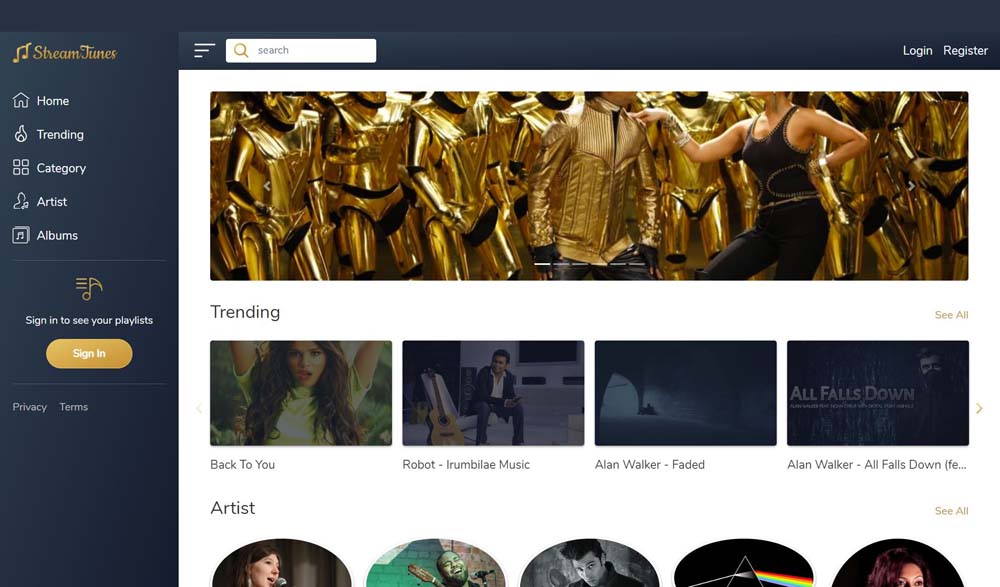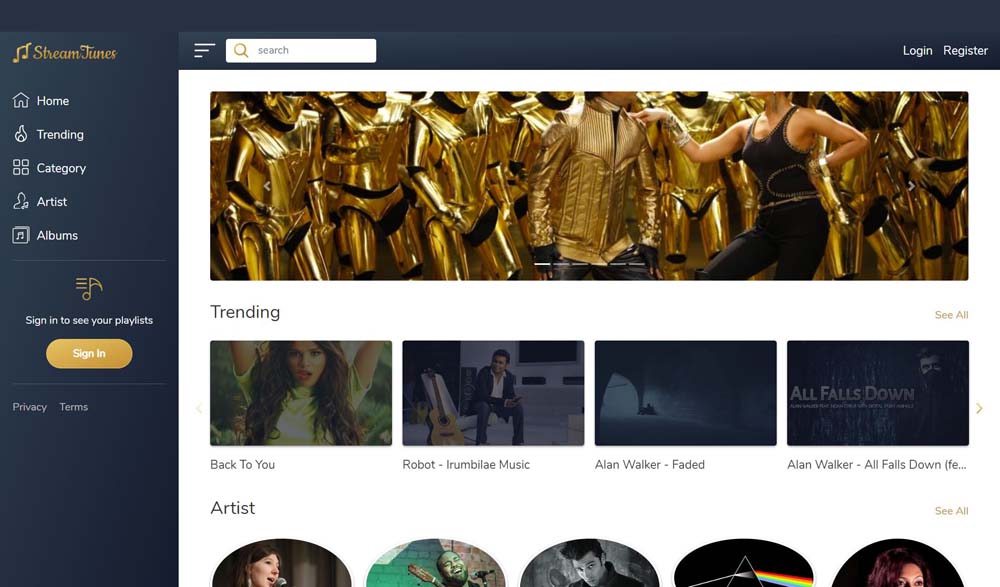 Streamtunes has a very nice open homepage design, but it's the menus that really stand out. The sidebar can be hidden or revealed at the press of a button, and its color has a subtle gradient that is very pleasing to the eye. Everything looks clean and elegant.
SoundCloud clone
Includes jPlayer
Social login
Users can create playlists and use tags
Corresponding mobile app
Zuz Music by Kamranwajdani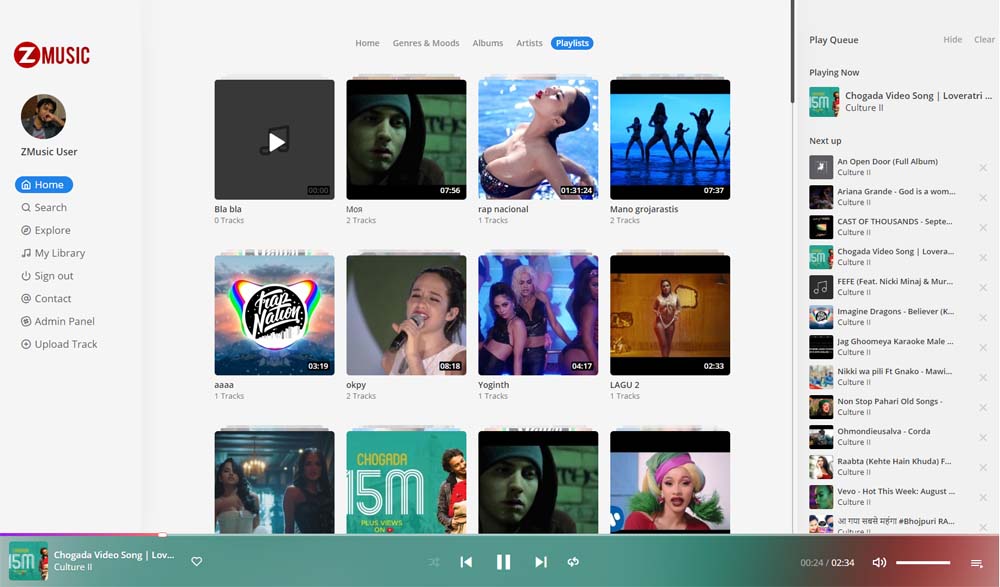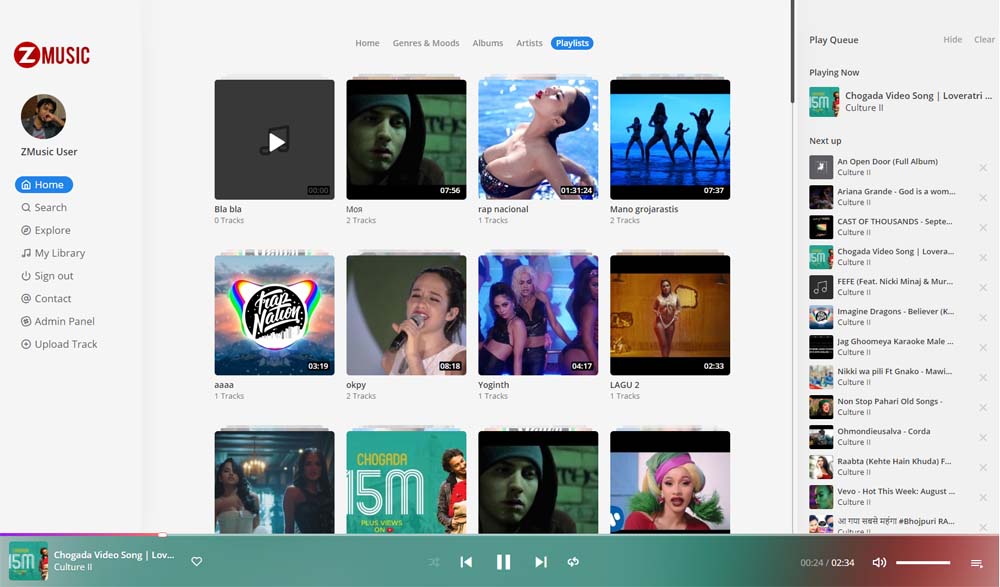 Zuz Music brings you a slightly different homepage, compared to most of the other entries on this list. It features a big slider gallery and a suggestions chart. The script relies on light backgrounds and modern fonts to achieve a fresh, open look.
PHP CMS

Light and dark themes

Responsive

Built-in audio player

Supports imports from YouTube, SoundCloud or your device

Translation ready
WordPress
Kentha by Quantum Themes
Kentha brings you a total of 30 music-themed demos you can choose from. These are tailored to different businesses and music genres. Each demo has a slick, modern design with nice animated effects, bold visuals, and barely noticeable menus. Whichever demo you decide to go with, you will not regret it.
WordPress CMS
Non-stop playback
Audio visualizer
WooCommerce compatible
Cross-browser compatible
WPBakery Page Builder compatible
Musik by Flatfull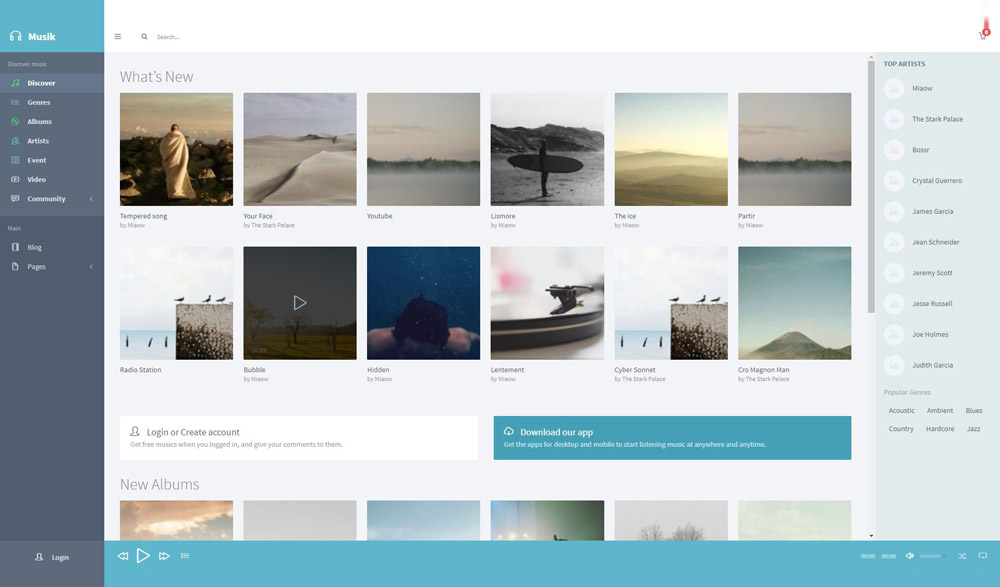 Musik will steal your heart with its flat colors and crisp, straight lines. The album gallery on the homepage is neat and tidy and goes perfectly with the collapsible sidebar. This creates the impression of a fresh, modern design that will make a great music streaming website.
Built on EDD (Easy Digital Downloads)
WordPressCMS
Includes jPlayer
Easy installation
Fully customizable
Rekord by Xvelopers
Rekord is another modern theme with a minimalist look. At first glance everything except for the homepage slider is reduced to clean icons. Only upon hovering do the menus make an appearance. The typography is very tidy and the theme looks great in both the light and the dark version.
WordPress CMS
Includes WaveSurfer player
Supports both music and radio streaming
Includes Elementor Page Builder
CustomizableFully responsive
WooCommerce compatible
MusicPlay by Aivah Themes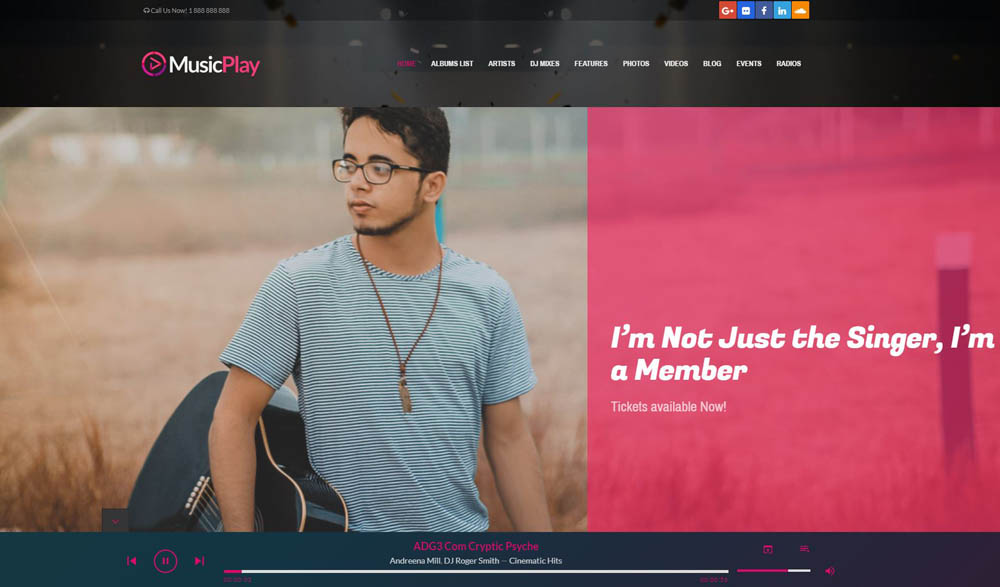 MusicPlay is available in several different demos, including one for music streaming and one for a radio. The designs rely on big, dynamic sliders and lovely animated effects. Moreover, the player is very functional and remains glued to the bottom of the page so you can browse while listening to music.
2 different header layouts
WordPress CMS
DJMix for uploading .mp3 files
Built-in audio player
Uses AJAX 
Highly customizable
WPML ready
Pulse by Flatfull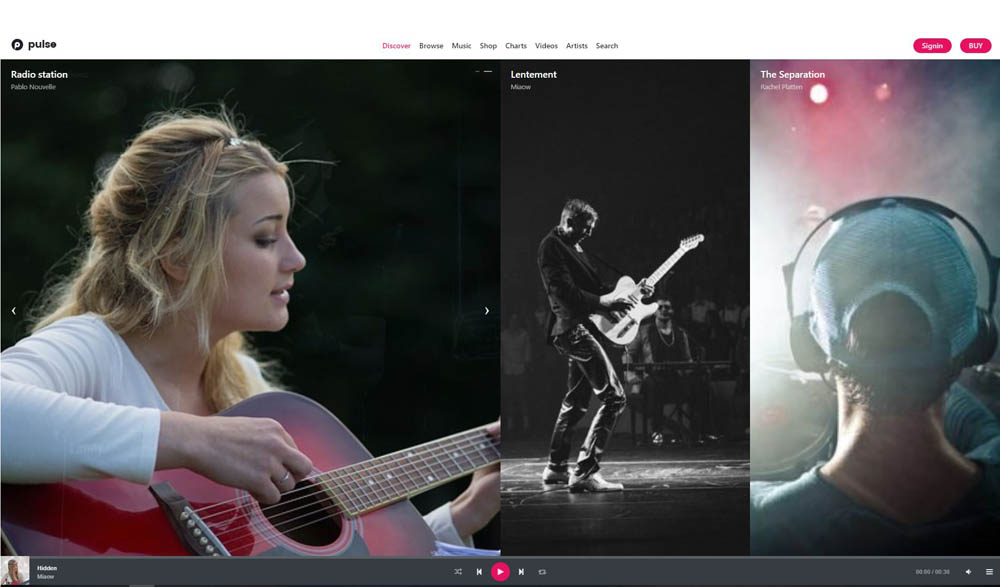 Pulse brings you a prominent slider with play functions displayed directly on top of the content featured there. It's a simple-to-navigate theme with subtle menus and a lot of white space that's very easy on the eyes.
WordPress CMS
Built with Ajax
User playlists supported
WooCommerce compatible
4 templates, dark and light themes
SoundCloud and ShoutCast integrated
SoundWave by Vizedesign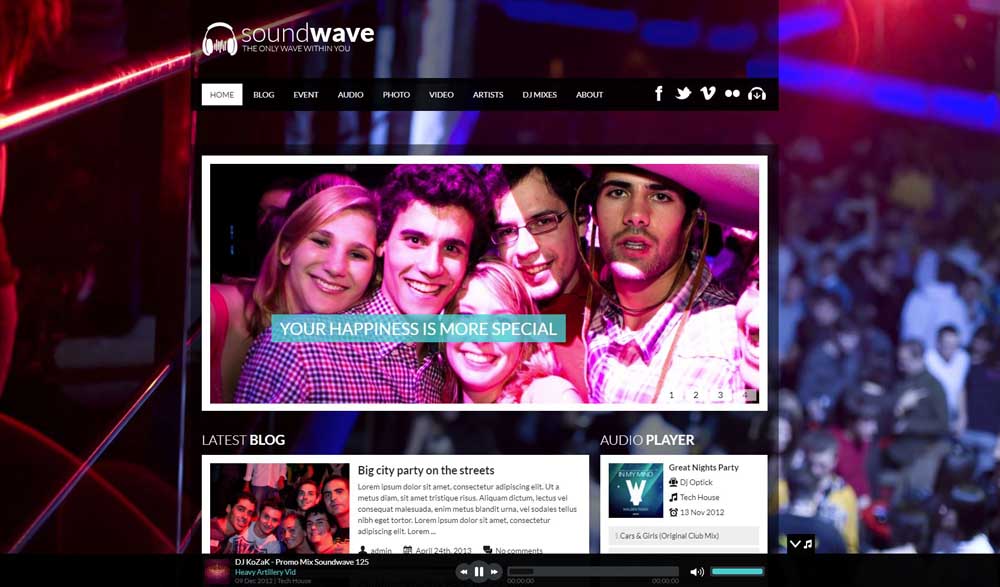 SoundWave features a static background with gorgeous differently-sized modules that glide on top. The translucent menus and different shapes give the theme a slick, elegant feel. From the galleries to the minimalist player at the bottom of the page, every little detail in this layout has been polished.
WordPress CMS
Continuous playback (music + radio)
Events and galleries
Videos supported
2 types of sliders
Kayo by Wolf-Themes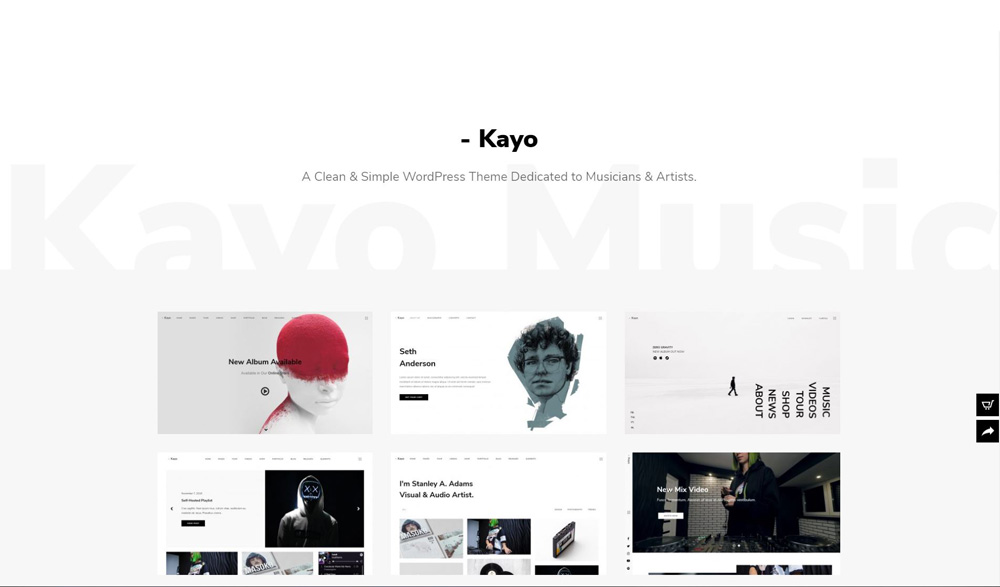 Style and minimalism were clearly the guiding principles that inspired Kayo. The theme comes with 9 pristine page types you can customize, and they all look clean and modern. Kayo truly pushes the limits of what's an acceptable location for a menu or a play button. This highly experimental design looks fresh and unique as a result.
WordPress CMS
Supports playlists
Supports videos
Includes WPBakery Page Builder
Includes WooCommerce plugin
Can embed players from Cpotify, SoundCloud, MixCloud, Bandcamp, Reverberation
AJAX cart
Fully customizable
100% responsive
Chords by Cssignitervip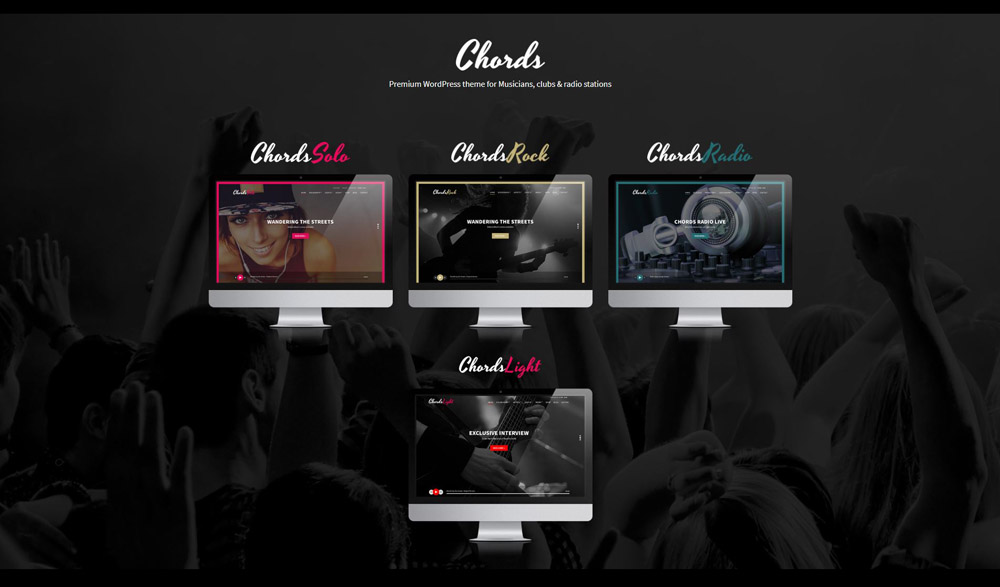 Chords includes 4 elegant demos suitable for a radio station or a musician's website. All of the layouts rely on bold, modern fonts and nicely overlaid modules. The hover effects and other animations make browsing extra satisfying.
WordPress CMS
Includes an audio player powered by SoundManager 2
Users can create playlists
Event management plugin included
Widgets and drag & drop page building
Highly customizable
Supports WooCommerce
WPML ready
Clubix by Stylishthemes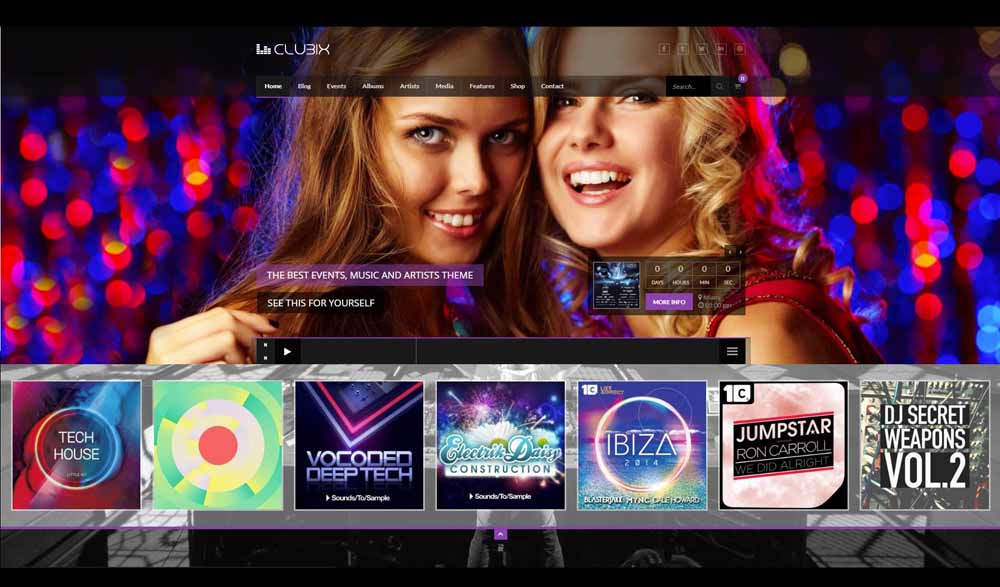 Available in both light and dark themes, Clubix brings you a stunning full-width design with great animated effects. The layout features lots of different shapes, whose slick, straight lines all tie in together nicely. 
WordPress CMS
Includes Visual Composer
Includes Slider Revolution
Built-in audio player for .mp3 files and radio
Redux Framework support
Highly customizable
Responsive
Zample by Wolf-Themes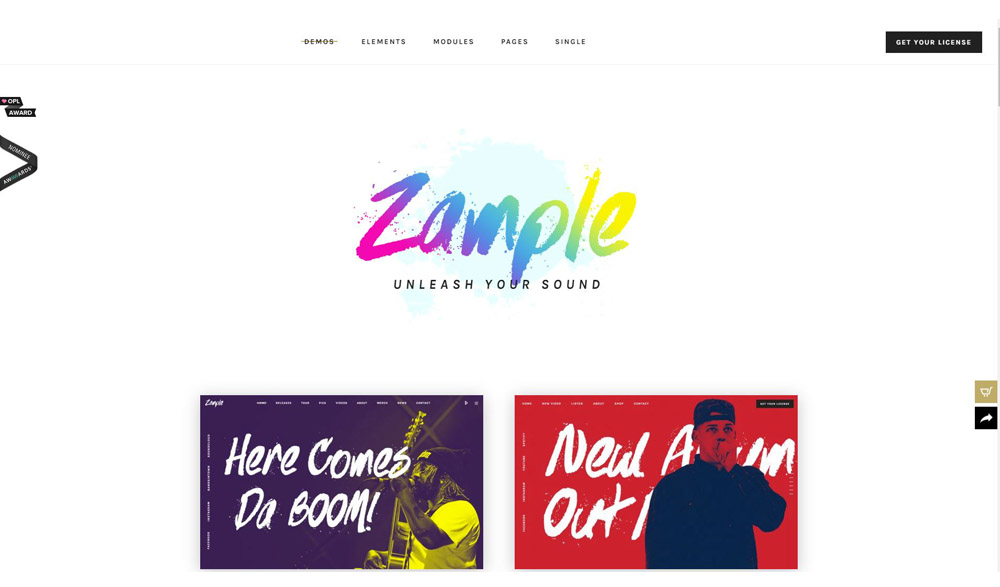 Zample offers a unique design available in 8 stunning demos. All of the layouts rely on modern flat full-width backgrounds and a lot of breathing room. The differently-sized modules make the theme feel dynamic and interesting to the eye. It's pleasing and memorable even in the smallest aspects, such as the strike-through effect on the menus. 
WordPress CMS
8 different demos
14 sliders
Easy installation
100% responsive
WooCommerce support
Includes WPBakery Page Builder
AJAX support
Translation ready
HTML
Miraculous by Kamleshyadav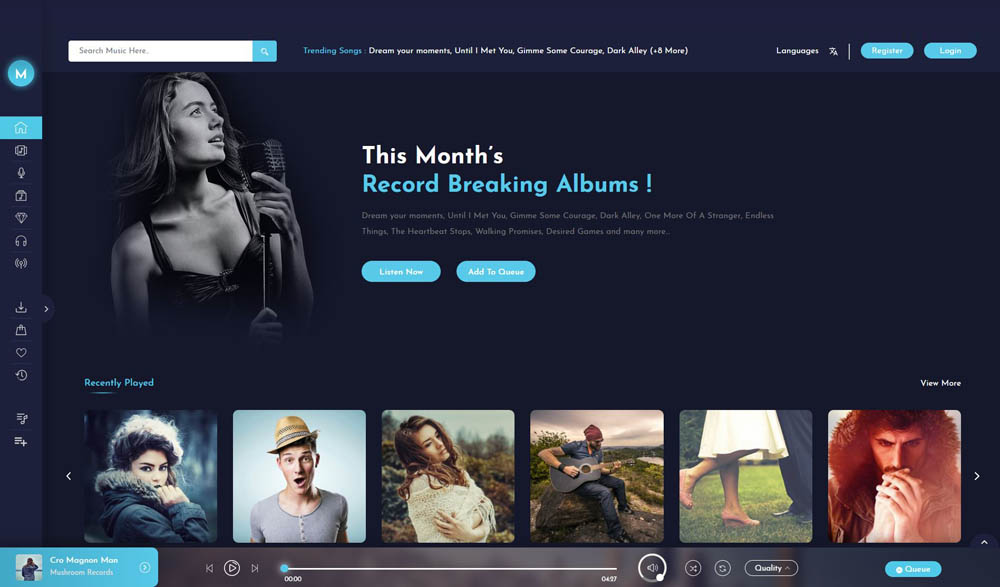 Out of all templates on this list, Miraculous is likely the closest to Spotify you can get. Both the light and dark versions of the theme rely on Spotify's well-known rounded buttons, but the player and the collapsible sidebar menu feel more original. In other words, it's a fluid, flat template up to date with the latest design trends.
25 HTML5 + CSS3 pages
Built on Bootstrap
Fully responsive
Light and dark versions available
Built-in music player
Upload and playlist functions
Multilingual
SEO ready
Adonis by Iconic_themes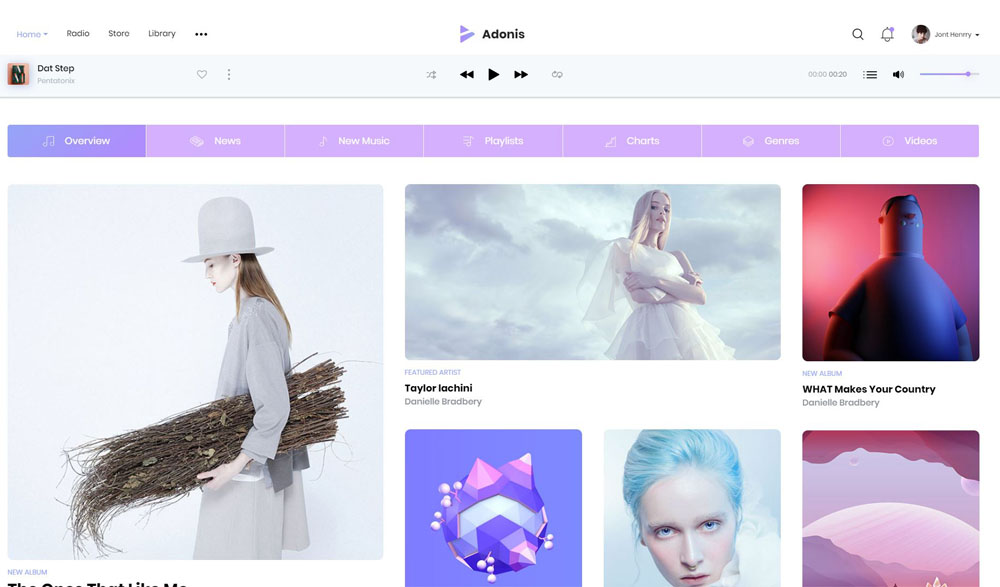 Adonis gives you several good-looking demos to play around with. Sidebar or no sidebar, with various player positions, available in both light and dark themes, this template flows smoothly. The layout owes its elegance to the generous use of empty space, which keeps it light and fluid.
Built on Bootstrap 4
Ajax driven
Customizable CSS & JS files
100% Responsive
Music player variations
Listen by Kri8thm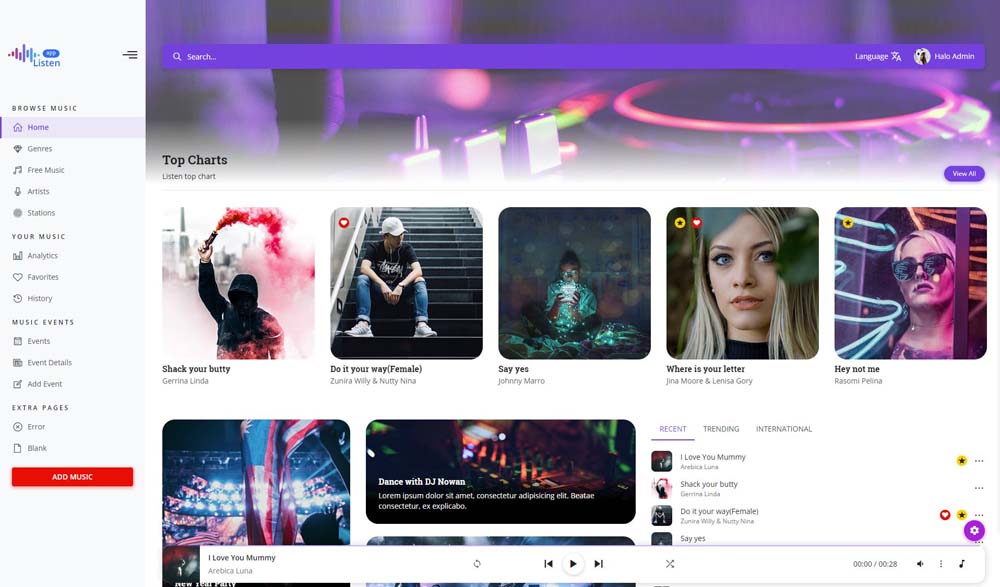 Listen's layout is somewhat familiar to Spotify, and that's a good thing. The collapsible sidebar includes everything you need to navigate quickly and the design of the icons is flat and elegant. The homepage can accommodate playlists, music galleries, charts, and more, while the player at the bottom of the page remains accessible from all sections of the website.
Built with Bootstrap 4, SASS, HTML, Jquery
Built-in audio player
Customizable
Light and dark themes
Dashboard with statistics
Responsive
Suono by Xvelopers

Suono is a powerful build that offers an iTunes clone, as well as several more original designs you can choose from. All of the layouts feature prominent sliders and galleries where you can sell your music. In addition, the quick hover effects and clean fonts give the template a fresh, contemporary look.
Built on Bootstrap 3
Works with Ajax
Includes jPlayer and Wave Player
iTunes API 
Events, music libraries, rating functionalities
WeRock by Xvelopers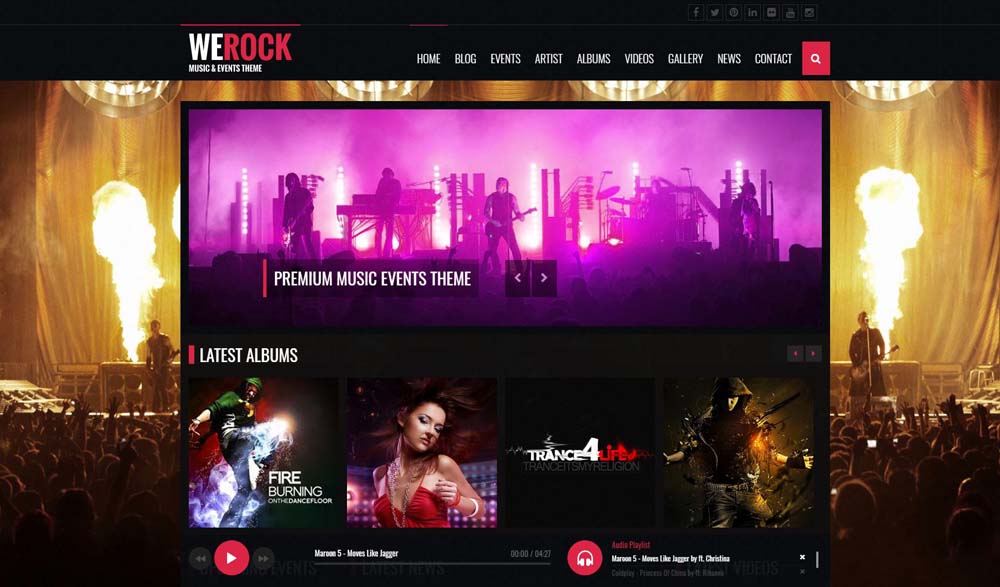 WeRock comes in versions both with and without AJAX, whose designs are otherwise identical. It is really easy to navigate, with clear, bold menus and a bottom-page player that won't leave you hanging. The template also features some nice animated effects that add to its overall fluidity.
HTML5 code
100% responsive
Includes an audio player
Developed using Bootstrap 3
Other
Zondimo by Monkey_themes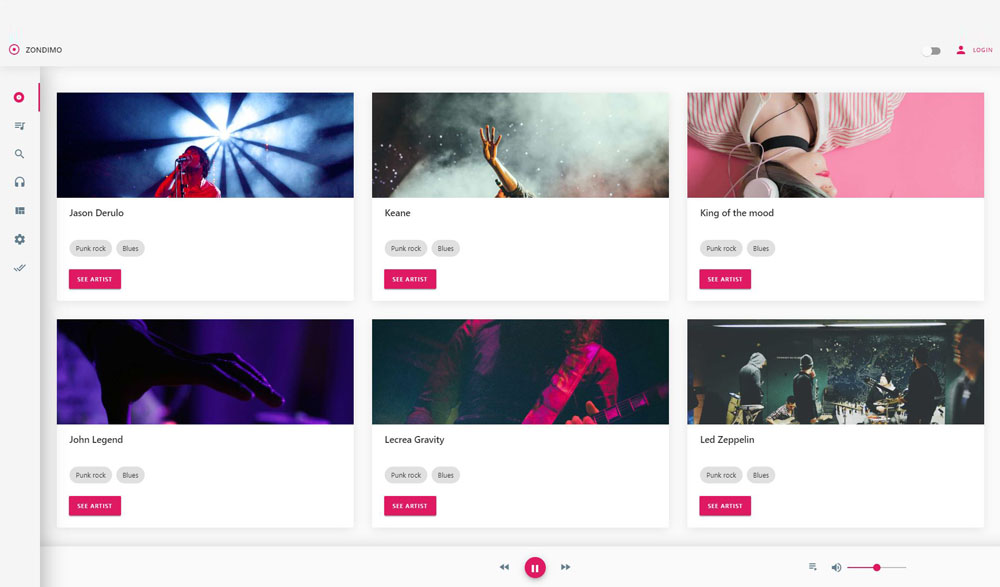 Zondimo can win you over with its wonderfully simplified design. The sidebar contains elegant icons, all the unnecessary menus are gone, and the bottom-page player ensures you can browse more content while still enjoying continuous playback. All the page elements are nicely aligned, making this theme very pleasing to the eyes.
Built on Angular2
User playlists supported
Includes Redux pattern
Uses Material design & SASS
Responsive
Sonerezh by Sonerezh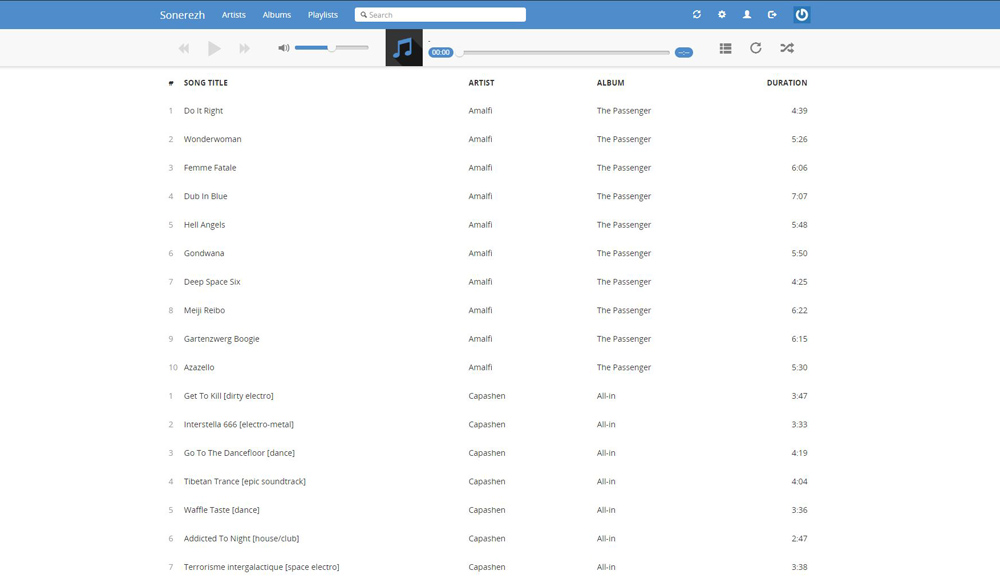 With Sonerezh, content comes first. The theme excludes all decorative elements in order to make room for a full-page playlist, topped by a music player with all necessary functions. Despite the lack of eye-catching visuals, the design manages to look elegant thanks to the unobtrusive menus and icons and generous use of white space.
Self-hosted
Auto imports in .mp3, .mp4, .flac, .ogg
Requires a web server, PHP, and a database
There you have it – the best music streaming scripts, themes and templates. All you need to do is pick the one you like the most, choose a reliable offshore hosting company, like AbeloHost, and you can launch your music streaming website in no time.