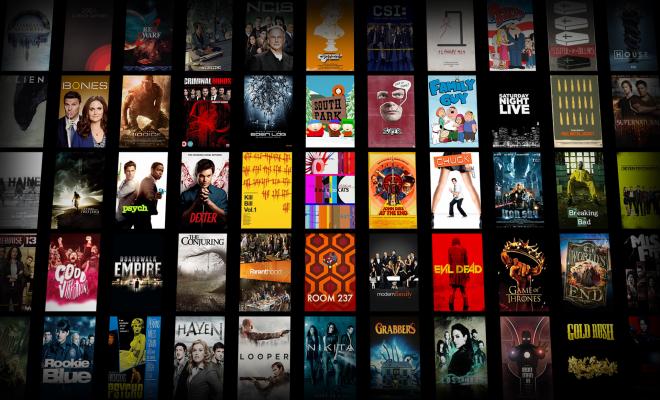 From music and sports, through cute animal videos, and even all the way to adult content, video streaming websites are a booming business. In fact, anyone can start a video streaming site of their own and make a decent living out of it.
Even if you lack technical experience, there are ready-made solutions out there. They come conveniently equipped with everything you might need, no programming required.
Pick your VPS wisely
Before you settle on a method, make sure your hosting company allows video streaming websites. Unless you legally own all of the video content you plan to upload, it would be best to go with an offshore VPS. That way you'll be safer.
Besides safety, you also need to think about disk space, since videos demand a lot of storage. This is why we recommend using an offshore storage VPS. The best place where you can get that is AbeloHost.
To run a video streaming script, the minimum requirement is a 2GB RAM VPS. If it proves insufficient, you can always upgrade your plan and simply pay the difference.
Ready-made solutions for your website
There are several ways to create your website. Maybe you've heard of WordPress themes and HTML templates, but for a video streaming site a PHP script would be best.
Why not WordPress?
It's true that WordPress offers some great video streaming themes, but their CMS will come loaded with features that you don't really need. Plus, the functionalities that are necessary for your video streaming site are usually not included.
How about HTML then?
Creating a video streaming website using HTML alone is pretty much impossible. You will need to integrate PHP elements into it to make it work properly. Why go through all that trouble when you can just do the whole thing using PHP? It will be less time-consuming and you get to use a CMS rather than dealing with the HTML code.
Using a PHP video streaming script
Making your website with PHP doesn't mean you have to start coding from nothing. In fact, even if you have zero experience in web development, you can still make your own website by using a ready-made PHP script. Below we have assembled some of the best-looking PHP video streaming scripts and templates.
Kernel Video Sharing by KVS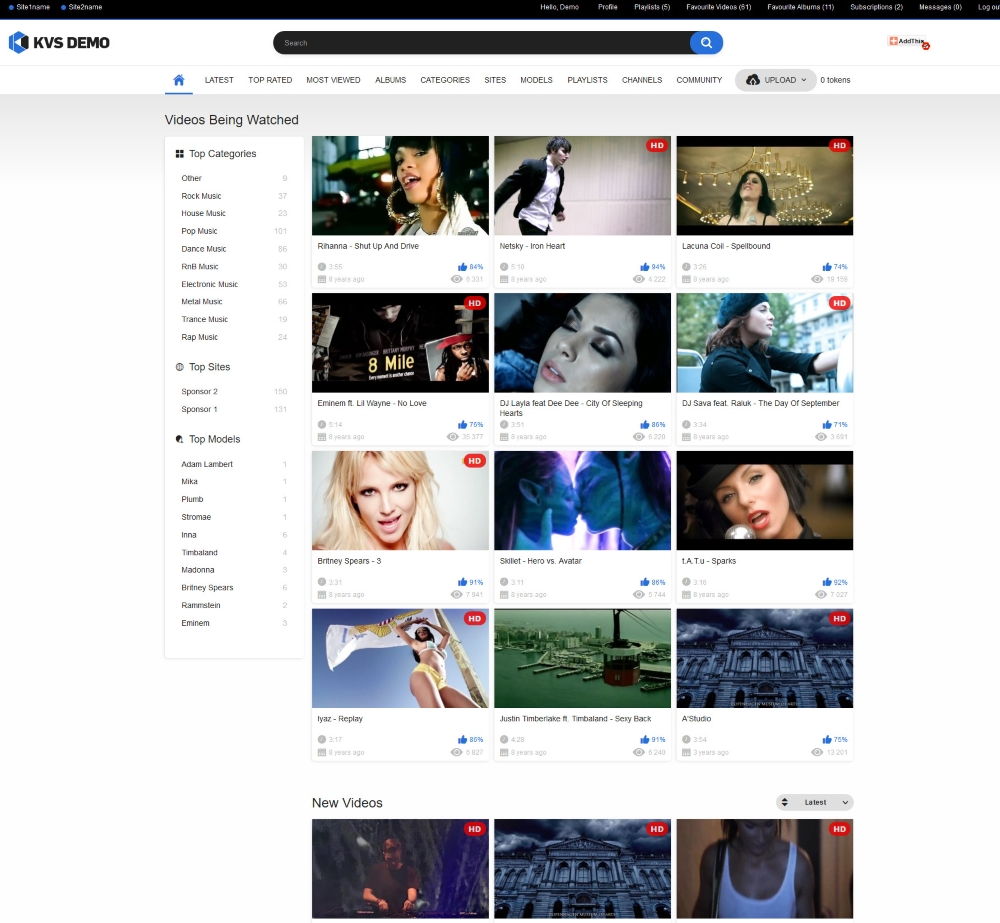 KVS is a modern-looking video script that supports HTML5 and PHP 7. It is fully customizable and looks great on all devices and operating systems. It is also consistently improved with timely updates and can support multiple language versions.
VideNox by Sirenox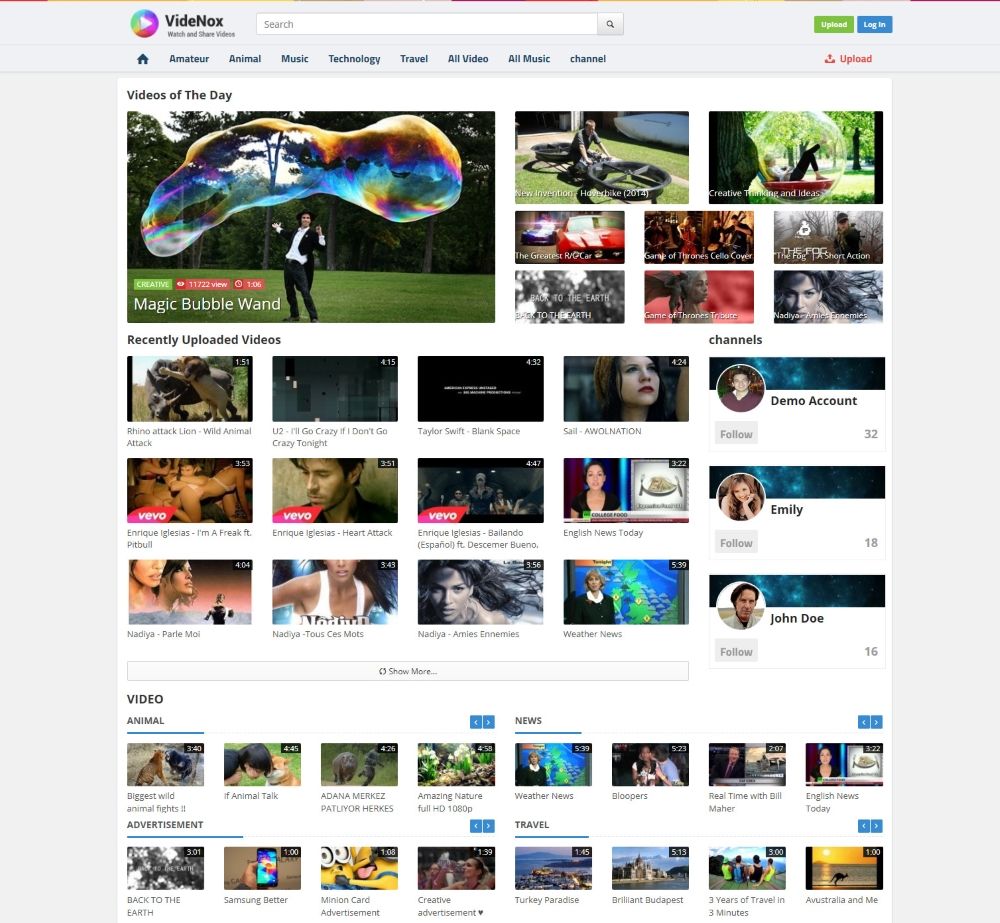 VideNox will allow you to create a dynamic streaming website with videos from platforms such as YouTube, Vimeo, DailyMotion, VK, and even self-hosted videos. The script boasts a user-friendly interface and a robust performance.
MediaShare by Envient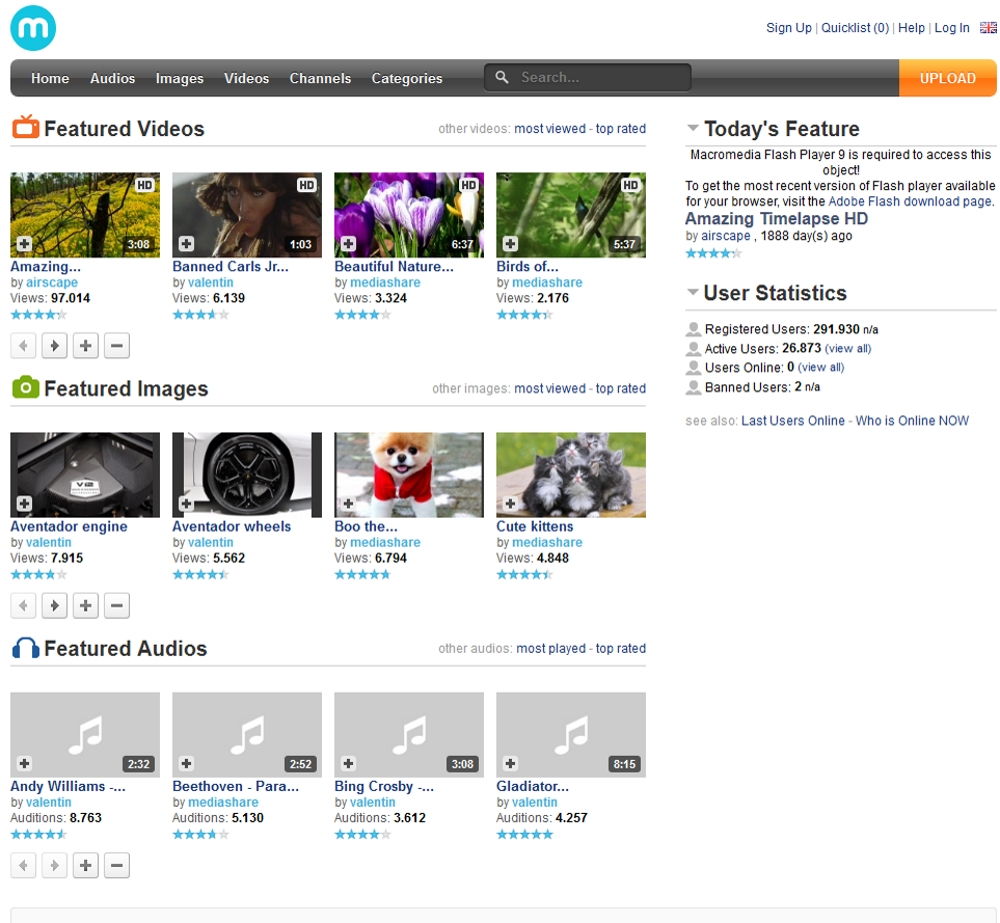 MediaShare's script is designed to be used for video, photos, and music. It comes with a powerful video conversion engine that can support adaptive streaming. Moreover, both the website and the CMS are responsive, so you can check up on your website from any device.
ClipShare by Envient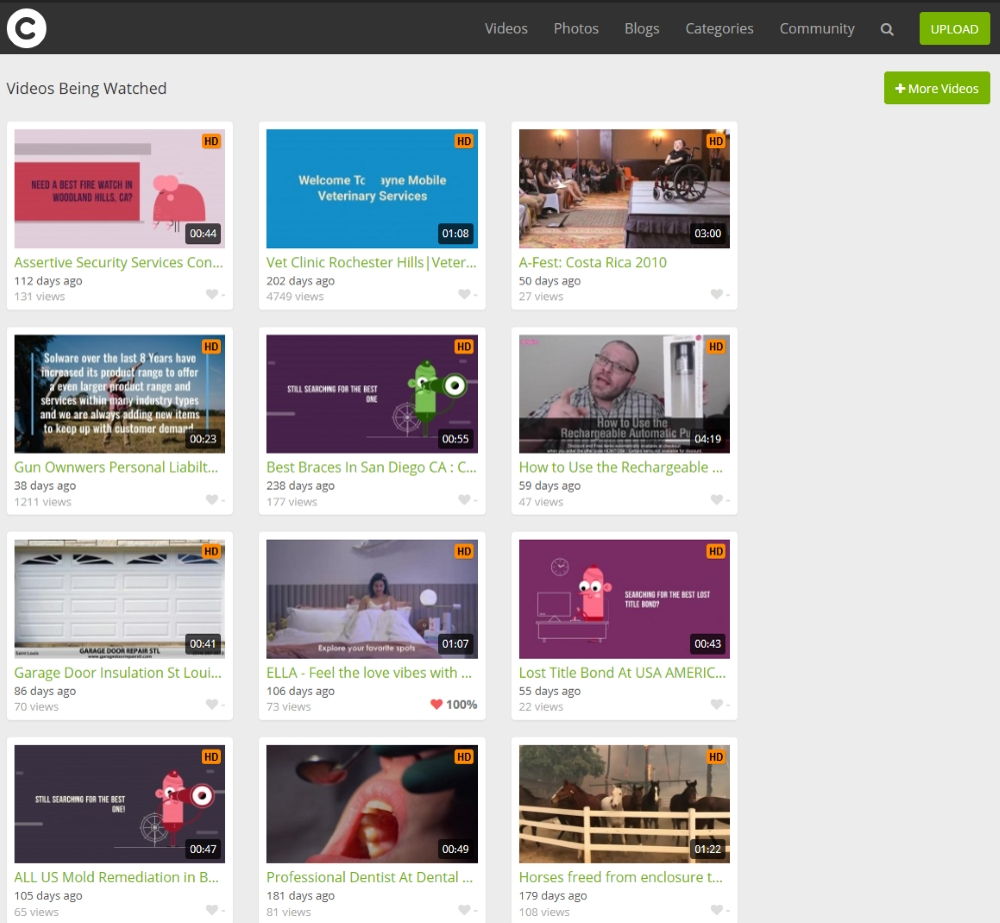 ClipShare is a powerful platform equipped with a Video Transcoding Engine which can quickly and reliably convert videos in different resolutions and qualities. The script is fully-responsive and customizable and supports website language localization.
PlayTube by DoughouzForest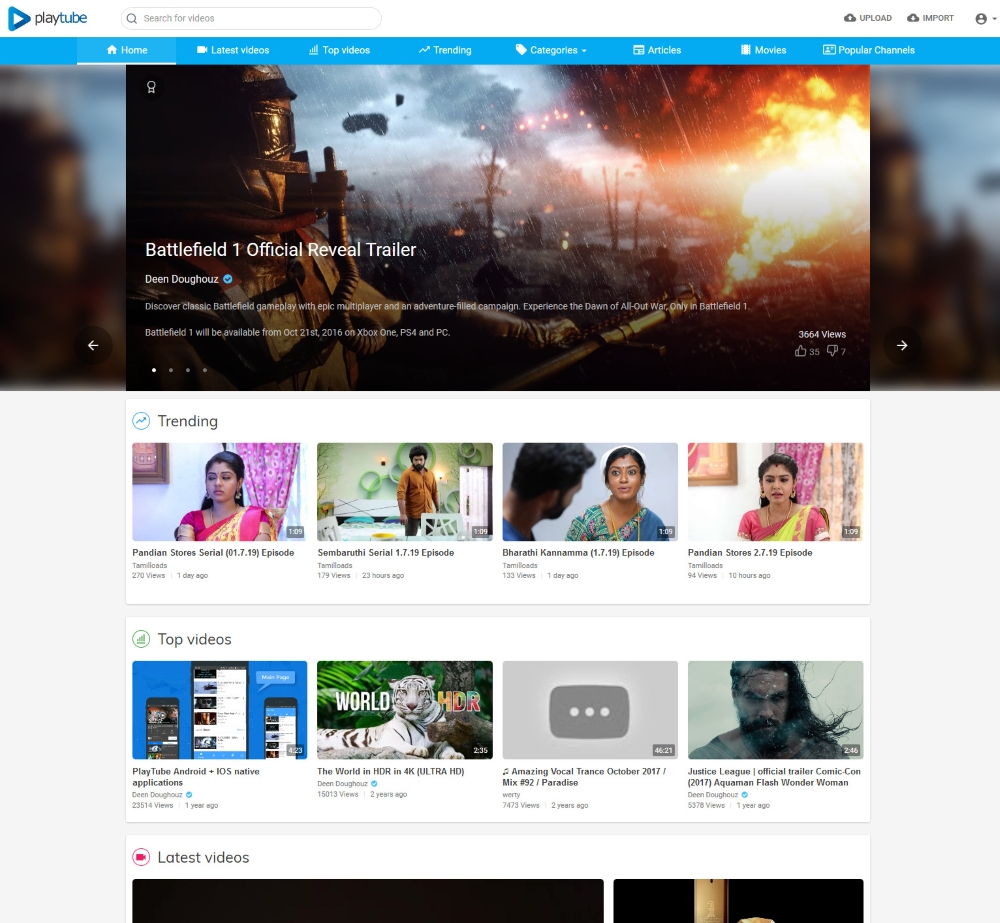 PlayTube is a video sharing script for a website where you can easily upload videos from your device. You can also auto import videos from YouTube, Vimeo, and DailyMotion. It comes with a beautiful UI and a simple admin panel you'd love. It works on PHP 5.5 or higher.
ClipBucket v4 by ClipBucket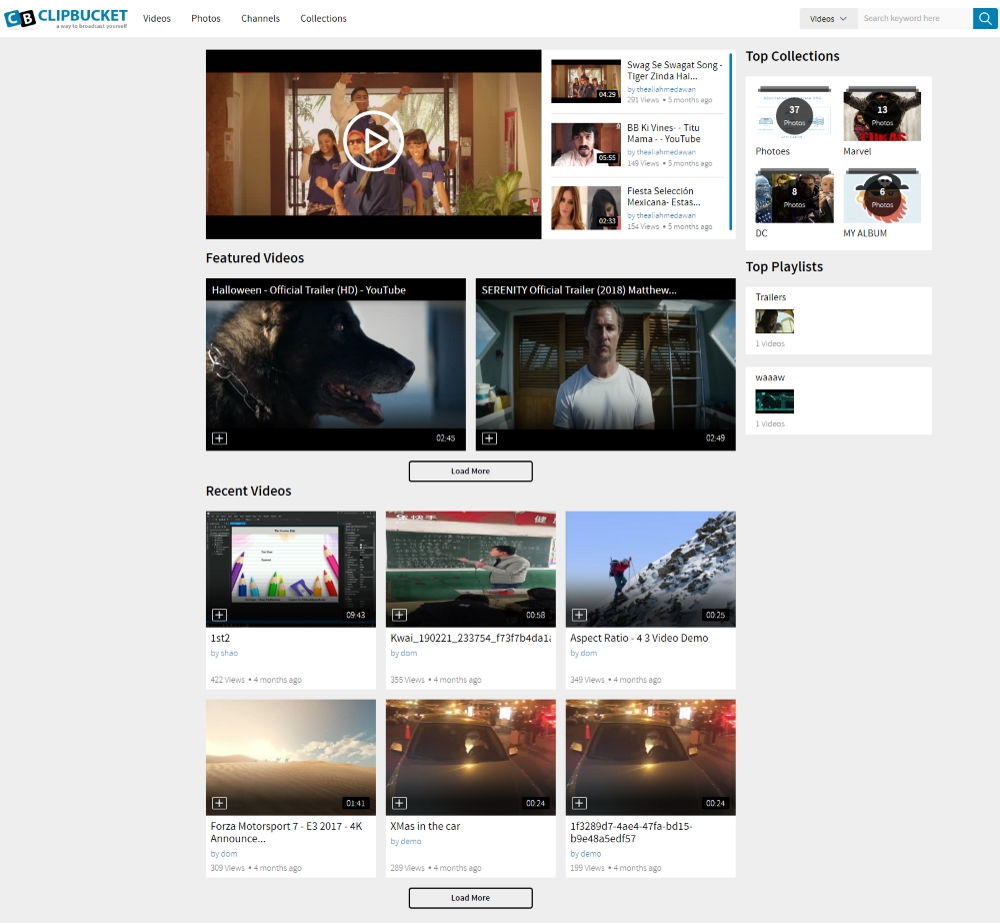 ClipBucket is a modern-looking script that will allow you to create a website that supports both ads and subscription plans. You can upload and embed videos, as well as live streams. It also comes with an LDAP integration and powerful adaptive streaming capabilities.
PHPVibe by Interact Software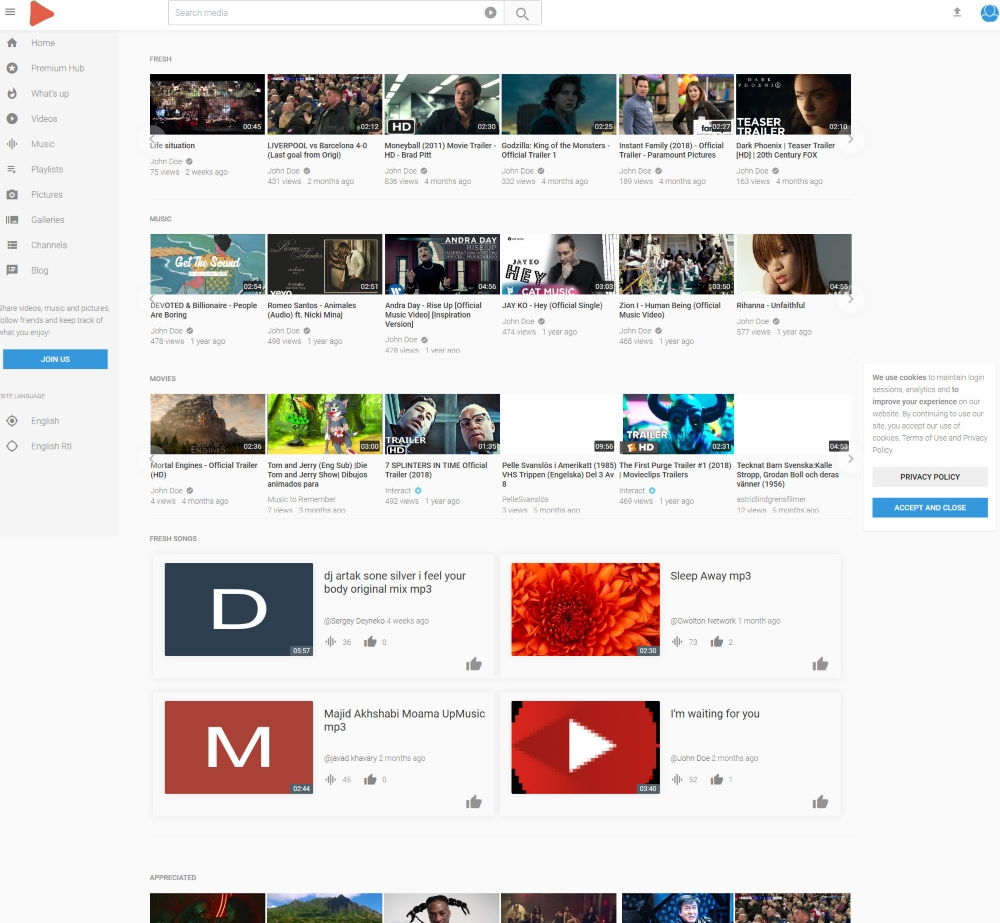 Vibe is actually two separate products. The free-to-use PHPVibe allows you to create a YouTube clone website. Its paid counterpart, MediaVibe is a more robust video CMS that supports uploading videos, as well as manual and automated YouTube imports. You can also choose among the most reliable video players out there: Video JS, JW Player 7, and Flowplayer.
PHP Melody by PHPSugar
PHP Melody is a simple but reliable video CMS for your website. You can use it to upload self-hosted videos, as well as to import or embed videos from other websites. It's a no-fuss system that will give you a website that's easy to navigate. Plus, this script gets new updates regularly to keep up with the evolving trends.
Avidi Media v3 by AvidiMedia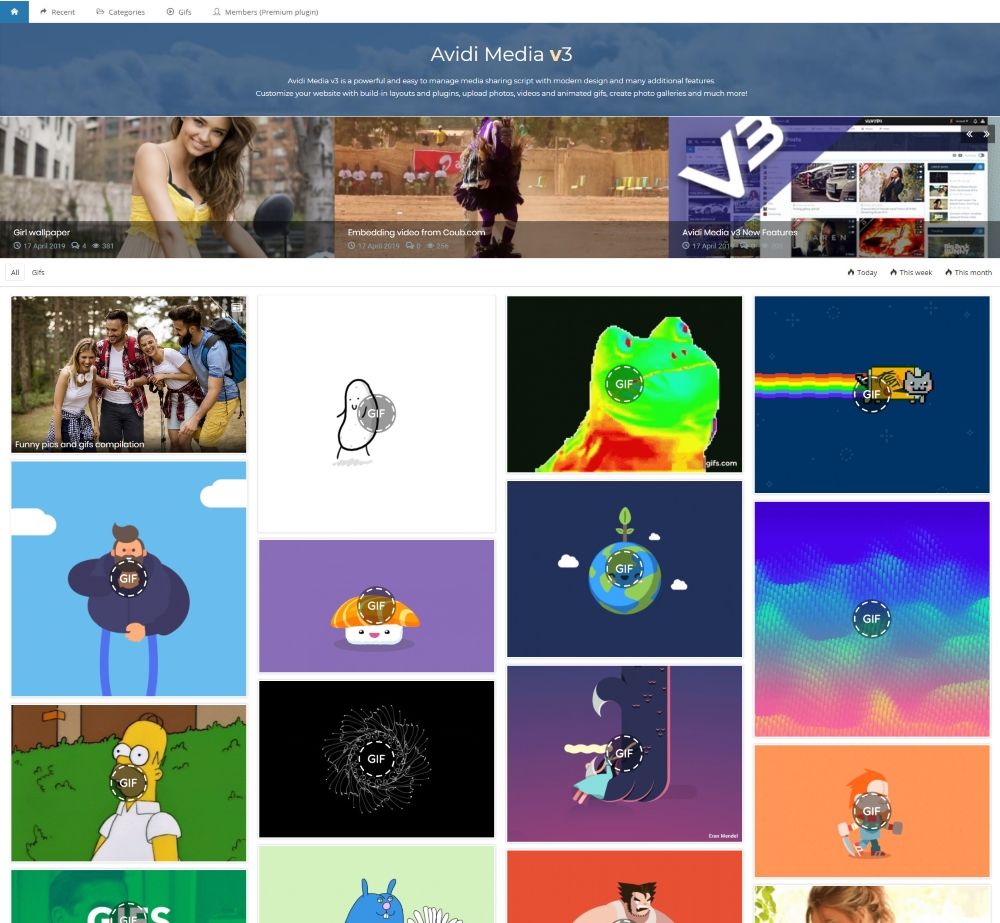 Avidi Media is a modern, visually-oriented PHP script. It's perfect for creating galleries of videos and images. It comes in several different layouts and is fully-customizable, so you can easily turn it into a unique-looking streaming website. It also has support for self-hosted, as well as imported and embedded video content.
Videoplay by CoffeeTheme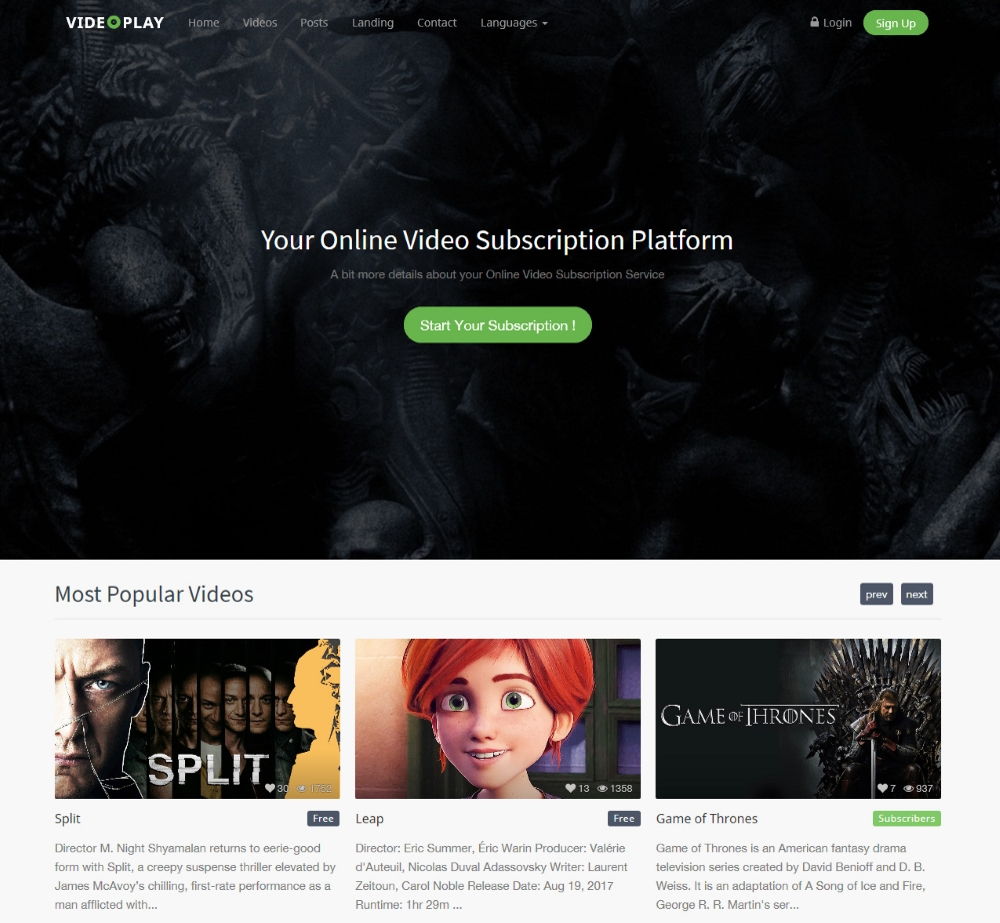 If you want to create a video subscription website, Videoplay is the right script for you. It will deliver a slick website that you can easily tweak and manage from the robust CMS the script provides. The installation is simplified, the technical support is on point, and it already comes with an integrated payment system. Essentially, everything you might need to start your website is already there.
Ovoo by Spagreen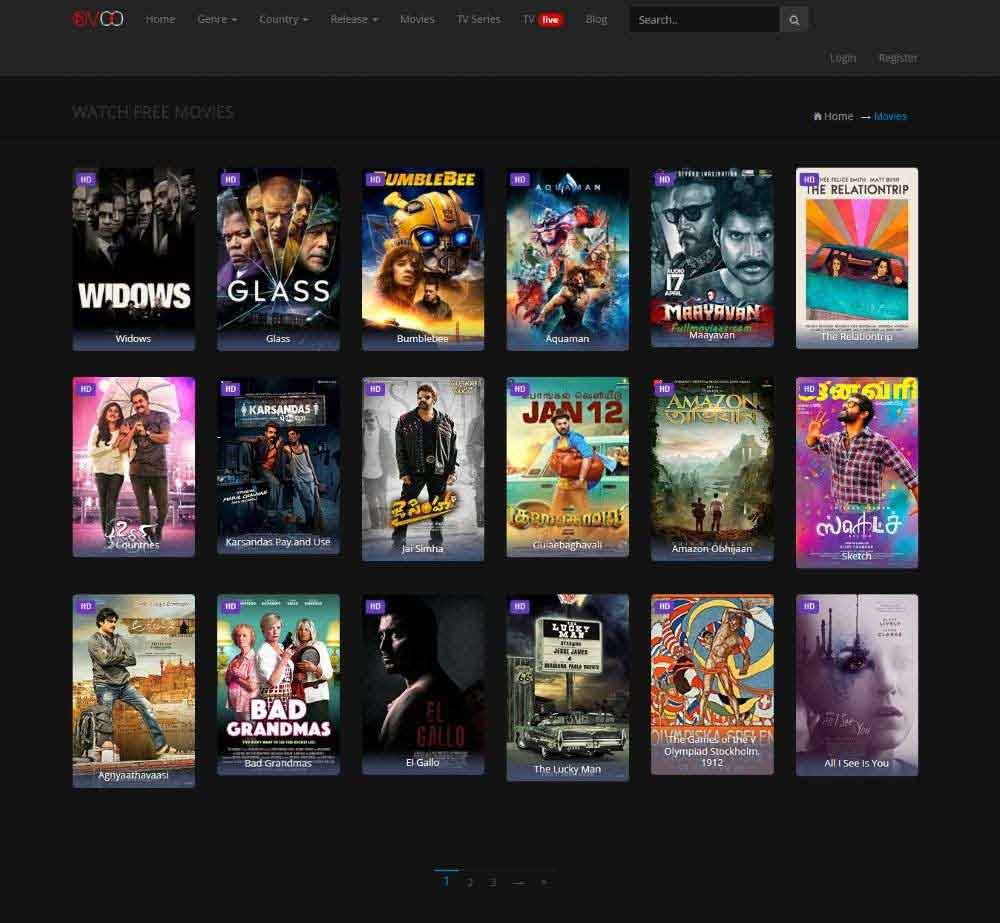 Ovoo is a script designed for TV and movie streaming websites, but it can cater to the needs of a video sharing platform as well. It supports HTML5, CSS3, and Bootstrap 3. Recently a live streaming feature was added to the script, besides the uploading and embedding options.
King Media by RedKings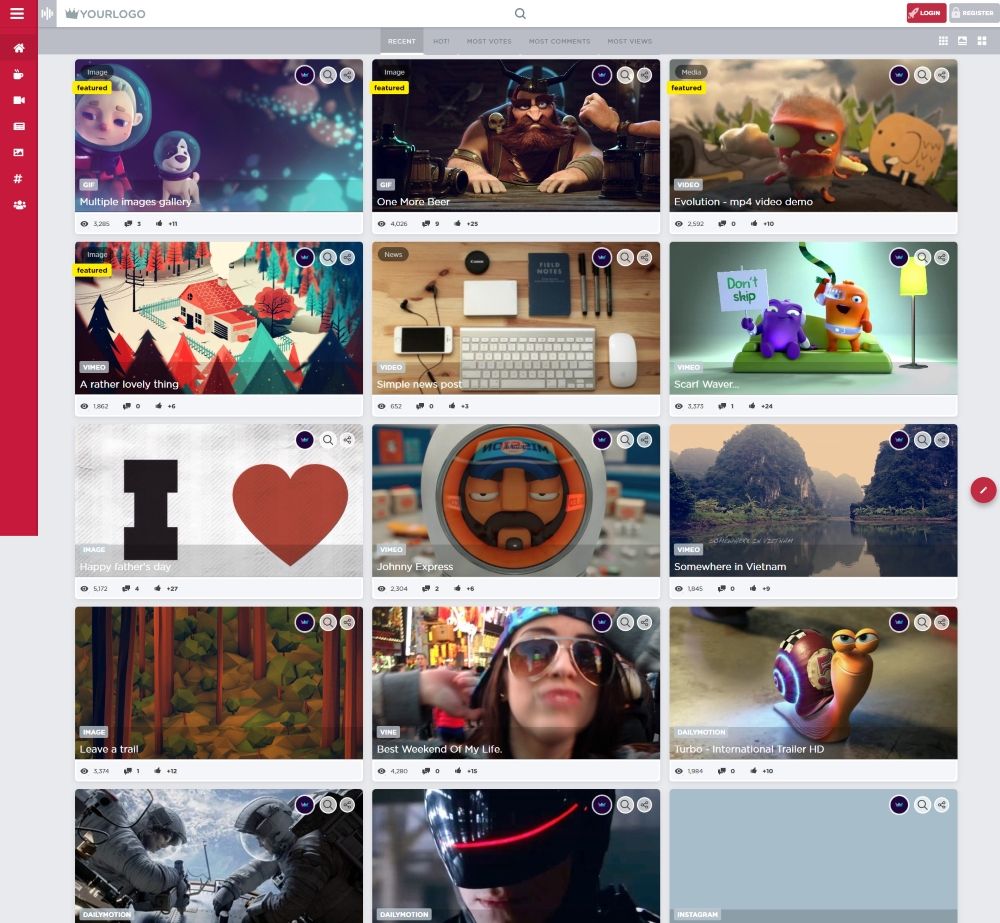 With King Media you can easily create a website for all kinds of media sharing. It runs on PHP 5.3 or higher, and provides a responsive design that would look good on any browser or OS. You can upload your own videos or import them from YouTube, Vimeo, Facebook, and more.
VideoShare by GreenyCode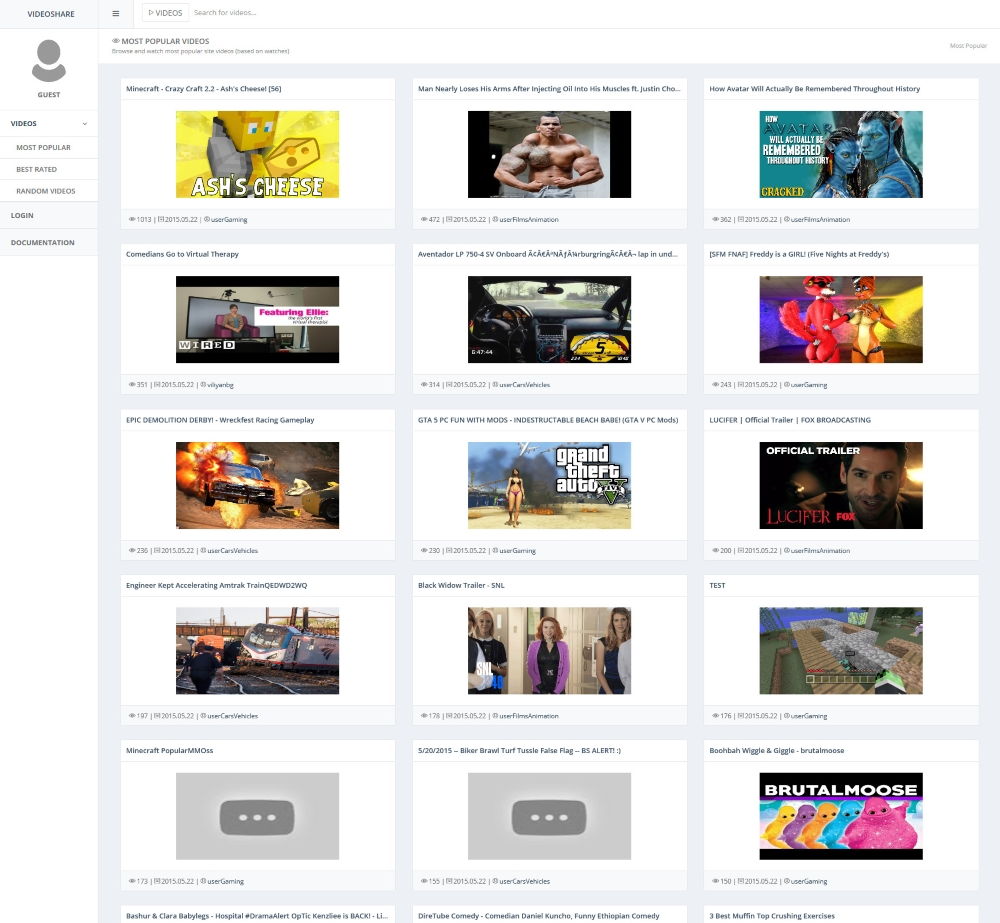 This script comes with a simple to understand CMS and supports PHP 4 and higher versions, CSS3, and JavaScript. It is a great tool for building a video sharing website where users can upload their own video content and comment/like other people's videos. The design is responsive and has been tested on all browsers.
King Media RedBuzz by RedKings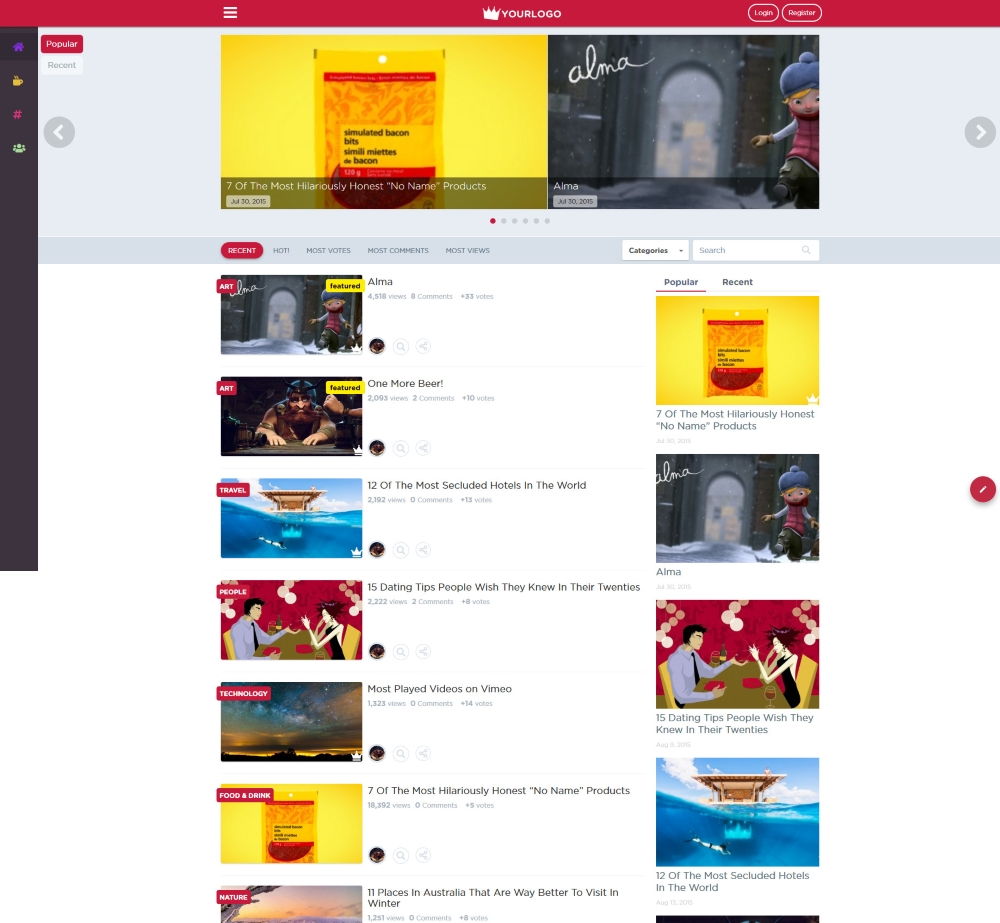 This is a version of the King Media script, but with a somewhat different design inspired by BuzzFeed. It works on versions of PHP 4 or higher on all devices, operating systems, and browsers. The theme features a convenient big slider on the homepage, discrete menus, and social functions.
Readymade Video Sharing by PHP Scripts Mall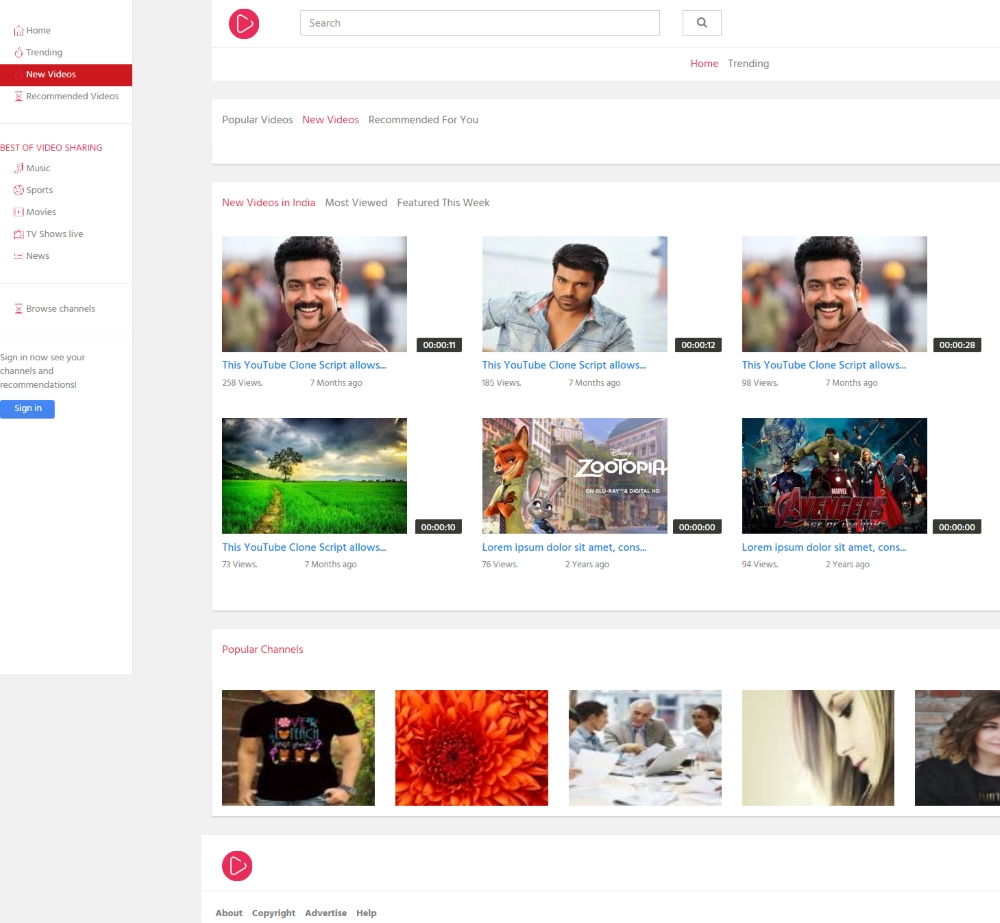 This script brings you a powerful CMS you can use to build a video sharing platform quickly and easily. It has all necessary social functions and even comes with integrated support for Google Adsense, so you can easily monetize your website. The design is responsive, compatible with all browsers, and multilingual.