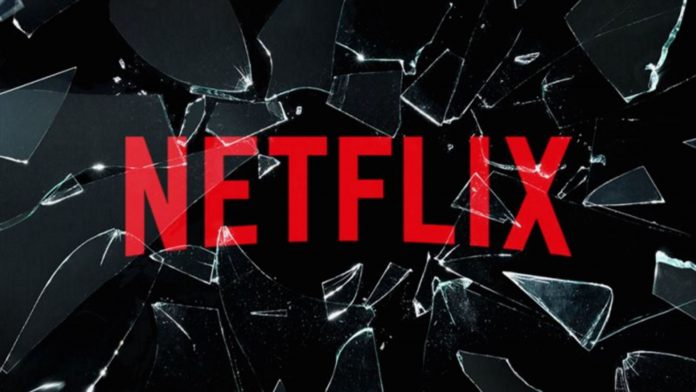 Movie streaming websites like Netflix, HBO Go, Hulu, and Amazon Prime are growing in popularity. Consequently, other large companies also want to join the video-on-demand streaming industry. Competition is stiff. And if you too want to enter this lucrative market, you should consider using a Netflix clone theme for your streaming site. 
If you're a total beginner with no knowledge of making movie streaming sites, then you should definitely learn how to create a movie website. This article will tell you all the necessary steps you would need to take as well as provide some practical tips.
Still, why should you use a Netflix theme? Let's examine the reasons, but before that, a definition would be in order.
What Is a Clone Theme?
A clone theme is a replica of an existing website that can be used to make your own version of it in WordPress. Furthermore, it can be an exact copy of the cloned site, or it can just have the same functionality but with some added improvements. It's entirely up to you to choose which one to use. 
The Difference Between a Clone Theme and a Clone Script
In order to clear out any misunderstandings, it would be best to explain the difference. As you saw above, clone themes are meant for WordPress or similar content management systems (CMSs) like Wix, Magento, and others. Meaning, the CMS and the template are separate but work together.
However, a clone script allows you to create a website without using a separate CMS. You get both the backend and frontend together in a single configuration. It's important to note that you might have some trouble using a clone script with WordPress. Depending on how it was made, it can be virtually impossible to use one with a CMS like WordPress. 
Why Use a Netflix Clone Theme?
A movie website made with a Netflix clone will have all of the functionality and features of Netflix. If you're seriously considering building your own streaming service, you won't have to start from scratch. All you would have to do is personalize it to match your taste. Then, grow your audience by continually adding more movies and TV shows to your content library. 
Additionally, with a Netflix theme, your users would be pretty familiar with your site's design and structure. Thus, making it super easy for them to find what they want to watch. 
Use an Offshore Hosting Provider
If you're serious about making your own Netflix clone, then you must use an offshore hosting provider. When you use a regular host for your movie streaming site, your website will likely get shut down by a DMCA complaint.
There are many offshore hosting companies you can choose from. In fact, it can take a considerable amount of time just to pick one. Plus, you have to be sure it has reliable support, fast load speeds, and no unexpected downtimes. After all, you don't want to hurt your site's reputation.
AbeloHost is one of the best hosting companies you can choose from the above list. In fact, they are both reliable and affordable. Plus, you can expect some advice from them on which of their plans will work best for your case. Now, let's go forward with the ten best Netflix clone themes out there.
10 Best Netflix Clone Themes
There are numerous Netflix clone themes you can find online. Some will have Netflix's exact design and functionality, while others are inspired by Netflix's offering, with a few modifications. In this list, you will find a curation of the best ones available
WPVS by Netflix Theme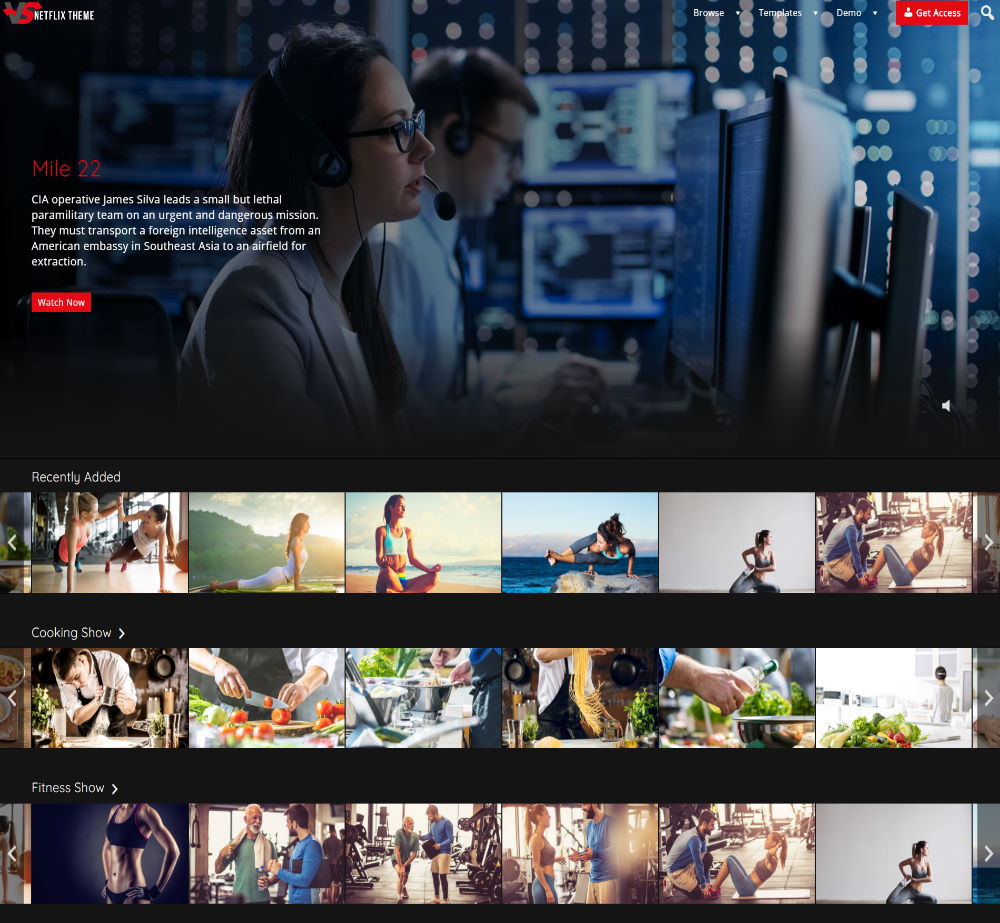 WPVS is a 1-to-1 replica of Netflix; everything is the same with some added twists. In addition to the core functionalities, you can enable your users to create their own lists. In addition to that, you receive three-page layouts — standard, Netflix, and YouTube. 
Plus, the pages, sliders, and pretty much all aspects of this Netflix clone theme can be freely personalized. You can slightly change the monetization model as well. Instead of charging a flat monthly fee, you could implement a pay-per-view model. That way, your visitors could buy only selected movies, TV shows, seasons, and episodes. 
It is a fantastic Netflix clone that delivers everything you would expect. However, you should keep in mind there are some requirements. First, you will need the free WP Videos plugin to create and support different video pages. Second, you must use PHP 5.5 or higher for your site. Use this plugin to check your version, then contact your hosting provider to upgrade if needed.
Vayvo by ProgressionStudios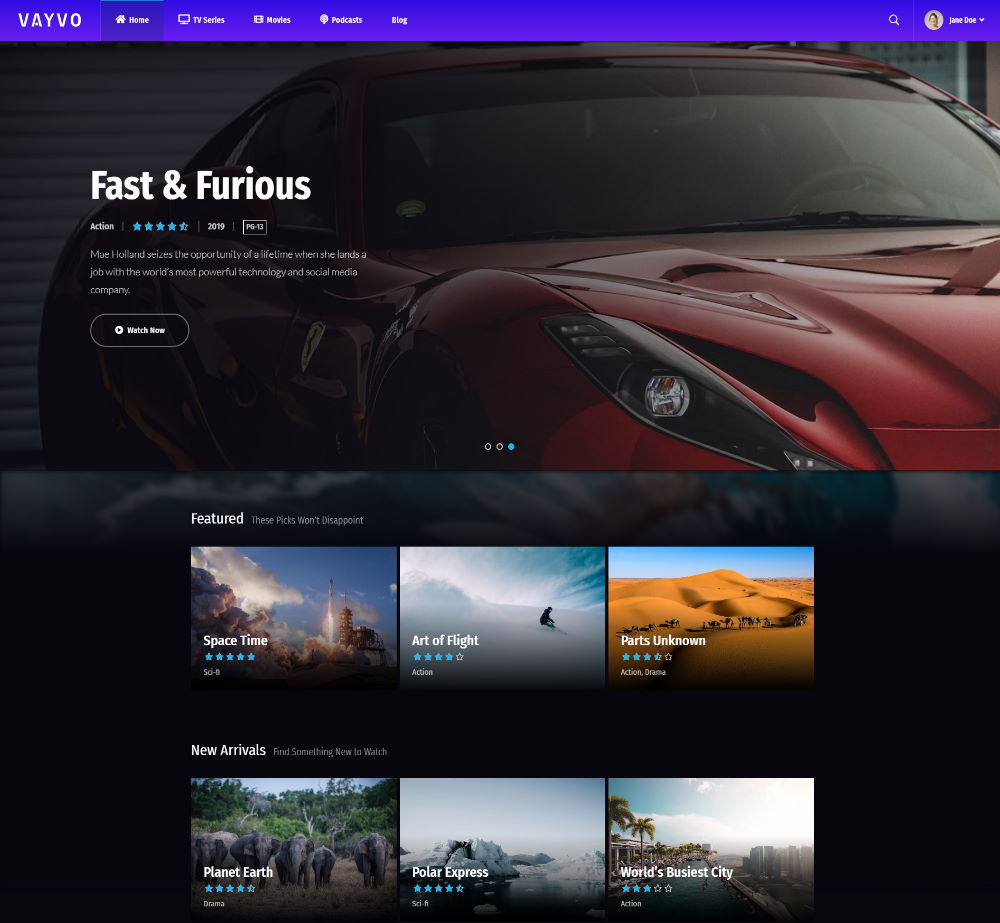 Vayvo is a beautiful WordPress theme you can use to create a Netflix clone with added value. Along with the template, you will also get the ARMember plugin to add membership functionality easily. Plus, you'll receive the Boosted Elements add-on to create sliders, maps, and popups.
Additionally, with the drag-and-drop page builder, you won't need any coding knowledge to customize your site. The Netflix theme also comes with a restricted pages/content functionality to limit access based on subscription level. Your users will absolutely enjoy the advanced search, personal watchlist, rating system, comments, and more.
Vodi by MadrasThemes
Vodi is a versatile Netflix clone theme you can use to create a variety of websites. It comes with nine home pages, four headers and footers, and 47 Gutenberg blocks. Vodi focuses heavily on customization and enabling you to create the website you want.
Plus, the theme will automatically include structured data about your pages, making it easier for search engines to find your site. With the added MAS Videos plugin that's based on WooCommerce, you will effortlessly set up and manage membership tiers and free trials.
SKRN by ProgressionStudios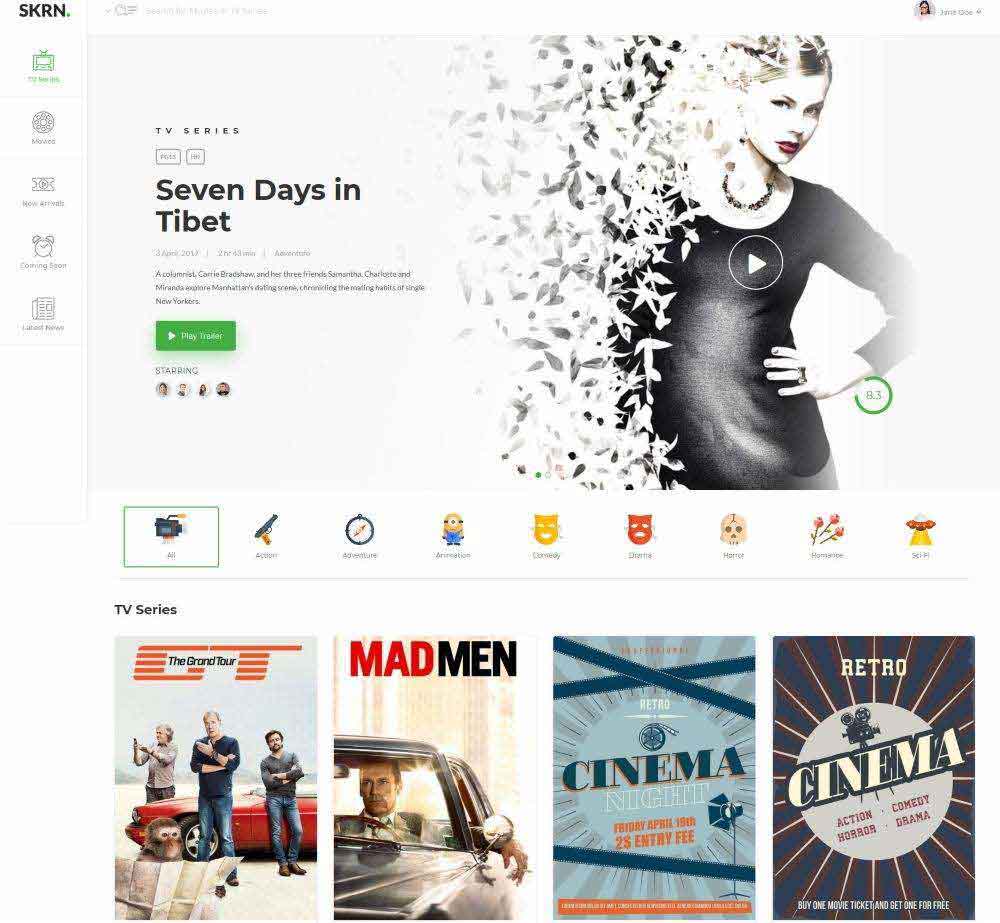 Another strong contender on this Netflix theme list is SKRN. You can customize this theme as you wish without any hassle due to the drag-and-drop builder. Also, the multiple payment methods will make it that much easier for your users to access your content. 
The straightforward member management will enable you to have an unlimited number of plans and free trials at any time. The content restriction feature is also pretty neat for people using lower-tier subscriptions. 
Furthermore, the social media login and coupon management features will satisfy your customers even more. If you happen to run into any issues, then you can definitely rely on the support to help you out. 
VideoFlix by CactusThemes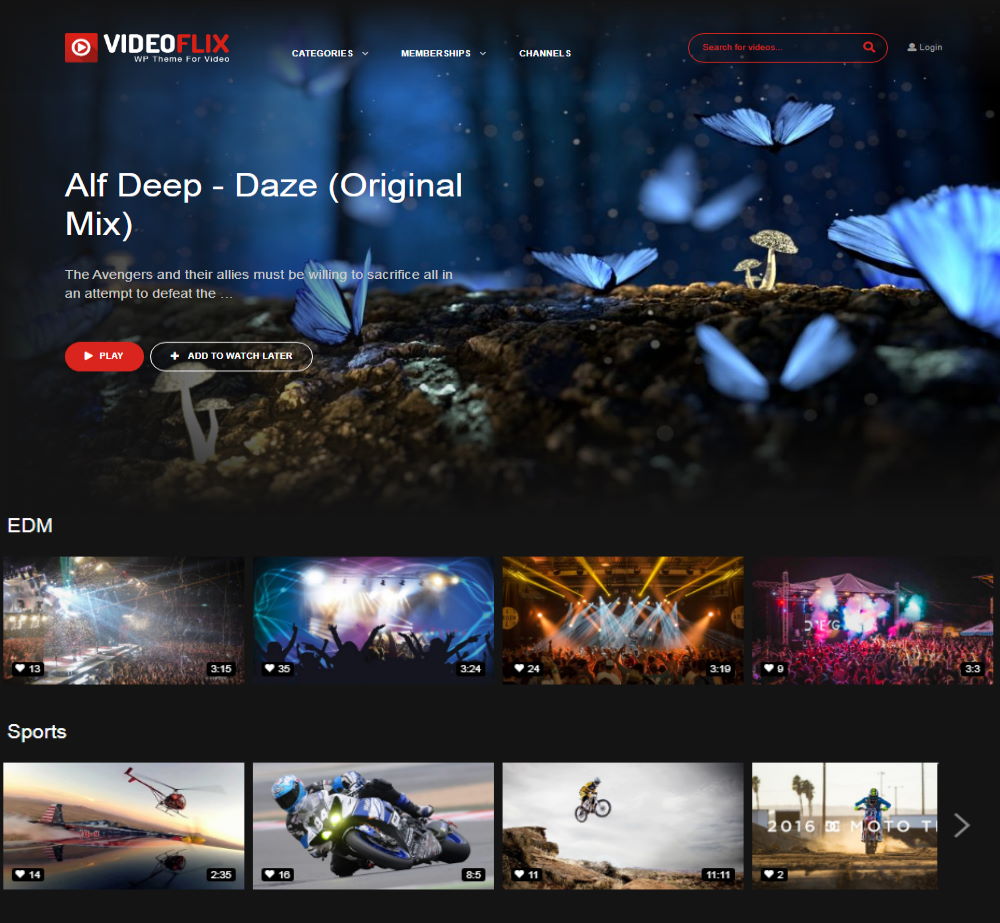 VideoFlix is another amazing Netflix clone theme you could use. It comes with all the standard features, including unlimited customization. You can set up multiple video channels, and the theme supports all the major video formats. Plus, you could also make live streams for concerts, sports, and eSports. 
There are multiple built-in web page templates you can make use of. Moreover, you receive lifetime updates, and if you happen to run into issues, the devs will support you. This Netflix theme gives excellent value for its price, despite lacking some functionality. You can always add a new plugin to compensate for missing built-in features, but be cautious not to overdo it. 
Moview by Themeum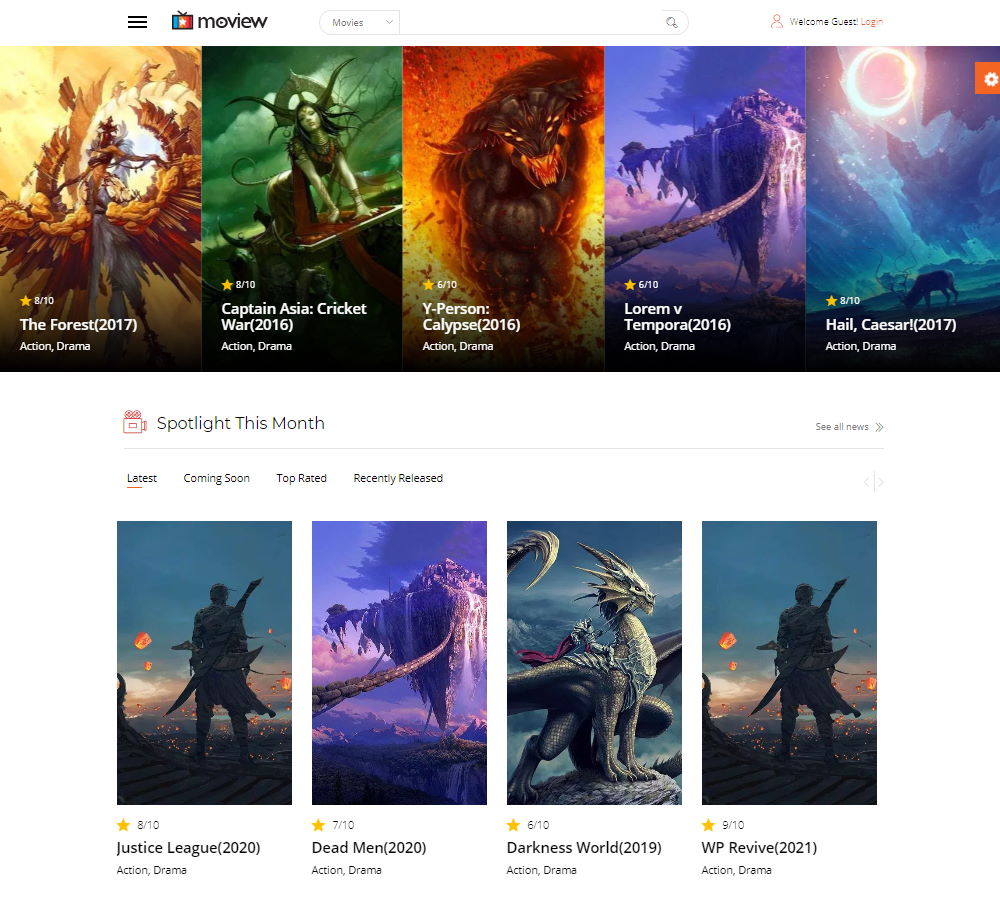 Moview is a reliable Netflix clone theme with more than five value-added plugins. These plugins will make it much easier for you to create and manage user profiles, memberships, free trials, and more. Additionally, you can use the visual composer to build pages without the need to code anything.
Furthermore, this Netflix clone is built with Bootstrap, but it's made to be easily integrated into WordPress. In case you want to have multiple languages, the theme is translation-ready. Along with the custom listing VC shortcodes, you won't have any issues when you personalize your site.
AmyMovie by AmyTheme
AmyMovie is yet another great Netflix clone theme you can use for your streaming site. You will also get a lot of shortcodes and widgets to personalize to your wishes. AmyMovie is a versatile Netflix theme that can be used to create a variety of movie-related websites. You could even make an all-in-one movie streaming, database, review, and blogging site thanks to a large number of features. 
Furthermore, with the Breadcrumb NavXT, you can track your users' paths to each page on your site. In addition to that, you will get an IMDb and TMDb importer, free control over the entire layout, and a social media integration. These are just a few of the numerous features. 
Blockter by BoostifyThemes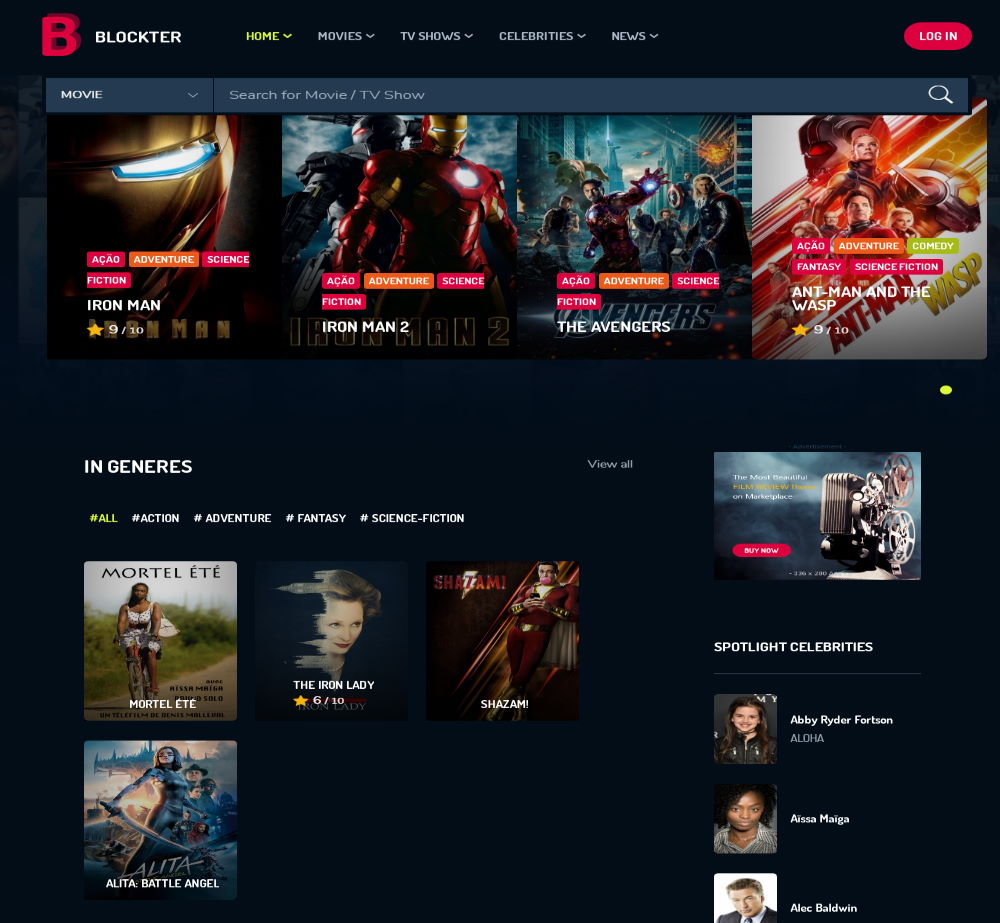 Blockter will allow you to make a visually appealing Netflix clone site. With this theme, you will get three prebuilt home pages, lifetime updates, and premium support. Also, users can log in with their social media accounts and share their favorite movies with their loved ones.
In addition to that, visitors can quickly find the movie they want to watch with the AJAX search and its predictive search results. The theme also ships with a ready-to-use child theme and many customization possibilities. Finally, the built-in Yoast SEO plugin will make it much easier for search engines and people to find your site.
Movify by KlbTheme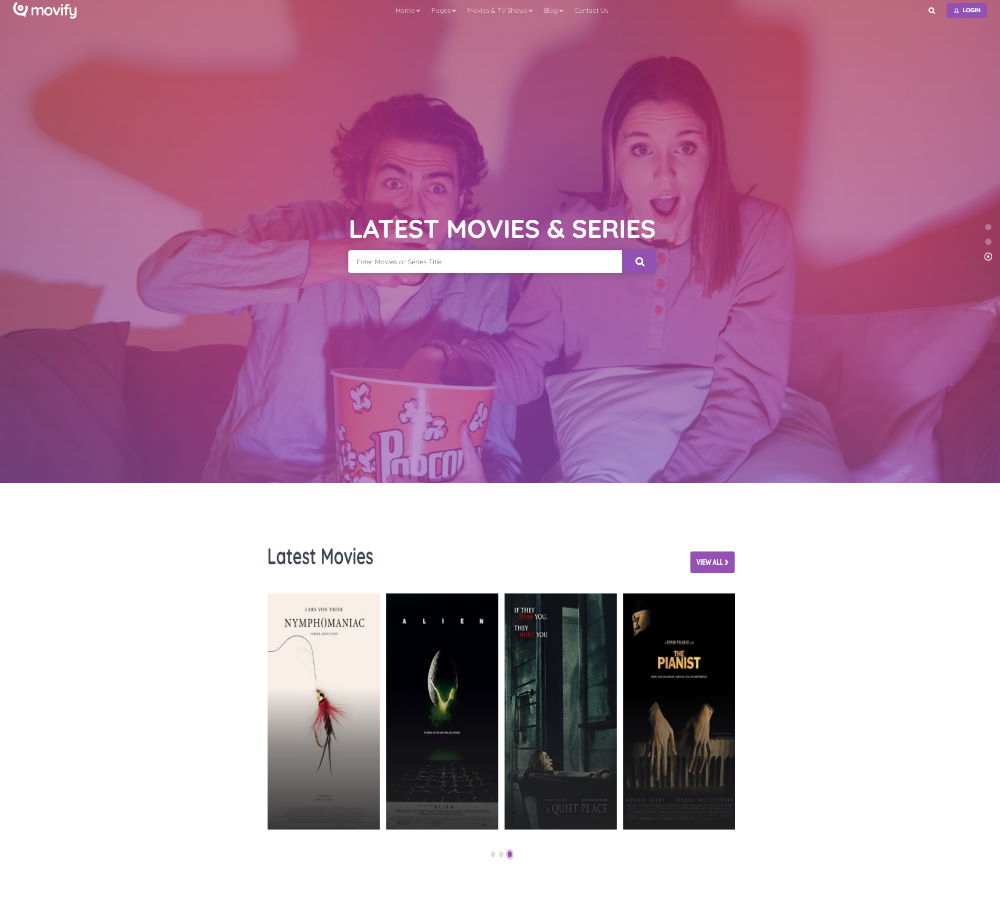 Movify is a multi-functional Netflix clone theme with a one-click installer. You can add movies and TV shows from IMDb with little to no effort, thanks to the automatic import feature. Along with the Revolution Slider, you can showcase the most popular content on your site for users to find. 
With Movify, you will receive a large number of other features to customize your streaming site. You can also add unlimited parallax and animation effects as well as carousels, buttons, and more than 1,400 fond icons. Finally, if you happen to run into any issues, the 24/7 support will blow you away with its customer service.
Streamium by StremiumTheme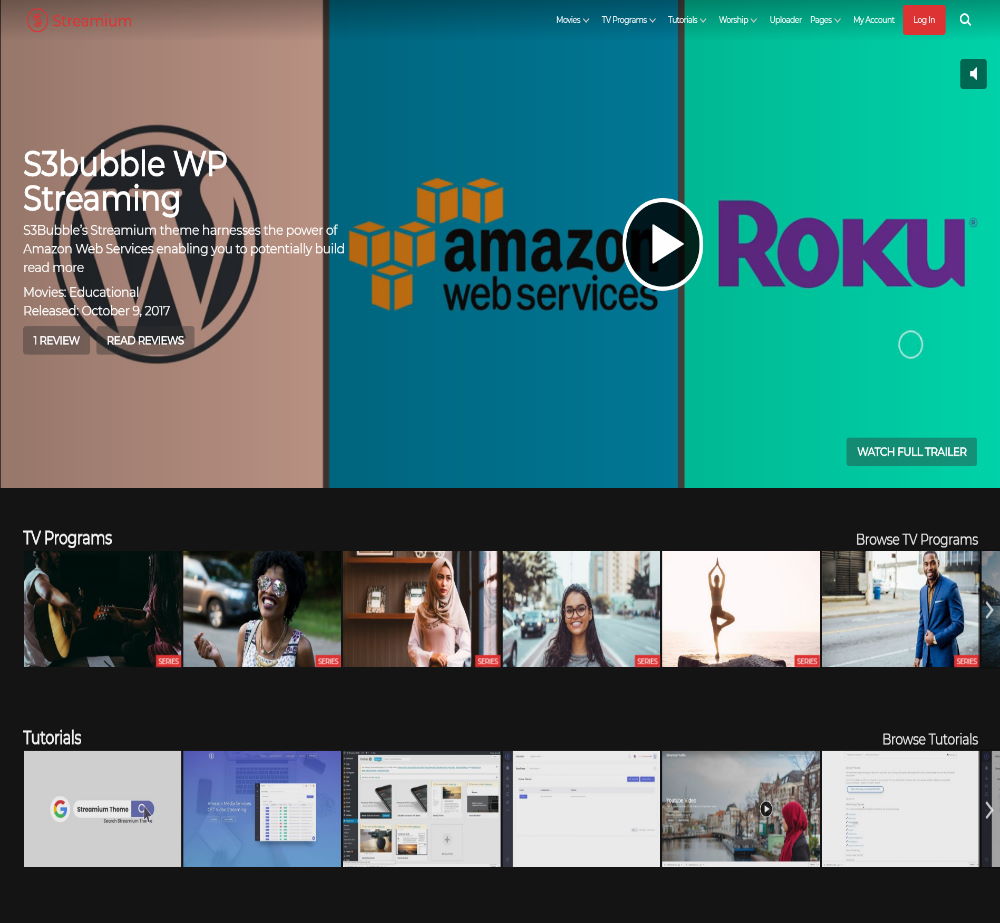 The last Netflix clone on this list is Streamium. Don't let its price fool you as it is a fantastic theme that has 1-to-1 Netflix design and functionality. For monetization, you can choose from its subscription service, pay-per-view, and advertising features thanks to the WooCommerce integration. Additionally, you can easily enable live streaming for sports, music, and other events. 
Furthermore, Amazon Web Services will let your videos load quickly and without interference. Meaning, your users can watch their favorite movies and TV shows uninterrupted. Best of all, you can make use of the Roku Direct Publisher MRSS feed to enable your audience to view from their TVs.
Final Remarks
You are now equipped with the knowledge and tools to make your own Netflix clone. All that's left is for you to start building. Remember, it's essential to carefully choose a theme because it will determine the base functionality and features of your streaming site. You should think of the type of website you want to create and pick a Netflix clone theme based on that. 
In addition, you should consider your visitors and what kind of features they would like to have. That will guarantee they will return to your site and recommend it to their friends and family. After all, your target audience will have a wide choice of streaming services to choose from. Thus, you should aim to satisfy all their wants and needs. 
In case you're still in the research phase and have no idea where to start, don't worry. You can read this great article about how to create a movie website. It contains a step-by-step tutorial and some neat tips to help you out.