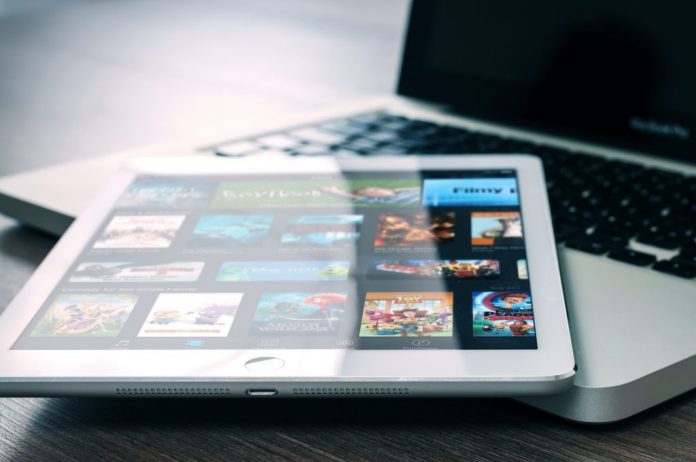 If you want to build a profitable website quickly with little investment, movie streaming is the way to go. Aside from porn, streaming websites have the biggest profit potential. They are easy to make, new content is always available, and demand never drops. It only rises.
How your streaming website can bring you money
There is a reason why movie streaming websites are worth your while. They are a very profitable. Not only are they cheap and quick to make, but their monetization is surprisingly easy. Yet, despite how little seems to go into making one, a well-run streaming sites can net you $15,000 a month, on average. The biggest free streaming sites make a whopping $50,000 monthly!
Wondering where all that money comes from? Let's look at the three main ways to go about it.
Subscriptions
Firstly, there is the Netflix route – offering subscriptions. This ensures that people pay you a fee every single month, regardless of how often they use your service.
However, it would be difficult to create a new, popular product that uses this model. There are well-established competitors out there who rule this market. Plus, there are free streaming websites too, so you're not likely to earn a lot this way.
Most importantly, in order to offer paid subscriptions, you need to own the licenses for the movies you are showing. That means paying a hefty sum to whoever owns each movie's rights. For someone who's just starting out with very little capital, this is simply impossible.
Pay-per-view
Another popular method is pay-per-view, most commonly used by Amazon Video. This option gives you great flexibility, as you can vary the prices of your content. You can put a very low price tag on older movies, while charging more for the newest blockbusters.
Nevertheless, similar to the subscription method, the pay-per-view market is already saturated. Add to that the free alternatives and you'd be really left without any clients. Plus, you'd still need to buy the legal license to each movie, making this option too expensive.
Advertisements
This is probably the easiest method of the three and arguably the most profitable. When you agree to place ads on your site, advertisers are paying you for the clicks and views of your site visitors. In other words, you're financially compensated for letting advertisers borrow space on your website.
Recommended advertisement platforms
For a free streaming website, I recommend working with services such as Steepto or Runative to get ads. You need to register your website there as a publisher. Then you will be able to obtain the HTML codes for different types of ads and paste them within your own site's code.
Place ads carefully
Try to be smart about utilizing the space on your streaming website. Your homepage is a prime location for ads, as all site visitors must pass through it. However, if you fill every little space with ads, people will likely find that off-putting. Don't drive your customers straight to AdBlock because that will harm your profits.
Offer an ad-free premium plan
You can also combine advertising with subscription for even greater profits. Your website could offer free movie streaming with ads, with the option to buy a premium paid subscription for an ad-free experience.
Whichever method you choose, it won't bring you any money unless you actually develop the website and bring traffic in. Below I have developed a complete guide explaining how to create a successful movie website in 2023.
Making a sample movie streaming website: a detailed guide
Creating an entire website might seem overwhelming at first. To help you better understand the process, I decided to create my own streaming site. This way you can follow along on my journey and learn how to make a streaming website of your own!
In this guide I will take you through the following steps:
Buying a domain and hosting;
Different methods for making your website;
My detailed experience building a WordPress site, starting from ground zero and ending with a fully-functional streaming website;
A brief look at an alternative website solution: HTML movie themes.
Buying a domain and hosting
Getting a movie-themed domain
The first step in creating a movie website is getting a domain. Your site's domain is as important as your own name is to you. It signals to site visitors what your page is all about. You need to focus on short, easy to remember names which have to do with movies. Avoid special symbols or numbers in the name.
Include keywords but don't go overboard
You have to make sure the domain is relevant by including keywords such as "movie," "film," "free" and so forth. Yet a domain such as "thebestmoviestreamingwebsite" is useless, despite its relevance. It's good to assume that people are lazy and chances are, no one wants to type that much to watch a movie.
Experiment with the domain extension
Your domain extension is an important tool to secure a great name for your site. Domains ending on .com look more trust-worthy, but most of them are taken. You will get better SEO if you use the extension for your target audience's country. Plus, staying away from popular extensions will make it easier to get some strong keywords in your domain, which will also improve your site's ranking.
The following suggestions and their variations are suitable domains for a streaming website:
Freemoviesonline
Openmovies
Filmsforfree
Watchfreemovies
Freemoviestream
HDfilmsonline
It's possible that these might be taken, but you can experiment with the domain extension. The internet treats openmovies.com, openmovies.org, and openmovies.cc as three separate websites.
When you have a domain name ready, you have to buy it from your offshore host like AbeloHost. Regular domain registrars such as Google Domains don't allow streaming websites and will suspend you.
My example: freefilmsonline.cc
I bought the domain freefilmsonline.cc together with my hosting. You can see that this name contains some of the afore-mentioned keywords: free, films, online. These strong keywords will do wonders for my site's SEO. I also used the ".cc" extension because it was available.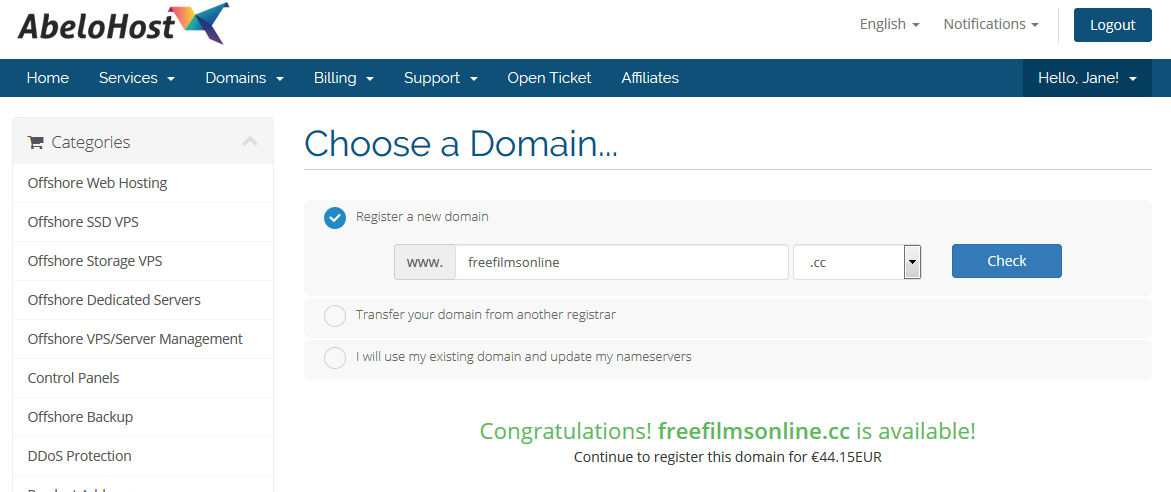 Securing hosting that supports movie streaming
Never go with free hosting
You cannot run a streaming website on free hosting. You can certainly try, if you want to offer people a slow, glitchy experience. But to get the bandwidth required to stream movies without annoying interruptions, you need to invest in more reliable hosting.
Only offshore hosting can protect you
I have to remind you that movies are copyrighted content. Unless you plan to buy licenses from the official movie distributors in your country, which I assure you is quite expensive, you need offshore hosting. Offshore hosts are the only ones who will allow your streaming website to exist. A company such as AbeloHost can keep your site up and running, all the while protecting you from legal backlash.
This i why I bought offshore hosting from AbeloHost in order to set up freefilmsonline.cc.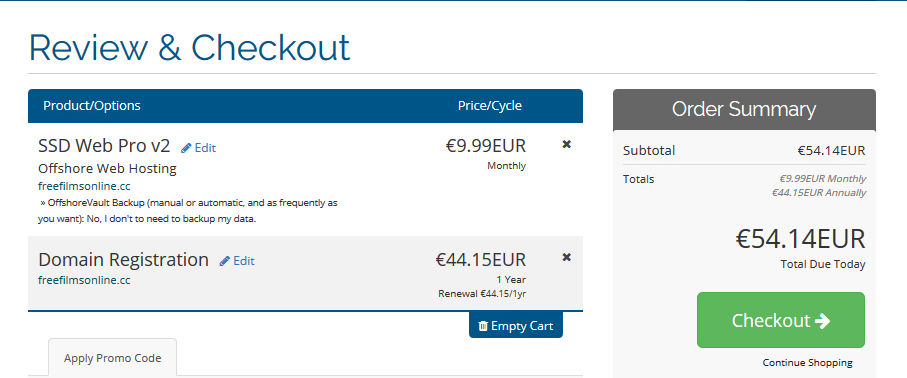 Choosing the best method for making your website
There are two approaches for the creation of a movie streaming website. One way is to make your own website from scratch. The other option is to use premade themes and simply customize them to make the site feel yours.
Creating your movie website from scratch
Making your own website is great because it will result in a unique product. You can get exactly what you want from your site and stand out from the competition. However, the process is long, tedious, and expensive.
Even if you have some knowledge of development or design, you would still need help building the site. Otherwise you will be stretched too thin. It's best to pay the experts to do the work for you.
Pros:
Unique
Tailored to your needs
Cons:
Slow
Difficult
Very expensive
How to make your own streaming website
If you still want to go this route, you can hire designers and developers through networks such as UpWork, Fiverr, and the like. Here are some of the things you should plan ahead of time:
If you are making the site from scratch, talk to your developers about what you want to include. A welcoming homepage with a popular new movie is a must, as are catalogues, categories, and tags to help organize your library.
Take your time choosing the best video player for your site. Look for one that is not glitchy and is capable of rendering the video effortlessly. Popular choices among web developers include VideoJS, JW Player, Flowplayer, Wistia, and more.
You also need to ensure that your site contains a broken link submitter. This way users can notify the site admins when the link to a movie is not working and needs replacing.
Don't forget to ensure your website is responsive and gets along with mobile technology. Many people enjoy streaming from phones and tablets, so make sure they can.
A user area with account settings or "save for later" content might also be nice. Also, don't forget the search function, preferably with an auto-fill. These might seem like minor details, but they will make customers' experience with your site much better. After all, the best way to make money from your streaming site is to make your customers happy.
All things considered, you should be prepared to spend months and thousands of dollars on development. Nevertheless, you can avoid that altogether if you decide to use a ready-made template for your website.
Using a ready-made theme for your streaming website
Ready-made themes are website templates that someone has already made for you to use. They might seem more limiting than making a website from scratch, but considering how much time and money they save you, it's a worthy compromise.
The biggest advantage of using a ready-made theme is that in just a few clicks you can have a professionally-looking website. Moreover, you can get it to look pretty unique by using your brand colors and logo. Most themes come with many customization options, so you won't be stuck with a site that looks like countless others.
This is a sample movie streaming theme for WordPress called Vodi. As you can see, it looks very professional.

My recommendation: go ready-made
It makes more sense for a beginner to use a ready-made website, whether it's WordPress or HTML based. My recommendation would be to go with WordPress. Their websites come with a friendly CMS and are easy to optimize for search engines.
In fact, I already have a list with the best WordPress movie streaming themes that you're more than welcome to use. Hopefully you will find something you like there to help you get started.
My experience using WordPress
Now we're getting into the nitty-gritty part of actually assembling the WordPress streaming site.
Buying a WordPress movie theme
First things first, you need a theme. You can use the above-mentioned list to pick one. When you find one that you like, simply navigate to the Buy page, purchase it and save the .zip file. Make sure you are downloading the dedicated WordPress archive.
For my site, I chose the Vodi theme.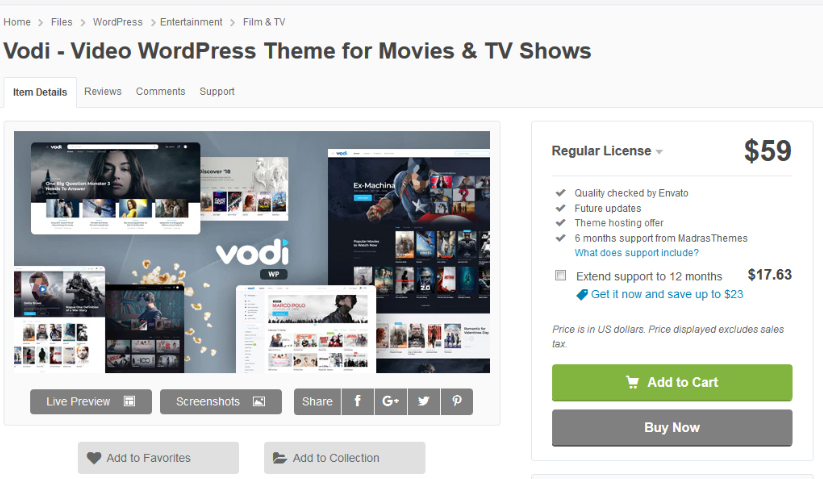 Installing the WordPress CMS
If you've been following along, you should already have secured a domain, hosting, and acquired a theme (in a .zip format). Now you have to get that theme onto your website.
Go to your website's cPanel.
First, you need to navigate to cPanel, from where you can control your website. You can find the link to your cPanel and your login details in the email sent to you by your host.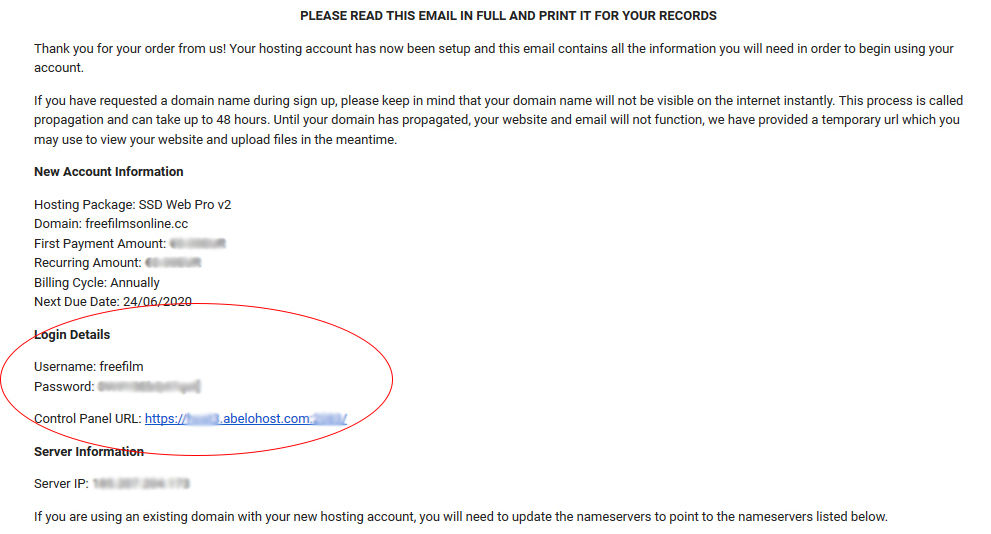 Open the Control Panel URL and enter your credentials.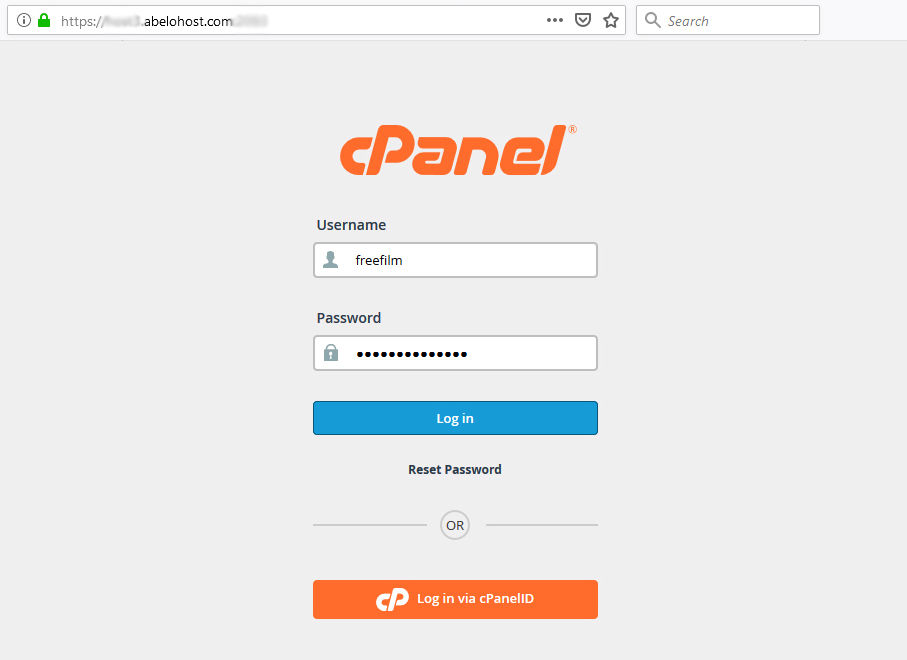 Find the WordPress CMS app
You may feel overwhelmed at the many icons and applications in the cPanel. However, you don't need to worry about most of them. Simply scroll to the bottom of the page and find WordPress in the Apps Installer tab.
Select it, then press Install Now under the description on the right.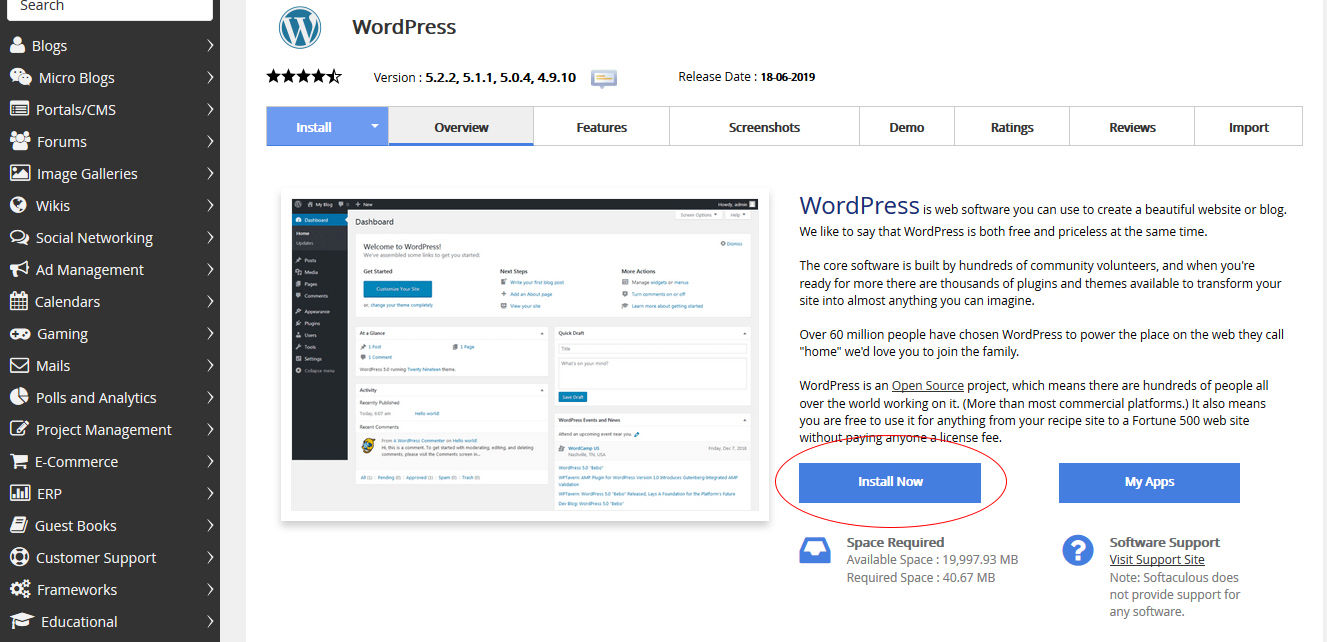 This will install the Content Management System designed by WordPress to your empty website, allowing you to easily modify its contents later on.
Add your website info during the installation
During the installation you need to fill in some of the information about your website. First enter your domain in the middle tab of the Installation URL setup. Remove the "/wp" that appears as a directory and leave that field empty. Also, fill in your site name and a short description. Leave the Enable Multisite checkbox as it is.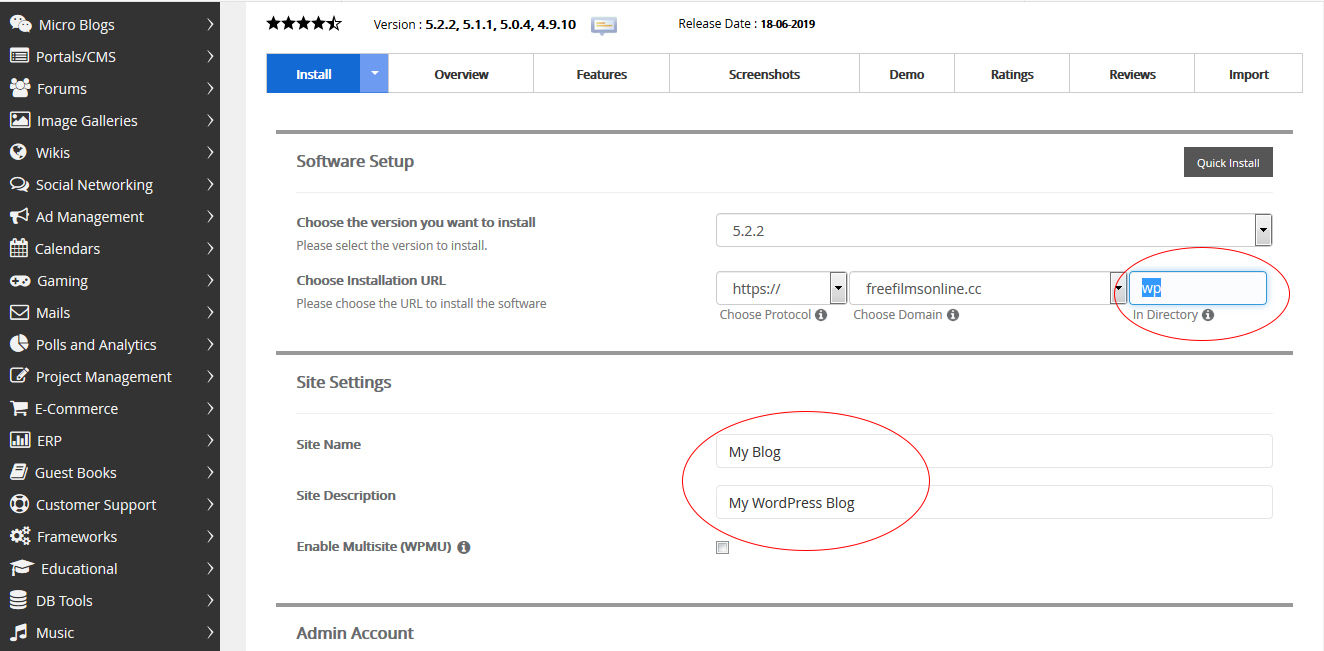 Setup your WordPress administrator login
Next, scroll down to set up an admin username and password. Make sure you use a strong password that contains letters, numbers, and special symbols. Here you should also enter the email address you'd receive site messages to, as well as the language for the CMS. Ignore the two suggested plugins. You also don't need to choose any of the suggested themes, since you are going to install the one you downloaded earlier anyway. Just scroll to the bottom of the page and press Install.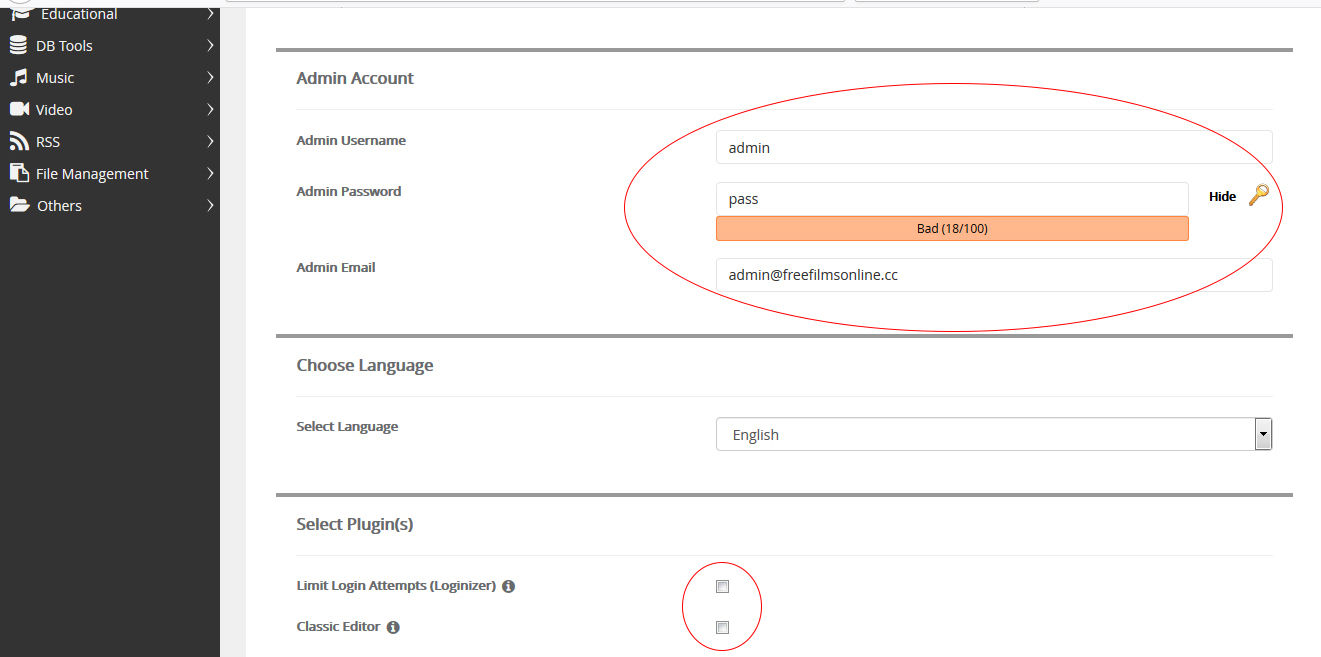 Finish the CMS installation
If you've followed these steps correctly, you should receive a confirmation of a successful installation of the WordPress CMS. This message also has a link for your WordPress admin panel ("administrative URL").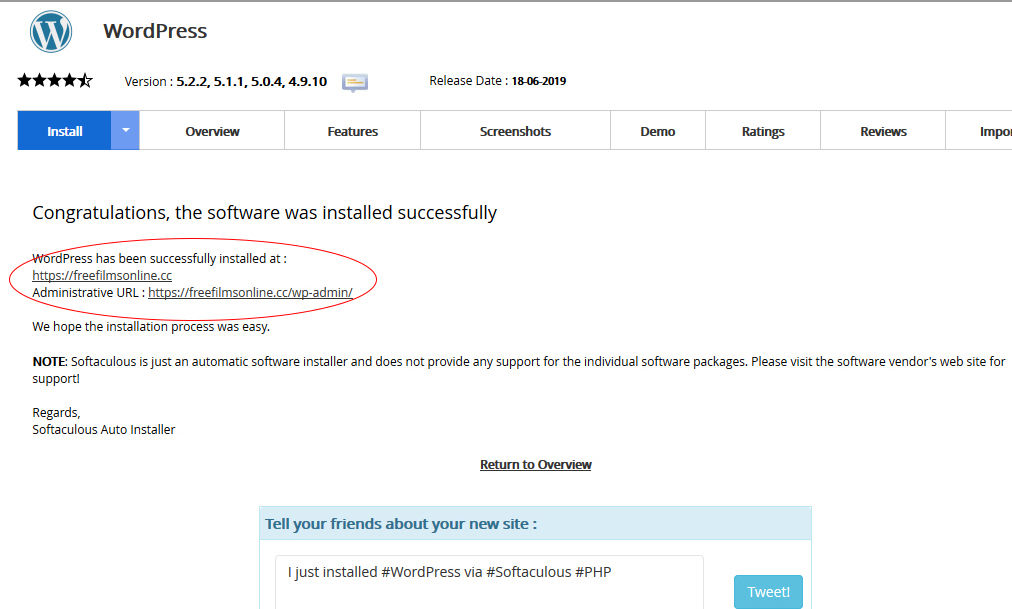 This is what my website looked like right after I installed WordPress without choosing a theme: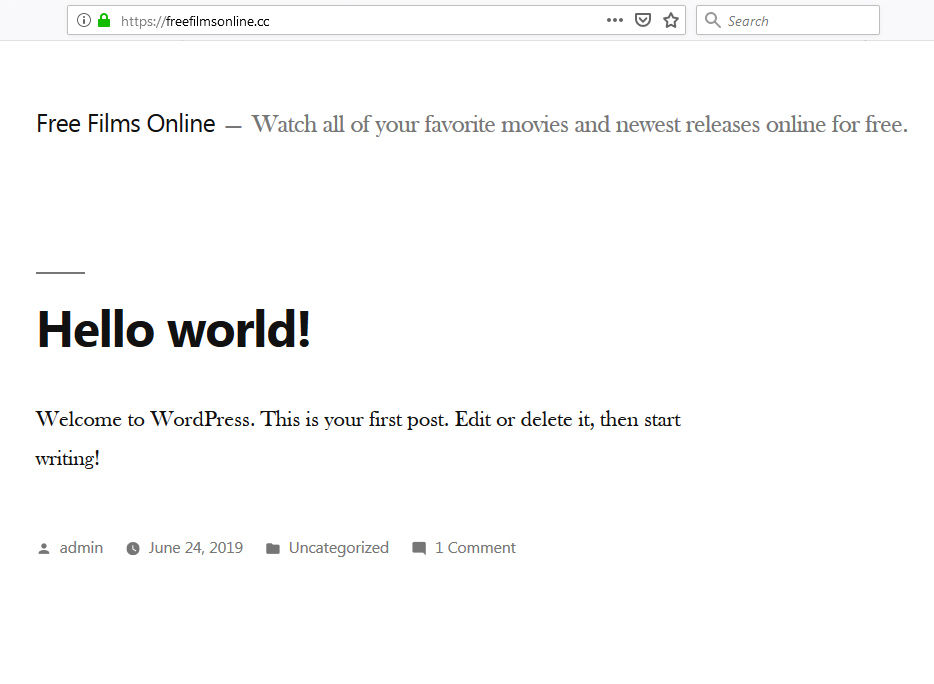 Install your chosen WordPress theme
Now you are finally ready to install the movie streaming theme you bought earlier. To do this, go to your WordPress admin panel (found at https://yourdomain/wp-admin/). Your admin homepage should look like this: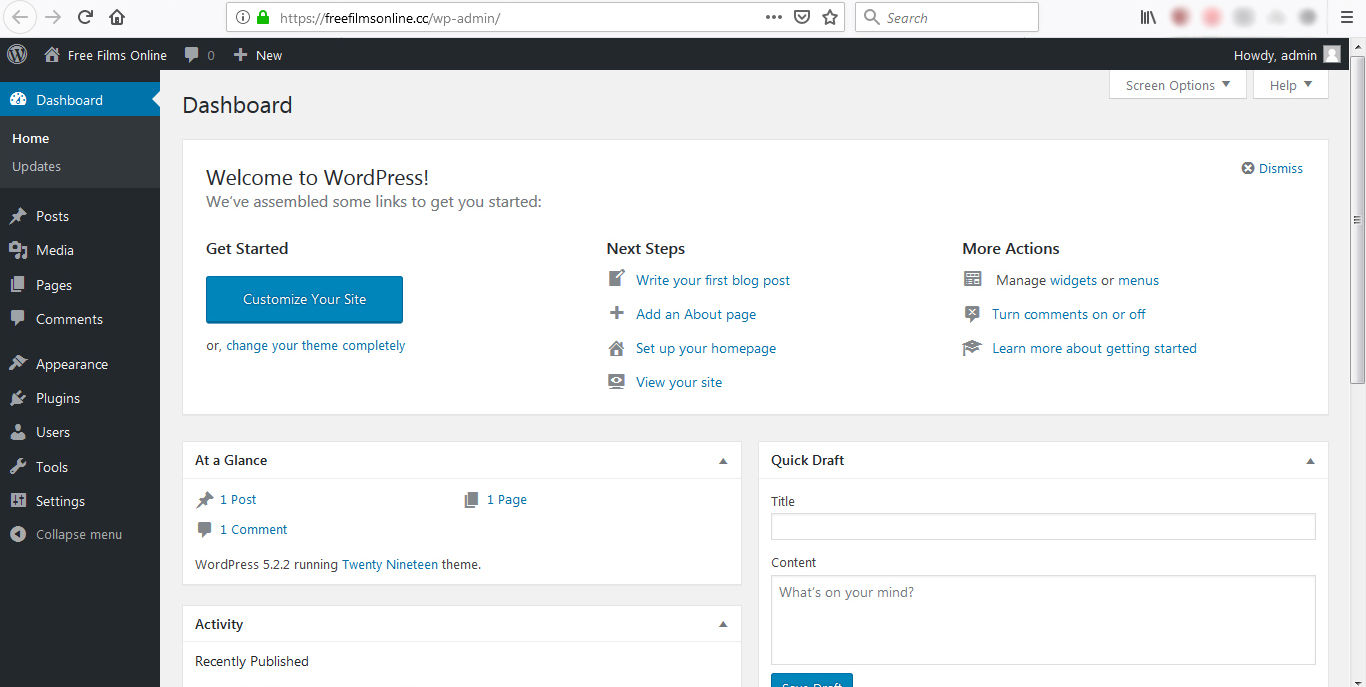 From the menu on the left select Appearance, then Themes underneath. On the page that loads you should see an Add New button. Click there.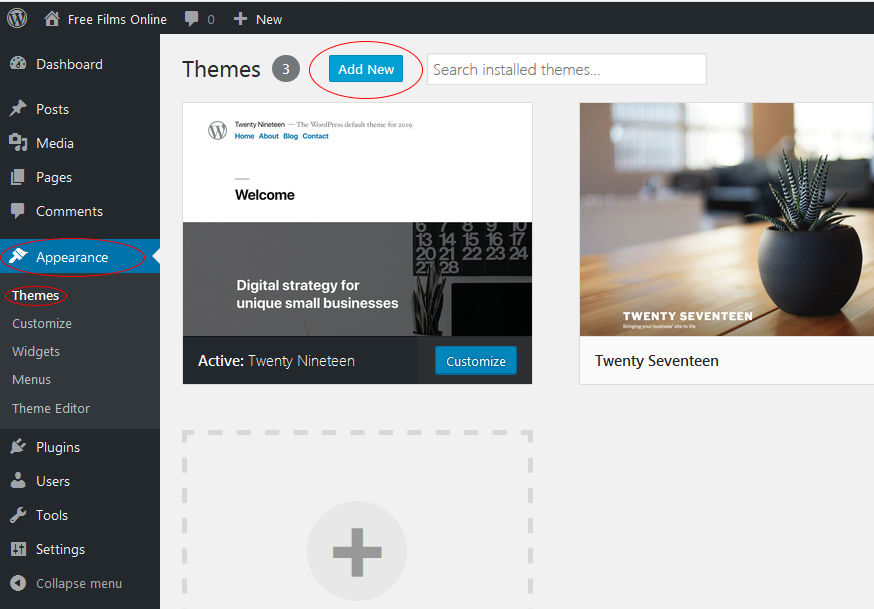 In the new window that loads, you would see a preview of available WordPress themes. However, you are here to upload the one that you purchased earlier, so select Upload Theme, again from the top of the page.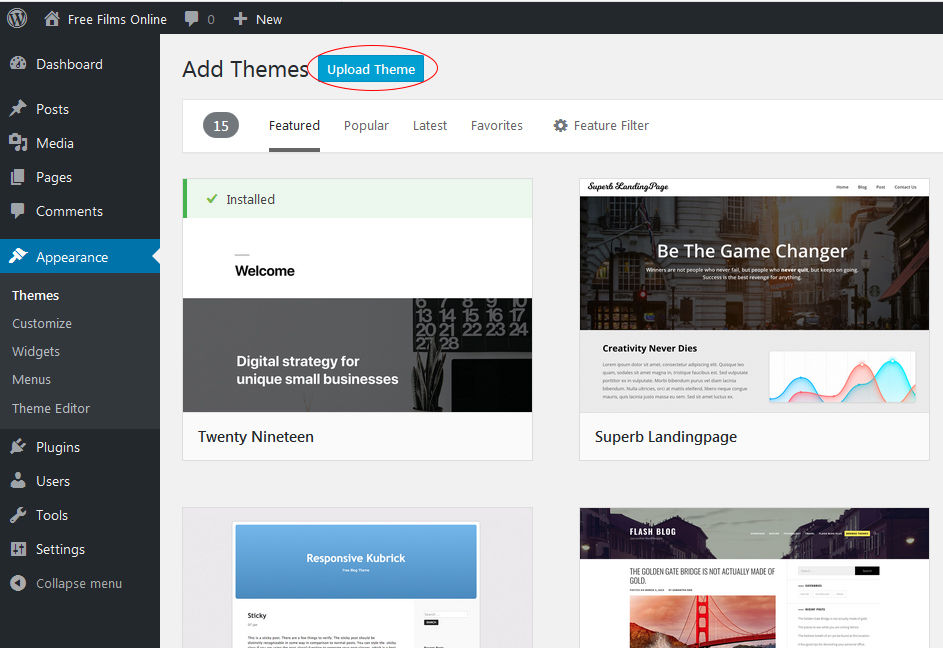 Then press browse to locate the .zip file with your theme on your computer and after you find it, click Install Now.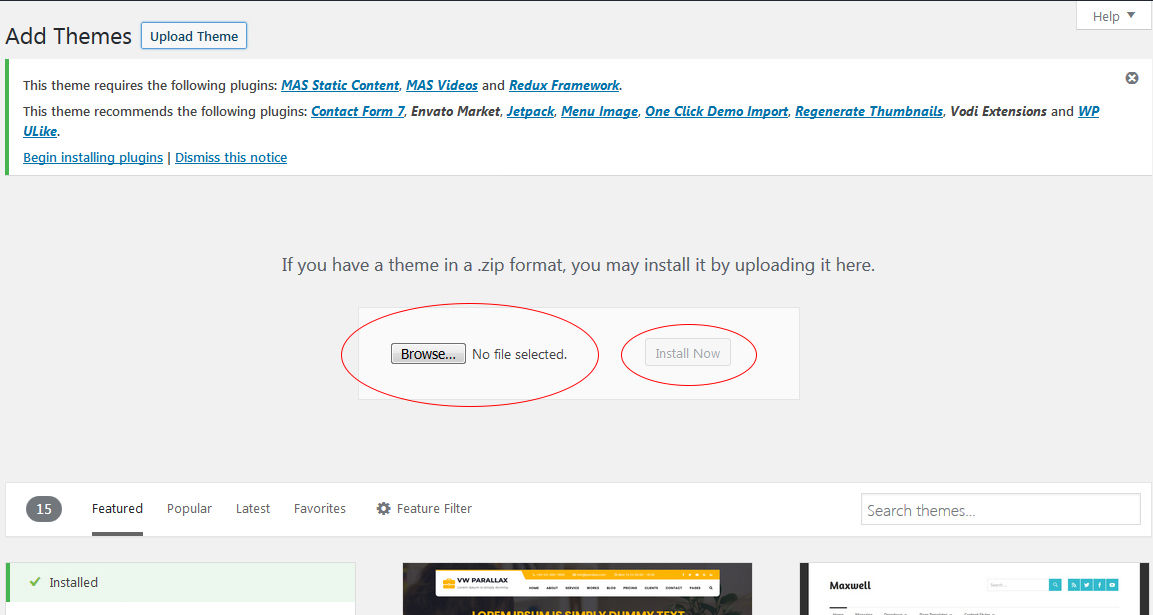 You should get a confirmation for a successful installation that looks like this. You must click on Activate at the bottom of this message to apply the theme to your site.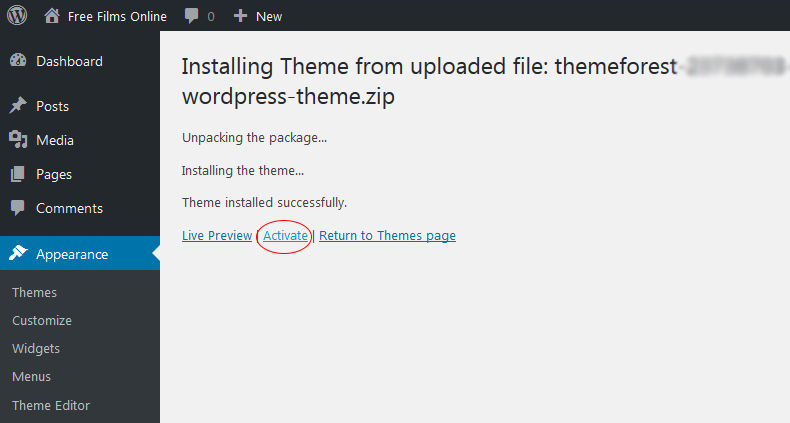 This is what my site looked like after I installed my movie streaming theme. As you can notice, it still needs quite a bit of work.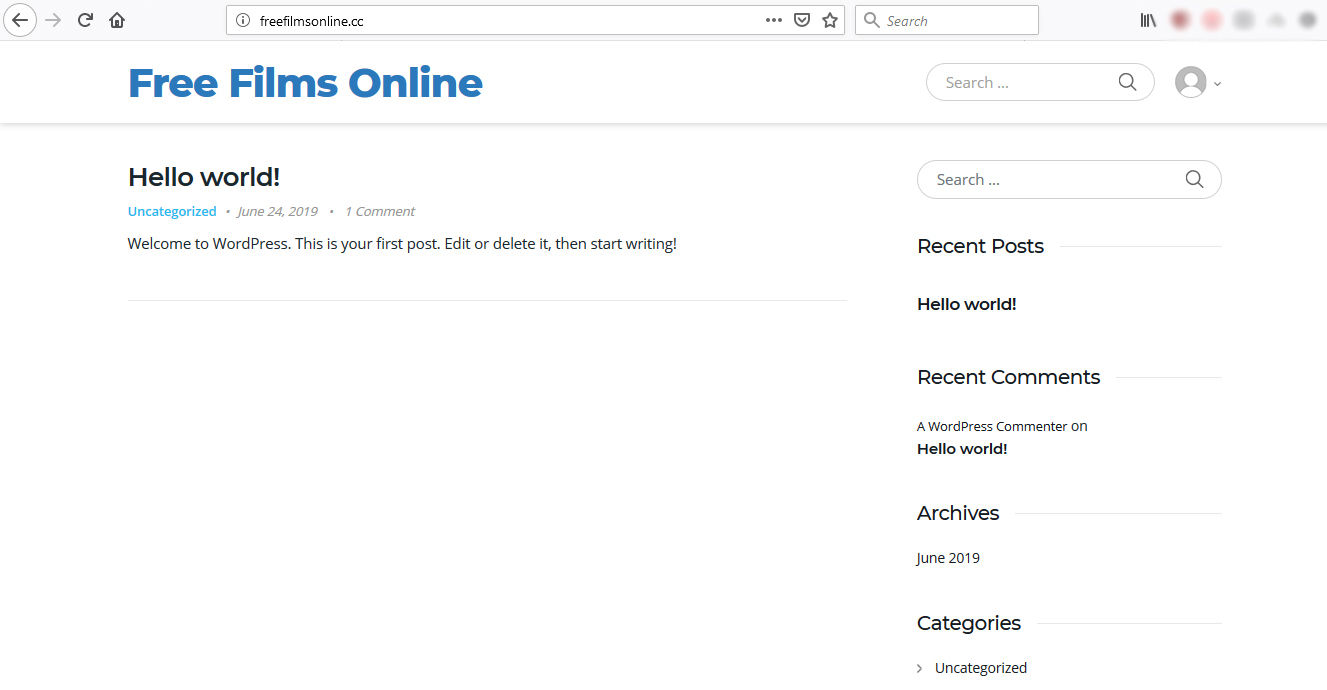 Install the theme demo
Installing the theme itself is not enough. Each theme comes with a demo (usually multiple demos) – this is a more full-fledged layout with special plugins. It's included in the theme but needs to be installed separately.
Note that the proper way to install the demo will vary from theme to theme. There should be a manual guide for the specific template you've chosen that explains how to install the demo.
Locate the demo file
In my case, for the Vodi theme I had to install the .zip file named "Vodi Child." It was located within the parent archive that I got when I purchased the whole theme.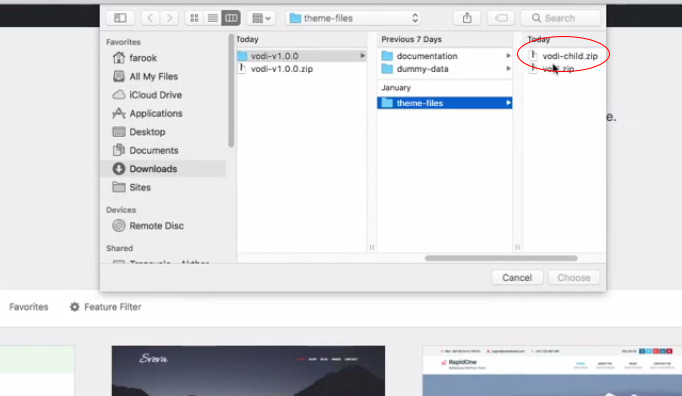 If you're not sure how to find the demo, go back to the page where you bought the theme and read through the manual.
Upload the demo
For my demo, I went back to Appearance – Themes – Add New – Upload Theme. This is the same sequence I followed to install the basic theme, only this time I uploaded the demo file.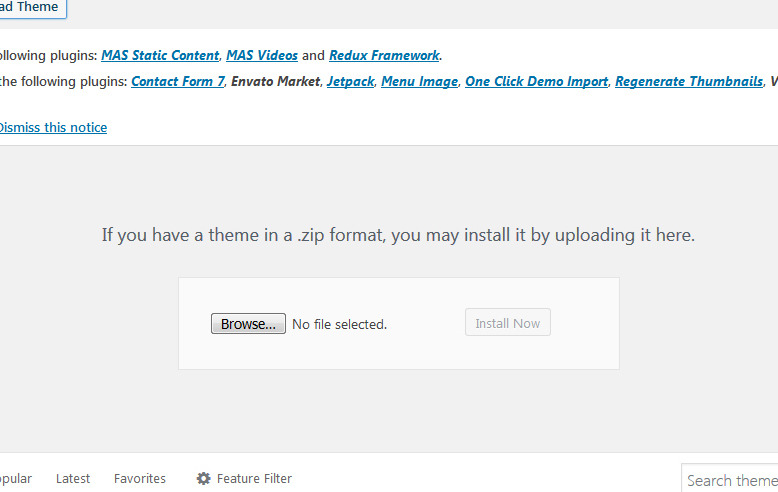 Install the required plugins
When the installation is complete, activate the demo theme. WordPress will inform you that you need to install several plugins for it to function as intended. Click on Begin installing plugins to trigger this process.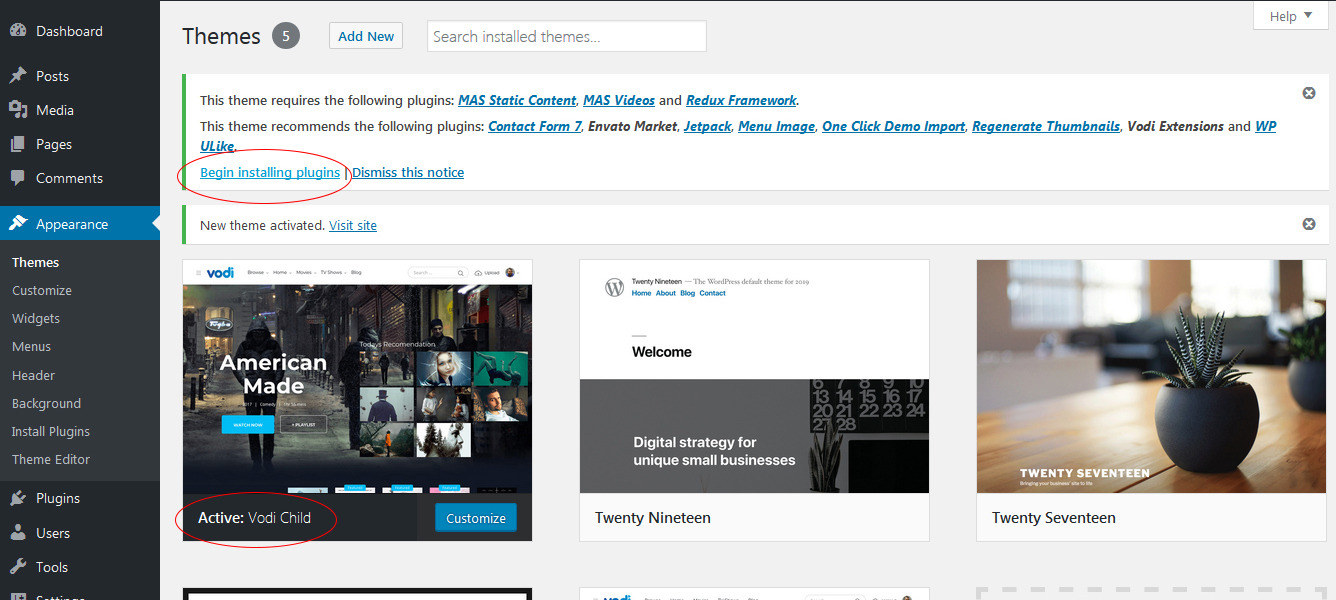 On the page that loads, select all of the plugins. You can just tick the checkbox next to "Plugins" to select all of them at once. From the dropdown menu select "Install" then press Apply.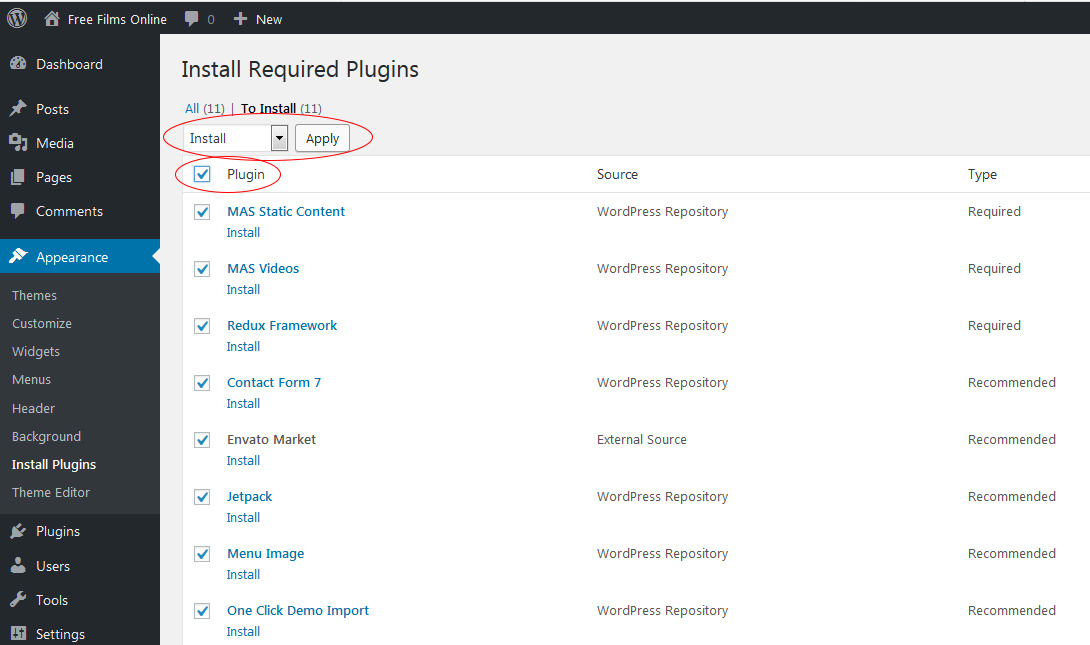 Wait for the installation to complete, then find "Return to Required Plugins Installer" at the bottom of the page and click on it.
Activate the plugins
Now select all of the plugins again, then from the dropdown menu choose "Activate" and press Apply.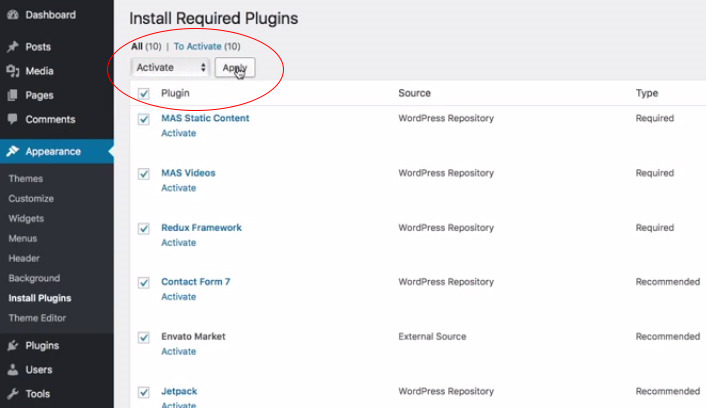 Import a version of the installed demo to your site
From the menu on the left find and select Import Demo Data (under Appearance – Themes).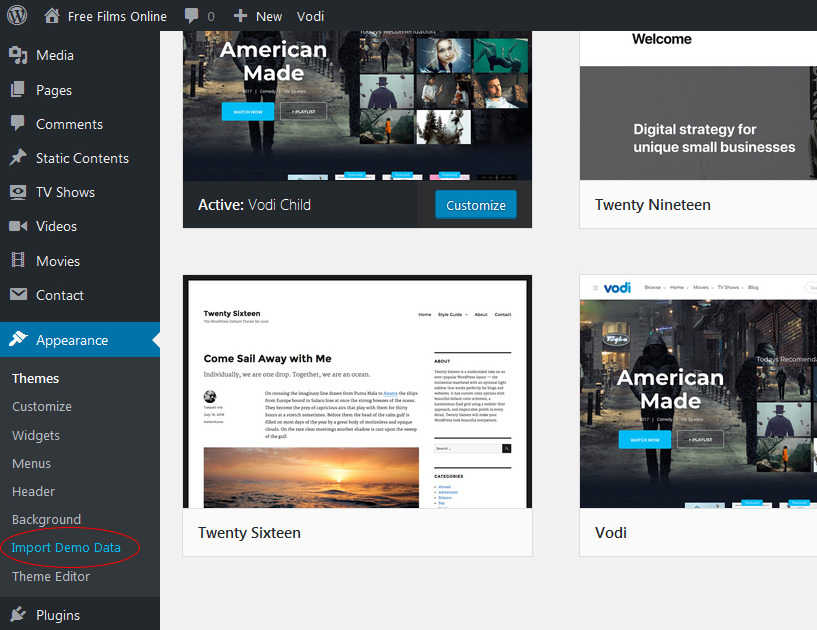 This will display all of the demos available for your theme. It's up to you to choose which one you want to use. Simply click on the Import button for the demo you like best.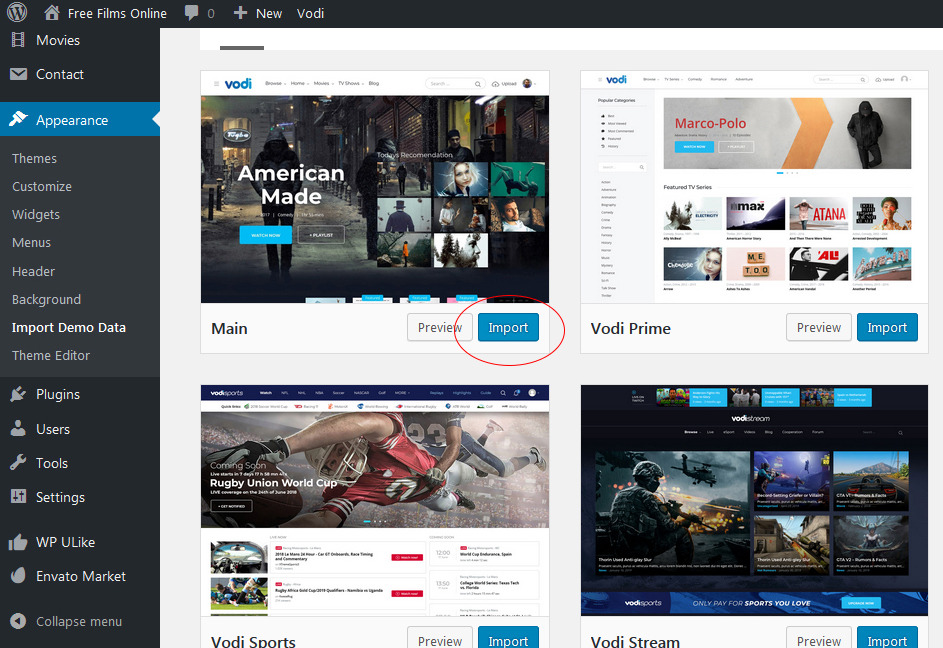 In the small pop-up window select Yes, import.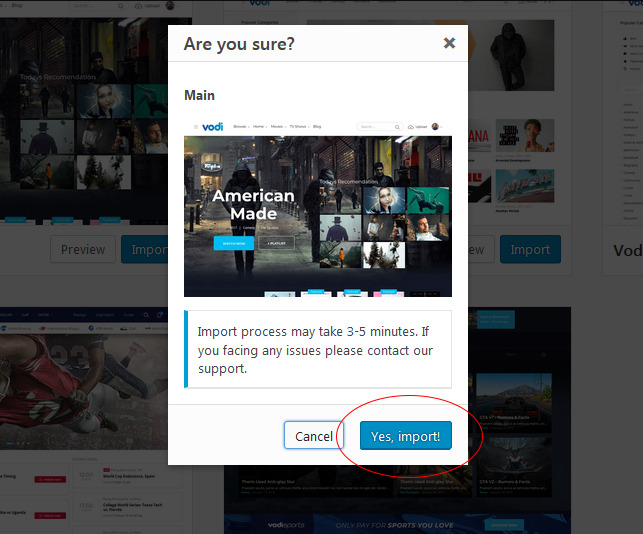 Then simply wait for the installation to complete and get a confirmation.
Visit your website to confirm the demo installed successfully
This is what my website looked like after I installed the demo in the above-described process. It still needs work, but this is a solid start!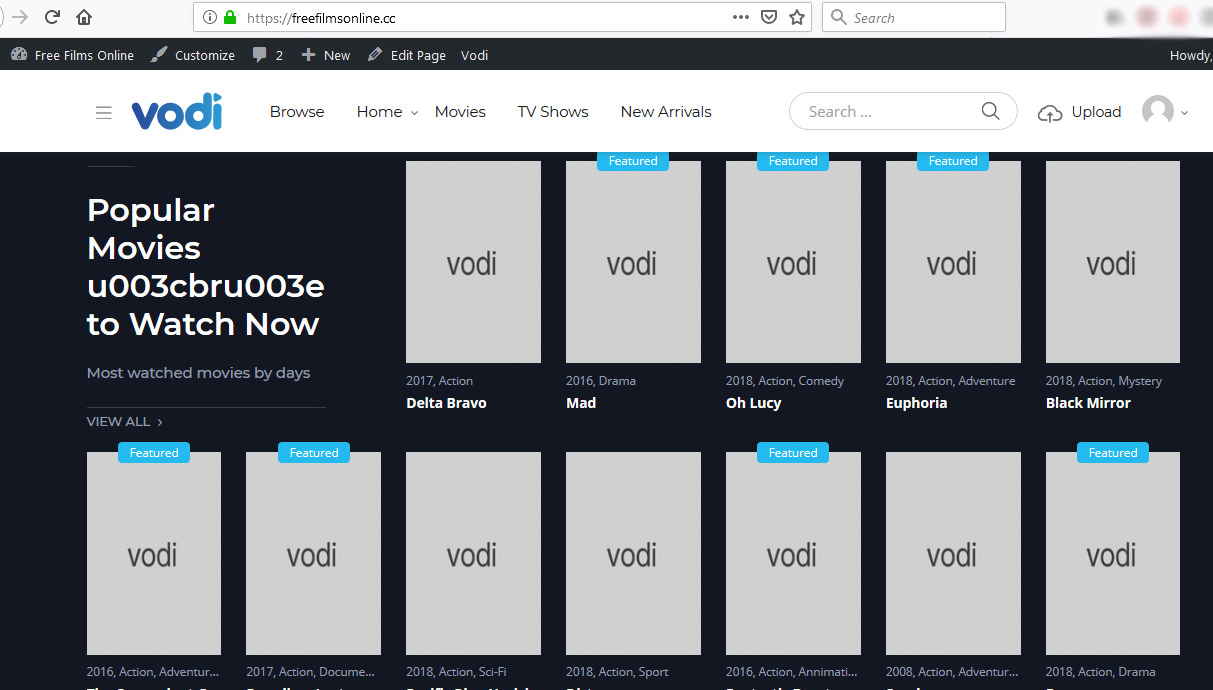 Install SSL right away
Note that you need to have an SSL certificate to ensure the safety of your website. The demo will most likely have installed it for you, but you have to check.
After you're done installing the demo, go to your website. If you see a green padlock icon next to the URL for your site, and your domain begins with "https://" then the demo of your theme has already installed the SSL and you're good to go.
If the padlock icon is red and your domain starts with "http://" (without an "s"), you have to install an SSL. You can follow this guide to do it.
Customize your theme
Now it is finally time to give your movie website an identity. You can modify the way your website looks via the Appearance – Themes – Customize menu.
Once the customization menu opens, you will notice there are many things you can adjust.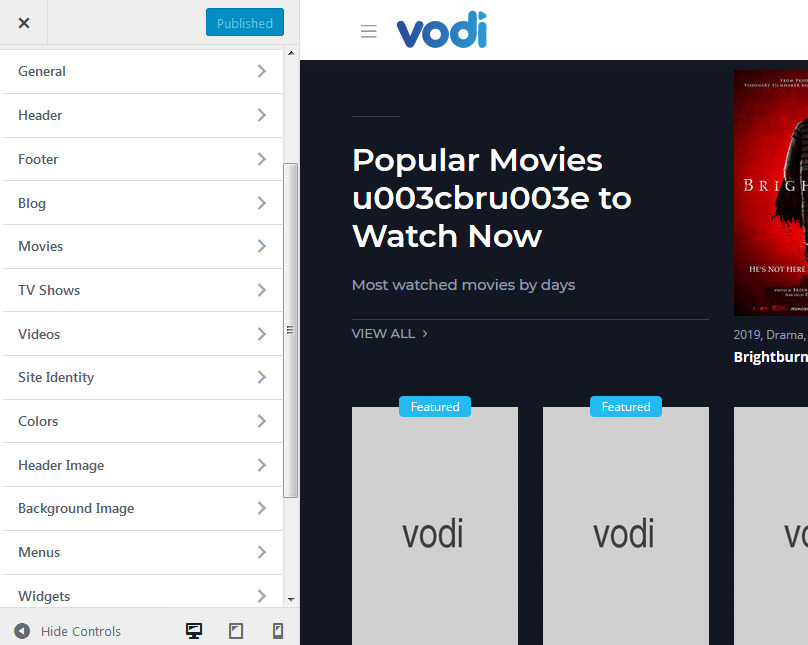 Add a logo to your website
For example, I'll show you how to change your site logo. Select Side Identity, and then Select Logo.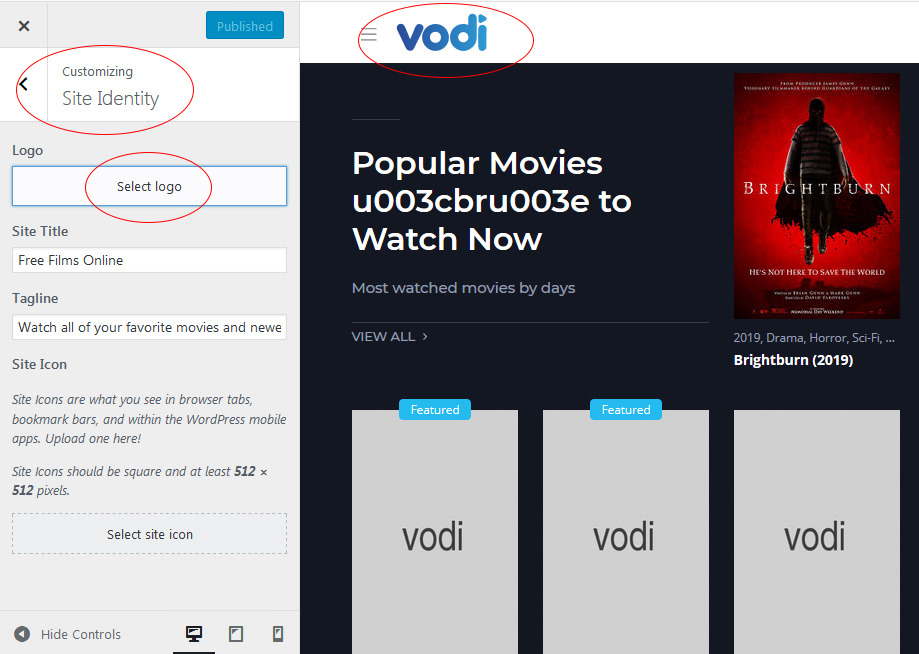 Then choose Select Files to upload images from your computer.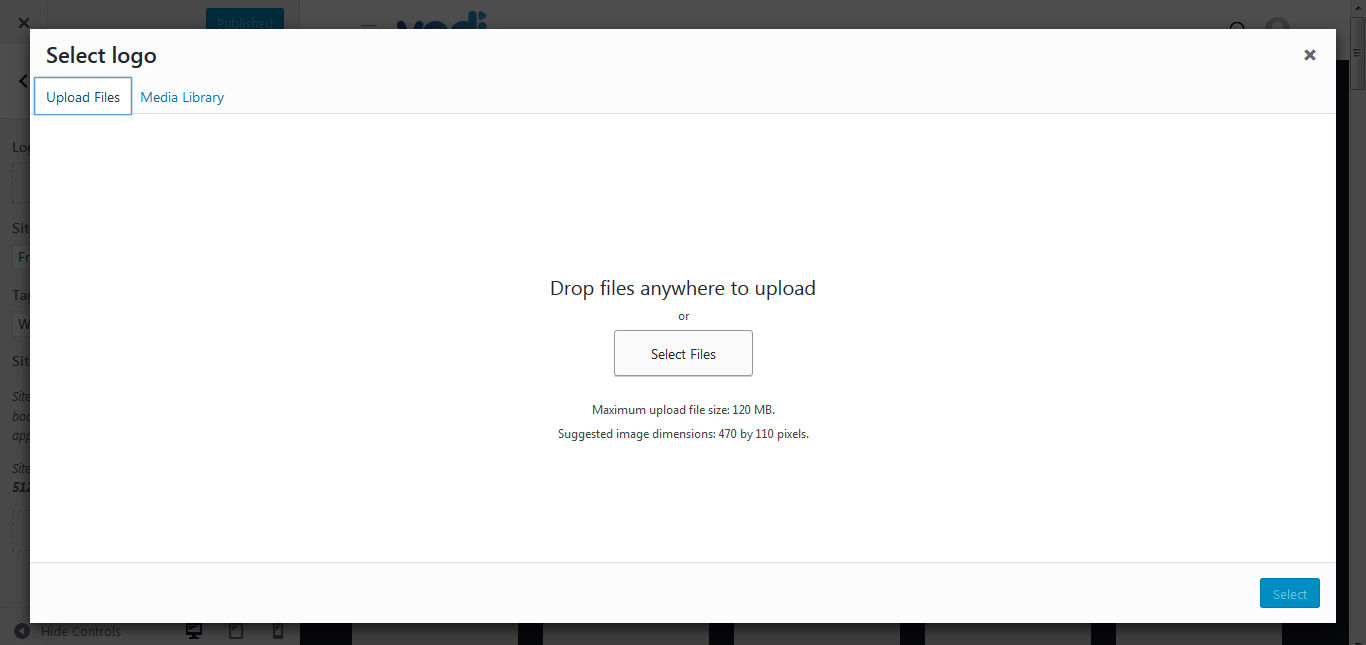 With the desired image selected, press the blue Select button in the bottom right corner, then Publish the changes.
Check your website to see if the logo was uploaded successfully
You should now be able to see your logo instead of the theme name. As you can see, my site is no longer called "Vodi" but bears the name of my brand – FreeFilmsOnline.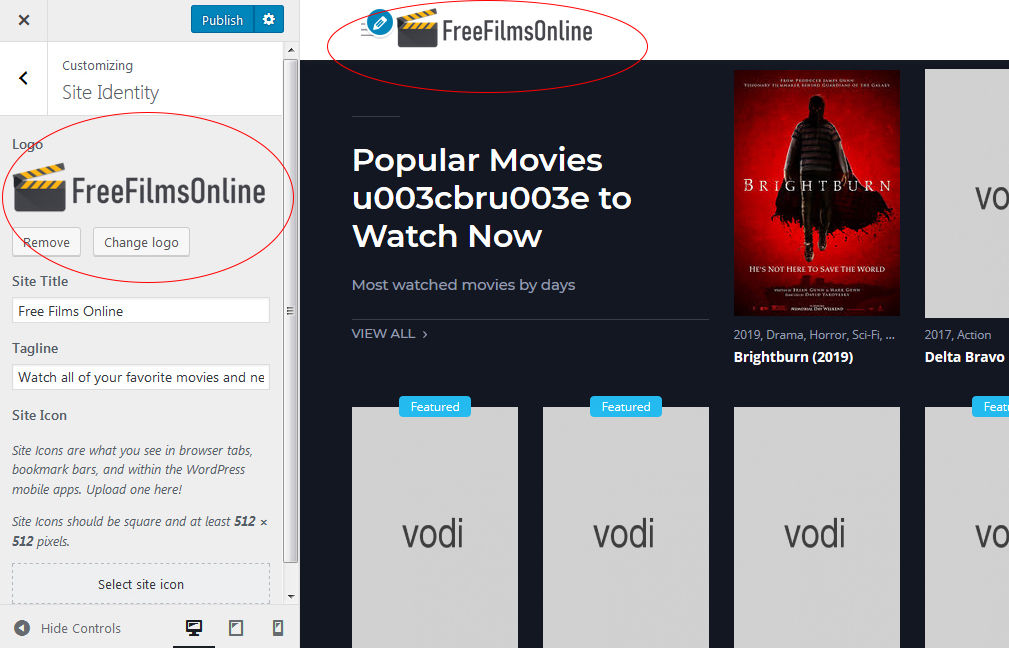 Don't forget to change the site name and tagline.
In general, you should look over all of the menus under the Customize option and replace the dummy text with your own info. Remember to publish any changes you make to your theme so they become visible.
Add movies to your website
When you've built and customized your website, it's time to populate it with content. There are two main ways to add movies to your site.
Uploading movies
Uploading movies directly to your streaming website might seem like the obvious approach. Nevertheless, you need to consider all of its implications.
Advantages:
You can upload files in excellent quality.
You can show your own ads in the video player.
If someone else embeds your videos, your ads will also show on their website.
Disadvantages:
DMCA agencies would give you more trouble than if you choose to embed.
You need to pay for a lot more server space, bandwidth, and traffic.
Difficult to turn ad revenue into profit in the beginning, considering the high upkeep costs.
This option is not very beginner-friendly. You can try to start with storage VPSs that run at 100Mbps, such as the ones offered by AbeloHost. But as your business grows, that simply won't be enough. You'd need to expand and invest into more expensive services to keep up with all the extra traffic. That means spending a considerable amount of your revenue on upkeep.
The only way to ensure your streaming site runs smoothly when it starts growing is to invest in a 10Gbps connection with unlimited traffic. This will set you back about $2000 per month. When your website is still new, it's highly unlikely you'll have enough visitors to make enough money from ads to be able to afford that.
Embedding movies
If uploading the movies does not seem appealing to you, consider embedding them. This means your website will simply connect visitors to already-uploaded movies by displaying them in your player. The uploader could be someone else, a dedicated website (e.g. verystream), or even you.
Advantages:
You're not legally responsible for the content you're displaying on your site.
You don't need to spend a lot on server space, bandwidth, and traffic.
Easier to turn a profit.
Disadvantages:
You have no control over the quality of videos.
Your video player might display the uploader's ads.
Videos can get removed without your knowledge, so you have to keep an eye out for broken links and replace them.
In sum, embedding videos is cheaper and safer, even if you're sacrificing control over the video quality. It is also not very difficult to do – simply follow the steps below:
Get a movie link
To embed a movie, you need to have a URL that your site will use to display the film. There are a few ways how you can obtain one.
 Method 1: upload the movie yourself.
If you have a movie file, you can upload it by using several VPS's. AbeloHost and other offshore VPS servers allow connections up to 100Mbps with unlimited traffic, so this could sustain your activities. You can also buy a server with a 1Gbps connection. If that's not enough when your business takes off, you can always scale it up.
Not e that you're not uploading on your streaming website. You're adding the file to a VPS or another server simply to generate a link to the movie. The resulting URL will just be an IP with a video file extension at the end without any domain, for example "123.456.789.01/randomfilename.mp4."
Method 2: borrow the link from another site
To avoid uploads altogether, you can "steal" links from your competitors. Go to their websites and use your browser's "Inspect Element" function to find the link to the movie file. You will recognize it by the video file extension, such as .mp4, .avi, and so on.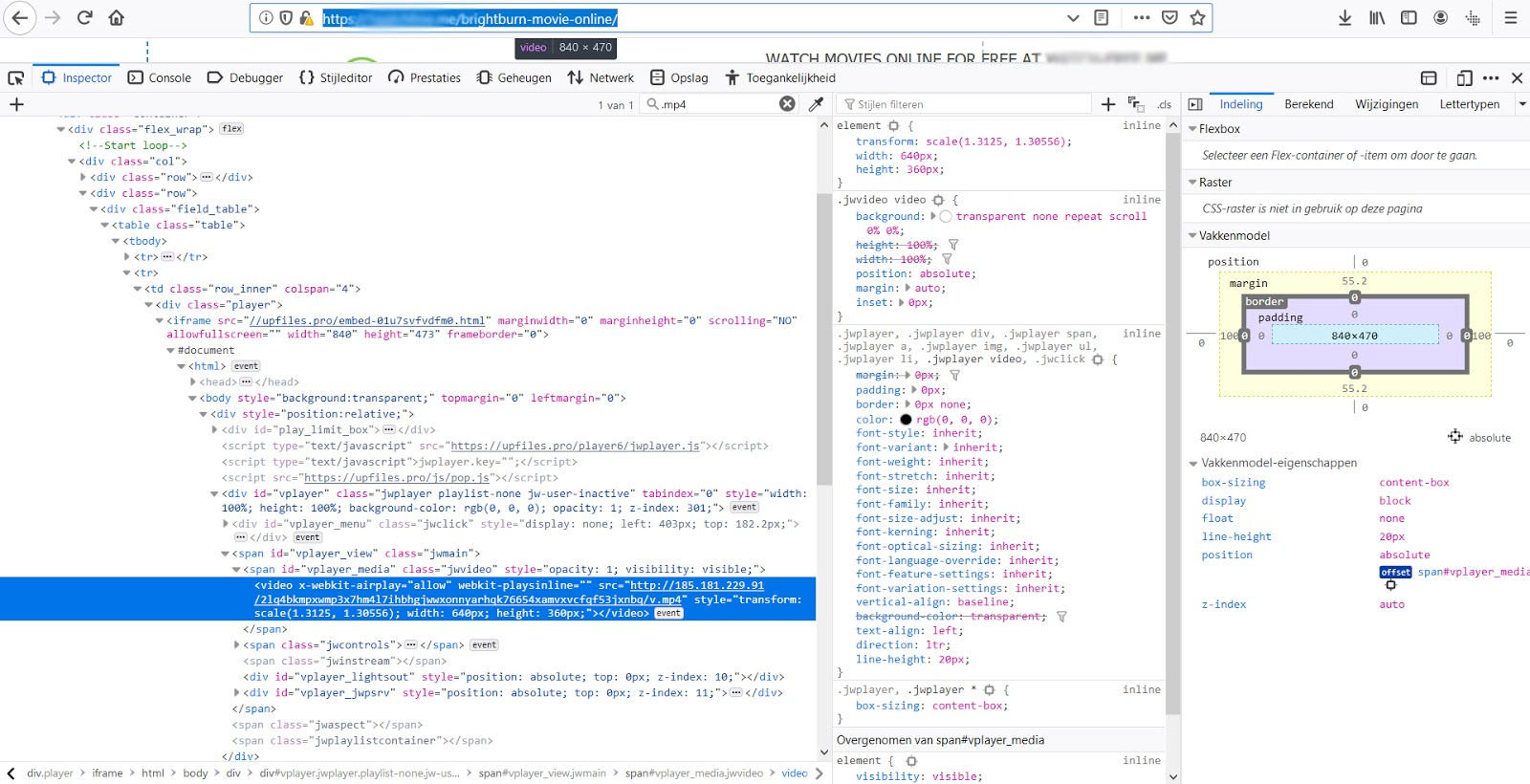 Getting video links like this is free and safe. However, the website you're taking your link from might change it, especially if they notice all the extra traffic your site is generating. If they change the URL, your movie will have a broken link and you'll have to replace it.
More legitimate video websites such as YouTube, Vimeo, and DailyMotion offer links for embedding openly. You can usually find them under the sharing options. This makes them easy to copy and more reliable. Nevertheless, it's unlikely that you will find full-length movies there.
Method 3: upload to third-party websites
There are some websites discrete enough to allow movie uploads. You can upload your movies there to generate links. Here are a few such websites you can try:
verystream.com
openload.co
onlystream.tv
netu.tv
gounlimited.to
You might wonder how these websites exist and how they make money. Their owners are certainly not offering these services out of the goodness of their hearts. When you use such websites, the video will play via their own player on your website. That way they can show their own ads to your audience.
Note: Whichever method you're using, always keep a backup. The website you're borrowing a link from might change the URL to cut you off. Sites where you can upload movies might close down. Always, always have a backup link. Also, don't forget to backup your site data.
Enter the movie on your website
From your WordPress dashboard, select Movies in the menu on the left, then Add New.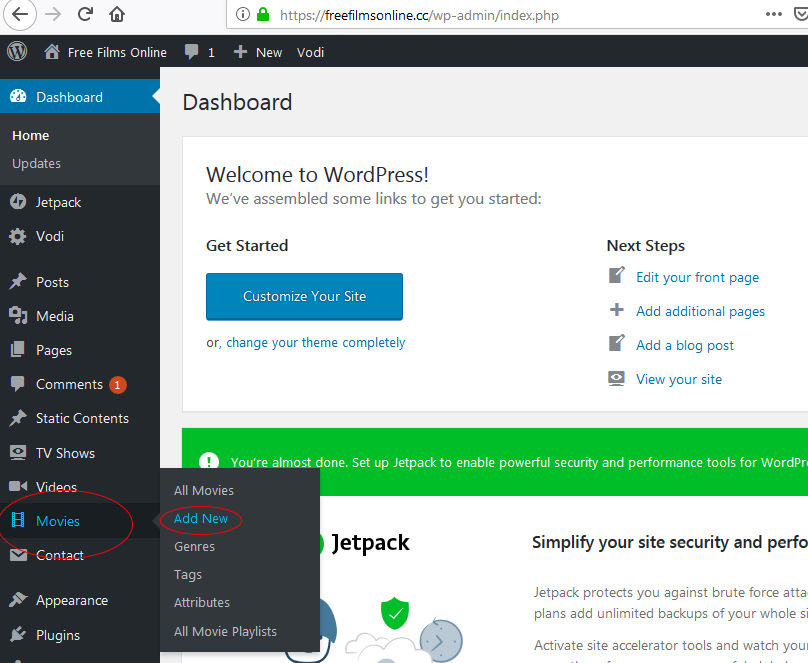 Add a title and a short description for your movie in the top field. Then, under Choose Method select "Movie URL" for a direct link or "Embed Movie" if you have an HTML embedding code.
Paste the link to the movie in the "Movie URL" field (or "Embed Movie Content" if you have code). You can then fill in some of the information about the movie. Use the side menu on the right to add genres, tags, and an image for the movie.
In my example, I am adding the link that I found earlier by using "inspect element" on a competitor's web page.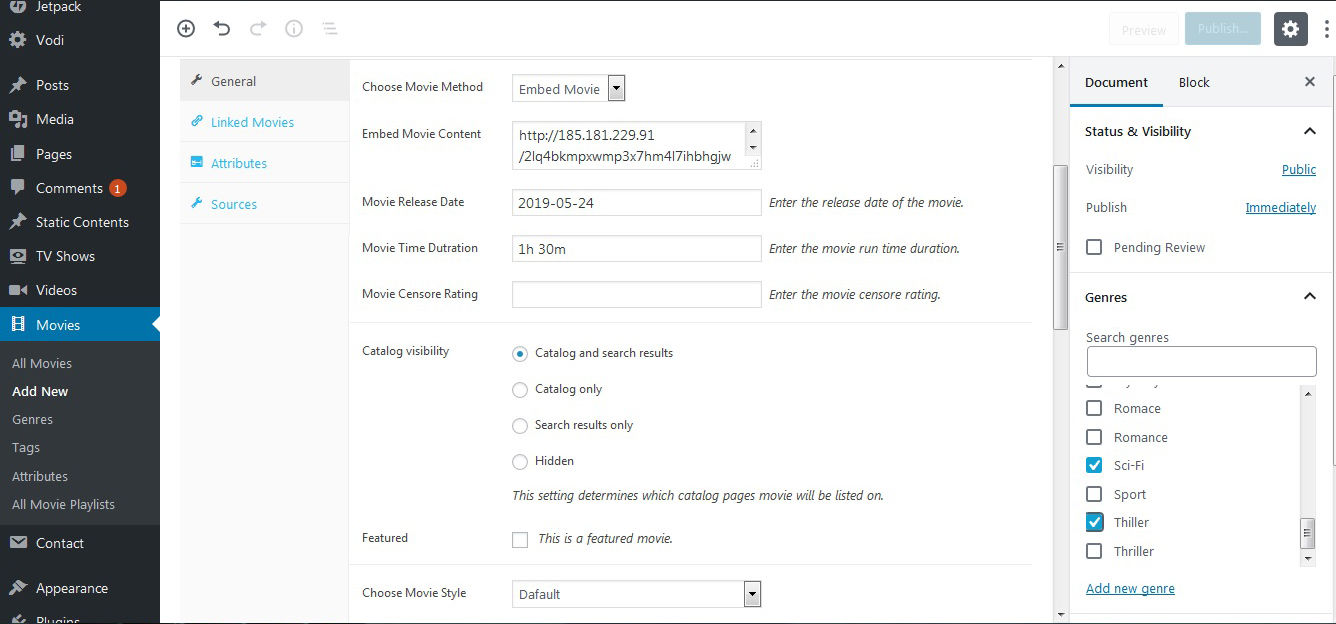 Then simply press Publish (upper right corner). Now you should be able to see the movie on your website.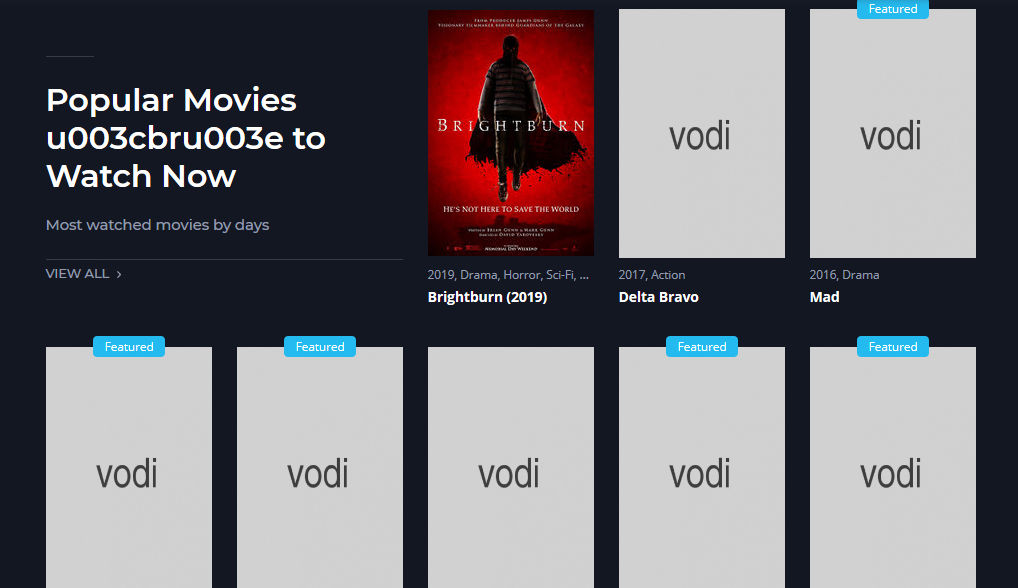 Click on it will load it in the default player included in your WordPress theme.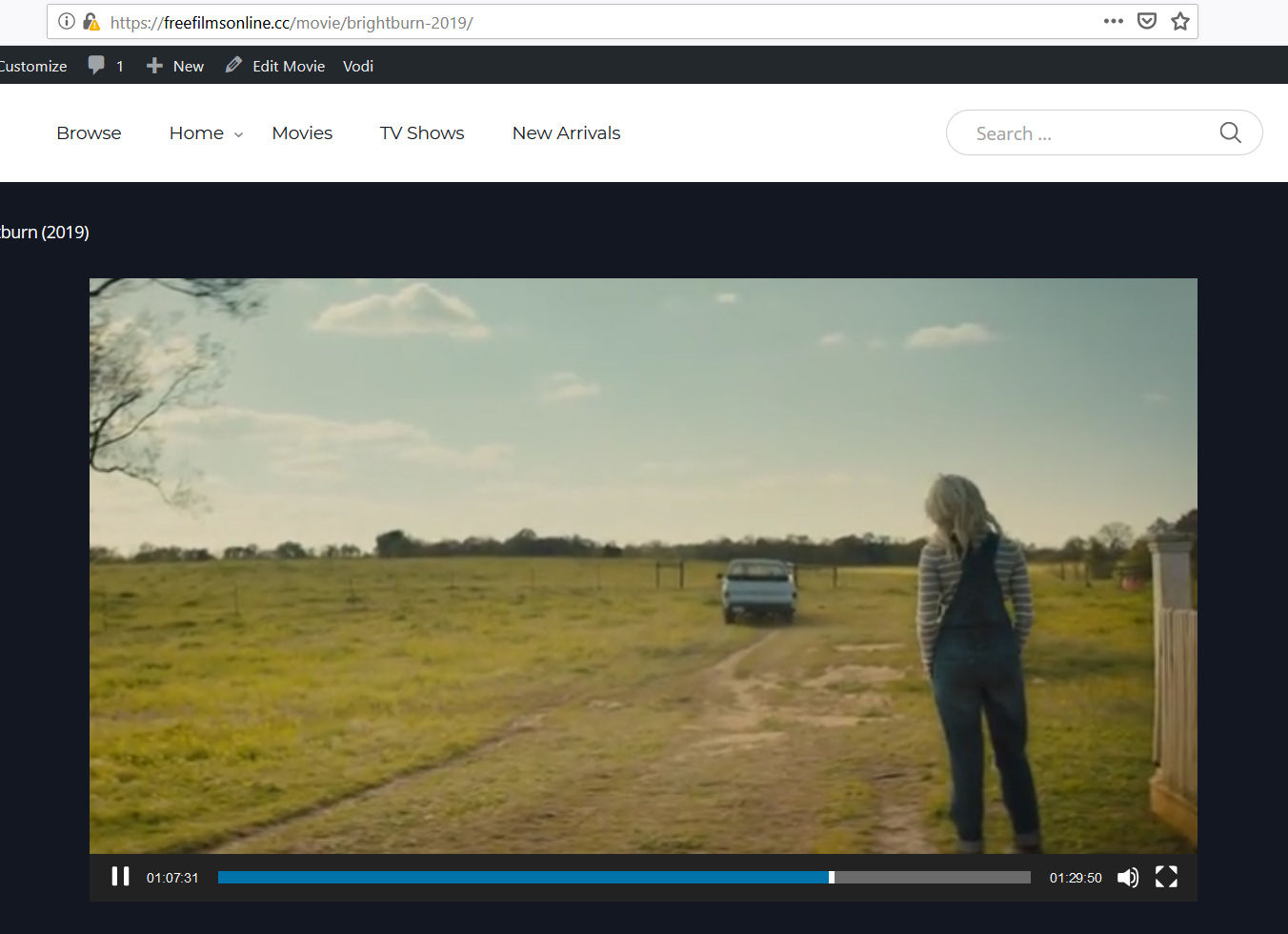 And there you have it. A full-length movie on my own movie website!
Import movie descriptions
Adding posters and descriptions to the movies on your website will be slow and tiresome if you do it one title at a time. Worry not, because this can easily be solved by using movie databases.
Note that you don't have to add descriptions for all of your movies. About 90% of your site visitors are only interested in the newest releases, so you can just focus on those.
Using APIs
You can integrate a movie database API on your website. An API is a mini-program that takes content from one place and displays it somewhere else.
This will take movie info developed by a specialized site, such as OMDb or TMDb, and display it on your website. Not all such APIs are free but they are worth the investment.
To install the TMDb API on your site, you need to register an account, then go to your Account Settings, find API, and then Request an API key.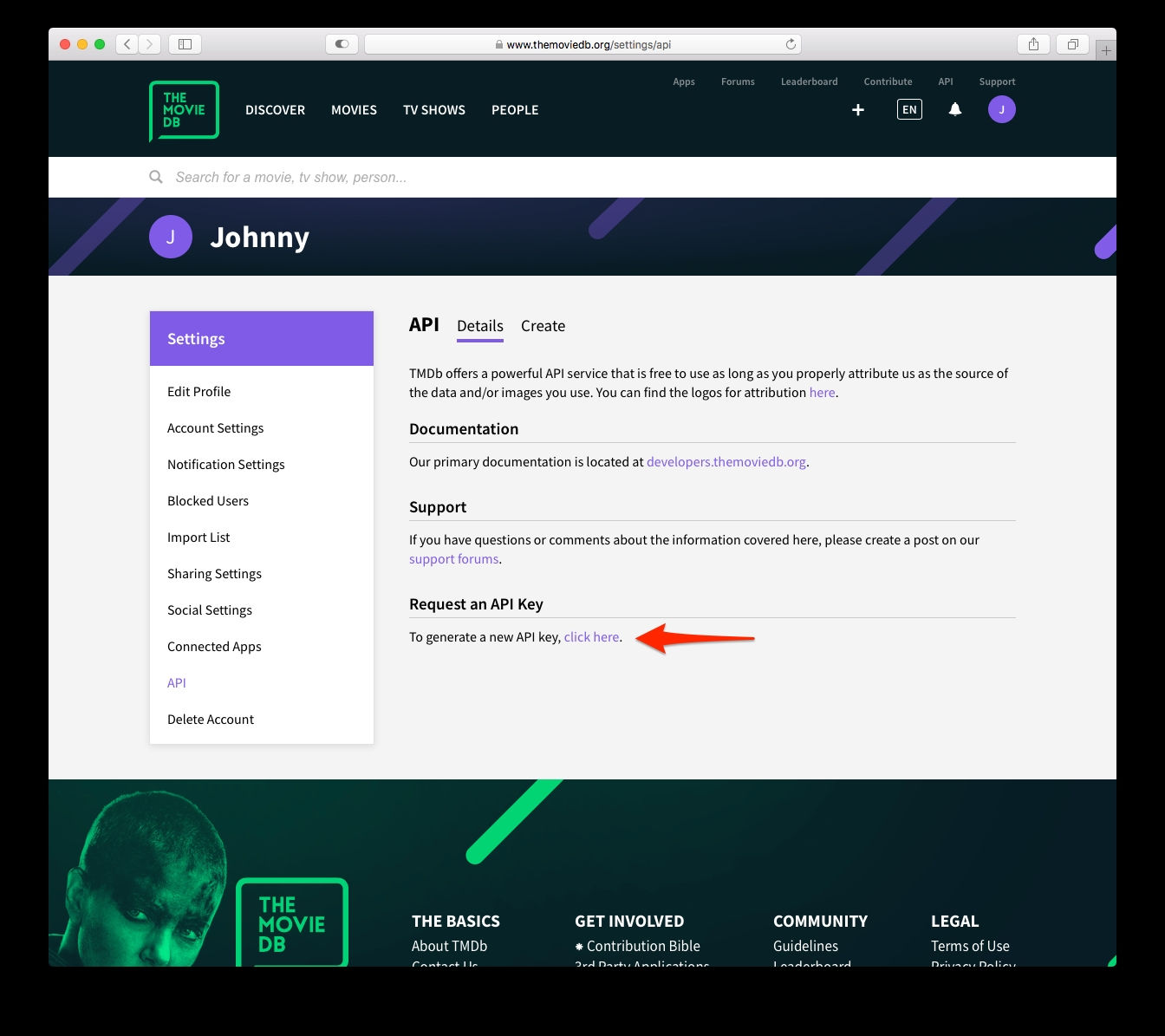 You can get the full instructions on how to use their API here.
Using CSV
It is also possible to import movie details in bulk from a CSV file. These are textual databases where a lot of information is listed, with entries separated by commas. You can search for movie CSV files online.
The theme Vodi I installed comes with its own CSV importer. You can check if your theme has a similar feature in the theme's manual.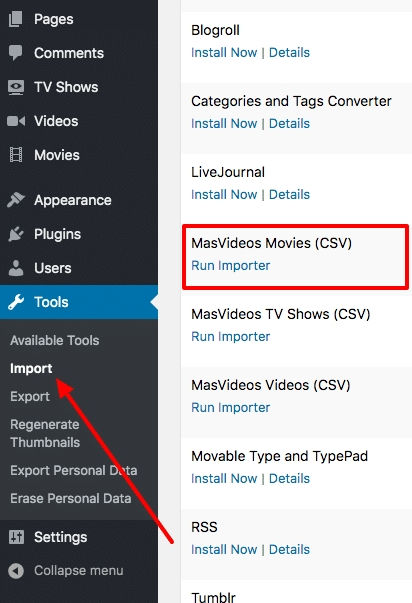 The final result: a complete movie website
To show you what you can achieve with a little customization and adding content to your site, I present to you a before and after of my website.
Before I installed a theme:
After I completed all of the steps described above: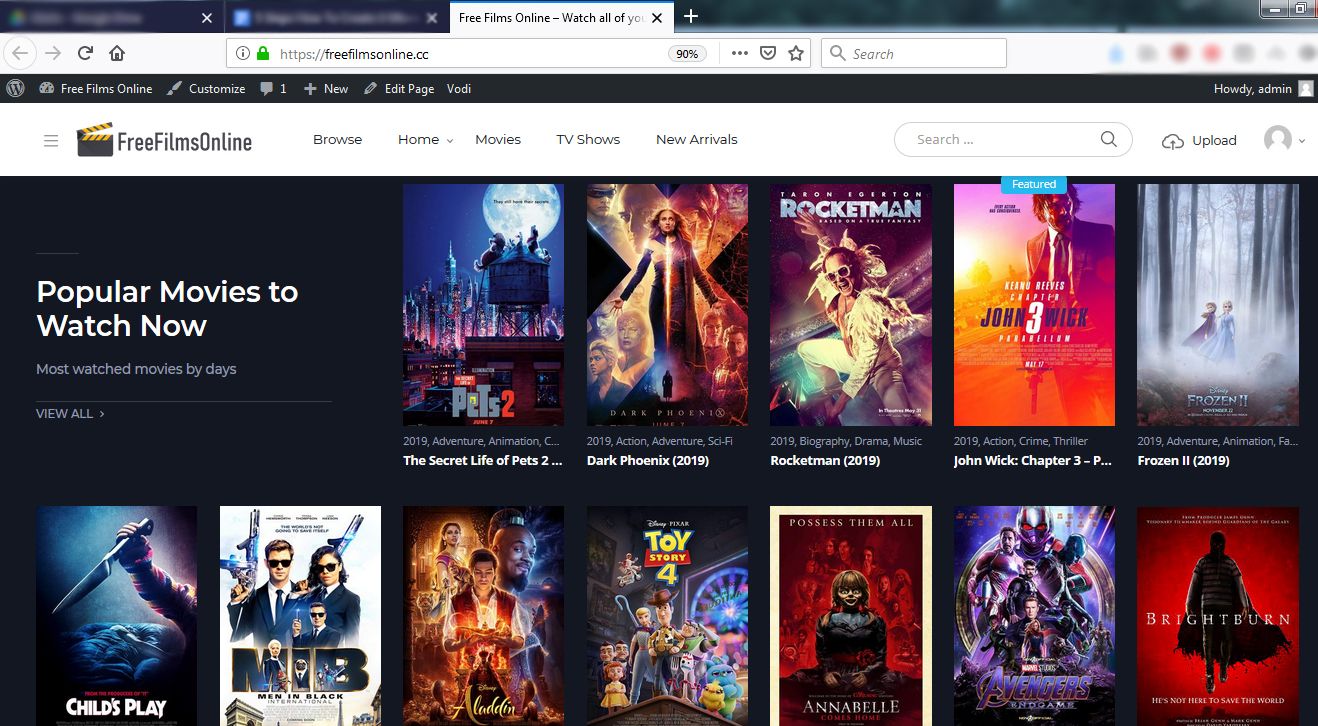 It has come a long way, hasn't it? And it took zero programming, thanks to the CMS. If I can make this website in a day, so can you!
An alternative: creating a website with HTML templates
For those of you who would rather use plain HTML for their website, here are a few quick pointers.
Technicalities: a domain, hosting, a theme
The beginning steps of making a website using HTML overlap with those of using WordPress. You need to have an original domain and offshore hosting, and you should buy an HTML movie theme.
You can find movie website HTML themes here.
Build the site using HTML code
With HTML you don't have a CMS and need to deal with the code directly. All you have to do is unzip your HTML theme and then customize your site by changing the code. If you don't know any HTML, this might not be the right method for you. You need to be able to read the code of the theme in order to modify it.
When you are done modifying the files on your computer, use the FTP manager in your cPanel to upload them to your website.
Every time you want to change something on your website, you have to edit the code on your computer and then upload the new version of the file to your site.
You can find a more detailed explanation of how to install HTML themes here. Additionally, your theme will likely also contain an installation manual you can consult.
You can also think about launching an app to complement your streaming website. The in-app purchases have grown by 285 percent in the past two years, which means your app could easily outperform your website when it comes to revenue generation.
Advertise

your movie website
Even if you create the greatest movie streaming website out there, you won't maximize your profits without steady traffic. You need to spread the word about your site and ensure that search engines such as Google rank it higher. Below we've listed some golden tips that can improve the natural visits to your website and help you beat the competition.
Promote on forums
A good place to advertise your website is on forums. Simply search for threads where people are asking for streaming site recommendations. That will give you a direct link to people interested in streaming – just mention your site there.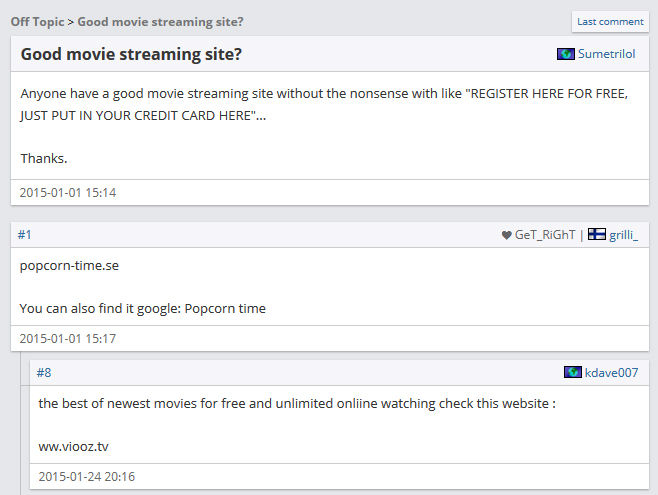 At present Quora is the most popular question-based website. Other platforms for questions include:
Yahoo Answers
Reddit
Facebook
Ask.fm
Stack Exchange
Answerbag
Blurtit
Ask Me Help Desk
Take special note of Reddit. While it's an understatement to call it a forum, the site features multiple subreddits on topics that relate to your business, such as r/MovieStreamingSites/ or even r/piracy.
Check if anyone is asking about good streaming websites and promote yours in the answer. Make sure you give people a well-thought out, detailed answer. This will create the impression that your site is serious and reliable.
For example, this is a Quora thread where the original poster asked "What is the best website to watch online movies for free?" This is one of the answers the OP received: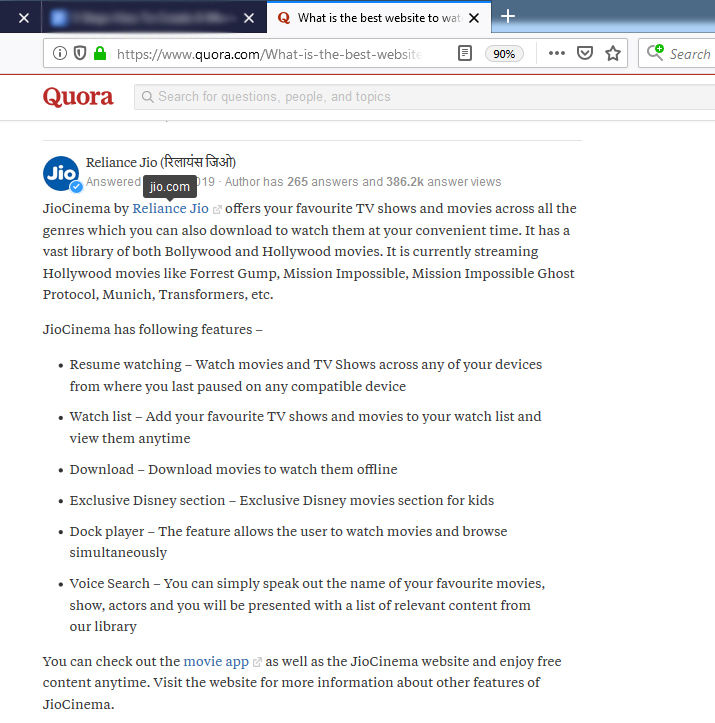 You can see that this person presented their service concisely, outlining its key features. Moreover, the answer appears to come from an official account for that brand (see the blue checkmark by their icon?). This helps the answer stand out among the other replies.
Build lots of backlinks
When you post about your website on forums and social networks, make sure to always include a link. This creates a "backlink" from that website to yours. The more of these you have, the better. Backlinks signal to search engines that your website is often recommended, and so the ranking of your site will improve.
The best movie-related SEO
You need to focus a large amount of your promotional activities on SEO. This will ensure your website shows up higher in the results in people's searches, giving you better visibility. If you wanted to stream a movie, would you go all the way to the tenth page with results to pick a website? No? Well, here are some tips to improve your SEO and push your website closer to the coveted front page.
Early indexication
You must get search engines on your side. One great way to do this is to create web pages about upcoming movies before they are released. This will give you a headstart compared to other sites, as those pages will be indexed before everyone else's and will rank higher in search results. Use those pages to link back to your site as the place where people can watch the movie.
Take Avatar 2 as an example. The movie was released in 2022, but if you search for "watch Avatar 2 online free," you'll notice streaming websites have already had pages for it in 2020.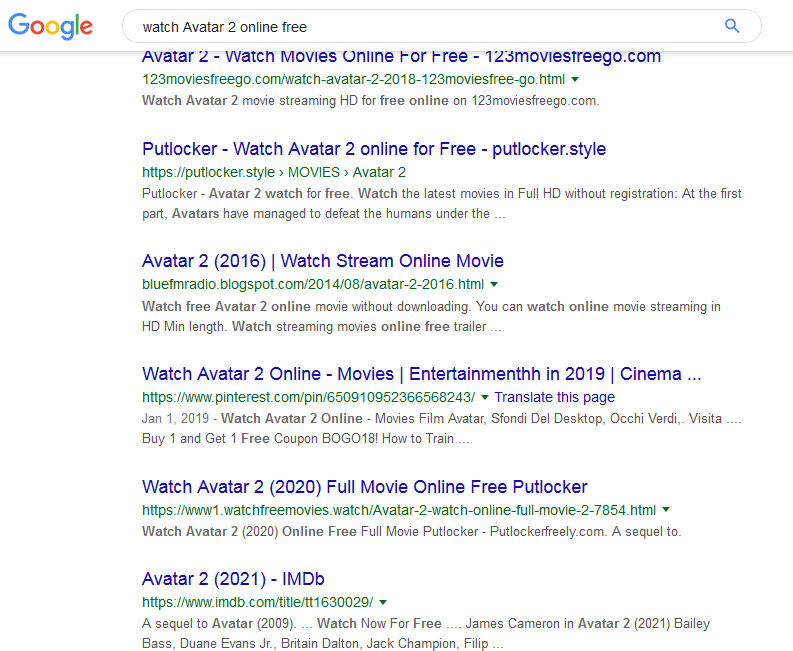 These are fully-fledged pages on their sites that contain everything, except for the actual movie.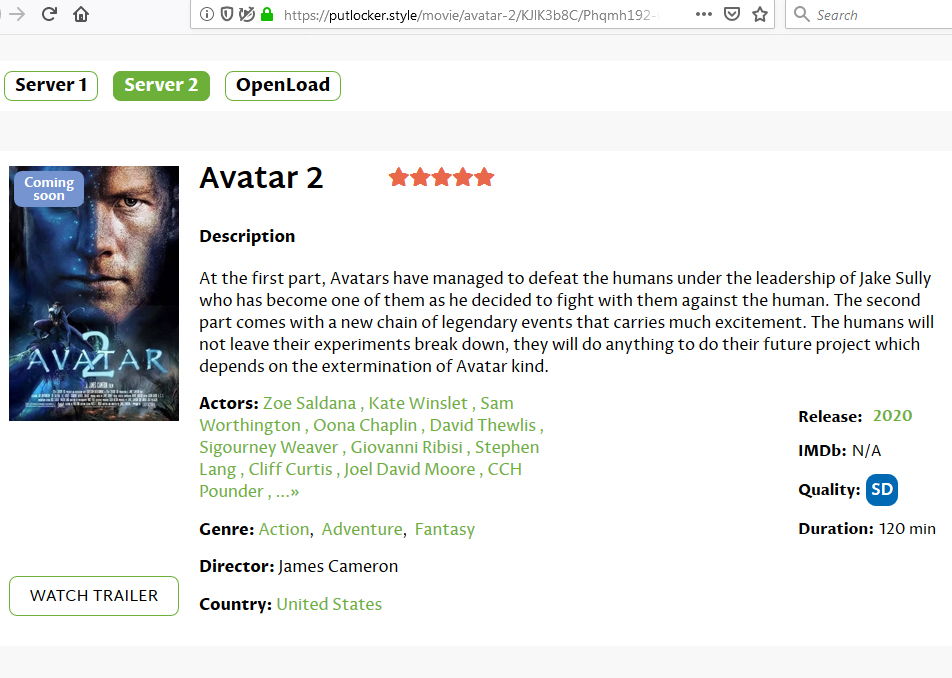 Name your pages properly
When you create similar pages for your website, make sure to name them correctly. The name of the movie is not enough – include other keywords such as "free," "online" and "HD" in the titles too.
In the above example with Avatar 2, notice that Putlocker's page is named "Watch Avatar 2 online for Free," while a competitor website has named theirs "Watch Avatar 2 (2020) Full Movie Online Free Putlocker." Putlocker's competitor even used their name as a keyword in order to show up in searches where people are looking for Putlocker's website.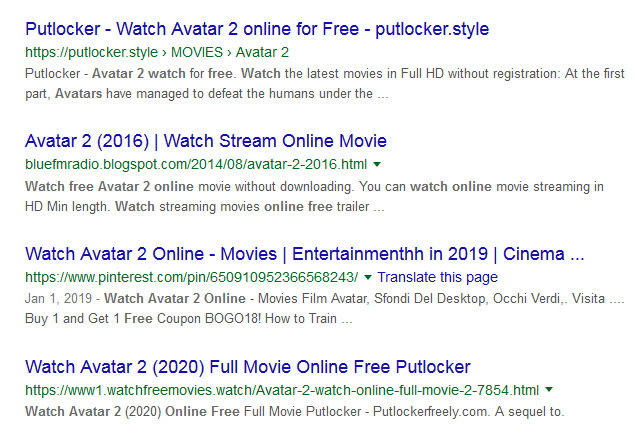 There is obviously a lot of common ground between these titles. They all include the name of the movie and an assortment of keywords such as "free" and "online." However, the sequence is different and unique in each case. This results in a better SEO for those pages, since Google doesn't appreciate copycats.
Create lists
Another useful tip is to create lists. You can put up thematic lists ("10 Best Zombie Movies of All Time," "13 Spooky Horrors for Halloween") on other websites. Include links to those movies on your site, so people can watch them there. Lists are a great way to reiterate keywords, so they can get decent rankings in search engines.
You can also find blogs and other movie-themed websites and see if they can promote your website, creating even more backlinks.
Do your own SEO
You can use Google AdWords to see how popular keywords are in terms of searches per month. You can come up with relevant keywords such as "free online movies" or "films for free online HD" and see how often people search for them. You can then pick the more popular ones as a guide to future content you need to create. You can integrate the keywords into new pages with those titles, lists, posts, and so on.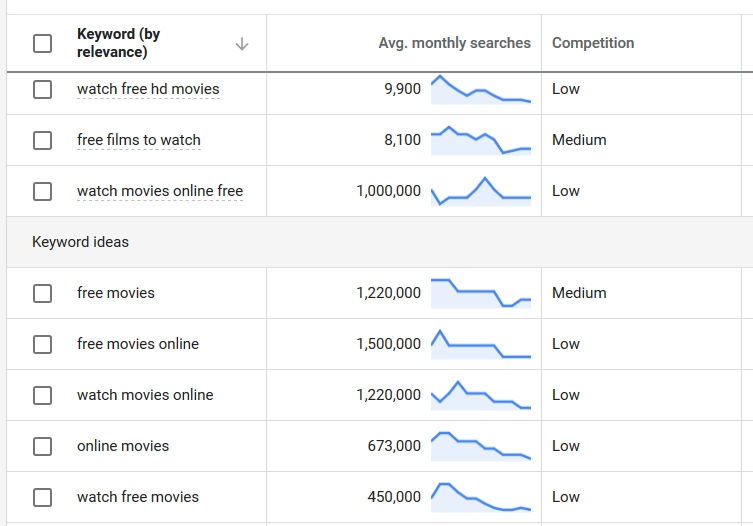 Automize your movie website
Your job as a movie streaming website owner doesn't end with launching the site. Even if your site seems complete and advertising is going well, you have to think about the future.
90% of what people go online to see are the newest releases. That's why you need to hire staff to keep adding new movies to your catalogue as they come out. Your library needs to constantly evolve and expand if you want to stay relevant.
Additionally, you need site admins to check for broken links and replace them quickly. The sites you embed videos from sometimes close down or change domains, which affects your links. Your best hope to do better than the competition is to be more reliable than they are. If people are happy with your service, they will keep coming back for more (and invite their friends, too).
This was a complete guide on how to start a movie website in 2019. If you have any questions, leave a comment and we'll address it!