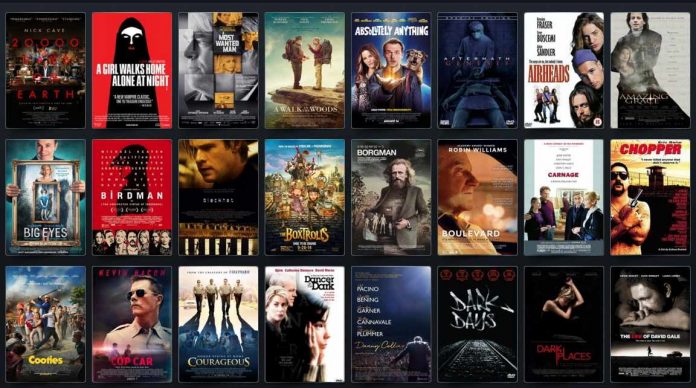 Creating a movie streaming website can be an excellent way to earn some extra income. However, if you're not sure it's the right investment for you, you should start out with a free bootstrap movie template. These templates are free of charge and perfectly suitable to start your own streaming site. 
In case you don't know how to make a streaming site, you should absolutely check out this article on how to create a movie website. You will get some detailed instructions on setting up your site and the necessary steps you would have to take. 
In this article, you will get familiar with some free bootstrap movie templates that are a great choice for making your own movie streaming site. However, before that, let's give a short definition of bootstrap. 
What Is Bootstrap?
Bootstrap is an HTML5 and CSS3 framework that was developed by Twitter. It's used to create responsive websites and web applications. They usually come with HTML, CSS, and Javascript already built-in, so all that's left for you is to customize the layout to your liking. Nevertheless, you will need some basic understanding of HTML and CSS to do so.
Why Use Offshore Hosting?
While it will be possible for you to reduce your initial investment with a free bootstrap movie template, you will still need to find and use a paid offshore hosting provider. That will ensure your site won't be taken down by a DMCA notice while providing some extra security. Thankfully, you can find a variety of offshore hosting companies online.
Despite that, you should still ensure you do some research before committing to any provider. You must make the right choice with a hosting company because it will be the lifeline of your streaming site. If you happen to run into any issues, you should be able to rely on the offshore hosting service you have chosen to support you. 
In case you don't want to spend hours or even days researching, you should try out AbeloHost. It is a superb offshore hosting provider with affordable pricing and reliable support. They will help you get started and provide some tips for your streaming website.
Benefits of a Free Bootstrap Movie Template
There are many reasons for you to opt for a free bootstrap movie template instead of a paid one. Let's take a closer look at the benefits of using one. 
It's Free
The most obvious benefit is that it's free. Paid bootstrap movie templates can cost anywhere between ten to a few hundred dollars. When you're not sure if that is the right side hustle for you, you should absolutely pick a free one to test out the market demand and better understand the nuances of operating a movie streaming site. 
Development Speed
Furthermore, Bootstrap templates usually come with an already built design and functionalities. It's a perfect solution for you, especially if you're still uncertain whether you should commit. That is because you don't have to start coding from scratch — simply customize the pre-built pages to suit your tastes before the site becomes available online. 
Responsive Design
Mobile devices are increasingly being used to access the internet. Since 2011, the average media consumption for mobile users has gone up by 504%, accounting for nearly 25% across all device types. These trends are likely to continue, which is why you should make sure your website is accessible from all devices. 
Consistency 
Additionally, the bootstrap framework remains consistent across the major internet browsers like Chrome, Mozilla, Safari, and others. You will not have to worry about showing different styles of pages for each browser. 
Support
Bootstrap has a large community of web developers and webmasters that can support you if you run into any issues. There are a large number of threads and discussions related to the framework on sites like Stack Overflow, GitHub, and Reddit. Also, it's not uncommon to rely on the developers that created the bootstrap template; however, that is most often applicable for paid ones. 
Customization
A free bootstrap movie template will have the same level of customization as a paid one. Meaning, you can personalize every aspect of the template without limitation. You can add or remove pages, buttons, tables, components, and more as you wish. However, make sure you have a backup before changing anything. 
The 5 Best Free Bootstrap Movie Templates
One Movies by W3 Layouts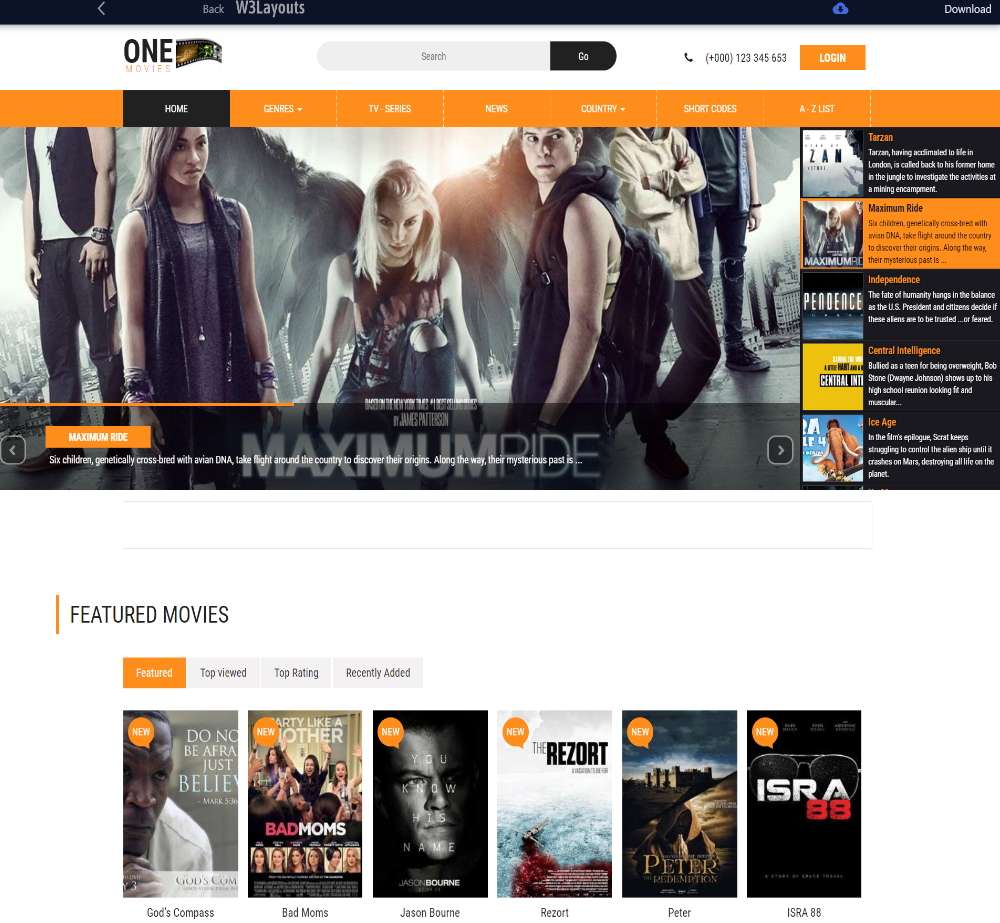 One Movies is a wonderful free bootstrap movie template that can be used for multiple film-related websites. You can create a movie streaming, reviewing, or blogging site. The model offers a wide banner to give visitors a cinematic feeling as well as provide them with quick access to categories and movie details. You can also choose different types of ways to present your content to visitors. 
Furthermore, your users could have access to a dedicated tab for a news page. Movie lovers can sometimes be fanatical about their favorite actors, directors, and franchises; the more gossip you can give them, the more likely they are to return. 
Some additional features include a tabbed navigation menu for easy access to different parts of your streaming website. Then, you can also make use of the fantastic image sliders to present popular movies and new additions to your collection. Furthermore, you can utilize the reusable widgets to add more value to your site by recommending similar movies your audience might like
Movies Pro by W3 Layouts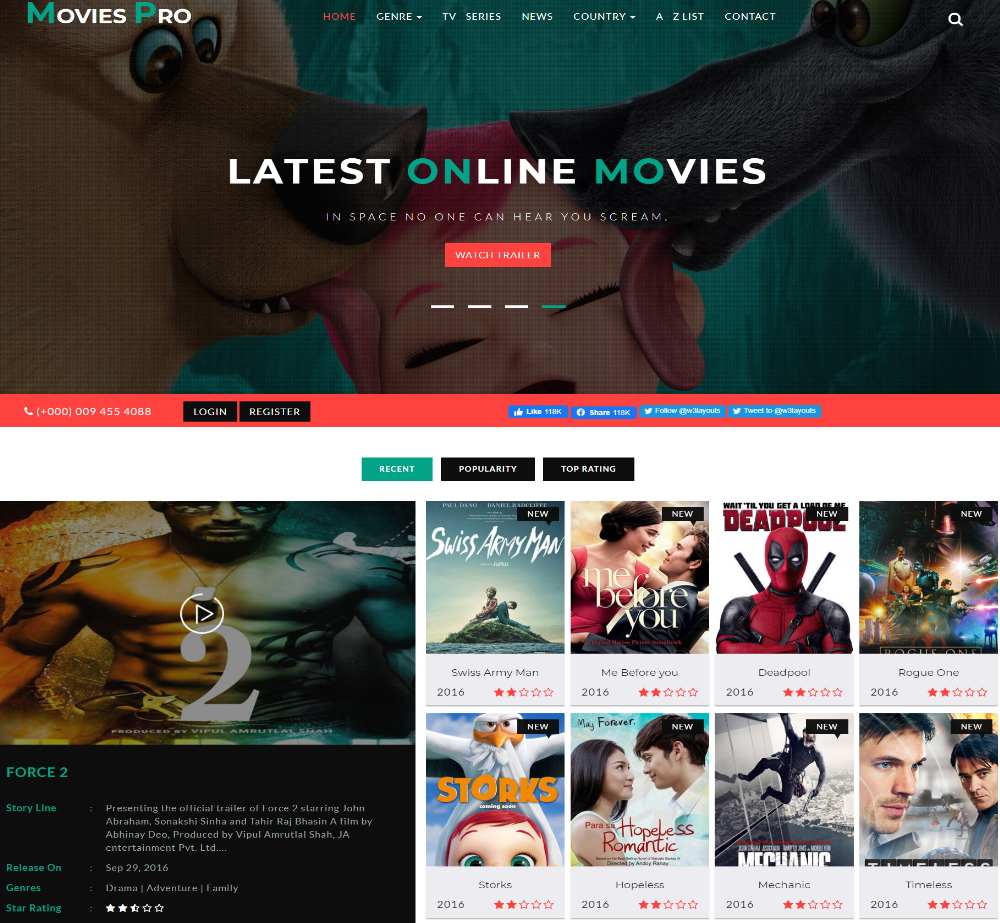 Movies Pro is also an excellent free bootstrap movie template. It's a smart choice because it has an attractive design and is easy to use. The template includes a zooming slider on the homepage with some eye-catching hover effects. Actually, you can use it to create a variety of movie-related websites without any issues. 
Additionally, your visitors can make use of the search module to quickly find the movies they want to watch. Users can also make requests for films to increase your content library and attract even more people to your movie streaming site. 
As the name suggests, it is a highly professional theme that has the potential to attract a high number of guests to your site. Then, if your movie selection and ease of use are up to par, there's no reason for your website not to become a profitable venture.
Movie Store by W3 Layouts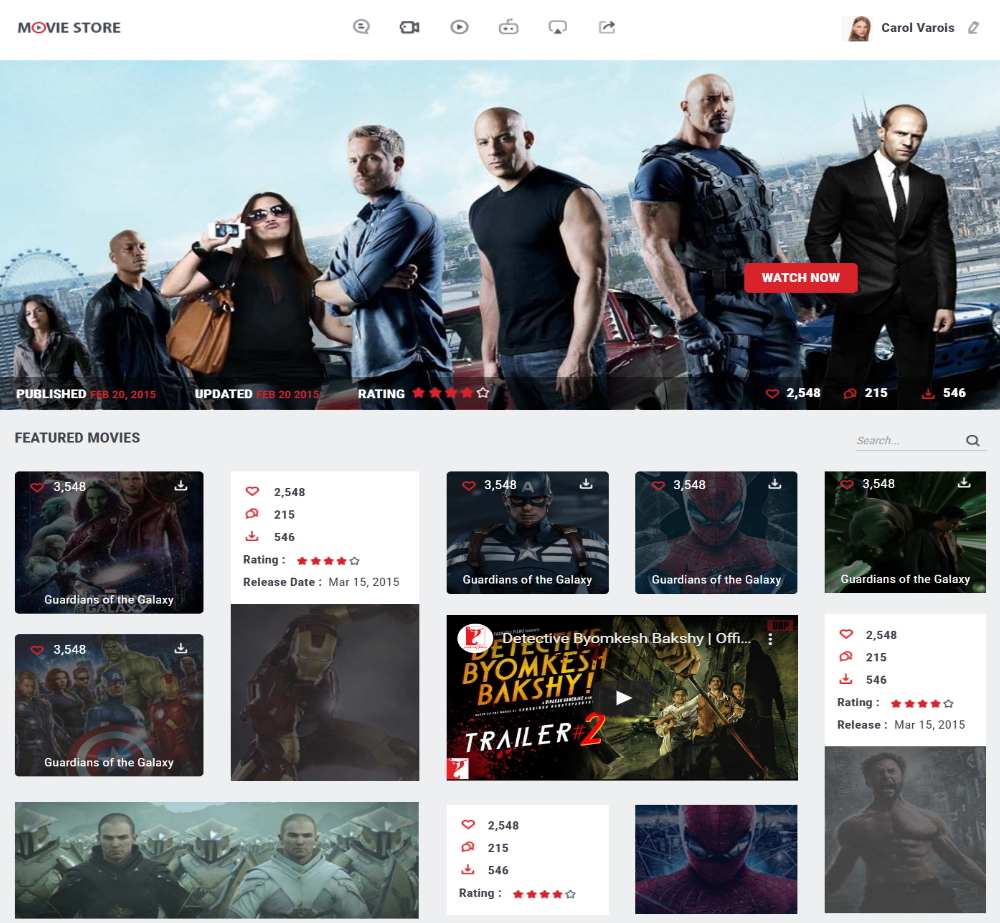 Movie Store is a clean, free bootstrap movie template; it's built in a simple style with a modern-looking design. You can use it to create a fantastic movie streaming website as well as a video portal like YouTube or Vimeo. 
Unlike the previous templates, it's pretty bland when it comes to features. However, it has only the most basic functions you need to create a movie-related website, irrelevant whether for streaming, reviewing, or blogging. Movie Store will be the right choice for you if you want to practice coding in more features by yourself. 
Movies Store by W3 Layouts
Movies Store is another useful free bootstrap movie template you could use for your streaming site. While the name is similar to the previous template, it's, in fact, a completely different story. Movies Store is best used for a pay-per-view type streaming services as it has the needed functionality already integrated. 
Furthermore, the template has a cart functionality for users to buy multiple films. Additionally, you can use the categories widget and search module to make navigation easier for your visitors. 
Of course, if you don't want a pay-per-view model, you can make the necessary changes yourself. After all, bootstrap is famed for its customization. 
Cinema by W3 Layouts
Cinema is the final free bootstrap movie template on this list. It has a web app design with a left-hand navigation bar. In truth, it's better suited for movie theater sites due to its ticket booking functionality. However, it won't be complicated to make some adjustments and transform it into a bona fide movie streaming site. 
The template comes with image sliders and multiple types of pre-built pages. The search module will make it easier for users to find the movie they want to watch. However, you will have to make a categories page by yourself. Despite that, users can leave reviews, like, and share their favorite films with their loved ones
Conclusion
Now you know where to find some great free bootstrap movie templates to make your own movie streaming website. All that's left for you to do is pick the one you think best suits your needs. Don't forget; you will need an offshore hosting provider and a domain name.
All of the above-listed bootstrap themes can help you make a fantastic streaming site. However, you should weigh each of their pros and cons before you begin building. If a theme doesn't have the features you require, then you will have to start over again, losing time and possibly money. 
Nevertheless, the ones with more functionality could make your life much more comfortable. Still, if you prefer to add the extra features yourself, you should pick among the ones that offer less.
Anyway, if you're still not sure if you should even use bootstrap, you should check out this great article on the 50 best movie templates in 2023. There, you will find plenty of other templates and themes that use WordPress, PHP scripts, HTML scripts, or other content management systems.