Nowadays, you can choose many different methods to earn extra income online. In this article, you will learn how to create a video website from scratch with little to no coding knowledge. However, before we continue, we should first clarify a few things. Namely, what is a video streaming website exactly, and how does it work?
Video Streaming Site: What It Is and How It Works
A video streaming website's purpose is to show on-demand live or prerecorded videos. That means you can watch whatever you want whenever you want, without consideration of TV or movie showtimes. 
But how does such a site work? Well, firstly, from a technical perspective, all videos are stored on a server. Then, a codec breaks them down into smaller pieces and compresses them.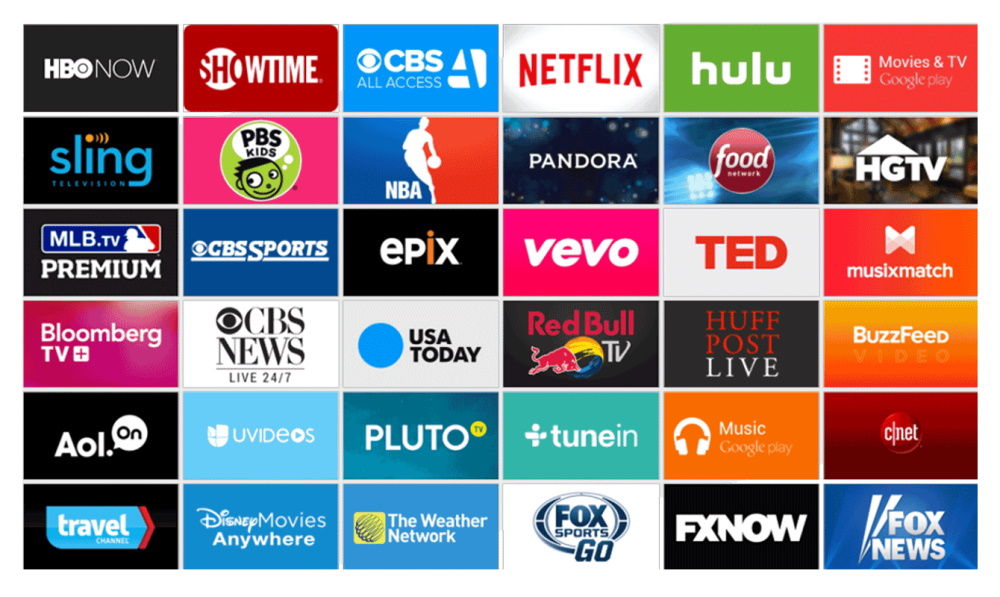 Afterward, the pieces get transported via a container format, also called a distribution protocol. Finally, the parts are momentarily reassembled and played for the person that requested to watch the video on their device. 
A more simplified explanation would be the following. Imagine buying something from Amazon. They will store the product until someone requests it (server). Then, they will package it for transportation (codec).
After that, the product will be sent via a delivery company (container format) to your home. Finally, you will get your purchase delivered directly to your front door (device). 
Now that you know the basics behind video streaming sites, it's time to find out why you should even make one. Let's look at some statistics!
Why Create a Video Website?
Obviously, the primary reason would be to earn money. Hopefully, you will create a video website that will become big enough to support you. Eventually, it might even allow you to quit your day job. 
And if you're wondering why you can earn so much money from a video streaming website, the answer is simple. It is no secret that people are more engaged with video content — 83% of users would share videos that are related to their interests with their friends. Furthermore, studies have found that people spend 88% more time on websites that offer videos compared to the ones that don't. 
Roughly 72% of consumers prefer learning about a product or service through a video. From the same source, Cisco predicts that by 2021, video content will make up about 82% of all internet traffic.
The rise of VR technology will only fuel further growth in the coming years, as people start looking for a VR experience on platforms like Netflix.
Moreover, if you are an active YouTuber, you will have the opportunity to earn much more if you create a video website. In fact, 96.5% of YouTubers are below the poverty line, regardless if they are successful or not. However, your own website will allow you to create more income streams to better support yourself. 
Overall, these are some pretty telling statistics, and they should give you a glimpse of what a video streaming site can do for you. Now that you're familiar with the reasons to create a video website, let's take a look at the benefits it provides.
The Benefits of Starting a Video Website
Instant Video Playback
Long gone are the days when you had to download a video to watch it. Now, all you have to do is click the play button and enjoy. You can also freely rewind or fast-forward, with little to no wait times. 
No Storage Space Required
If you want to play a large video file, you don't need to have available storage on your device, and neither do the people that visit the website.
Accessible Anywhere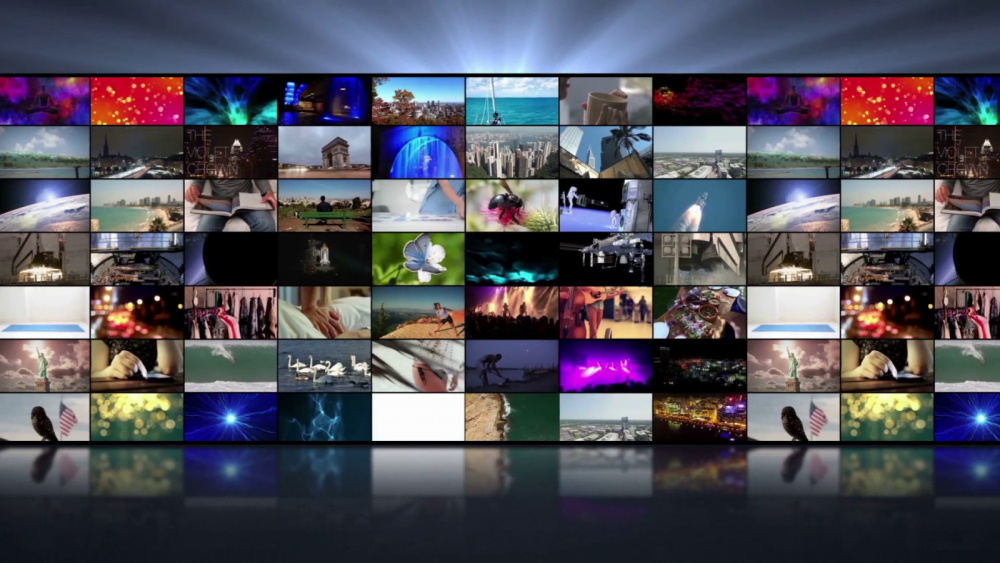 Naturally, you only need internet access to enjoy the content of a streaming website. Other than that,  it doesn't really matter where or when you want to watch a video. 
Always in Control
You can freely view as much content as you want. Depending on the service, there are no ads to disturb you in the middle of a viewing session. You can pause and play whenever you wish to.
Variety
You are free to choose what to watch. You can enjoy professional videos like movies, TV series, and concerts, without ever needing to leave your home. Alternatively, you can also watch some user-generated content for some novelty laughs or informative programs.
Finally, you can even tune in to some live streams, where you can experience an event while it's taking place. The possibilities are limitless! 
Sounds good, right? These are just the benefits of your run-of-the-mill video streaming websites. If you use your imagination, it's possible to provide even more for both yourself and your potential users. 
Now, let's see what features you should aim to have before we go through the steps to create a video website. Keep in mind — this list is not exclusive.
Video Streaming Website Features
Mandatory Features
A video streaming site must have an attractive homepage that will leave a great first impression. That way, users will know right away what they can find on your website and what to expect from it. To achieve this, you should highlight your most popular and recent videos there.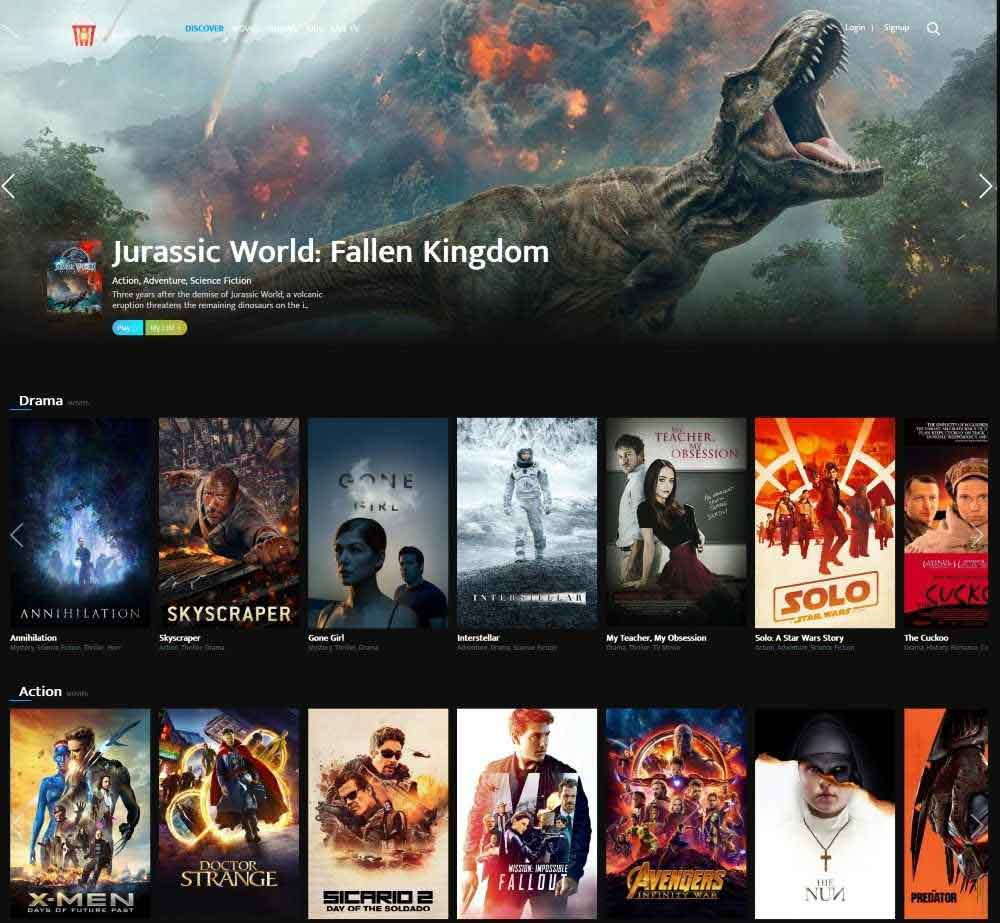 Then, you need to make sure your site is easy to navigate. That is essential when trying to attract new visitors. If people can't find their way around your site, you are likely to lose them from the outset. Thus, you must create a category page, a search bar, and a navigation bar with different thematic sections for optimal user experience.
It's also critical that people can create their own accounts. That way, they can interact with both you and each other. That will also boost user engagement, which is something you should aim for. Plus, the comment section itself could become a treasure trove of content. However, that will require moderators to clean out the trolls and low-effort comments. 
You should make the registration and login process as straightforward as possible — ideally, registering using an email or a social media account should be the way to go. 
Your users will appreciate the extra flexibility.
Then, you should also look to implement two-factor authentication for added security, although you might want to skip this feature in the beginning. 
Finally, you should enable users to personalize their accounts. By giving them such freedom, you will drastically improve user experience.
For example, changing their avatar and personal info should be the minimum. Then, you could let people change the background on their profile page, add images, make videos public or private, etc. 
Overall, they will be more satisfied if they have more control over the way they can interact with your site. 
Features Catering to Consumers
As mentioned above, it's essential to have a search bar for your video streaming site. It will allow your users to find the content they want to watch swiftly. Furthermore, as the website grows, you should add more advanced search options.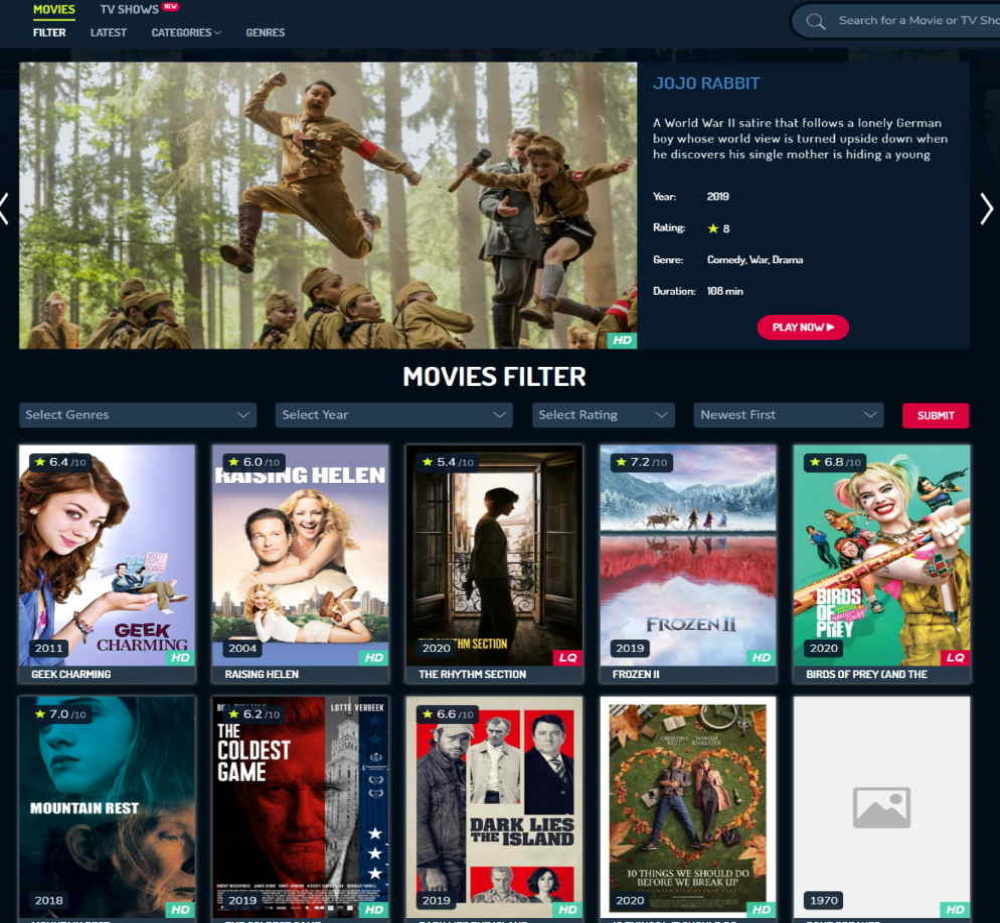 For example, you could add filters by general topic, date, location, genre, language, length of the video, or view count. The recommended search filters will differ between types of streaming sites. Think about the ones that would be appropriate for yours and aim to implement them eventually. 
Moreover, a video library is an excellent quality of life addition to anyone that uses video streaming websites. It enables users to collect their favorite videos, make custom playlists, and even rediscover old content they might have forgotten about. 
On top of that, easy commenting and direct message features are crucial if you want to increase the number of interactions between people on your site. Although, you might want to be careful not to make a comment section similar to YouTube's.
Subscriptions and pay-per-view functionality can also be extremely useful. However, make sure they're appropriate for your type of website before implementing them. 
Naturally, if you accept payments, you should make sure the whole process is fast and straightforward. The smoother it is, the more people will be willing to go through it. Plus, you should allow for different payment types. PayPal and credit and debit cards are some of the most common ones. 
WooCommerce is a fantastic eCommerce plugin if you're using WordPress. Cryptocurrency payments might also be beneficial to add, depending on your primary user base. Also, by doing so, you will score bonus points with the privacy-conscious people.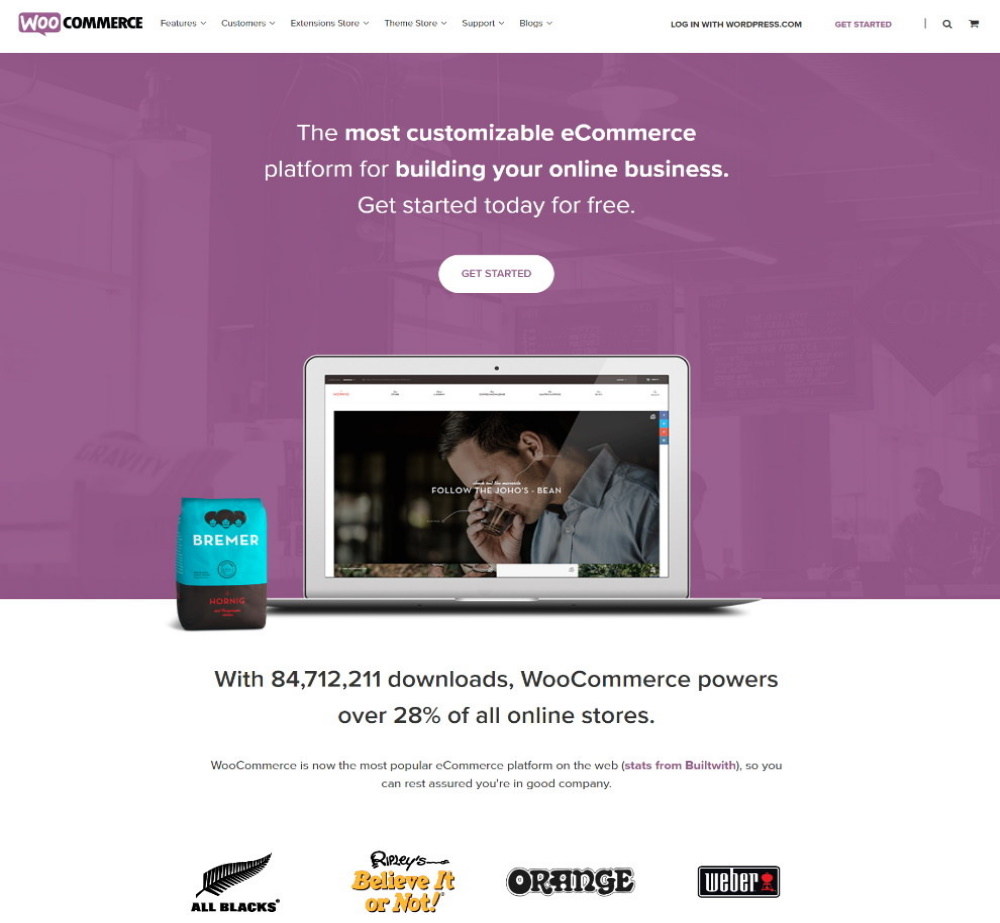 Features Catering to Content Creators
Creators have a different set of needs than consumers. For example, they require features that would make it easy to upload videos from various device types. Specifically, they might want to upload from a desktop or mobile device, even directly from a screen recording or a live video. Plus, pre-upload processing is also vital for a final review before posting the video. 
Furthermore, a creative studio will allow content creators to manage their channels and videos better. Overall, it's a handy feature to have that will definitely please content creators on your site. Naturally, you should include video and channel analytics as well. 
Additionally, the ability to make screen recordings in real-time might make sense to add when you create a video website. That is especially true if you plan to make a site similar to Twitch or Mixer.
In order to motivate your video creators, you might want to implement a tipping system. Users that like someone's videos will be able to tip the creators directly. You can also use this feature to generate revenue for yourself by taking a percentage of the tip's total amount. 
The ability to import from other video platforms, mainly YouTube and Vimeo, will be beneficial for already established content creators. That will simplify the process of moving all their existing work to your own platform. Thus, creators will be more likely to come to your website and take their followers along with them. 
Don't Forget to Scale
As your video streaming website grows, it might be a good idea to get some admins and moderators. These roles will not only increase your site's credibility but also add another layer of control.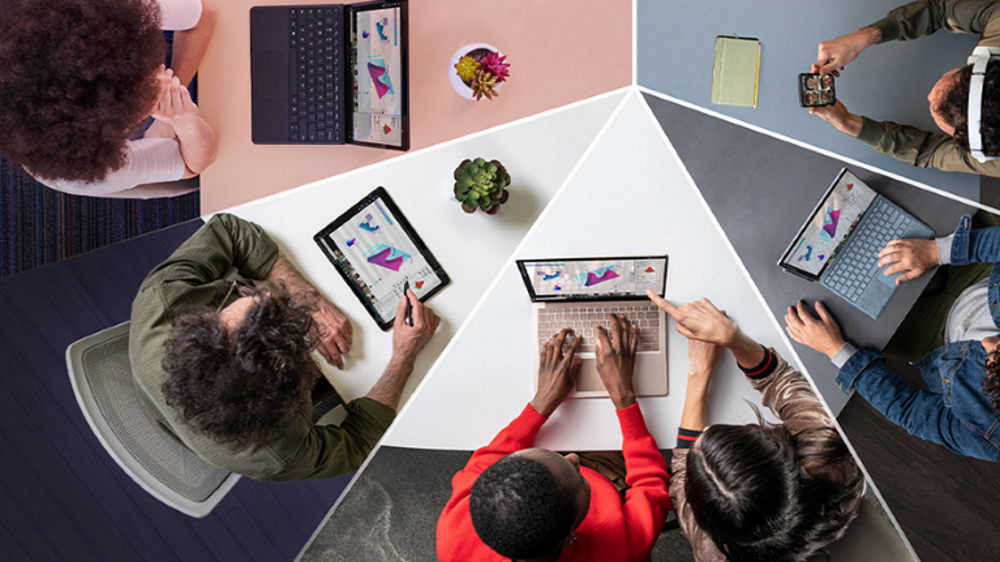 They will allow you to better moderate content, manage payments, and monitor the quality of your services. Although, it's better to add these roles when the volume of your user base warrants it. Otherwise, you'll only end up wasting your resources. 
Now that you're familiar with the essential features you ought to implement when you create a video website, let's go through the actual steps of making it. 
Plan Your Site
Pick a Niche
The first thing you need to do is to pick a niche. What will be the primary topic of the videos on your site? It can be anything like:
Movies and TV Series

Gaming

Anime

Concerts

Sports

Game shows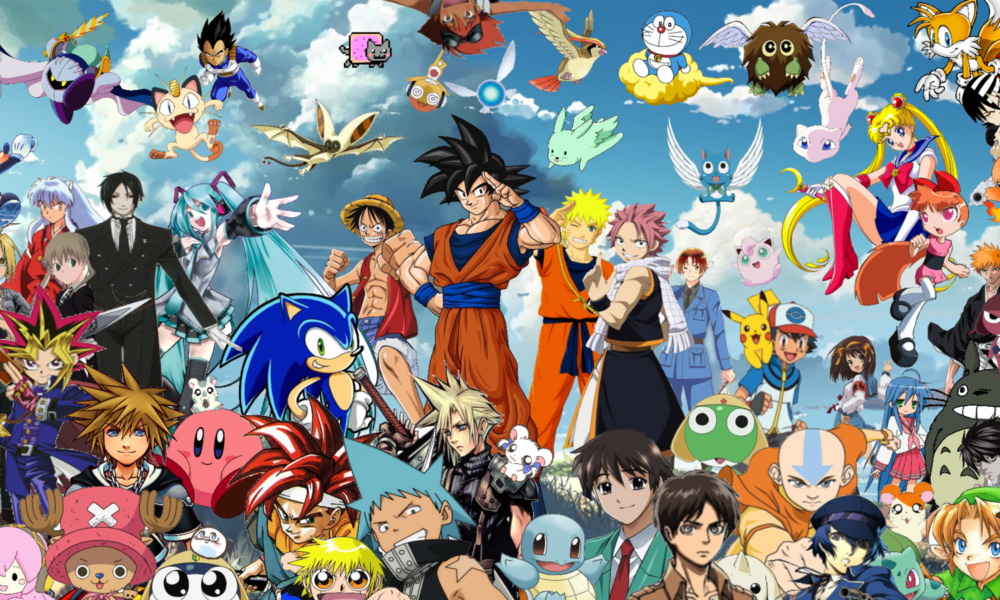 To create a video website that's successful, it must be focused on a specific topic at first so it can gather a small community of users. Cater to their needs, so they return and bring their friends with them. As you grow your user base, expand according to the community's desires and your own goals. 
Amazon used this strategy as well. The company started as a small online book shop. As it grew, it became the largest online retailer. With a bit of luck and a lot of hard work, you also have a chance. 
Think of Your Content
After you pick a niche, give the type of content you want to have some thought. Simply answer these questions:
Are you going to make videos yourself?

How are you going to make them?

How often will you upload?

Can others add videos?
Then, identify with the users you want to attract:
What makes your site unique? 

How will you attract and retain users?

How are you going to motivate them to share your content with their friends?
You need to create a video website that's unique and easy to use. That will boost your brand as well as your credibility. If you don't know how, then find similar sites and study them. However, don't copy everything they have to offer. Simply find something users value a lot and do it better. 
Define Your Website Type
It might seem like a good idea to create a video website that's an all-in-one solution; however, that's often not the case. If you do so, you will spread yourself too thin and miss out on the niches that actually have high growth potential.
Plus, the competition for all-in-one video sites is pretty stiff, and it can be hard to earn money from them at first. 
Thus, you have three choices with which to create a video website. You can choose between:
Video-sharing platforms like YouTube and Vimeo

Movies, TV series, and TV show site like Netflix, Hulu, and Amazon Prime

Live streaming like Twitch, Ustream, and Bambuser
Video-Sharing Platform
A video-sharing platform is a great way to attract other content creators. If your website has all (or most) of the features they need, there's no reason for people not to at least try what you have to offer.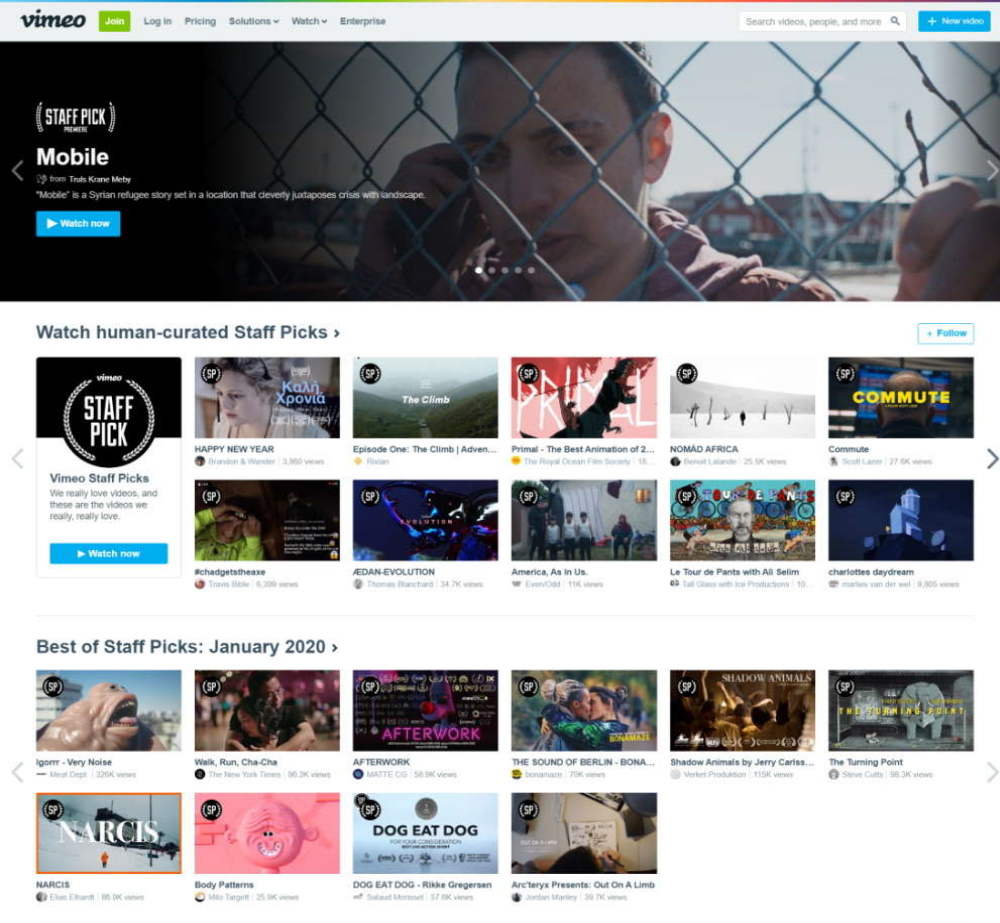 However, keep in mind that the number of content creators you attract will be highly dependent on the amount of recurring traffic you have. You can't expect to pull in big names like PewDiePie if your monthly traffic is below 1,000 users. 
Still, most of the time, you won't even need to attract super popular content creators. In fact, smaller ones with dedicated fan bases will be good enough. You will also have an exceptionally high chance to pull someone like that if YouTube (or another video-sharing platform) is abusing their content. 
Movies, TV Series, and TV Shows
Movies and TV shows are a bit tricky. To successfully create a video website like that without any legal risk, you must spend thousands of dollars to get a license to stream such content on your website. That is simply not viable for most people.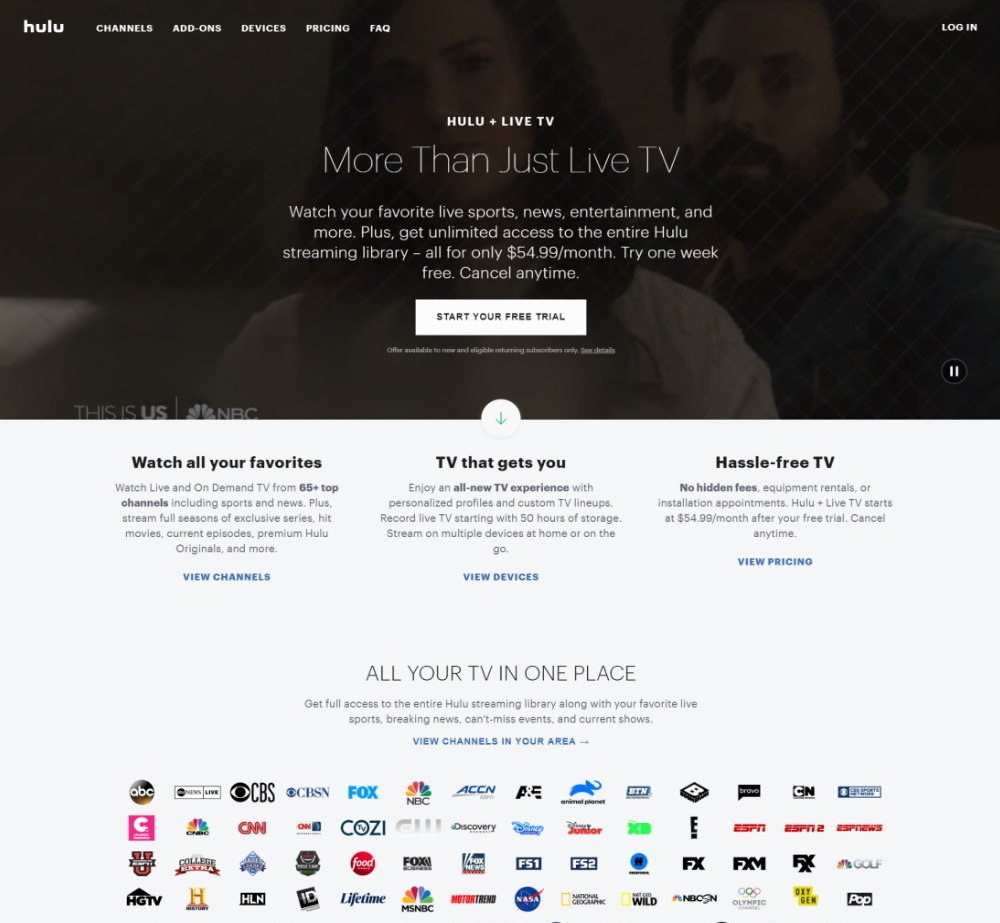 Also, you will need a content library that can compete with the major players to justify your pricing. Of course, you could try to stock up on some niche movies and TV shows, but that would still require a hefty budget. 
Therefore, if you really want to create a video website for movies, you have to take some risk. Not to worry — there is a way you can reduce the odds of getting into legal trouble. We will address this in more detail a bit later. 
Live Streaming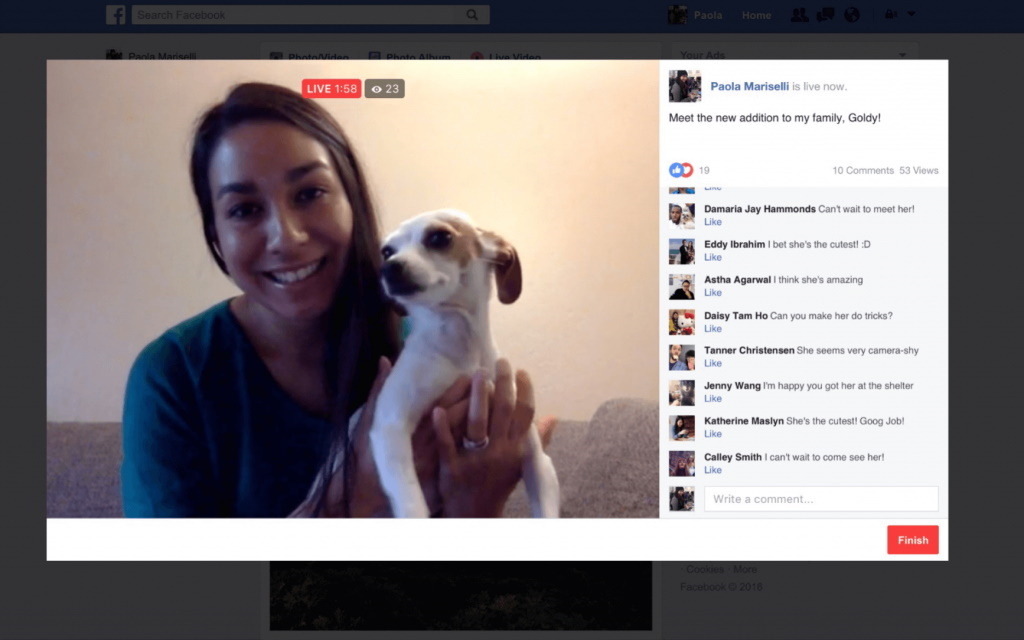 Finally, you can opt for live streaming. This type of content is popular and has high growth potential. Twitch is one of the most successful players in this sector, and you can learn from its experience. 
You can create a video website that streams video games, but the market is already saturated. Most people will have a hard time making a copy of Twitch's business model. Therefore, you have to find another niche.
The good thing about live streaming is that you can do it for any type of event. You can make a streaming website about sports, beauty pageants, conferences, concerts, conventions, and the list goes on. 
Each niche will require a unique touch, so make sure to study your direct competitors before you create a video website. That will help you find out the primary features it will need. Then, figure out how to give more value to people using your site. 
Is it going to be faster than others? Will it have a better design? Will it provide more features? It all depends on the niche and the people you want to attract. 
To get the most of a live streaming website, users need to interact with each other while watching. Then, make sure your site is optimized for multiple device types so that both the streamers and viewers can use their phones, computers, tablets, etc. 
In addition, you should also provide recordings of old events so people will stay longer on your site. You could bundle previous streams into playlists and offer them for a premium price. It doesn't have to be expensive as well. 
You will be surprised by how many people value convenience. Even a price tag of $0.99 can be pretty effective. 
Find a Video Player
Most of the time, video-specialized themes will come with their own video players. Thus, you won't need to look for one. However, does the built-in player have all the features you need? If not, you might want to look for another one.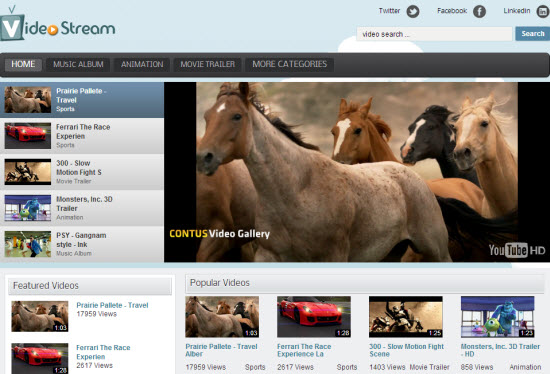 Before you start your search, you should know what to search for in a video player. You will need the right balance of flexibility and features that allow you to enhance your users' viewing experience.
Thus, you should look for:
Supported video formats — the more, the better

Customizable skins — to match your current theme

SEO optimization — to get videos indexed by search engines

Social sharing — for users to share with their friends

Video host API connection — to automatically update playlists

Superb video quality and play speed

Subtitle options

Offline player
There are a lot of free and premium WordPress video player plugins you can use to create a video website. So think of the features you absolutely need to have. Then, choose based on that. Also, don't clutter your videos with too many buttons; it will only distract the viewers. 
That's great and all but how to make a video streaming website? Read on to go through the steps you need to take.
Build Your Site
Choose a Domain

The domain name of your streaming website needs to be relevant, simple, and memorable. You should choose a name that will resonate with your target audience and clearly convey the purpose and content of your website. 
In case you're curious if the name you want is taken, most hosting providers will have a feature to check availability. Additionally, you can use Name.com's tool to check it yourself and even estimate cost. However, keep in mind that different providers will offer varying pricing for the same domain. 
Most of the time, that disparity in the fees is because:
There's a sale

Domains aren't the primary product — the domain itself is extremely cheap; however, adding hosting, privacy, customer services, email, etc., make the whole purchase quite expensive;

Additional services included — always check out what's included with the domain name purchase; it might be that there are added services you don't want or need.
Pick a Hosting Provider
A reliable hosting provider is crucial for anyone looking to create a video website. You will need a package with high bandwidth that can handle video streaming and offer a flawless experience. 
Reliable storage is also vital for playing videos without a hitch. On top of that, excellent connectivity and latency will maximize your website's uptime. Even a single case of your website going down can seriously harm your reputation.
All in all, there are numerous hosting providers out there, but it can get hard to choose one. To create a video streaming website, we advise you to select an offshore hosting provider. It will provide not only better security but also protection against copyright violations if you decide to use illegal streaming sites to generate content.

It is no secret that if you want to create a video website, you might receive DMCA complaints. That's something you should expect to happen at some point unless you buy the license rights. Well, an offshore host will help you avoid such problems and safeguard your privacy. It will protect your site from being taken down, or at least make it harder to do. 
Keep in mind; it can take a long time to choose the right hosting provider. You could even switch a couple of them before finding the perfect one. We suggest you use this list to select among the best ones. Each of these picks will have its pros and cons, so choose wisely.
But if you would rather skip the lengthy reading process, we advise you go straight for AbeloHost. It's a superb offshore host located in the Netherlands. They will hold your hand through the setup process and take care of the technical details. All you have to do is tell them what you want, and AbeloHost will set you up with the right plan. 
Get WordPress
WordPress is one of the most popular content management systems today. In fact, more than a third of all websites use it. Anyone can use WordPress to create a video website, which is part of the reason it's so widely used.
You don't need any coding skills — simply use the drag-and-drop feature of the builder. It's surprisingly simple to learn how to make a streaming website.
However, you should know that there is a difference between WordPress' .com and .org domains. The .com one is for-profit and offers both a CMS and hosting solution. However, the .org domain is self-hosted, meaning you get the software but have to find a hosting provider on your own. 
In your case, you should opt for wordpress.org because it offers much more flexibility, and it's free. Plus, as mentioned above, offshore hosting is crucial to create a video streaming website.
Additionally, the large number of available plugins and themes will make it so much easier for you to create and manage your website. Different themes that are available will change the way your site looks, while plugins will add more functionality to it. 
Finally, there exists a vast and active community that could help you if you run into any issues. Honestly, if you encounter any problems, the help you can find online will prove invaluable. You can use WordPress' own forums, Stack Exchange, and Reddit.
Find a Theme
The next step is to find and buy a video streaming theme. Ready-made themes are a sound choice because they already have all the necessary features. Also, they are a quick solution and cost much less than what you would need to create a video website from scratch.
Your niche will also affect the amount of choice you have when it comes to available themes. All in all, you can choose between a free and a premium video streaming website template. 
The free ones are highly limited in functionality, but if you like do-it-yourself projects, they might be worth it to you. And hey, they're free! You won't lose much if you decide to do something else halfway through. 
Below, you can find examples of theme requirements for a couple of niches and where to find them. 
Movies and TV Shows
If you are wondering how to make a streaming site for movies, TV shows, game shows, and concerts, there are numerous existing themes you can use. 
In case you can't find one you like, check out this list of WordPress movie streaming themes. Use them to create a video website for movies with ease.
You can also check out a detailed step-by-step guide on how to set up your movie theme in WordPress.
In addition, you can use a clone theme to create a video website for movies. Clone themes are exact replicas of a popular website's design. They are especially beginner-friendly because they come with everything out of the box. 
All the features you would need to build a video streaming website are already there. You just have to personalize it and give it a unique look and feel. Netflix clone theme is a popular choice merely because of its success and familiar design.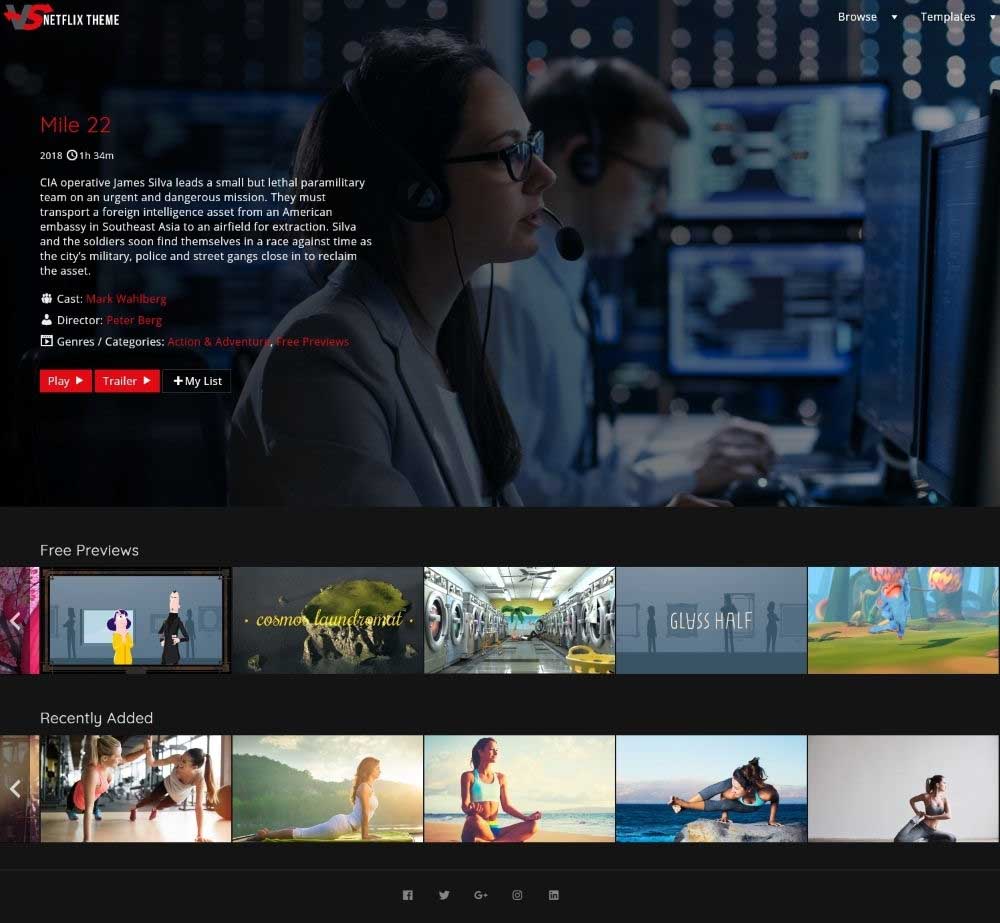 Plus, it's not that hard to find one. Still, it can be a challenge to decide on the best theme for your case. You need to think about the features you need and the navigability of the layout. Check out this curated list of the best Netflix clone themes for WordPress
Anime
It's harder to find anime streaming templates in WordPress. Therefore, it's better to repurpose existing ones. Honestly, you can use any of the above-mentioned themes. It's entirely up to you. 
However, if you're willing to ditch WordPress, you can use anime streaming scripts instead. They come with both the front-end and back-end sorted. Meaning, a PHP script comes with its own content management system (CMS), pre-built web pages, and features designed specifically for anime websites. 
Some of them can even automatically add new anime, instead of you having to do it manually. All you'd need to do is customize. 
Keep in mind; some scripts might require you to have coding knowledge. Thus, make sure you can work with the script before buying one.
Last but not least, support might also be necessary. If you're a beginner, you should find a theme or script that comes with dedicated support. Otherwise, you will likely experience a lot of frustration when an issue pops up. 
Video Sharing Platform
If you want to make a video sharing platform where everyone can upload their own videos, you should  use a script instead of WordPress. The website will be much faster and will have all the features you might need. 
Still, it can be a chore to find a suitable one. So if you're having a hard time finding one, see this list of the best video streaming scripts and templates. 
Additionally, you can take advantage of existing YouTube clone scripts as well. Much like other clone scripts, YouTube clones come with a replica of the site's design and features.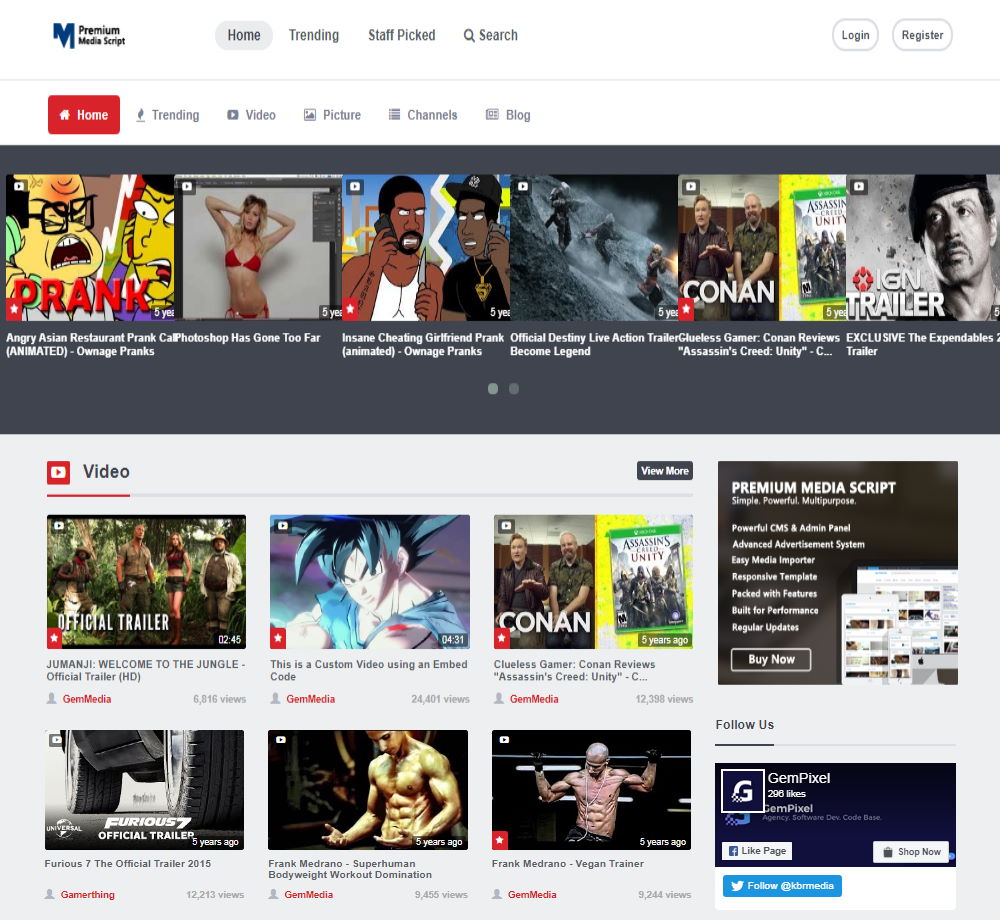 As mentioned before, they are useful if you are a complete beginner. However, you should prepare an appropriate budget. Some of the options can get expensive. 
Naturally, you can use WordPress as well. It's not impossible; actually, it might be preferable if you are a beginner. But you should be prepared to spend a considerable amount of time to complete it. 
Customize It
Next, you must personalize your chosen theme or script to your taste. Thankfully, most of the time, you don't even need to touch any code. You can give it a professional and unique look with just a few clicks. 
If you choose to use a script, some of them come with a visual builder as well. However, others don't. That's why you must check their description before buying. 
If you decide on WordPress, you must choose a theme that has a built-in page builder. If it doesn't, it should at least support existing ones. Otherwise, you will need coding skills to customize it. 
Beaver Builder is an excellent choice. It's beginner-friendly and has a lot of features to customize every little detail. It's also compatible with the latest version of WordPress and gets regular updates.
Create a Homepage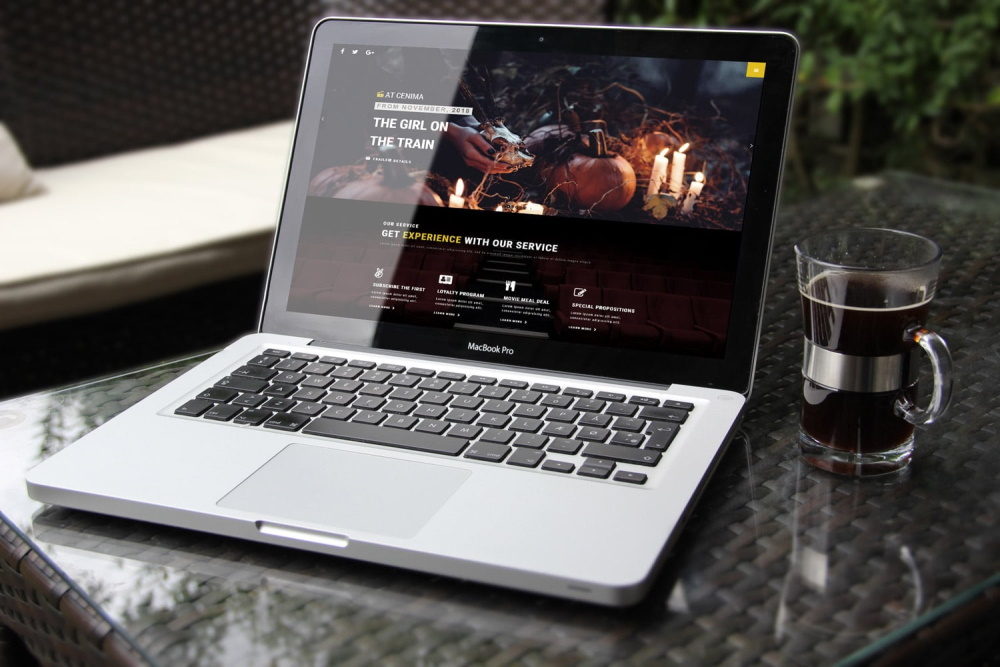 Your homepage is one of the most critical aspects of your video streaming site. Most of the time, it will be the first impression people will have of your website. Thus, it needs to be visually appealing and give users a clear idea of what they can find there.
Nevertheless, you must spend some time optimizing your homepage. You need to find out what works best for your audience and how you can make people stay longer on your site. 
Make It Easy to Navigate
You must learn how to create a streaming website that's easy to navigate. For video sites, one of the best ways to do that is to categorize your videos.
Create a video streaming website that makes it simple for visitors to find the types of videos they want to watch. Optimally, this should be done within two clicks.
Also, you should place your most popular videos in a prominent location. They are the ones that keep people longer on your site and urge them to browse through other content as well. 
Add a Blog
Your own blog can be a viable way to attract more people. Even better if users can contribute with their own content. 
A blog can make your site more credible, especially if your audience can relate to the topics it covers. In addition, it will boost your SEO, improve visibility and drive traffic to your website. 
However, it can be challenging to make a quality blog. Also, it takes a while to create one. You need to be consistent and dedicated to it. Then, how to create a video website with a blog?
You can start with an FAQ section that answers the most common questions people have about your site. The more detailed your answers are, the more value they will bring to your users. You can also focus on creating engaging video content but make sure to formulate a video marketing strategy.
While doing that, you should aim to identify any viable topics to write about in the future. Make a list of all the possibilities you find and start from there. 
No worries if you can't write. After all, it's a skill that takes time to learn. If you have the budget for it, you should opt to hire an agency or a freelancer to help you. Places like Freelancer, Upwork, and Fiverr are great for that. 
Now that you know how to build a video website, it's time to figure out a revenue model. 
Monetize Your Video Website
You can't expect to earn money with your site without implementing some kind of monetization scheme. Generally, there are three popular ways you could monetize your website:
Ads (AVOD) — place ads

Subscriptions (SVOD) — charge people every month for access 

Pay-per-view (TVOD) — charge for individual streams
Ads
Ads are the easiest way to earn money with any type of website. You can place them almost anywhere without bothering the viewer. It's possible to place ads before, during, or after videos as well.
Although you are free to put ads where you want, don't overdo it. Otherwise, you risk frustrating your visitors, instead of letting them consume your content. 
In addition, you will need to look up some ad networks to find and place ads on your site in the first place. You should try to find platforms that offer both video and banners ads. Also, you can opt for several ad networks for maximum efficiency. 
Primis and Unruly are excellent choices to start with. Still, it's good practice to do some research and experiment on your own. That way, you can find the platform that works best for you.
Subscriptions
Subscriptions are excellent to ensure a steady income every month, regardless of usage. You have two options with this method.
Put everything behind a paywall and provide a sneak peek to the available content.  You can do that in the form of a free trial or content drip (when you periodically give access to small pieces of content).
Alternatively, have a free version with ads. Then, offer a premium option without any. To make the most of this method, add additional benefits to the premium version along with the removal of ads. Even better — make different tiers with more perks, the higher you go. 
Simple Membership is a great free WordPress plugin for this. Although, if you have the budget for it, AR member is also a good option. 
Pay-Per-View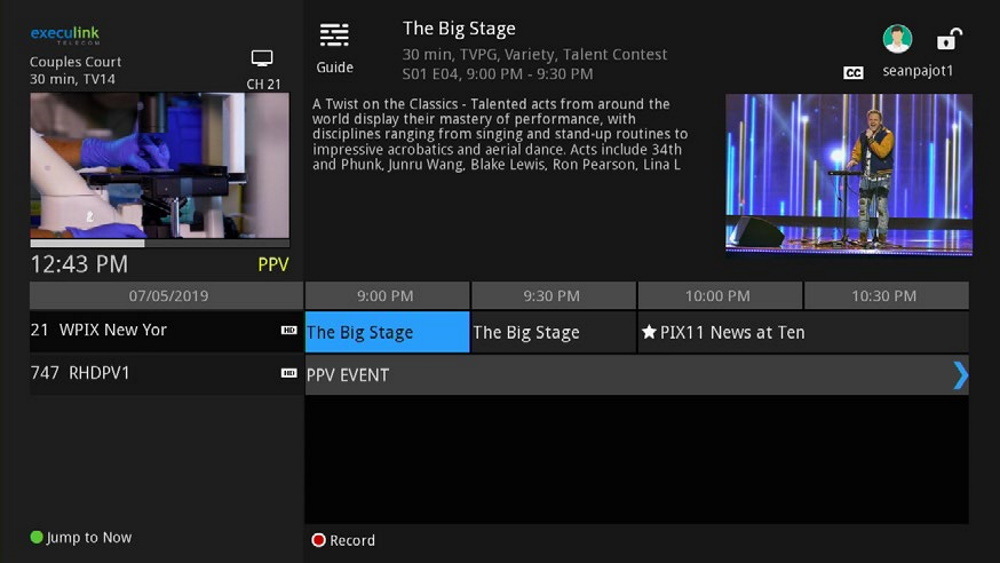 Pay-per-view is flexible and can earn you quite a bit with some clever pricing strategies. However, the brand strength and strategy you need to pull it off are hard to come by for someone that just learned how to make a video website. 
In addition, this type of market is highly competitive, and the many available free alternatives will make this method harder to monetize. 
Live streams are the best video types to use for pay-per-view. Thus, one-time events and unique content are perfect options to use with this method.
User Earnings
User earnings is a revenue model especially useful for video platforms that work with content creators. It can be a standard video sharing platform or a live streaming website. 
You can make it possible for users to tip creators and then take a share of their earnings. Alternatively, you can allow content creators to implement their own monetization schemes.
For example, Twitch partners can collect fees from subscribers to get access to older content, better quality streams, unique emojis, and so on. Twitch then receives a share of the earnings just because they were the middle man. 
Accept as Many Payment Methods as Possible

As mentioned before, you must create a video website that accepts PayPal, debit, and credit cards. The more options you have, the more likely people are to pay.
Convenience plays a significant role in your payment system. Thus, you need to make the entire process fast and straightforward. Even the smallest payment issue will cause potential customers to abandon their purchase. 
How to build a streaming website like that? Well, WooCommerce and its Stripe extension are an excellent start. They enable you to accept all primary payment methods for free.
Depending on your niche, it might also be worthwhile to accept cryptocurrencies. However, if your user base has no interest in it, it's a useless feature to have in the beginning. 
Still, you can use GoUrl. It's one of the most popular WordPress plugins for crypto payments. Although it has a 1.5% fee per transaction, it's an excellent feature to have if your users need it. 
Conclusion
You now know how to build a video streaming website. At first, it might seem daunting, but everyone starts like that. Your success will depend on the time you spend on and the amount of research you do. 
First, understand the technology and how it works. That will let you choose the best options for your case. The industry is full of competition, so you must focus your efforts on a particular group of people. 
Thus, the planning phase is crucial. Choose your niche carefully. It should be interesting to you and have a significant number of people you can cater to. 
If you have any prior knowledge on the matter, then you have an advantage. Nevertheless, make sure you research the content potential visitors are interested in. 
Your niche choice will affect the type and amount of features you must add. Thus, familiarize yourself with what people would want to have on your video site. Do that by looking at your competitors or similar websites in other niches.
Beyond the planning stage is the process of building the video streaming website itself. First, get a domain name and choose an offshore hosting provider. Then, download and install WordPress. You should have already picked a theme to use, but if not, that's the next thing to do. 
After you set up the template, customize it. For your convenience, import an existing demo and start from there. That will save you a considerable amount of time. Otherwise, you must add each page element yourself, which can be quite time-consuming.
Finally, you must set up a revenue mechanism. At first, its goal will be to cover your expenses. But as you grow, the monetization scheme should prove effective enough to earn you some profit.
Now go create a video website! Good luck!