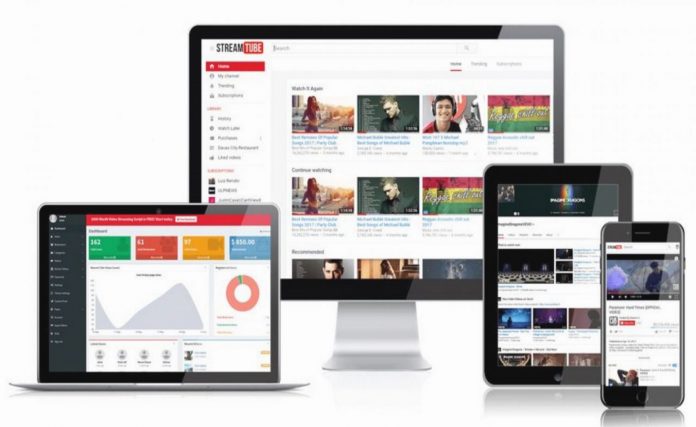 You have a lot of options to choose from if you want to build your own video sharing site. You could use WordPress or another content management system to create your website. It's great because you don't require extensive knowledge, and it's cheap. Still, it can take a long time to make it truly your own.
Thus, one of the most efficient ways is to use a YouTube clone script. It doesn't matter if you're an entrepreneur, student, housewife, or hobbyist. You can set up and monetize your video sharing site quickly to earn some extra income. 
Youtube Clone Script: What It Is and Why Use It
Basically, YouTube clone scripts are replicas of YouTube. In fact, they can come in two forms. The first variant is a 1-to-1 copy of YouTube with the exact design and features, often with some improvements. Alternately, YouTube's core concept inspires the second type. It offers similar or improved functionalities but with an altered layout.
Furthermore, a YouTube clone will allow you to build your site much faster. After all, the core idea is to hasten the development process, enabling you to launch your website quickly. Plus, the chances of you succeeding are much higher when you use an already established business model.
Additionally, a clone script will remove the need to use a content management system. Meaning, you get both the back-end and front-end in a single package. All you would have to do is to take care of the domain name and hosting provider. Speaking of hosting, you should consider using an offshore host for your website.
Why Use Offshore Hosting?
Offshore hosting is a secure and reliable way to publish your website. First off, you will have more freedom with the type of content you can place on your site. If your home country has strict regulations, you can bypass them by hosting your website abroad. 
Furthermore, the way your personal information gets handled will be much different. Your privacy will take priority, so there will be no danger of identity theft. That is especially vital if you wish to deal with controversial topics.
Thankfully, you can find a large number of offshore hosting services online. There is one for every need and budget. Although it is still best if you do your due diligence and carefully research every company that interests you. After all, they will be the ones keeping your site online, and you want them to be reliable and helpful.
In case you're not eager to spend a few days researching, you should go for AbeloHost. It is a premium offshore hosting provider based in the Netherlands, which is one of the best countries to get an overseas host. They have affordable plans and helpful support. Also, you will get all the advice you need to get your site set up.
The 15 Best YouTube Clone Scripts
There are numerous YouTube clones you could find online. Some of them work wonderfully; others, not so much. Nevertheless, it can get hard to choose the right one. Below, you will find the 15 best YouTube clone scripts.
DexTube by BitExchange
DexTube is a highly innovative YouTube clone with some interesting monetization options. Remember when people were talking about the endless applications of blockchains and how they would change the future? Well, this YouTube clone is an example of one such use.
DexTube offers an extraordinarily secure and decentralized way to create a video sharing site. It makes use of a peer-to-peer network not only to improve security but also reduce server fees. Plus, it's super customizable — you can create an exact replica of YouTube or modify the layout as you wish.
Furthermore, revenue generation is entirely automated. Meaning, you don't have to do a thing; simply wait for the money to roll in as videos gather more views. Additionally, your users will have an incentive to post, curate, and like videos since they will be able to earn rewards by doing so.
ViewShark YouTube Clone by ViewShark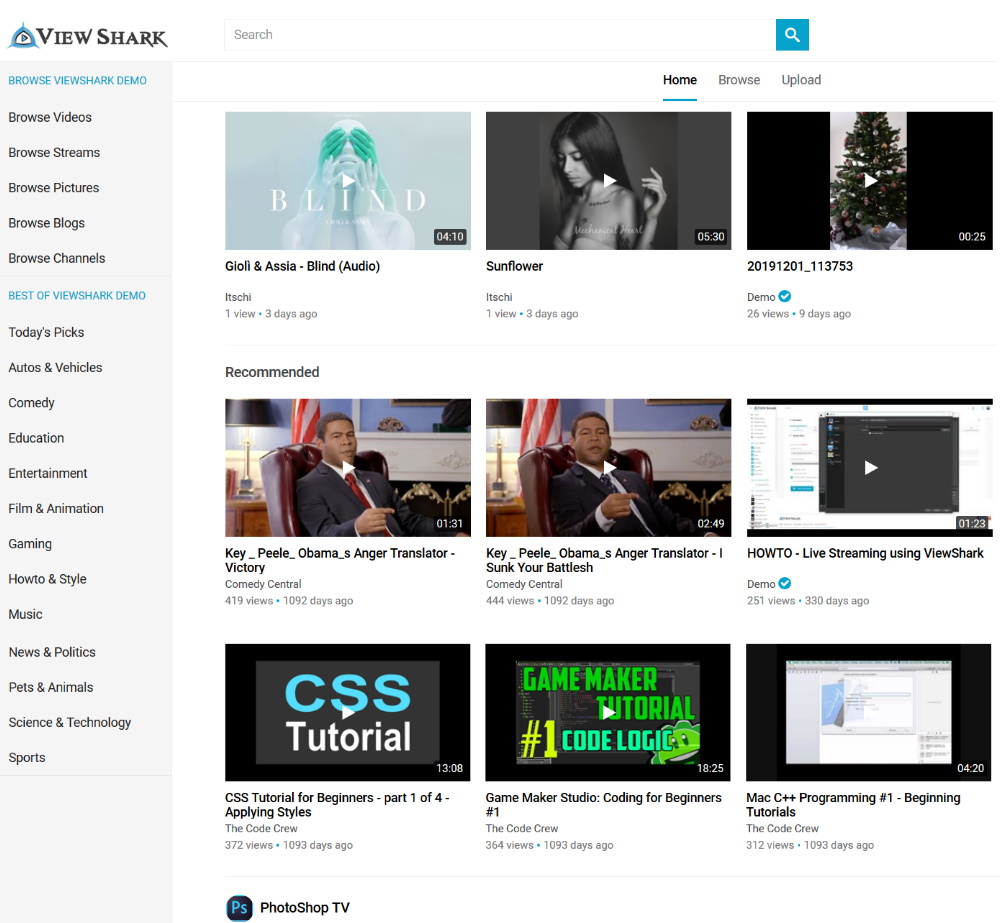 ViewShark is a high-end YouTube clone script. It's suitable for video sharing sites with a more extensive user base. Although it can be repurposed into any type of media-centered website.
The script supports over 20 video formats and live streaming. Additionally, you could modify it to become a music streaming or image sharing platform. This YouTube clone comes with a membership system in place. A revenue-sharing mechanism to motivate users to be more active is also included. Plus, you can set up an affiliate system and video ads for some extra income.
Furthermore, you have all the familiar YouTube features like comments, watch lists, user subscriptions, and so on. All in all, ViewShark is a versatile theme you can use to create a media-rich website.
ClipBucket YouTube Clone by ClipBucket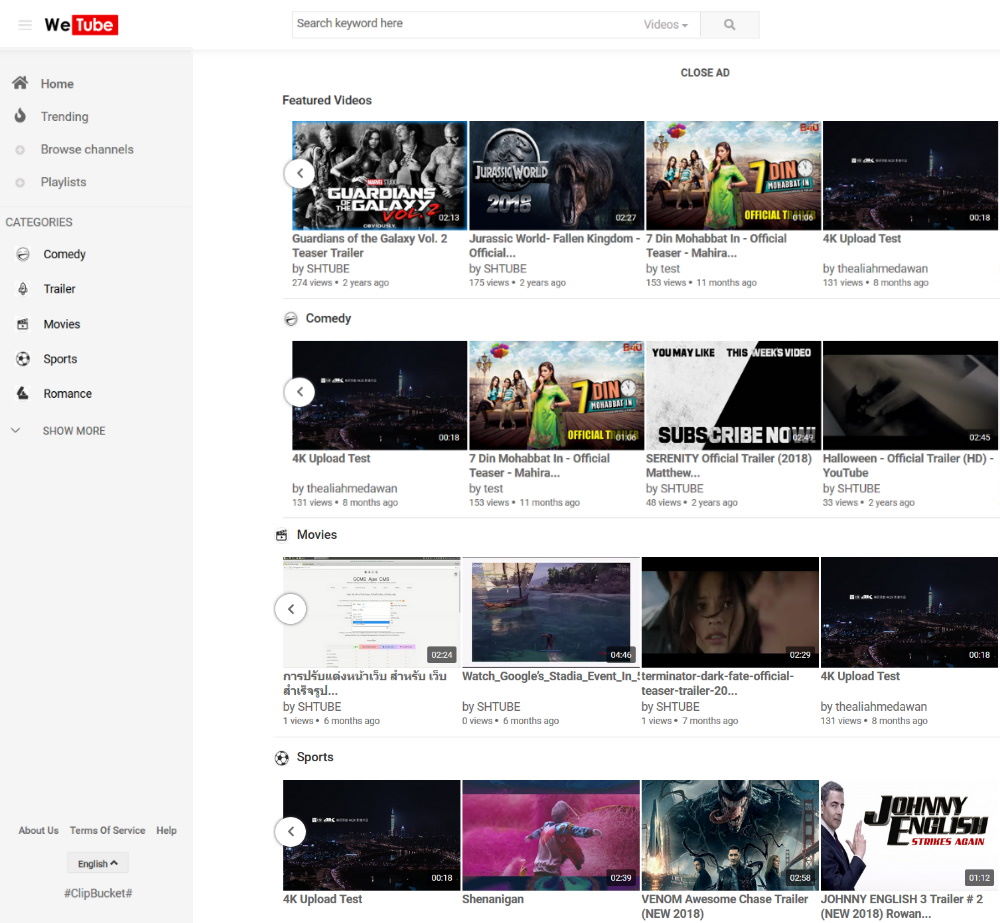 ClipBucket is a fantastic YouTube clone. You can repurpose it to become any type of video-on-demand platform. You can make a Netflix, Ted Talks or Hulu clone, and many others. In fact, if you have the budget, you can let the developers full manage your website. All you would have to do is collect the revenue.
Anyway, the clone script comes with a custom video player and adaptive streaming. Meaning, in the case of bad internet connection, videos won't outright stop. Instead, the video quality will be temporarily reduced to accustom the network connection.
Furthermore, you have multiple monetization options, like the ability to insert in-video ads. Plus, you can use the revenue sharing model to motivate your most active users. However, the best feature is the multiple apps you will receive. You will get an iOS and Android app as well as several smart TV apps.
MediaVibe by PHPVibe
MediaVibe is the rebranded PHPVibe YouTube clone that has been on the market for a while. It is a full multimedia and video sharing solution. A website using this script will be able to handle any type of video-related content. Additionally, you can provide premium accounts with benefits, as well as verified badges.
Furthermore, the script has all the features YouTube has on offer. It is advertising-ready, with multiple types of ads available. Plus, users can use their social accounts to log into your site. Overall, MediaVibe is a reliable clone script you can use to create an identical copy of YouTube.
StreamTube by Streamhash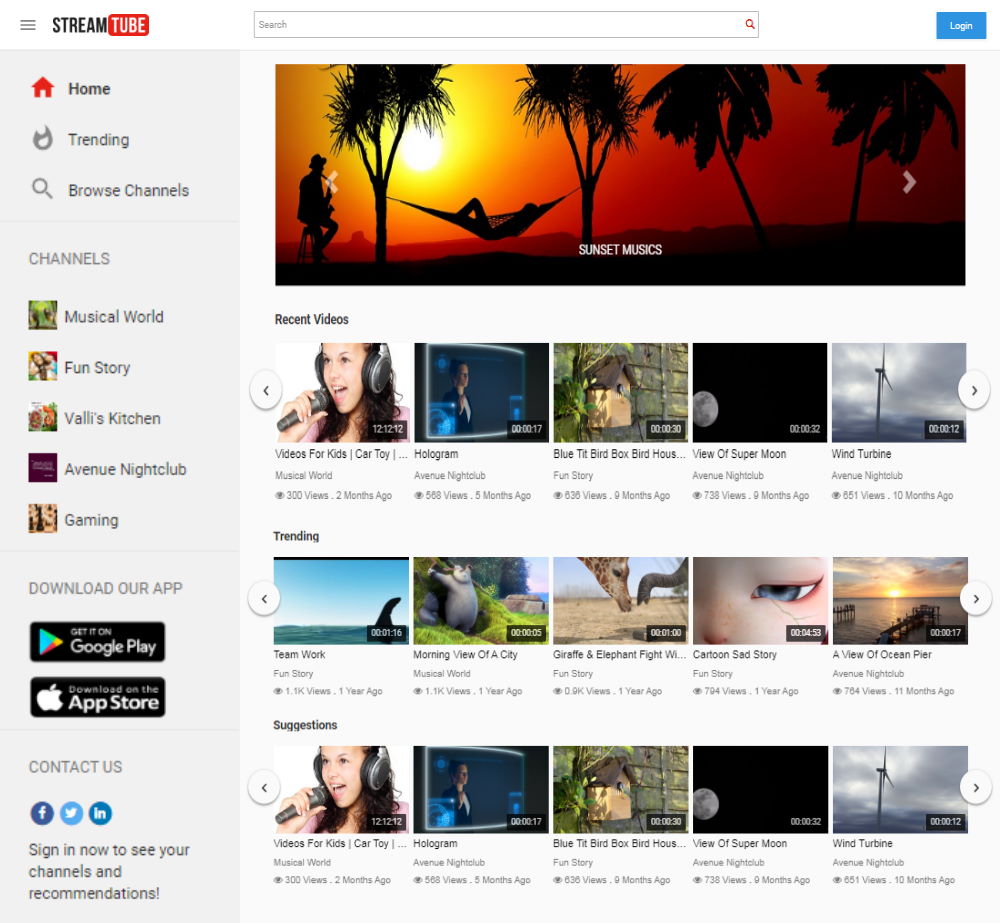 If you have a larger budget, then Streamhash's YouTube clone is a great solution. Users can easily create and manage their own channels as well as enjoy all of the standard YouTube features. Plus, you get both an iOS and Android app with your purchase.
Additionally, you can set up both subscription plans and multiple ad types. StreamTube is an excellent option if you're looking for a professional and reliable script that will allow you to set up your own video sharing or streaming platform and earn cash quickly.
ClipShare by Envient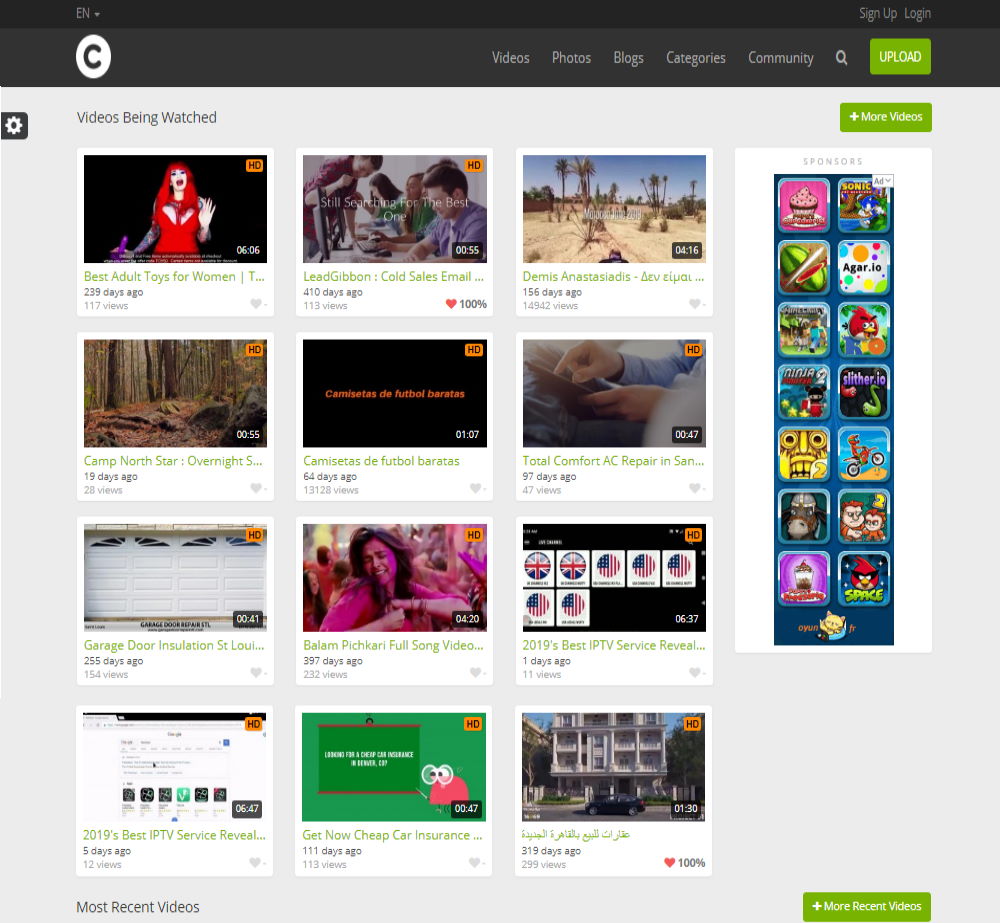 ClipShare is a highly versatile YouTube clone script you can use to create a wonderful media-related site. You can show HD and mobile videos thanks to their Video Transcoding Engine that supports multiple formats. Visitors can also sign in through their existing social profiles.
Furthermore, the multi-server system provides smooth performance and scalability. You can freely store and stream videos on an unlimited amount of secondary servers. That balances your site further and optimizes traffic. Then, the multiple supported video formats and on-the-fly video conversion will make it much easier for users to stream clips.
Finally, several monetization options will enable you to start earning right away. You can create a platform on which numerous communities can thrive in.
KVS by Kernel Video Sharing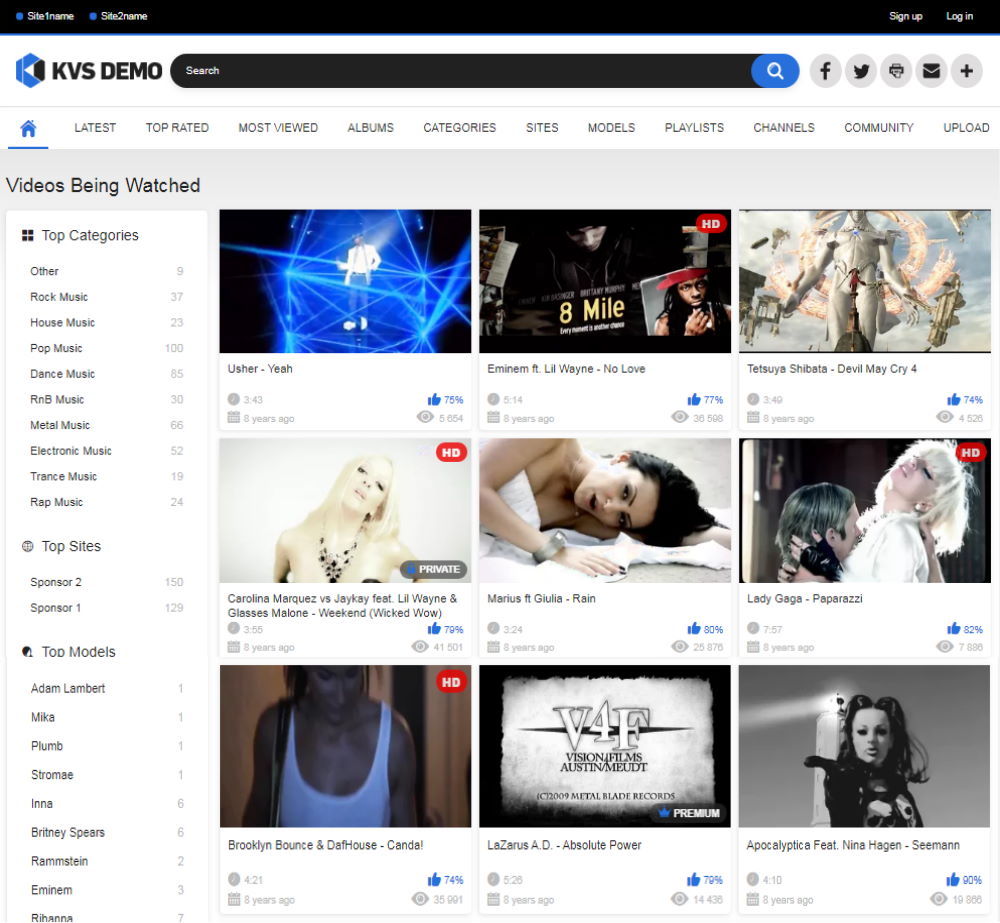 KVS is a multi-functional YouTube clone script. It supports all the major video formats as well as flexible settings for content and video quality restriction. Additionally, the script can handle external conversion servers to improve load speeds significantly.
Then, the advertising module will enable you to place multiple types of ads wherever you want. You could also control which ads show for different regions, devices, and categories.
Furthermore, the categorization options will assist your users in finding the exact videos they want to watch. And if you want to motivate them to be more active, you can take advantage of the token system. Use it to reward the most engaged people on your site.
Premium Media Script by KBRmedia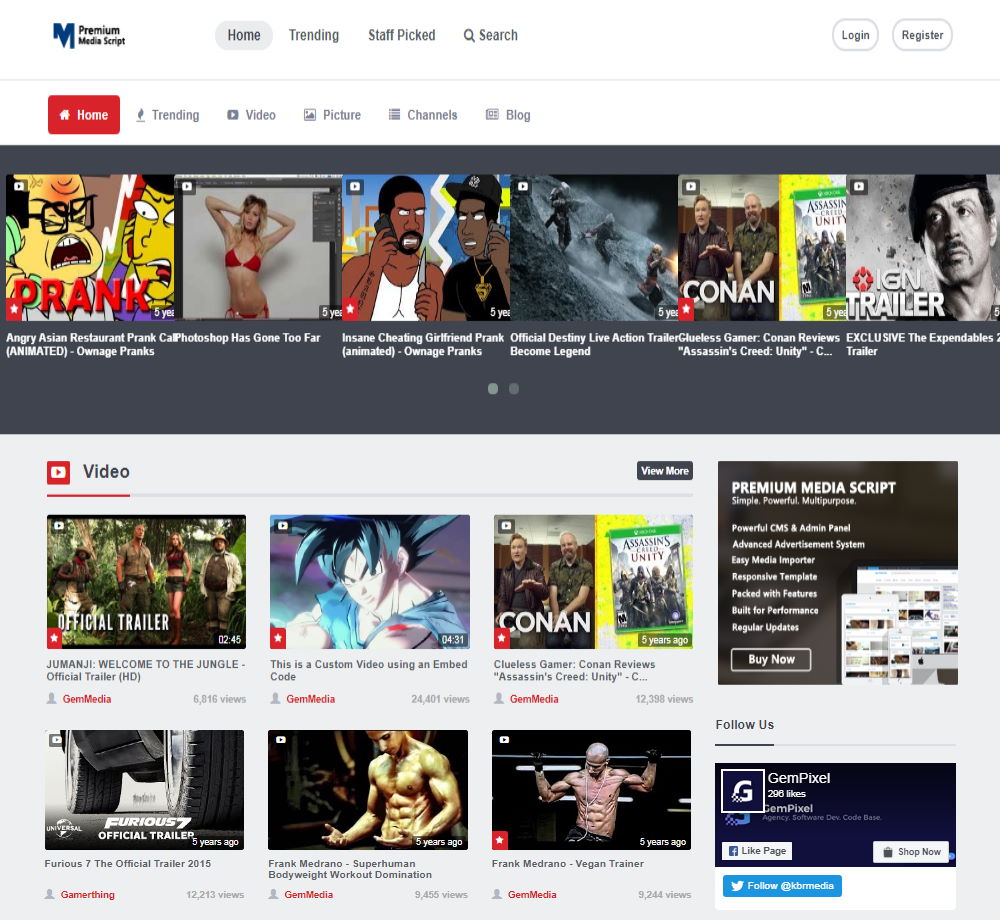 Premium Media Script takes the core concept of YouTube and offers it with new packaging. You can use this clone script to create any type of media-related website. Plus, it's optimized for advertisement. Meaning, it can display ads that will maximize your earnings.
This YouTube clone is built for performance, scalability, and customization. You won't have to worry about slow loading ruining the user experience, or even higher than usual traffic. Plus, it's a budget-friendly solution with premium support.
PHP Melody by PHPSugar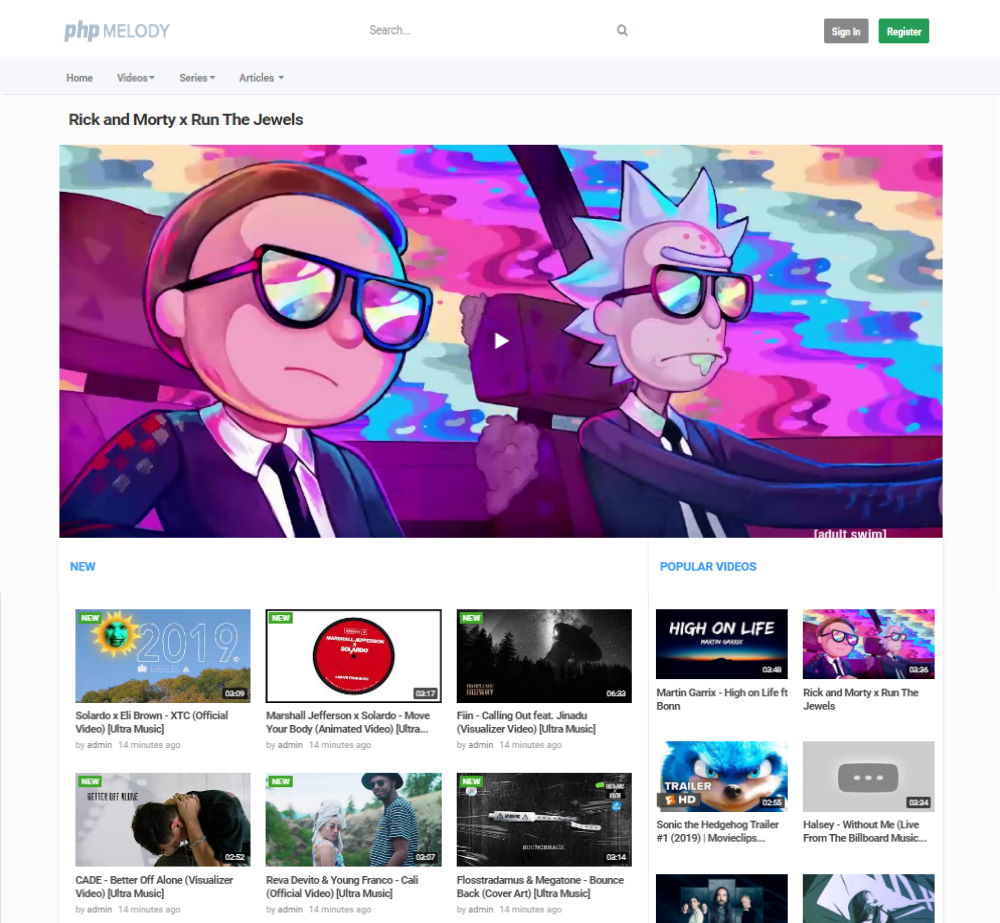 PHP Melody is another fantastic YouTube clone script. The team behind it boasts more than nine years of experience. Additionally, you will get lifetime updates and support with your purchase. You can actually handle videos in any way you want — import, upload, embed — it's up to you and your needs.
Furthermore, you are free to create a blog section to engage our users with new information. Plus, this clone script features SEO assistance that will make it much easier for both search engines and people to find your website.
Then, you can empower your users with user followings, activity streams, and more. In addition, you can turn this script into a video sharing and a movie streaming platform.
iYooToob by Ianthonypillos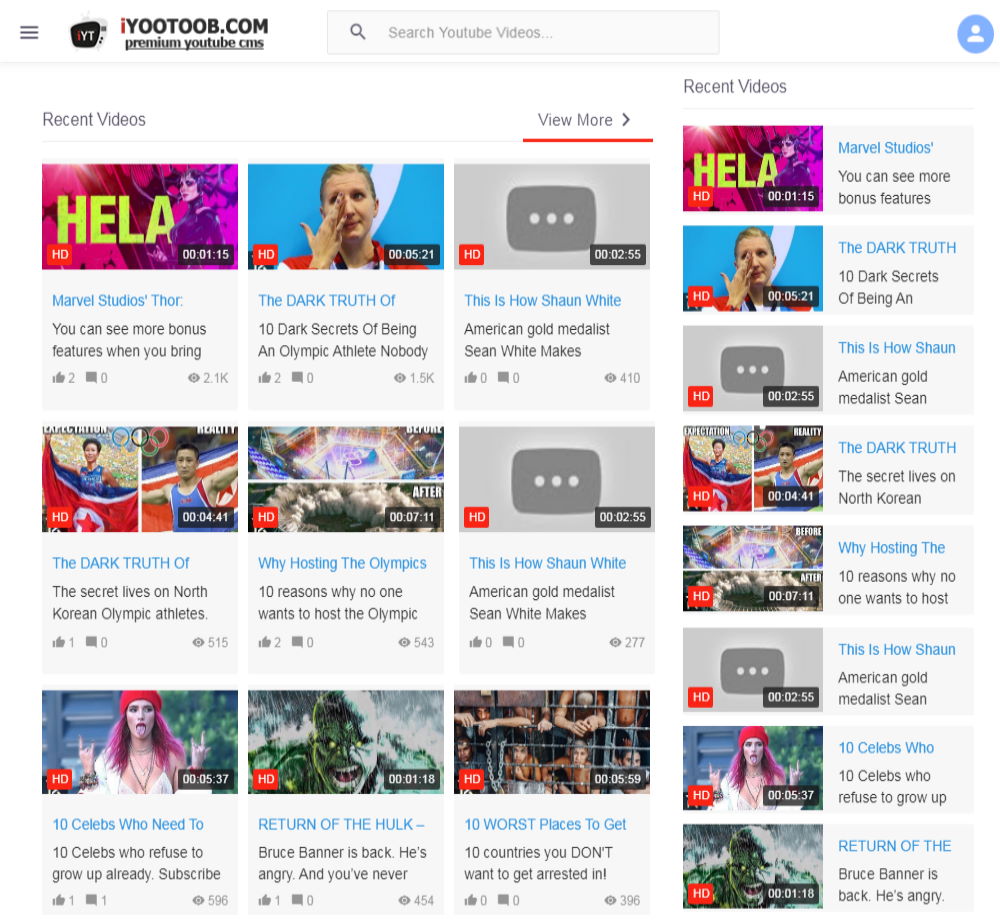 YooToob is the perfect solution for you if you're looking for a simple YouTube clone on a budget. You will get a responsive design with the usual user engagement systems like commenting, likes, shares, favorites, watch lists, and so on. Plus, it has built-in advertising functionality for effortless earnings.
Although it's not as feature-rich as the previous clone scripts, iYooToob is an affordable solution. It will provide you with all the tools essential for a video sharing website.
PlayTube by DoughouzForest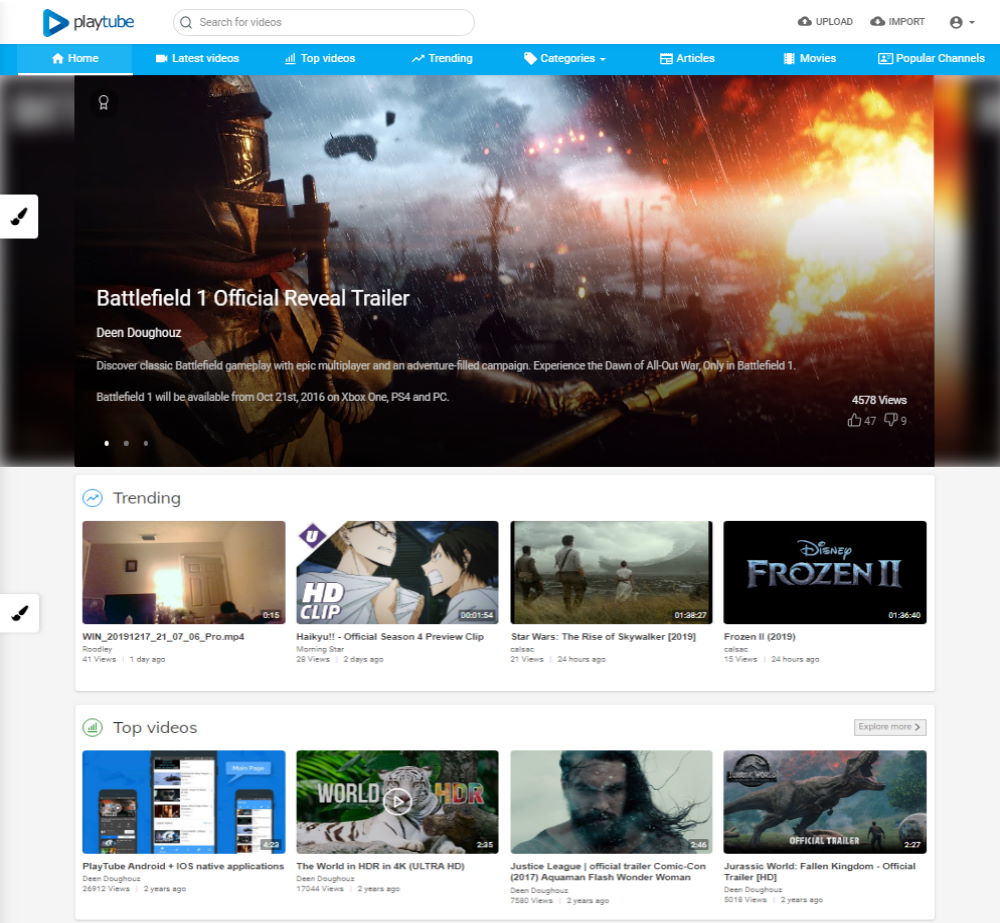 PlayTube is a modern-looking YouTube clone script. It boasts high performance and capability. It's actually able to handle more than one billion videos. On top of that, you will find all the features you might need for a video sharing website. Those include comments, ratings, playlists, and others.
The monetization options make it easy to earn money. Additionally, your users could also apply for their videos to earn them some cash as well. Then, the built-in SEO functionality will help you become more discoverable. Finally, if you want, you can import videos automatically to your site.
VideNox by SireNox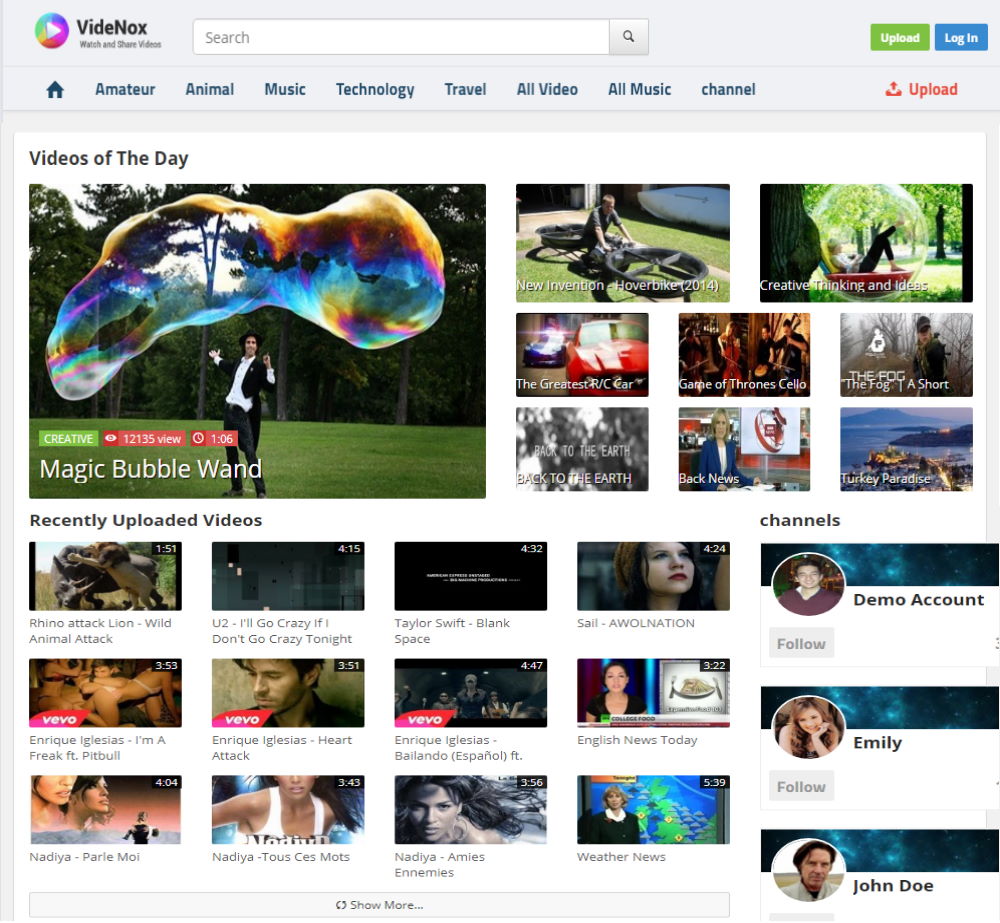 VideNox is a fully responsive YouTube clone script. It offers improved performance and reliability. You can freely manage and control videos as well as have unlimited customization options. Also, it's simple to upload both video and music content. The seven types of supported upload services make sure of that.
Additionally, the VK Music Assistant allows you to search thousands of music archives. Plus, you can sort by artist name or song title. Finally, social media integration makes it easy for users to share their favorite videos.
Vshare by BizHat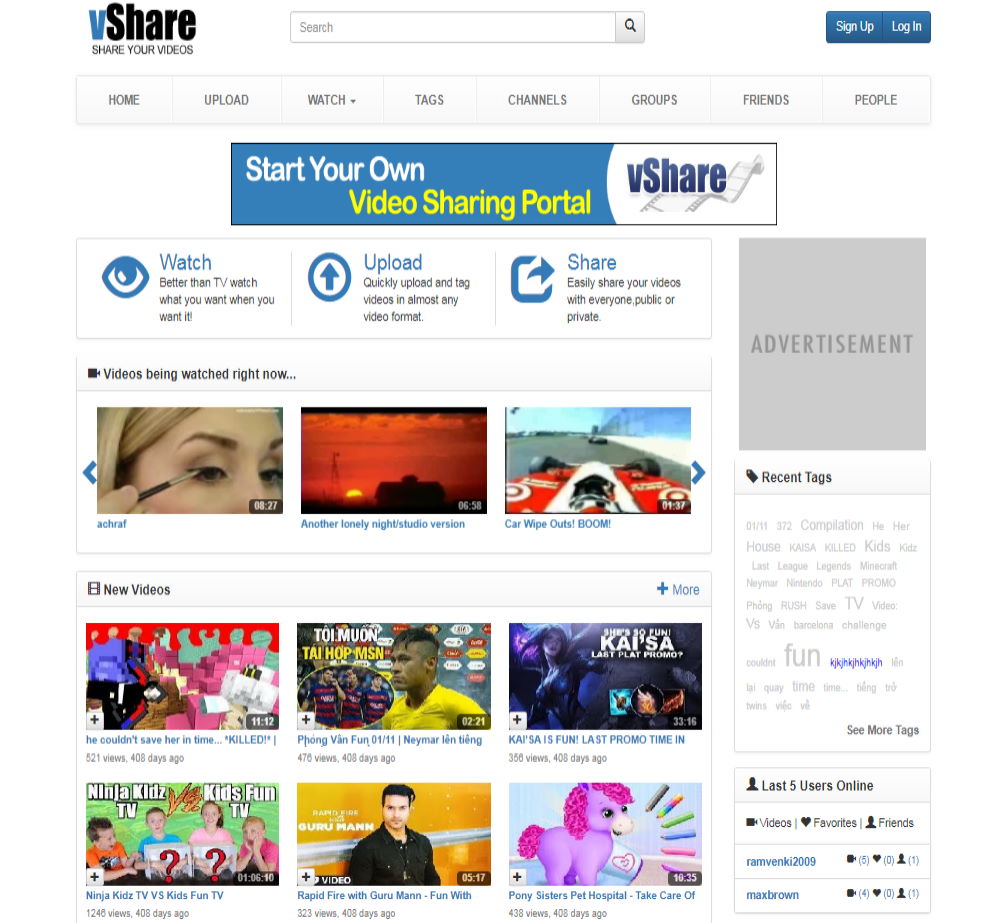 Vshare is an affordable and easy-to-use YouTube clone. You will receive all the standard features. For example, you get a mobile-friendly platform, source code access, monetization options, and plenty of room for personalization.
The integrated payment gateways will make it easy for you to begin earning money. Plus, the numerous widgets will allow you to create a web page layout with your personal touch.
Vshare might not be as feature-rich as other entries on this list; however, the low price makes up for that. In fact, the existing features should be enough for you to make a popular video sharing site.
YouTube CMS Pro by Teedeskdev
YouTube CMS Pro is another viable YouTube clone script you can use to make a video sharing platform. Although its features aren't as numerous as with some of our other entries, their number is still reasonable for a basic site. After all, you will get the standard YouTube functionality, just a different layout. Not to worry; you can easily customize as you wish.
Additionally, it's not hard to monetize this YouTube clone with the built-in ad module. Of course, users can make their user profiles, and you can quickly import videos using tags. Overall, YouTube CMS Pro can be a useful theme if the others on this list aren't to your liking.
YouPHPTube by AVideo
YouPHPTube is the last entry on this YouTube clone scripts list. It's designed for easy video sharing and supports video on demand and live streaming. Plus, it has all the standard features you would need for the low price of nothing.
It's straightforward both to sync your videos with the ones from YouTube as well as download them. Furthermore, the multiple supported multimedia formats will give you the flexibility to add any type of content on your site. In addition, the S3 plugin will make sure you're paying the minimum amount of money for storage.
Also, the built-in monetization scheme will let you earn money fast and easy. Also, your users can log in with their social media accounts and personalize their own profiles. YouPHPTube is an excellent option for those that have a minimal budget.
Conclusion
You have reached the end of this list. Now, it's up to you to choose a YouTube clone script you like and start building. All of the scripts provide practical features that will lighten your workload and satisfy your users. Still, you shouldn't rush to make a decision. Take your time and think it over.
It's crucial you take into account your target audience, their needs, wants, and expectations. While the listed YouTube clones offer similar features, the small differences are crucial. They have the potential to be hugely beneficial or even detrimental to your site.
You have to understand — there are benchmark features that must be present. Then, you will have features that differentiate your site from the competition. Think long and hard about what these will be in your case. Otherwise, why should people come to your site?
Anyway, if you're still not sure if you even want to make a video sharing site, you could try your hand at other video-related websites as well. Feel free to check out an article on the best video streaming scripts or learn how to create a movie website.